Turmoil in EM
What a week this was? Financial contagion spread through out the emerging markets causing destruction of value. True, this process began in 2011 when Emerging Markets peaked in terms of growth & investor interest. But the recent acceleration has been frightening with new multi-year lows or even all-time lows in EM currencies.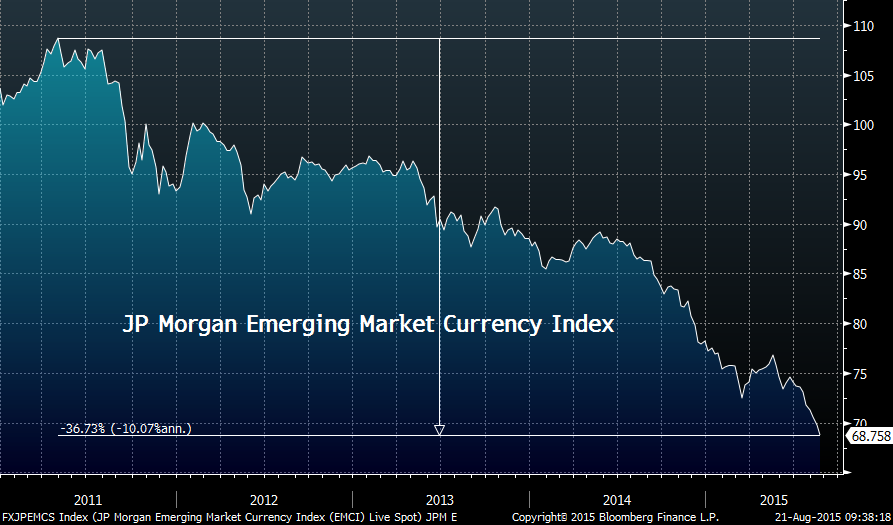 The carnage has been through out EM from Turkey to Brazil to Malaysia. Clearly, much of the acceleration has been due to the sudden devaluation of the Yuan by China, an act that stunned global investors.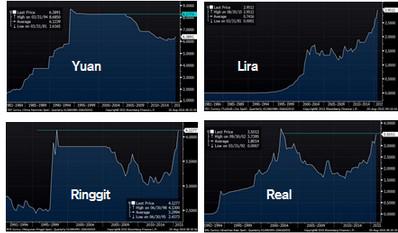 Everyone has known that China is a real mess. They are facing the simultaneous bust of three different bubbles – Credit/Debt, Housing, and now Stocks. America has seen busting of bubbles too – Stocks in 2000-2002, Credit/Debt & Housing in 2007-2008. We all know how hard it was to recover from these busts. But they were successive busts separated by 7 years allowing time for the economy to recover in between.
Now China is facing the simultaneous bust of America's 2000 & 2008 bubbles. If this doesn't frighten investors, what will? Actually China's mess is worse because China has to restructure or change direction of the structure of its economy from fixed asset investment to a consumer economy. That is very hard to do even in the best of conditions let alone in a massive mess like the one in China.
But that is not the worst of it. Everyone has known the above for awhile. But global investors have had confidence, even faith, in the smarts & capabilities of the Chinese leadership. People both in & out of China believed that the strong leadership could steer the country the way they wanted to. Or as Jim Chanos, the veteran hedge-fund manager, put it, the Chinese leadership was deemed omnipotent & omniscient.
This faith suffered a big blow when the Chinese leadership made atrociously naïve mistakes in managing the steep fall in the Shanghai stock market. Then the faith was shattered when, in a sudden act, China devalued its currency. The size of the devaluation was not material but what really mattered was the sudden realization that the Chinese leadership is as clueless as any one else.
Thursday – August 14, 2015 – Charlie Bilello, CMT ?@MktOutperform – Yuan at lowest level since 2011. Don't believe anyone saying they know the ramifications of this. $CNY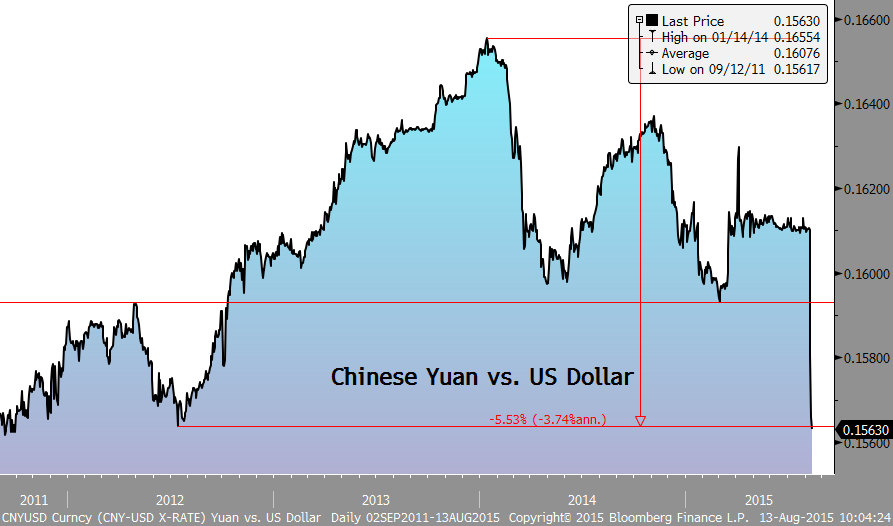 The above is a big & profound statement. Investors are conditioned to maintain their investments if they have confidence. The moment the confidence is broken, they tend to sell first & ask questions later.
2. Impact on India
The reality is that global emerging market investors have investments in most countries. Normally, their views on different countries are different & expressed via the percentage of funds they invest in different countries. But when panic strikes or when their confidence in a major country is suddenly shaken, they tend to sell first and that often involves selling a bunch of everything including what they like.
The Indian Rupee has been relatively strong all year. It has been a classic story of confidence in both the future growth expectations under PM Modi AND confidence in the highly capable monetary management of RBI Governor Rajan (pronounced Raajan).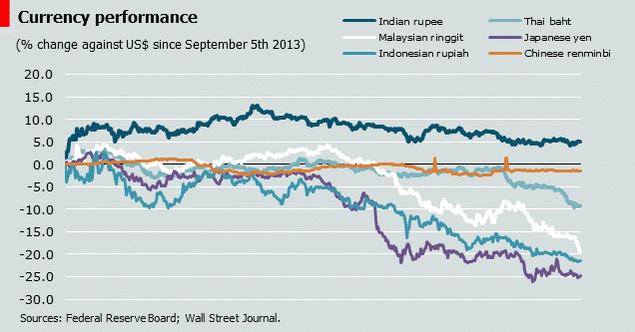 But that changed on August 11, 2014. The Indian Rupee fell by 3.7% in just 8 trading days from 63.84 on August 11 to 66.194 on August 21. Read what techcharts.net wrote on Tuesday, August 11:
"U.S. Dollar/Indian Rupee is preparing for a strong breakout from its 3 month-long consolidation range (rectangle chart pattern). On a larger scale, USD/INR formed a head and shoulder pattern. Both chart developments suggest weakness for Indian Rupee if the cross-rate clears 64.4 levels in the following days"
3. Relative Importance & Credibility of Jaitley vs. Rajan
"

After another weak quarter of corporate earnings and July inflation that undershot the central bank's medium-term target, Jaitley has made direct, public calls for faster easing, clashing with far more cautious comments from a conservative Reserve Bank of India governor, Raghuram Rajan

"
This is asinine to the point of being utterly stupid. Let us be clear. India is very lucky to have Governor Rajan as the head of India's monetary policy. Confidence in him is the foundation of the relative stability of the Indian Rupee in today's turbulent world.
To be absolutely blunt, Finance Minister Jaitley has virtually zero credibility among investors. He is a very bright lawyer, the ultimate insider of Delhi's elite circle, and a man who is superb in squaring things. But he has zero knowledge of how foreign currencies or bonds work. And unfortunately for him, the image of a lawyer running a global finance operation brings back horrible memories of Charles Prince running Citibank in 2007.
His bureaucrats in the Finance Ministry are even worse. At least, Shree Jaitley is both intelligent and crafty. His bureaucrats are merely career civil servants who probably are simultaneously ignorant and arrogant.  Don't forget these bureaucrats are the ones who presided over the crash of the Indian Rupee in 2013.
(Jaitley & Rajan – courtesy Reuters) 
We understand the pressures on FM Jaitley. The global economy is weak and getting weaker. The Indian corporates are debt ridden and incapable of making investments in India. The political pressures on the Government are rising to keep up the promise of better days made by Prime Minister Modi.
But there is a time to play defense and a time to play offense. This is most definitely the time to play strong resolute defense. That is what Governor Rajan is doing and doing very well. And things might be looking better already. Read what he said in a press conference this week in Mumbai:
"We do believe that there is pick-up … Hopefully, if the monsoon does not deteriorate and in fact improves, sowing has been very good, you may see rural demand coming back more strongly  … this will be a "tremendous bonus" to the economy relative to where we are"
We hope Governor Rajan proves to be correct. A strong comeback in rural demand will indeed be a tremendous bonus to the Indian economy. But that is not material to our argument. The next few months will be a time for strong defense and not for dumb politically convenient moves.
So Minister Jaitley, leave Governor Rajan alone – He is the best thing going for you.
Send your feedback to editor@macroviewpoints.com Or @Macroviewpoints on Twitter.