After our article about Deutsche Bank & the Central Bank bubble, a reader asked how does a central bank bubble burst & what are the signs that can point to such a burst? Well, we may be seeing some signs already.
We argued last week that President Obama will do nothing because he is totally invested in electing Hillary Clinton as the next President. He doesn't really care what happens after he leaves office just as President Bill Clinton didn't care what happened after he left office.
So what might happen to this bubble under the next President? UK Prime Minister Theresa May provided a clue this week. Remember the Brexit shock that reverberated around the world in June? That election was angry & laden with rhetoric. Then the British parliament selected a dignified mild mannered lady named Theresa May to serve as Prime Minister. This week Ms,, May served notice that there is steel under the magnolia. 
Before we get to her notice, it is worthwhile to take a look at what the central bank bubble is and what it has wrought. The chart below shows the three recent bubbles that enveloped the world. And not so coincidentally, these bubbles all arose during the final year of the three two-term presidents in America – Bill Clinton, George W. Bush & Barack Obama. Notice Bush's bubble was bigger than Clinton's and Obama's bubble is the biggest of them all.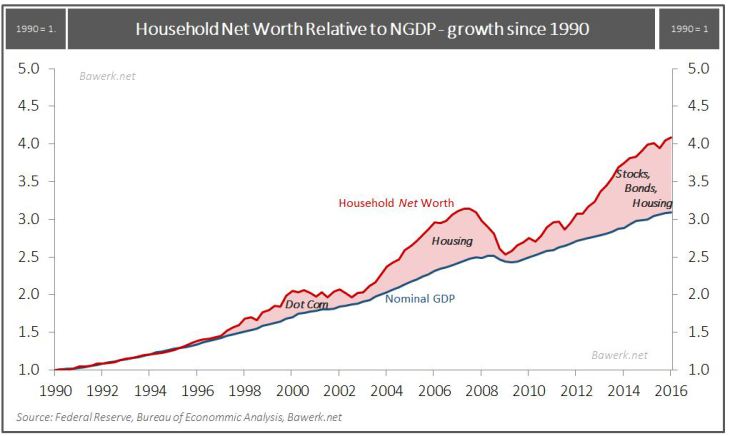 (courtesy – Jeff Sandene @MarathonWealth)
Of course the three presidents had little to do with their bubbles, at least not directly. All these three bubbles were created by the US Federal Reserve, the central bank of America & the three Chairs of the Fed – Alan Greenspan, Ben Bernanke & now Janet Yellen. The Greenspan-Clinton bubble was the smallest because it was limited to a couple of sectors – Internet & Telecom. The Bernanke-Bush bubble was bigger because it affected housing, an asset owned by a majority of Americans. 
But the Yellen-Obama bubble is the biggest & baddest of them all. Because it is truly global across America, Europe, Japan, China & all Emerging Markets. Everything investors own has been enveloped by this Yellen-Obama bubble – housing values, stocks, bonds. The only non-bubble asset left in the world is CASH, the asset most ordinary folks own and the one asset that pays nothing. 
This is the heart of the huge income equality in every region of the world – people who own stocks & financial assets have done very well in the last 8 years and people who work for a pay check and save have done very badly. Regions where the financial & finance-related sectors are located have done great like the two coasts of America while regions where industrial jobs are located have suffered mightily like America's heartland. The same is true in UK, in Europe and in other regions of the world. Also regions that are financially dense have seen an influx of immigrants, youngish & prepared to work for much less. And such immigration has further inflamed the heartlands in every region – America, UK, Europe, China and India.
1 Brexit Shoe drops
When the pain gets to be too much, people rise as they did in England & voted for Brexit. This Wednesday, the new UK Prime Minister Theresa May signaled her unhappiness with UK's central bank & promised change. Specifically she said:
"While monetary policy with super low rates and quantitative easing have provided emergency medicine, we have to acknowledge some of the bad side effects. People with assets have got richer, while people without have not… A change has got to come, and we are going to deliver it because that's what a Conservative government can do"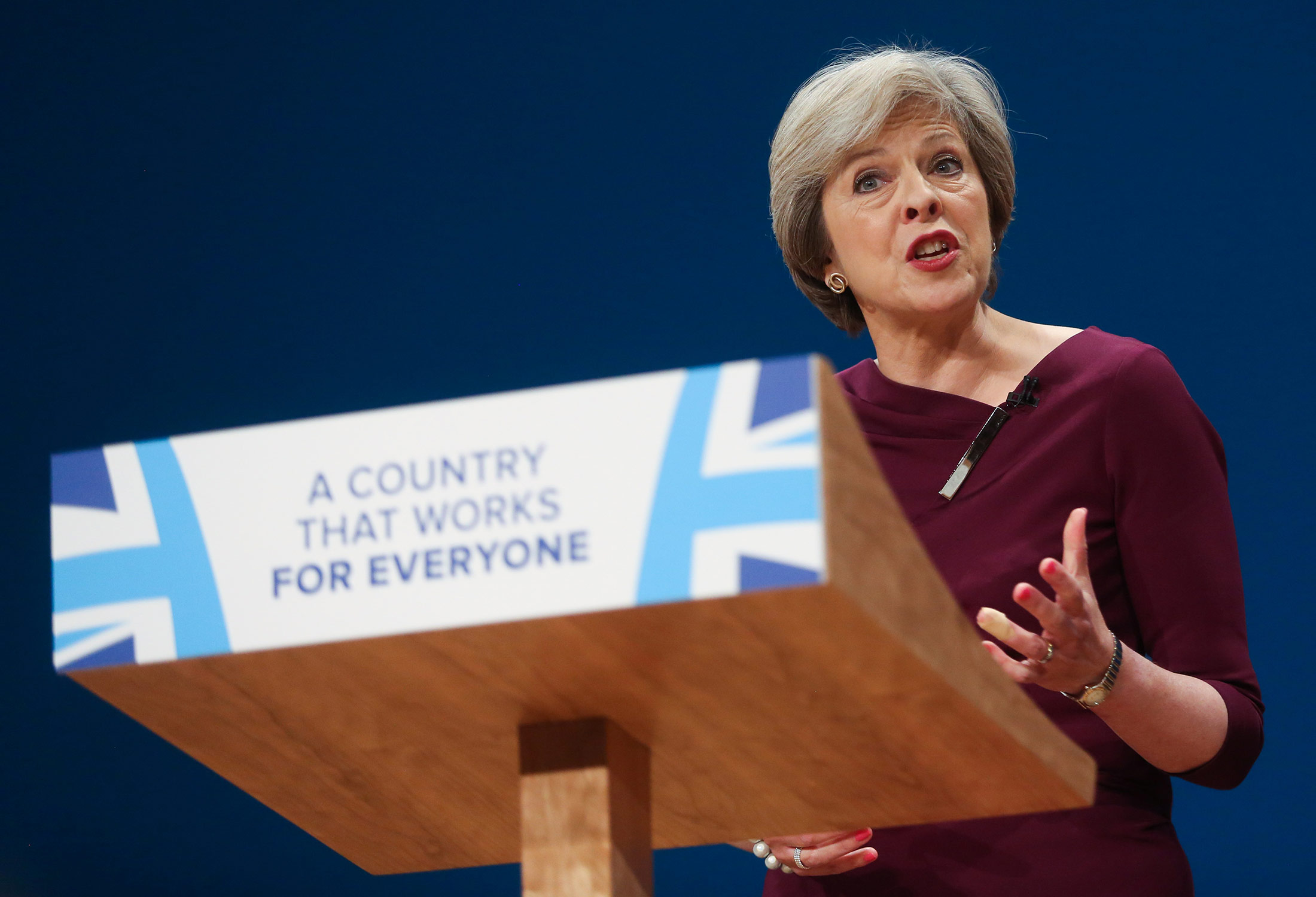 That wasn't all. Her government also signaled a much tougher stance on immigration including those who are already in Britain, according to a Bloomberg article:
Home Secretary Amber Rudd this week proposed to punish banks and landlords who fail to make checks on foreigners doing business with them. It's part of the government's strategy to address public concerns about immigration that were laid bare by the U.K.'s vote to quit the European Union. 

Chancellor of the Exchequer Philip Hammond Thursday told Bloomberg Television that the Brexit vote was a call to impose tougher control on immigration amid concerns an influx of foreign workers has pressured wages in the low-skilled workforce.
"We have to recognize that part of the mood in the U.K. that drove the referendum decision is a mood about pressure on wages on entry level jobs from high level immigration," he said.
Look what happened to the British Pound on Thursday – a sudden collapse of 6% in about 60 seconds.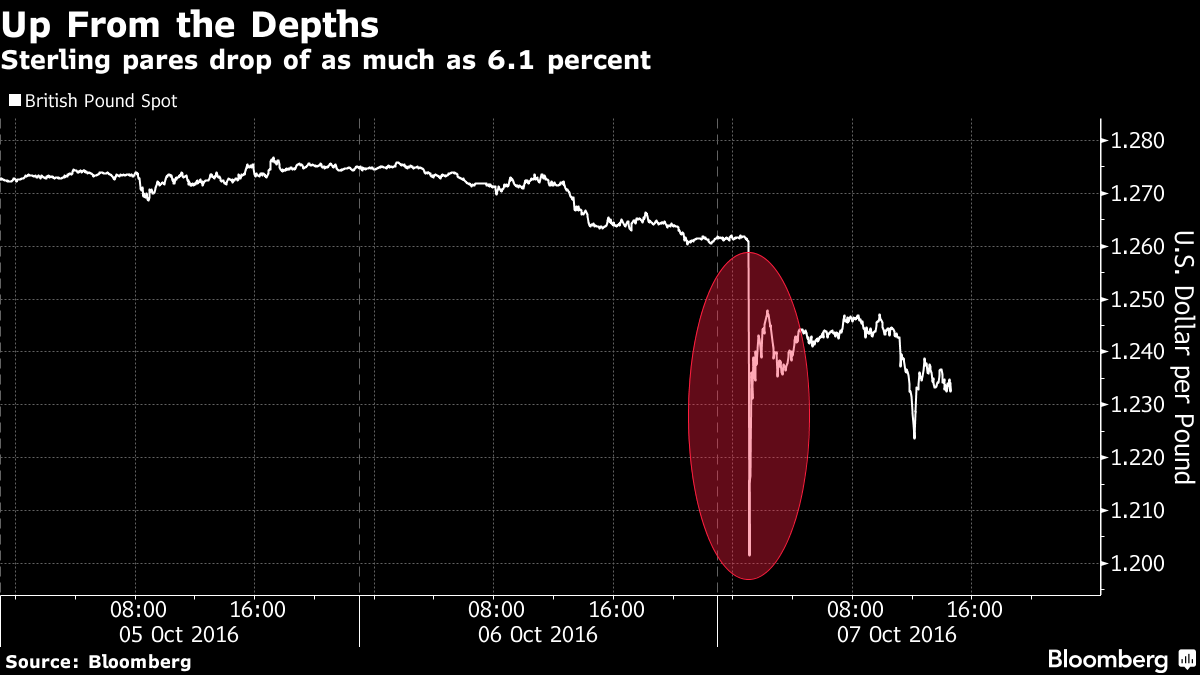 Understand this is not some small emerging markets currency; it is the British pound, the fourth largest liquid currency in the world.
This salvo from Theresa May is the second one this week. The first came against Bank of Japan Governor Kuroda whom we had termed the "nuttiest Pavlov of them all" in our article "When Pavlov Goes Nuts … " on February 23, 2016. Nobuyuki Nakahara, the father of Japan's QE in 2001, said Kuroda  "has ruined his chances of getting a second full term". Nakahara was blunt:
"They are trying to clean up the mess of negative rates. It's impossible to do a stupid thing like keeping the yield curve under government control," 
2. What about America?
The $14 billion fine on Deutsche Bank from the Department of Justice is another case of finance bureaucrats running out of control. But cooler heads seem to have prevailed & the matter seems to have been postponed at least beyond the November 8 election and possibly into the next administration. No one in the Obama Administration wants to give any ammunition to Donald Trump.
But politicians all over the world are waking up to what Donald Trump has articulated – that today's financial assets have been taken to a artificially high level by the US Federal Reserve & their colleagues in Europe, UK and Japan. The UK is already taking action under the new prime minister. Much more important is what happens to America in the next administration. 
No one knows how or when this central banking bubble will burst. We have seen the devastation caused by bursting of smaller bubbles like the Clinton & Bush bubbles. How horrific will be the pain when the Yellen-Obama bubble, the biggest, baddest & most global bubble bursts?  
Send your feedback to [email protected] Or @MacroViewpoints on Twitter.