Summary – A top-down review of interesting calls and comments made last week in Treasuries, monetary policy, economics, stocks, bonds & commodities. TAC is our acronym for Tweets, Articles, & Clips – our basic inputs for this article.
Editor's Note: In this series of articles, we include important or interesting Tweets, Articles, Video Clips with our comments. This is an article that expresses our personal opinions about comments made on Television, Tweeter, and in Print. It is NOT intended to provide any investment advice of any type whatsoever. No one should base any investing decisions or conclusions based on anything written in or inferred from this article. Macro Viewpoints & its affiliates expressly disclaim all liability in respect to actions taken based on any or all of the information in this article. Investing is a serious matter and all investment decisions should only be taken after a detailed discussion with your investment advisor and should be subject to your objectives, suitability requirements and risk tolerance.
1."a lot crescended this week"
Thus sprach Gundlach on Friday on CNBC Half Time show. We would have used "crescendoed" but barring that, we think Mr. Gundlach was on the mark. Of course, no one can call the top of a crescendo but we do think we are near the top if not at the top.
Mr. Gundlach said that while the cycle of commodities is very long, this is not the best trade location for commodities. He pointed out that bitcoin, rates and commodities had crescendoed this week including oil and said it was time to fade oil. Seasonality seems to support Mr. Gundlach's suggestion of fading commodities.

Mr. Gundlach said Bitcoin had made a double top this week. And he pointed out that stocks are not overvalued vs. Govt. Bonds. Then he made a bold statement, one that is very different from what he has been saying all year:

"Long term Bonds do make sense with 30-year Treasury at 2%+; with all the debt, be alert to debt deflation; 30-yr at 2% can give you a 30% return because the yield can fall to 1% as it did in Covid."
During his conversation, he put down the "tapering is not tightening" bull**** that the Fed and their heralds are trumpeting again. The Fed and their TV heralds don't understand that we remember the same nonsense that was bandied about during the previous taper. Mr. Gundlach referred to a study by the Atlanta Fed that QE had affected rates by 200 bps. That means if the Fed ends the taper by 1st half of 2022, then they would actually be tightening monetary policy by 200 bps.

The Treasury market is saying this already. Last week the 30-3 year spread flattened by 22.6 bps and this week it flattened further by additional 6 bps. Is there any one who doesn't understand that this action is screaming tightening? The week before, it was the 3-year yield that rose by 11 bps, the highest rate rise that week. This week it was the 3-year yield again that rose by 8.9 bps, a higher rise than any other maturity. And the smallest rise in yield was in the 30-year yield which only rose by 2.8 bps. Is this why Nancy Davis of Quadratic Capital has launched a Bond-deflation based ETF as she said on CNBC Half Time this week?
Priya Misra of TD Securities told the Fed what to do on BTV on Wednesday morning,
… I think the bond market here is so nervous about inflation & thinks the Fed will be forced in; all the bond markets in the front end are calling the Central Banks' bluff; Now I think the ball is is back in the Central Banks court; they have to push back …. 
So far, the Treasury market has not been damaged by the taper talk. If you don't believe us, just look at the 10-year, 20-year & 30-year yields. They are actually under-performing. And this is despite virtually every one realizing that Powell is going to announce plans for the taper at the November 3 FOMC.  In fact, David Tepper said on Friday CNBC Half Time that "Powell told you today that taper happens next month".

And then Mr. Tepper said "if we stay at 1.60%s [10-year yield] after the taper announcement, then we could see a trading rally (in stocks) 5%-10% up till the end of the year; crap rally but I will play the game ". And this is a man who, in his own words, doesn't love stocks, bonds, junk bonds right now.

By the way, the 10-30 year curve stared falling in yield AFTER Powell said taper announcement happens next month. By how much you ask? Well, the 30-year yield fell by 5.5 bps on Friday, 20-year by 4.6 bps & 10-year by 3.3 bps. And TLT rallied by 1.10% and the Zero-coupon EDV rallied by 1.57% on Friday.

So is it possible that inflation & taper fears have both crescendoed this week? We will know in two weeks. But if both have actually crescendoed, then November could well earn its reputation as a great month for stocks, as Mr. Tepper suggested.

And double by the way, BlackRock's Rick Rieder expressed a similar view, again on CNBC Half Time this week: 
"…. I think they

[stocks]

are going higher; .. interest rates have made their move, they could go a little higher but not where they affect stocks; … if you get past oil & I think you can, we could get a 5%-8% move from 4500, may be even 10% move … amount of liquidity in the system is epic …" 
How epic? Below is courtesy of a Jim Bianco retweet: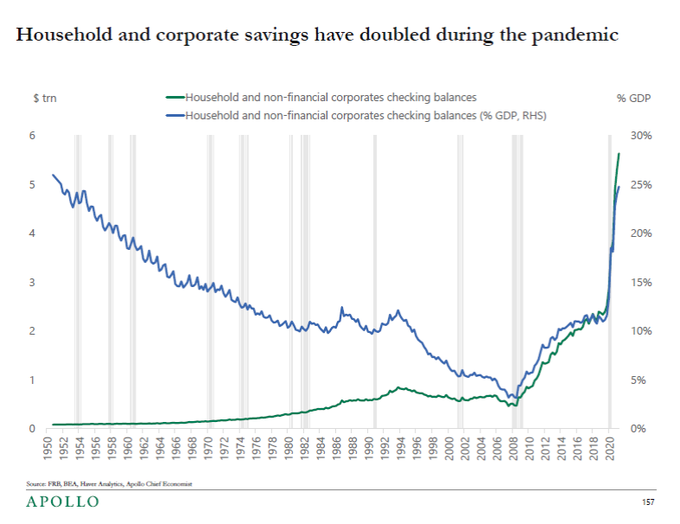 2. Have Supply & Demand Crescendoed too?

By now everybody has heard of supply chain issues. Not just simple issues but intractable ones. Doesn't that make you wonder if these concerns are being crescendoed?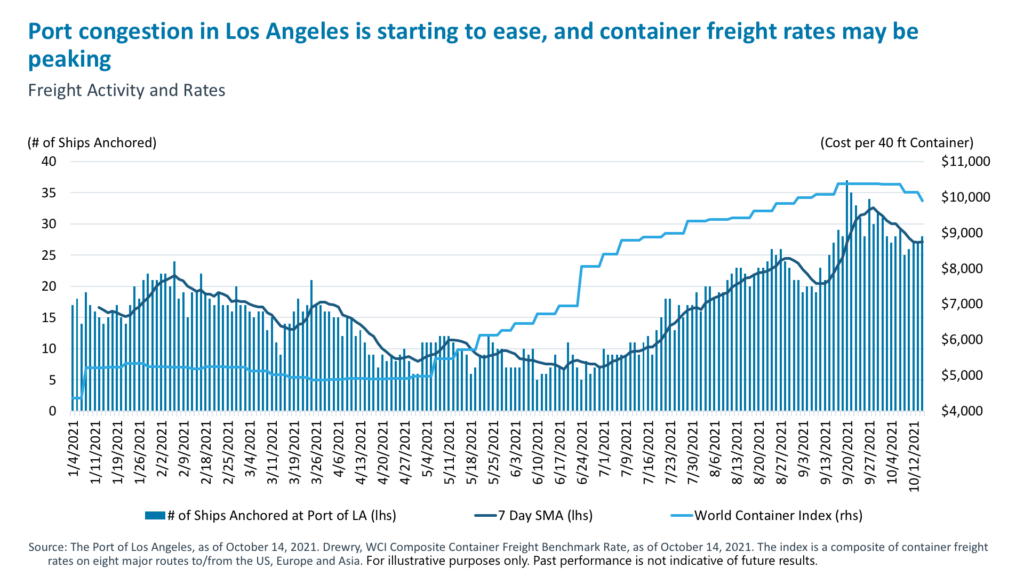 Ms. Amoroso writes in her article:
The supply challenges that businesses and consumers face could soon be abating as port congestion eases, transportation labor hiring improves, and factories in Asia reopen.
For the first time since the end of September, the spot freight rate for a 40-foot container fell below $10,000.
Second, wait times at sea and at ports – which could be peaking – are partly to blame for high shipping rates because they tie up containers and leave them in short supply. The latest data suggest that the number of ships at anchor is starting to decline, and the number of days at anchor, … could also be peaking,
Factories should be reopening in Southeast Asia – Cases, however, are now coming down and vaccination rates are rising in these countries. For example, the first-dose vaccination rate in Malaysia is now close to 70%, while in Vietnam it is near 30% but ramping up quickly. With these improvements, we expect that restrictions could soon begin to ease, and with that, manufacturing shortages should too.
But supply is just one side of the coin: