It was only a month ago when we discussed the standoff between China & India at Doklam plateau in Bhutan. As expected, the standoff continues despite angry rhetoric from the Chinese side. For once, India has been the cool side in physical & emotional control. Unlike other Asian countries, Prime Minister Modi & Ajit Doval, his National Security Adviser, have demonstrated a prepared, confident India that has confronted China to fulfill the security commitment to friend & neighbor Bhutan. As Foreign Minister Sushama Swaraj said India is prepared for war but wants peace. The entire world, especially China & other ASEAN victims of Chinese aggression, sees that this is indeed the dawn of a new era for India.

That is only one aspect of a new era for India that begins with a new logo: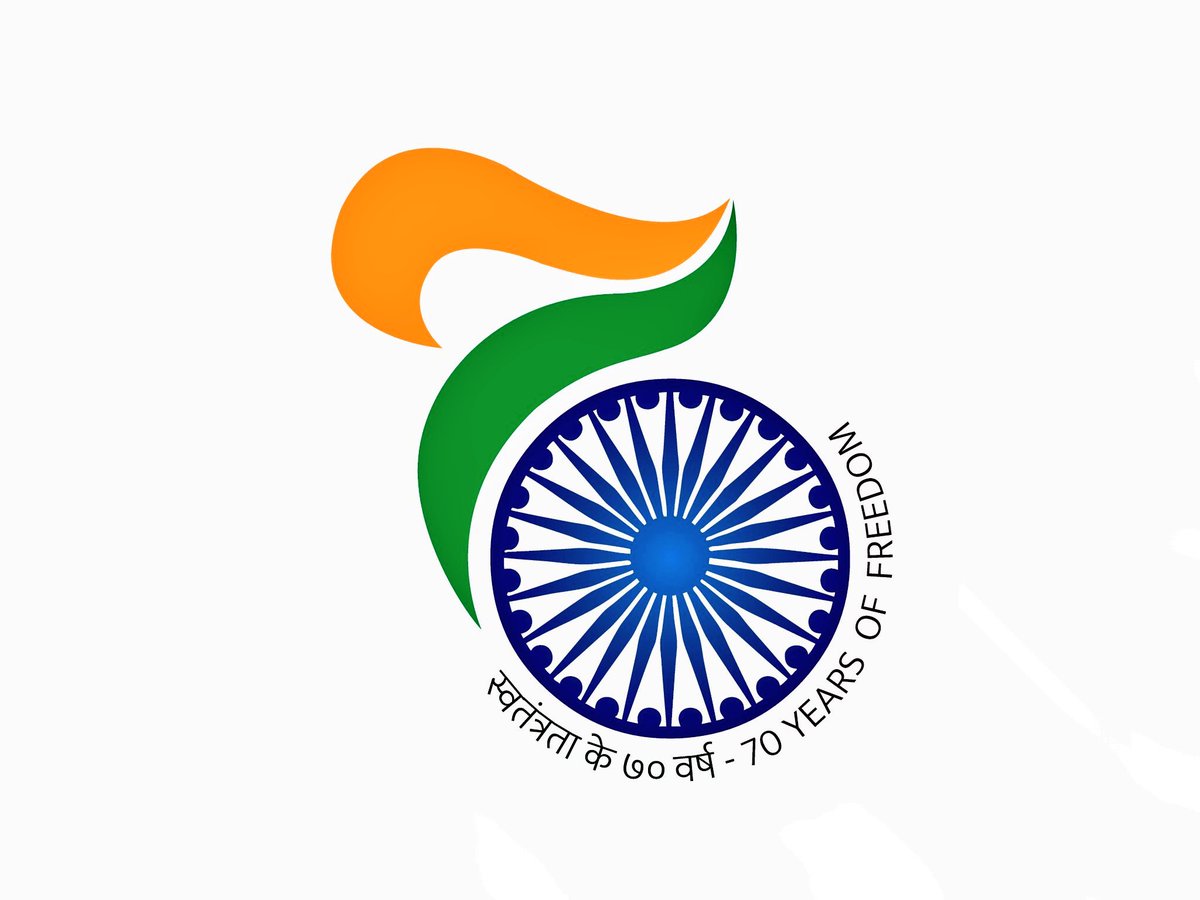 It also seems clear that a new era is beginning in America-India relations. We will see this unfold in many dimensions in the next few years. Today, this is seen in a couple of ways, first with the logo below:

The above one might have been expected but we certainly did not expect the second.
Ms. Carlson is America's Chargé d'Affaires in Delhi and is currently tweeting from @USAmbIndia. This is one of most deft diplomatic touches from an American diplomat in India and goes much farther than speeches & words. Speaking personally, there is nothing like a saree to bring forth the intrinsic dignity of a woman. And the highest ranking American diplomat in India adorning a saree demonstrates that this is a new era in which America no longer considers India as ex-Colony of Britain or as a third world country.
What is lacking though is the inclusion of the royal Paithani saree among Ms. Carlson's choices. But that is what happens when you restrict your shopping to Delhi and don't shop in the financial-media capital of Mumbai. Or perhaps, the consummate diplomat in Ms. Carlson is keeping the royal Paithani saree for America's First Lady during her future visit to India.

As President Trump has stated often, nothing says "confident" like a rallying stock market. By that standard, India is doing well indeed with a 25% rise in 2017 so far. If that is not enough, the Indian Stock Market (Nifty) "could triple in the next five years" according to a veteran strategist from an American Investment Bank.
One reason for it is the series of structural reforms enacted by the Indian Government – Goods & Services Tax (GST) bill, Digitization Everywhere & Financial Sector Reforms. As Wisdomtree writes – these "structural changes will be propellers that accelerate India's economic engine, which has just started to warm up". Why could this be a new era? Wisdomtree explains what greater tax collection, greater economy tracking via digitization & bankruptcy reforms could mean:

"

Since India grew 6% to 7% for the last decade with a mere 3% of its employable population paying taxes, with 85% of economy untracked, with banks having no hope of recovering assets gone bad and with more than half of the population having no bank account, it is not difficult to guess how the country will grow after all of these parameters change foreve

r"
All these reforms seem to be signaling a new era as well. People have talked about India's demographics but few have pointed out what the above reforms & greater regulatory oversight of India's markets could mean. In Wisdomtree's opinion:
"Traditionally, exposure to financial markets has constituted around 6% of the household balance sheet in India. In comparison, the figure in the United States is well above 30%.1 This is about to change and, … sets up India for a strategic bull run".
What about some numbers? Wisdomtree writes:
"It is estimated that India's savings will increase fivefold over the next decade and reach over 50 trillion rupees by 2025. Currently, around 6.16% (or around 900 billion rupees in currency terms) of household assets are in risky assets; even if we assume there is no migration and 6.16% stays flat, at 50 trillion rupees it implies 3.08 trillion rupees invested in market assets in the next 8 to 10 years. In other words, that's a market expansion of 2 trillion rupees ($31 billion), and this is without any increase in risk tolerance"
That's just regular growth. Why we do talk about a new era? The Indian stock market has been dominated by foreign investors and not Indian households. But that is changing as confidence is market regulation is rising. Per Gaurav Sinha of Wisdomtree, 
"In 2015, around 25 million new brokerage accounts were opened in India,7—higher than ever before! What is even more encouraging is the exponential growth trend. India has one of the most attractive demographic profiles, with nearly two-thirds of the country below 35 years of age.8 As memories of inefficient markets fade and the risk appetite of young India increases, I expect a significant shift toward stock market investments".
A chart used by Mr. Sinha shows this is already happening: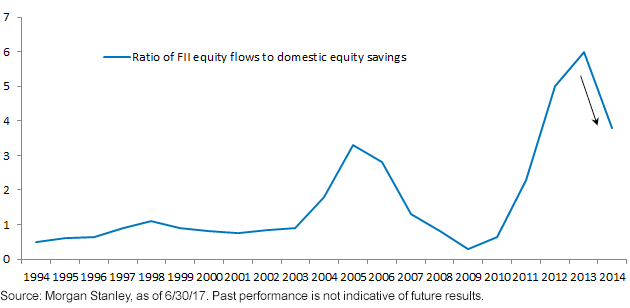 Can any discussion of India be complete without that magnificent industry that has probably done for India's soft power than any other? If Doklam plateay in Bhutan represents one extreme of China-India relations, the unprecedented success of the movie "Dangal" in China represents the other extreme. And "Dangal" has also been viewed as a new era in recognition of the potential of India's young women. This recognition is evident in the celebration of 70 years of India's Independence by a Dubai bakery: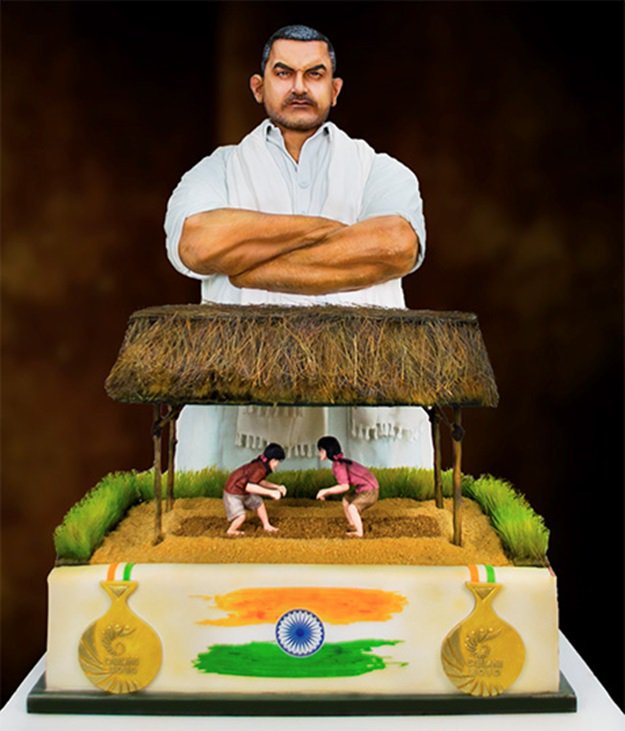 A new era was launched in July with India & Israel upgrading their relationship to a Strategic Partnership. This partnerships rests on common values, the enormous opportunity both countries see in this relationship and a shared sadness & determination. The 2008 attack in Mumbai by NaPakistan-trained commandos killed both Indian & Jewish citizens with savagely barbaric hate. The worst hit building in Mumbai was the famous CST railway station. Seeing it decked below in Indian Tricolor renews our resolve: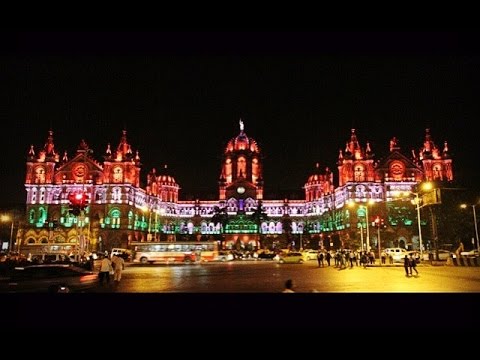 So what better way to end this celebration of India's 70 years of Independence than by listening to an Israeli singer sing India's national anthem in Israel:
[embedyt] http://www.youtube.com/watch?v=Dcr95dcIQH8[/embedyt]
Send your feedback to [email protected] Or @MacroViewpoints on Twitter