Summary – A top-down review of interesting calls and comments made last week in Treasuries, monetary policy, economics, stocks, bonds & commodities. TAC is our acronym for Tweets, Articles, & Clips – our basic inputs for this article.
Editor's Note: In this series of articles, we include important or interesting Tweets, Articles, Video Clips with our comments. This is an article that expresses our personal opinions about comments made on Television, Tweeter, and in Print. It is NOT intended to provide any investment advice of any type whatsoever. No one should base any investing decisions or conclusions based on anything written in or inferred from this article. Macro Viewpoints & its affiliates expressly disclaim all liability in respect to actions taken based on any or all of the information in this article. Investing is a serious matter and all investment decisions should only be taken after a detailed discussion with your investment advisor and should be subject to your objectives, suitability requirements and risk tolerance.
1.Volatility of Volatality
After what seemed like a turbulent week, what do we have? S&P and Dow down 1% on the week; Nasdaq & NDX down 1.5%; Russell 2000 down 2.7%; TLT up 1.1%; yields down 6-7 bps along the curve; Oil down 1.4% and Gold up 2.5% – This is the sort of action we used to see in a single day's turbulence, right? So what's the big deal? The vertical geyser-like jump of 44% in VIX on Thursday capping a 54% rise in VIX on the week. Jeffrey Gundlach said on Thursday's CNBC FM 1/2 that "volatility going up" was his highest conviction trade. How prophetic did that statement prove thanks mainly to President Trump' blunt warning to Kim Jong Un of North Korea.

A one-day rise of 44% in volatility! That means volatility itself became highly volatile on Thursday,  right!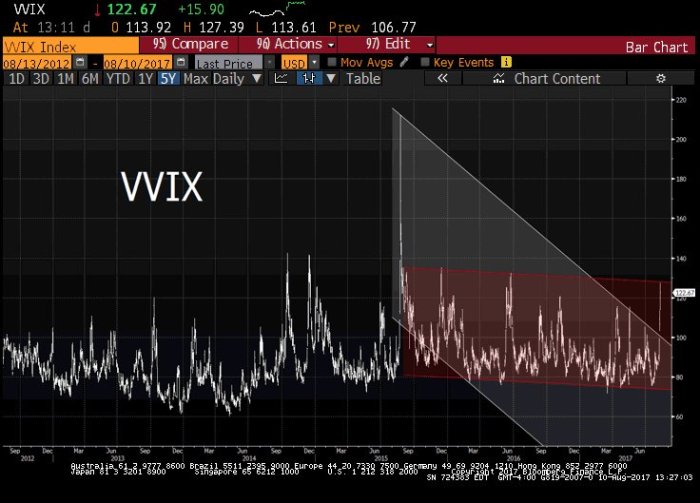 Why this panic in VIX? Jon Najarian of CNBC FM suggested that many had not only shorted VIX but had actually put on large one-x-many ratio trades on VIX. As VIX exploded up on Thursday, the ratio trades proved destructive & had to be liquidated en masse leading to the explosive rise in VIX. That lead to a greater explosion in VVIX, the volatility of VIX.
As the above chart shows, the volatility of volatility tends to fall in intensity after such an extreme spike. As fears of immediate follow up to Thursday afternoon's event receded on Friday morning, it became evident to some that Thursday's spike had presented an opportunity to take profits in the long VIX trades:
"In summary, the long-awaited correction has begun. Oversold conditions are already appearing, and even one day of rally might generate buy signals. We will follow the signals wherever they lead us, without getting hung up on downside targets or duration of the correction"
4. Gold
Gundlach mentioned his favorite Copper/Gold ratio as support for his breakout in yields position. Not so fast as Coach Lee Corso would say – FCX fell 3.3% this week while GDX rose 3.7%, a 7% outperformance of Gold miners over Copper miners. In fact, Gundlach himself tweeted:

Yes. GDX did close up on Friday. Gold was the star of the week, up 2.5%.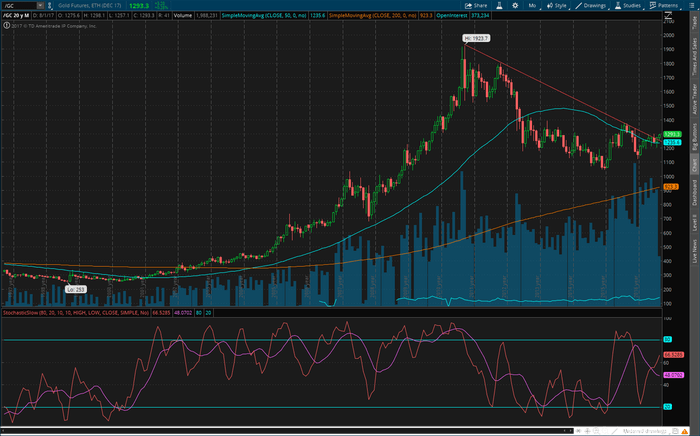 If Gold was a star, then Silver, up 5.2%, was a superstar this week. That actually diminished the ardor of some: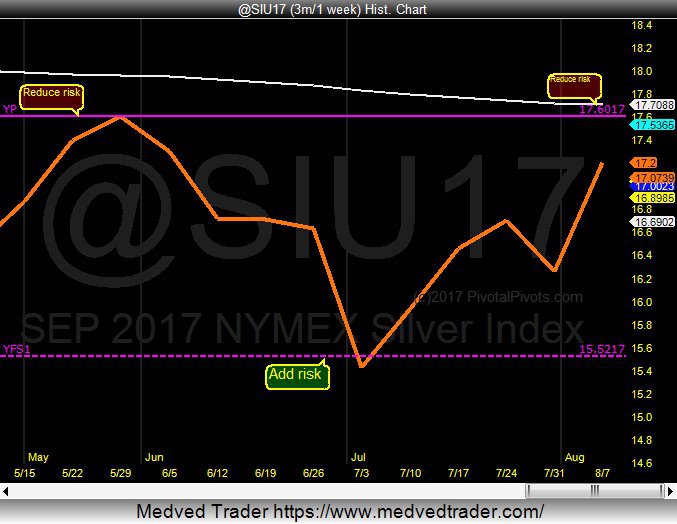 5. Oil
If Gold & Gold miners were stars, Oil & Oil drillers were tar this week. Oil was down 1.4% while OIH, the Oil Services ETF, was down 7.2% on the week. XLE, the integrated ETF, was down 2.7%. Guess, unlike a war in Kuwait,  a war in North Korea is more likely to weaken demand for oil.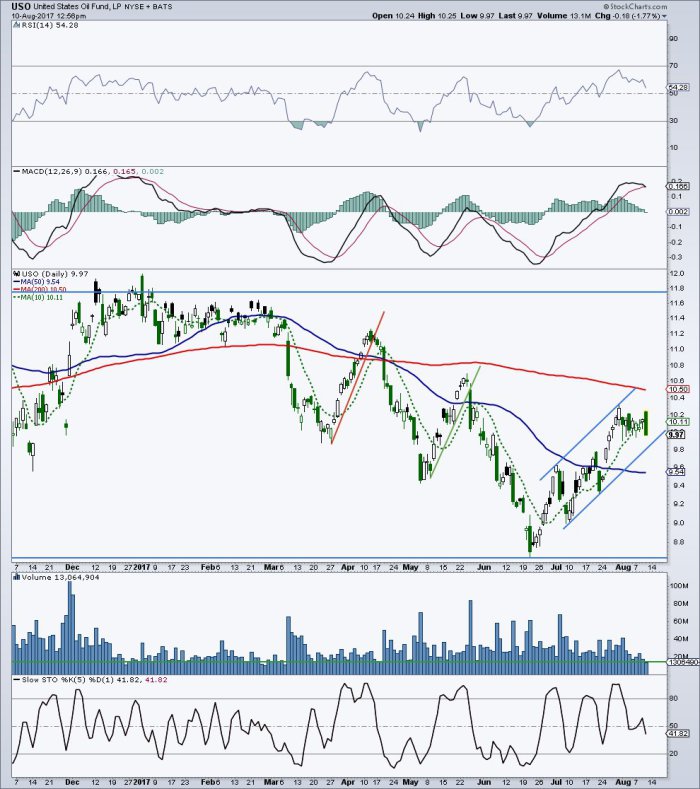 Commodities got shellacked this week – FCX down 3.3%, CLF down 7% & MOS down 10% on the week. Perhaps sellers confused them for retail stocks. Or they might be providing a signal for lowering of global growth expectations. 
Send your feedback to [email protected] Or @MacroViewpoints on Twitter