Update on November 18, 2017 – The US Department of Defense Office of the Inspector General began reviewing Pentagon guidance for troops deploying to Afghanistan primarily about Afghanistan's entrenched custom of "bacha bazi", or the sexual abuse of boys, who are forced to dress in girls' clothes, dance and have sex with older men. One person who was interviewed said he or she had been aware of an Afghan commander keeping little boys "for pleasure." "The interviewee reported to the chain of command and had been told, 'There's nothing we can do about it,' 'It was out of our control,' 'This is Afghanistan,' or 'It's their country," the report states.
This week rape again became a topic of shame in India's capital. A quick search revealed how common such rape is in India, a gruesome rape that leaves victims with long term psychological damage in addition to physical injuries. The last couple of years have added a technological twist that inflicts more psychological damage and aids in forcing victims to stay silent but, ironically, also helps to bring the crime to light.

1.Rapes in Delhi & Mumbai
Take the case of a horrible "rape" that came to light this week in Delhi, India's capital. According to NDTV News, two minor boys were allegedly assaulted by a group of ten men, beaten "with belts" and "forced to perform sexual acts on each other" that were filmed. The accused group then put "petrol and chilli powder on their private parts and burnt them with cigarettes". This reportedly went on for five hours.

This reportedly took place on October 26 but came to light this week. The families of the two boys approached police after a video footage recorded by the accused went viral on social media. Two of the ten accused have been arrested by the police, according to NDTV.

[embedyt] http://www.youtube.com/watch?v=NI9-XkYMOyA[/embedyt]
The above horrific act followed another case reported by Jai Maharashtra News (see clip above) of a gang rape of a 14-year boy by a group of 15 boys in the Thane suburb of Mumbai, India's financial & media capital. This "rape" reportedly went on for a year. The perpetrators had reportedly videotaped their "rape" of the boy & threatened him with viral exposure on social media. The boy victim had told his parents who reportedly advised him to stay silent. The boy tried to commit suicide which was prevented by people who witnessed it. That's how the police got involved. They have arrested 9 of the 15 alleged rapists and sent them to a juvenile facility.

This followed another case of "rape" of two young boys in Pawai, a suburb of Mumbai and their suicide following their "rape". The word rape is in quotes because legally these cases are not deemed to be "rape" in India's antiquated legal system. According to Indian law, rape only happens to females and not males. So the draconian rape laws enacted in 2013 after the horrific rape-murder of a young woman in Delhi cannot be used in these cases.

2."India's" Culture of Rape
When people think of India, they think of the Taj Mahal & the Mughals. In fact, Indian culture is routinely assumed to be Mughal culture and Indian food is constantly marketed in the western world as Mughlai cuisine. The term Mughal or its westernized form Mogul is often used to describe ultra rich flamboyantly opulent life style. Witness the description of Harvey Weinstein as a Mogul. Now we have all seen reports of the other side of Harvey Weinstein. This aspect is as reminiscent of Mogul culture as the opulent lifestyle. 
The Moguls were masters of Afghanistan before they came down to Delhi. And their predecessor rulers of North India were Afghans, more specifically Pashtun Afghans, the same guys that comprise today's Taliban. The Pashtuns, or Pathans as British called them, have been rulers of North India for the past 1,000 years & are still regarded as the ultimate symbols of male virility. Look at Bollywood and you will see that today's superstars are Pashtuns – Shah Rukh Khan, Amir Khan, Saif Ali Khan. Superstar Hindu female actors often marry Pashtun actors instead of Indian. The wives of the above three Khan actors were Hindu before their marriage.

Pashtun culture has dominated North India for centuries and still does. Bollywood, in particular, is entirely Pashtun in culture. This is also true about sexual & gender relationships in India, especially North India. (For a more detailed of India's Pashtun colonial culture, see our February 2, 2013 article titled "India's" Culture of Rape).

What does Afghan-Pashtun culture have to do with the topic of "rape" of minor boys in India? Look back to the April 4, 2012 Washington Post article by Ernesto Londono about bacha baji in [Pashtun] Afghanistan. Bacha means a boy & baji is kind of a practice. Read the opening sentences of this Washington Post article:

"The 9-year-old boy with pale skin and big, piercing eyes captivated Mirzahan at first sight. "He is more handsome than anyone in the village," the 22-year-old farmer said, explaining why he is grooming the boy as a sexual partner and companion."
The article also quotes Assadula, then a 23-year old Afghan soldier, who took a 16-year old boy as his bacha. Besides his own liking for young boys, there was a practical aspect to it :
"You cannot take wives everywhere with you," he said, referring to the gender segregation in social settings that is traditional in Afghanistan. "You cannot take a wife with you to a party, but a boy you can take anywhere."
The story in dense low income areas of Delhi & Mumbai is not that different. These neighborhoods are teeming with young men who, for the most part, live off of temporary jobs. Their chances of getting girls to marry them are not great. And the post-2013 focus on protecting young girls from rape may have made it safer to use boys for "pipe cleaning", the term used by the well known Dr. Wendy Walsh on CNN (see from 00:38 in the clip below).

[embedyt] http://www.youtube.com/watch?v=oh7r9RWPAX8[/embedyt]
And as we said, the Pathan "Mard" culture is the standard aspired to by Indian men. Regardless of  how & why, there can be little doubt that sexual abuse of young boys is now a full scale problem in Indian society & one that, fortunately, is becoming visible.

If history is any indication, the psychological damage to young boys from such "rape" may be far worse for society than damage to young girls from rape. Such boys have been known to grow up to become hardened abusers themselves. And the celebrated ones like the famous bacchas of Afghan Pushtun rulers became virulently violent as military commanders and massacred civilians by thousands. The best known case is the eunuch Malik Kafur, the favorite commander of Sultan Ala-uddin Khilji, who ransacked & plundered South India at the turn of the 13th century.

Remember we spoke of Bollywood Culture being a Pashtun-dominated one? On December 1, Bollywood is going to showcase a grandiosely opulent film about Ala-uddin Khilji's obsession for a Hindu queen. To get the object of his obsession, Khilji invaded her kingdom and laid a siege to the fortress of Chittor. The entire male garrison of the fort, including her husband the King, was massacred by Khilji and all the women of the fort, including the beautiful queen, jumped into fire rather than succumb to Khilji and his Pashtun army.
Think about it. In independent India & after 70 years of independence, the grandest project of Bollywood is a celebration of an evil murderous Afghan Pashtun ruler for whose sexual obsession hundreds of Indian women immolated themselves & hundreds of men were massacred.
If Bollywood can celebrate a sexually obsessed rapist murdering sultan who had his own eunuch bacha, why blame the thousands of young men in teeming suburbs for emulating the Pashtun bacha culture? 
3. Apathy of Indian Government
Another aspect of Pathan "mard" or manly culture seems inherited by today's Indians – the culture of shame & silence by the unfortunate bachas. 
To quote the Washington Post article:
"It is very sensitive and taboo in Afghanistan, … There are a lot of people involved in this case, but no one wants to talk about it. … "In Afghan society, if you are raped or you are abused, you will not have space in society to live proudly, … "
At least the Indian media is beginning to highlight these cases as they come up. But the Indian Government has not even bothered to examine & modify Indian laws.
That is another reality of India's colonial slave mentality. The Indian Government will only get active if the New York Times, BBC and their army of NGOs begin to put pressure on them. The Indian Government, as everybody knows, just doesn't care about what Indians think. They are singularly obsessed with their profile in the west. And the Western media, NYT-BBC-CNN, are utterly unconcerned about the horrible sexual abuse of young boys in India. To them the only plight worth fighting for is that of women.

4."Other" rape of young boys
Back in February 2017, a Cincinnati, Ohio woman was arrested for reportedly raping a 4-year old boy & livestreaming the act. The woman was charged with felony rape according to the New York Post. Ironically, her name is India Kirksey. 
That irony apart, an adult woman raping a minor boy doesn't happen in India, does it? Yes it does. But it is not covered in the same straight prosaic way in which the New York Post covered the above Ohio case.
Consider the case, reported by DNA, of a 16-year old boy who was allegedly raped by his best friend's mother who offered him a spiked drink. Then "his friend's mother allegedly stripped him, forced herself upon him, and recorded a video of the act." His complaint reportedly said that "the woman used the video to blackmail him, calling him to her house regularly and forcing him into sexual acts with her". According to boy's father per the DNA article, "she claimed that she was pregnant and that she would accuse him of rape if he ever told anybody what had happened.". Read the DNA article to get the horrid details.

Remember a woman in India cannot be charged with "rape" of a minor boy because "rape" only happens to a male according to the Indian law. The above case and this issue were discussed in an article on India.com under the title 16-year-old boy raped by woman in Mumbai – can a man be sexually assaulted?
Look at the "Representational Image" that India.com used for this story.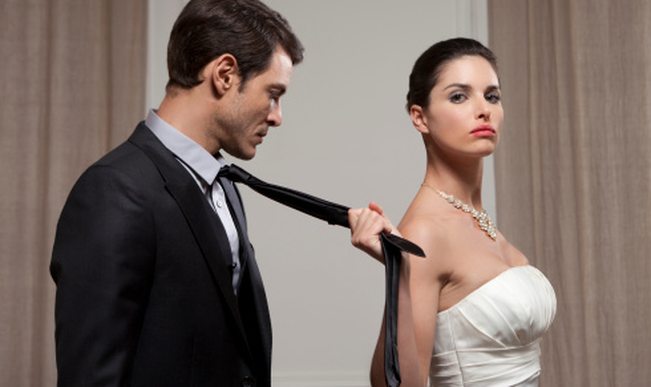 What did India.com mean to suggest by using the above image in the story of a reported rape of a minor boy by an adult woman? Your guess is as good as ours.
We are so disgusted that we are about to do something we never thought we would do. We appeal to the New York Times, CNN, Fox, & NBC to cover such abuse of young boys in India and put pressure on the Indian Government to change laws to cover rape of men at least rape of minor boys. Without your pressure, no one in the Indian Government will listen or care.
Send your feedback to [email protected] Or @MacroViewpoints on Twitter