Go back in time and you will see that greatest geographical discoveries of humankind have been deep sea ports with easy links to the mainland. Singapore is the first name that comes to mind. It sits at the other end of the Malacca Straits, that narrow waterway through which 25% of world's traded goods flow. It was first built by early Indian navies when Southeast Asia was in the Indian sphere of influence. Sinha means lion and pur/pore means city. So the original Indian name Sinha-pur means city of Lions. 
No one built a greater global navy than 18-19th century British. They rebuilt the Sinha-pur that had been destroyed by Portuguese and renamed it Singapore. The British did not stop there. They settled on an obscure outpost of China called Hong Kong. They made Hong Kong the main port of the British Navy in China and the inlet to trade with China.

In a great wedding gift, the Portuguese gifted to the British a small insignificant port on India's western coast called Mumbabai. They developed it into a major naval base and a base for their trade to & from India. Today, Mumbai is the financial & media capital of India as well as the base of the Western Naval Command of the Indian Navy.

If you notice, the above narrative travels from the Eastern regions of the Indian Ocean to its Western region. And what lies to the west of Mumbai? The Arabian Sea region of the Indian Ocean and the eastern coast of the Middle East; specifically the old center of naval commerce & trade called Oman and more specifically the new port of Duqm.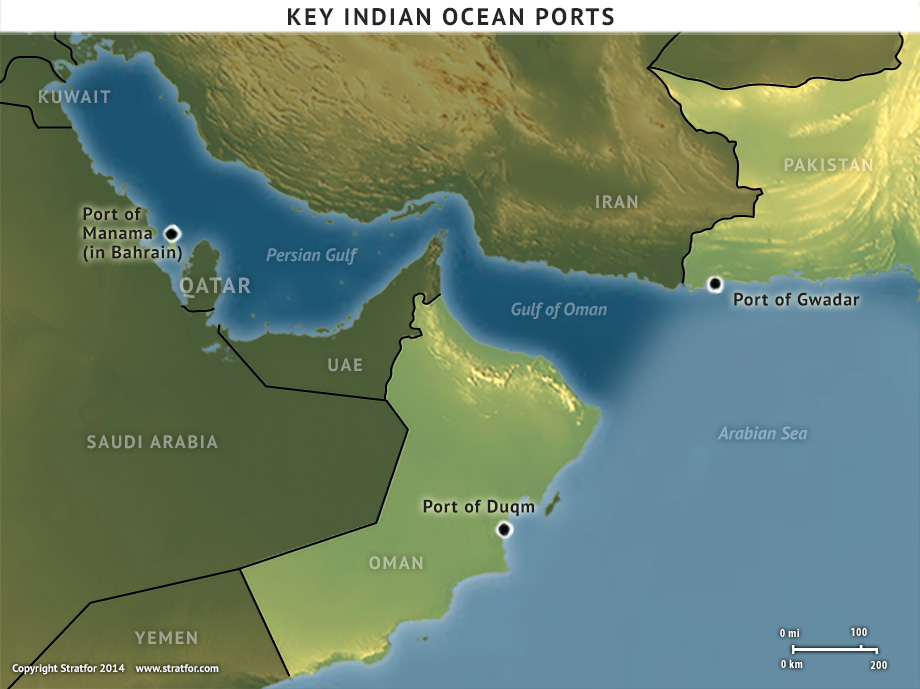 (Courtesy – Stratfor 2014)
1.Duqm
Read what Robert Kaplan, author of Monsoon, wrote four years ago in April 2014 in his article The Indian Ocean World Order:

"A few years ago, Duqm was just a blank spot on the map, facing the sea on a vast and empty coastline with its back to the desert. Now, $2 billion has been invested to build miles and miles of quays, dry docks, roads, an airfield and hotels."
There was a reason Kaplan focused on Duqm. As he wrote then:
"In future years, a sizable portion of the U.S. Navy's forces in the Middle East could be spending less time in the Persian Gulf and more time in the adjacent Indian Ocean. Manama in Bahrain will continue to be the headquarters of the Fifth Fleet. But American warships and their crews, as well as the myriad supply and repair services for them, could be increasingly focused on the brand new Omani port of Duqm, located outside the Persian Gulf on the Arabian Sea, which, in turn, forms the western half of the Indian Ocean."
Look at the map above and see how hemmed in is the huge US naval base in Bahrain. As Kaplan wrote in 2014:
From Duqm, the U.S. Navy would still be close enough to the Persian Gulf to bomb Iran, yet without American warships being as hemmed-in and exposed to attack as they are in Bahrain."
But Kaplan's 2014 view of Duqm was rational but limited as we wrote in our own article in April 2014 titled A 21st Century Singapore? The Next Great American OutReach?
2. Enter India
Expand the map and see where Duqm sits in the increasingly crowded & competitive Indian Ocean:
Duqm sits directly across the Arabian Sea from Mumbai & India's western coast that is on a fast growth path. The yellow star inside Iran is the new port of Chabahar that we described as the New Kingmaker for Indian Ocean Trade in May 2016. Oman is building a strategic oil reserve facility at Ras Markaz near Duqm. India is also pitching to Oman, a second strategic oil reserve facility in India along the lines of India's oil reserve deal with UAE.

If and when Iran improves its relations with US, the triangle of Chabahar, Duqm and India's western coast can in itself be a major growth triangle centered on energy infrastructure.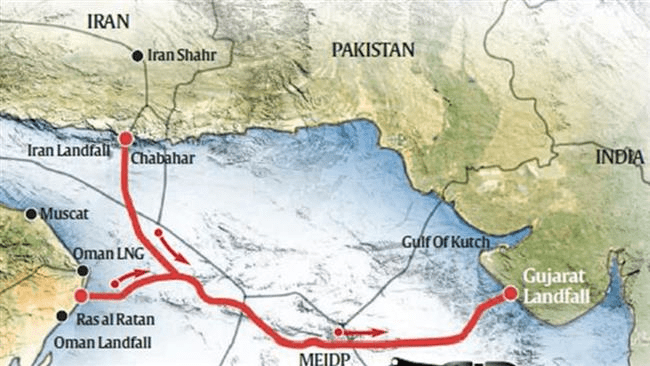 The scale of development in Duqm could be momentous. With 80 km of virginal coastline allocated to Duqm, it could become bigger than Bahrain & Singapore.
3. India-Oman Military Deal for Duqm
While Mumbai, Singapore, Hong Kong all became major commercial centers, their raison d'être was military. Duqm is no different. Its principal attraction today is as a naval base for friendly navies to use it both as a port of call & as a base for supply & reserve services. In his April 2014 article, Robert Kaplan only focused on US Navy using Duqm to become a true Indian Ocean Navy. That is another reason, back then, we termed Kaplan's vision as rational but limited. Look what happened this week.

This week, India & Oman finalized an agreement to grant India access to Duqm. Under terms disclosed in an article in the Indian Express, "the Indian Navy will be able to use the port for logistics and support, allowing it to sustain long-term operations in the western Indian Ocean, a hotspot for piracy in the area. According to the Indian Express, a dry dock will be available to the Indian Navy at Duqm as well, allowing for maintenance without returning vessels to India-based shipyards".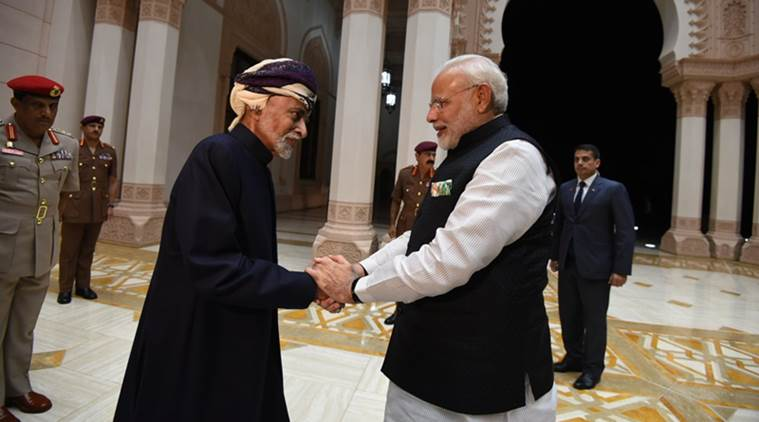 (Courtesy – Indian Express)
According to the Indian Express article, the Indian Navy has been using Duqm recently.
In September last year, India deployed an attack submarine to this port in the western Arabian Sea. A Shishumar-class submarine entered Duqm along with naval ship INS Mumbai and two P-8I long-range maritime patrol aircraft. India gets access to strategic Oman port for military use, reconnaissance aircraft. The naval units were on a month-long deployment with the aim of enhancing surveillance and cooperation.
With this formal access to Duqm, an article in The Diplomat points out:
"Between India, the United States, the United Kingdom, Australia, and, to a lesser extent, Japan, there now exists a well-distributed network of sites, allowing these countries' navies to patrol the wider Indian Ocean region. With Duqm in Oman, Chabahar in Iran, Assumption Island in the Seychelles, Agalega in Mauritius, and the Andaman and Nicobar Islands, India will soon have access to sustain modestly expeditionary deployments for its navy."

"The United States Navy, meanwhile, has a support facility at Diego Garcia, a British possession. India's conclusion of the Logistics Exchange Memorandum of Agreement with the United States in 2016 also opens up reciprocal access for both countries at each others' facilities and at sea. Australia, finally, is planning on improving the Cocos Islands, in the southeastern Indian Ocean, to support P-8 Poseidon operations."
Look at the Google map in Section 2 above and you will see that the line between Duqm & Mumbai could act as a barrier between the two ports China is helping to build in the Arabian Sea – Gwadar in NaPakistan and Dijbouti in Ethiopia. Not just Mumbai of course but the entire network of defense facilities on India's western coast including Karwar, reportedly the world's largest naval base east of the Suez Canal, a base that will host India's aircraft carrier task force.  
In September 2008, we envisaged a strategic security partnership between America and India for the Persian Gulf & the Arabian Sea. With Duqm, that strategic security partnership got stronger and more powerful.
Send your feedback to [email protected] Or @MacroViewpoints on Twitter