Everybody has recognized for some time that the May 2019 election would be a difficult one for PM Modi. His 2014 campaign, while a phenomenal success, had kinda bound him into an untenable position. His campaign for better days, his campaign for sab ka saath, sab ka vikaas (development for all) had raised hopes to such a degree that almost everybody is now faulting him for not meeting their hopes. 
Then Modi's party lost key states in the state elections held recently. Even well known astrologers began predicting a different & messy coalition government after the May election. No wonder the Indian Stock Market has been one of the worst under performers in the world with investors getting ready to pull out.
1.Lady Luck & the Resolute
But PM Modi is a student & disciple of the great Vishnu-Gupt Chanakya, the strategist of statecraft from about 300 BCE. And Chanakya had always scoffed at the notion that planetary movements can affect strategies on earth. Coming back to about 200 years ago, Napoleon had expressed preference for "lucky" generals over smart ones.
Interesting how these two came together about three weeks ago with the heinous terrorist attack on Indian police from terrorists trained by Napakistan. An India, thoroughly sick & tired of tolerating such terrorism and utterly fed up with the pusillanimity of previous Indian Governments, got to see a decisive, bold & thoroughly professional Prime Minister in action. 
Prime Minister Modi with his National Security Advisor & the three chiefs of Indian Air Force, Army & Navy approved a devastating air strike deep inside Napakistan and wiped out a Jaish-e-Mohammed terrorist camp with senior leaders & couple of hundred terrorists. It was a brilliantly conceived & superbly executed strike that combined misdirection & confusion to achieve total success.

In the Chanakya fashion, the Indian Government stated what they had achieved but did not provide much evidence.The Western media jumped on this &, as usual, believed the propaganda put out by Napak. That enabled the opposition leaders in India to attack PM Modi and the Indian Government for misleading the people.

Will this allow PM Modi to release the photographic evidence they have just before the election? Already details are beginning to come out in Indian TV media about the terrorist attack, details that show annihilation of the top leadership of Jaish-e-Mohammed terrorist organization. Will PM Modi close out his campaign by demonstrating the anti-Indian bickering of his opponents & contrast it with his firm & decisive leadership?

The reality is that the opposition has no one of any stature and the people don't want a weak coalition of self-serving corrupt politicians running the country. And even those who find fault with PM Modi & those who have not benefited from his government admit that Modi acts for the country and not for himself – a huge + in a country of horribly corrupt & self-serving politicians. 
2. Rocket Propulsion for India's Stock Market
The stock market instantly understood what the Balakot strike & the forced release of Indian Wing Commander Abhinandan means for PM Modi in the upcoming election. Contrast the sloppy defeatist action in January-February and then look at the propulsion from Feb 28 onwards in the chart below: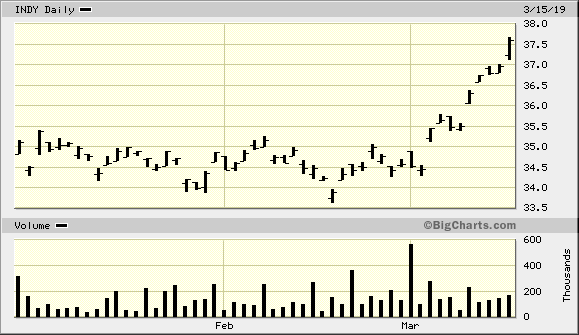 Another way to look at the two week rally is to compare it to the S&P 500 & the Emerging Markets ETF:
                              (INDU-SPY)                                                                                           (INDU-EEM)
3. India-Myanmar Joint Strike against Arakan Terrorists
While the world's attention was focused on the air-strike against Jaish terrorists inside Napakistan, the Indian Army, jointly with the Myanmar army, struck at Arakan terrorists inside Myanmar. 
Remember the Kaladan corridor project between India & Myanmar that we discussed in our January 19, 2019 article Straits of Malacca & Bay of Bengal? This is a critical project for the connectivity between the North-Eastern states of India with Thailand & Asean via Myanmar. Look at one of the maps from our January 19, 2019 article: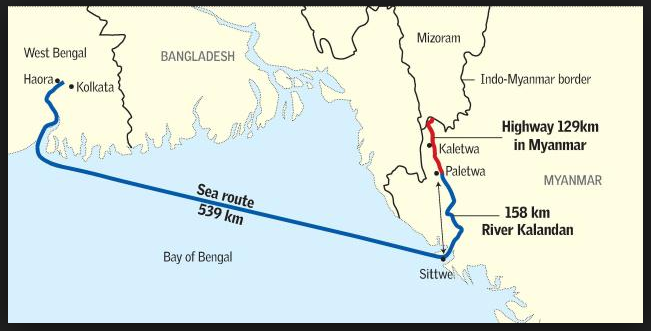 A senior officer in the Indian security establishment told India Today:
"In the last two years the Kachin Independence Army (KIA) that trains the Arakan Army in the Kachin State of Myanmar adjoining China had readied around 3000 cadres that moved to the South closing in on areas adjoining the Lawngtala district of Mizoram,"
And "these were exactly the areas that cut through the proposed Kaladan Project that will link Sitwe in Myanmar to Mizoram", sources told India Today. The magazine also reported:

"Large scale joint operations were launched by the Indian and Myanmar armies. The first phase targeted newly constructed camps bordering Mizoram. Part two targeted the deadly Naga group, NSCN (K); its their camps were destroyed up north around 1000 kms away bordering Arunachal Pradesh"

[near the sensitive India-Myanmar-China intersection]

.
This may not mean much to many in the Northwestern parts of India or South India. But it carries deep meaning in the Northeastern states of India. Modi's BJP has made significant progress in this far-away region and this news will only bolster PM Modi's chances in the May 2019 election. 
And it once again shows PM Modi as a man who takes steps for the Country and not for himself.
4. Is it a sure thing?
By no means. Because about 2/3rds of Indian population is engaged in agriculture & that has been under severe stress. Rural India determines elections and they are unhappy. But even they realize that PM Modi is the only leader who is not corrupt & who works tirelessly for the country's development. The other choices are the same old regional leaders that are trying to come together simply as a means of defeating PM Modi.
Indian voters have often voted differently in state elections & national elections. They tend to vote their jaat, their identity & their local issues in the state elections. But they do vote from a national view in the national elections. 
PM Modi has not been resting on his laurels. He is not telling voters how terrific he has been. His is a simple message. They came in 5 years ago to put India on a new development-oriented path. He is humbly asking the voters to give him time to complete the work.
We think it will work. And all he needs is a swing of 3%-5% of votes cast to win the election. And he may get it from a number of directions – the middle class that is absolutely thrilled with the Balakot air strike, the poorest of farmers who are getting the aid they needed and core Indian majority who recognize that Modi is coming back to the core Indian (or Hindu) fold. 
That is what we think and the Indian Stock market seems to concur wholeheartedly.
Send your feedback to [email protected] Or @MacroViewpoints on Twitter