Summary – A top-down review of interesting calls and comments made last week in Treasuries, monetary policy, economics, stocks, bonds & commodities. TAC is our acronym for Tweets, Articles, & Clips – our basic inputs for this article.
Editor's Note: In this series of articles, we include important or interesting Tweets, Articles, Video Clips with our comments. This is an article that expresses our personal opinions about comments made on Television, Tweeter, and in Print. It is NOT intended to provide any investment advice of any type whatsoever. No one should base any investing decisions or conclusions based on anything written in or inferred from this article. Macro Viewpoints & its affiliates expressly disclaim all liability in respect to actions taken based on any or all of the information in this article. Investing is a serious matter and all investment decisions should only be taken after a detailed discussion with your investment advisor and should be subject to your objectives, suitability requirements and risk tolerance.
1.Fed Chair
What a perfect job by Chairman Powell in the presser! The statement again was a bit hawkish but that impact was diluted by Chairman Powell in his presser.
What happened between about 1:50, ten minutes prior to FOMC statement, and Friday's close?

Dow up 18 bps; S&P flat; NDX down 26 points; Russell up 12 points; Transports up 113 pts. Treasury rates fell about 2 bps. Gold & Oil were up 2%. The Dollar was down a little and VIX was down 3%. 
Apart from again killing volatility in all markets, the Fed did something important:
Lawrence McDonald@Convertbond– New permanent foreign repo facility is large for emerging markets,Fed trying to arrest USD, support global recovery. Why? $64T of GDP outside USA vs $20T inside. If you blow up the $64T again (see 2013, 2016, 2020), you just have to offer a lot more accommodation on the backend.
We focused first on market movement post FOMC because we all know the Fed is more focused on markets than the economy. But, just for the heck of it, let us look at a couple of charts about the economy: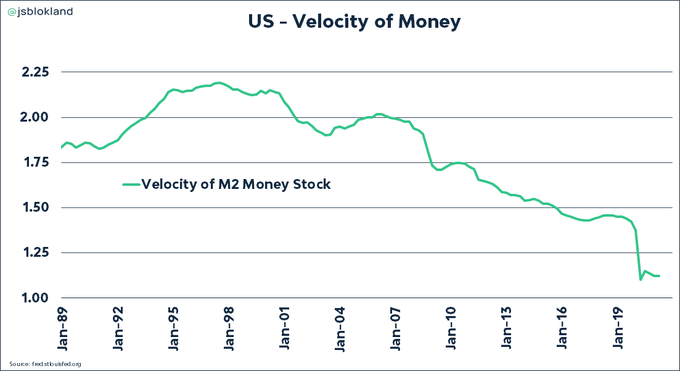 That is just one factor. What about an economic index?
Lisa Abramowicz@lisaabramowicz1 –

J

The Citigroup U.S.

economic surprise index

is getting

close to the most negative it's been in a year.

This just underscores the degree to which analysts have more frequently been too optimistic of late after months of failing to be optimistic enough.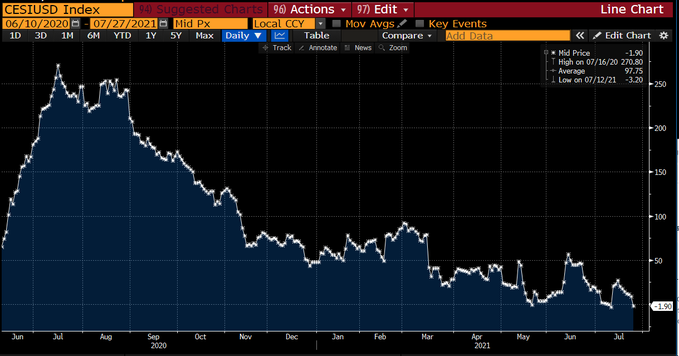 How about some words, highly descriptive words?
David Rosenberg@EconguyRosie – This economy is so totally distorted that — get this — we had a 6.5% annualized real GDP growth pace in Q2 in the same quarter that real personal disposable income collapsed at a 30.6% annual rate!
That doesn't sound all that bad. What will make Powell-Biden throw in more money?
David Rosenberg@EconguyRosie – Ever heard of Kerplunk from the 60s? That's the US economy. And why Powell will defer the taper & why Biden is so fiscally desperate. If not for these huge fiscal interventions, GDP would be $1.2T or 5% lower. Like 1934,1935 & 1936, it's a recovery in an elongated econ depression
That's one hand of the economy. Is there an other hand?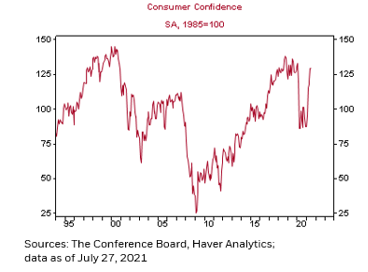 But isn't the economy now structured around the stock market? 
Holger Zschaepitz@Schuldensuehner – This chart highlights why the Fed will no longer let stocks fall. There is a correlation between US total employment and the stock mkt. In other words, the equity market drops, employment drops. The equity market goes sideways even, employment levels off. (via@JulianMI2 )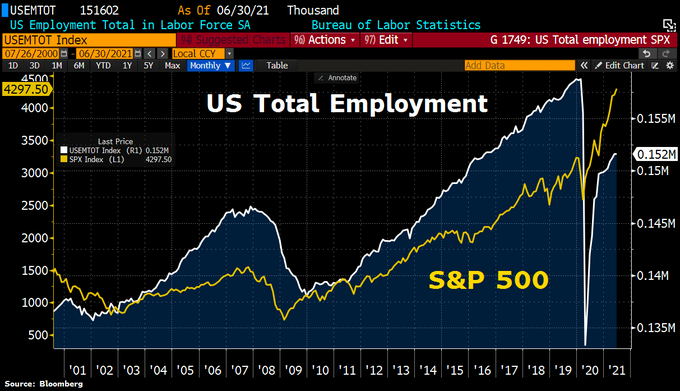 3. The Big Factor for the economy
Sadly the brain trust that came to power last November is now proving to be both clueless & pathetic about the Covid mess in America. The viral spread of the Delta virus strain is casting serious doubt on where the country stands & whether the FDA-CDC have any clue. We have been appalled at the apathy & political indecision we see in the people in power.
It has been well documented that the efficacy of the vaccines, especially the Pfizer vaccine, drops to 84% within 6 months of vaccination. As we recall Pfizer announced a third booster shot to those who have taken the first two shots a few months ago. But both the FDA & CDC dismissed that idea, clearly for political convenience of their masters. 
Jim Cramer expressed his frustration two days ago on FOMC morning:
"It's the C.D.C. versus capitalism," ; the incoherence of our government is making people very scared. … I haven't been this frightened since the beginning of the pandemic,; … So thank you C.D.C. for making us feel like if we go outside our house, once again, we are at risk."
Frankly, Cramer was neither direct enough nor angry enough for us. The most descriptive fact we had heard is that this Delta strain distributes 1,000 times more particles from an affected person's nose than the original virus did. That should persuade everyone to wear a surgical face shield like the one Doctors wear in hospitals. Such a face shield is the only way to protect your face, nose & mouth from such high frequency emission of particles, at least to our simple way of thinking.

The new data, published in the U.S. agency's Morbidity and Mortality Weekly Report, also found that fully vaccinated people who get infected carry as much of the virus in their nose as unvaccinated people, and could spread it to other individuals.
So it seems to support what we had heard earlier that this Delta strain sends virus particles through the air and, as we recall the quote, "they breathe near you & you get it".
We are really interested in the etymology of the name "Pisani", as we have written before. It is the only non-Sindhi "ani" ending name we know while we know at least 15-20 "ani"-ending names from Sindh (now inside Napakistan).
Look what we found this week while reading some commentary from Harvard about the Great Epic Mahaa-Bhaarat or the first known world war. Factually about 3.1 million soldiers died in that 18-day war  and two generations of Kings & Princes died in that war that involved the entire known world of that time (from today's Iran to today's Xinjiang to today's Sichuan (in China) to Southeast Asia & all of the entire northern Indian Subcontinent). There is no epic of this size & greatness anywhere as even the worst Hindu haters have written.

We found a reference to an Italian Professor named Vittore Pisani & his book "Rise of the Mahaa-Bhaarat". We intend to see if we can contact him and learn some about the Pisani heritage. Who knows, we may find that the world is kinda one after all.