Summary – A top-down review of interesting calls and comments made last week in Treasuries, monetary policy, economics, stocks, bonds & commodities. TAC is our acronym for Tweets, Articles, & Clips – our basic inputs for this article.
Editor's Note: In this series of articles, we include important or interesting Tweets, Articles, Video Clips with our comments. This is an article that expresses our personal opinions about comments made on Television, Tweeter, and in Print. It is NOT intended to provide any investment advice of any type whatsoever. No one should base any investing decisions or conclusions based on anything written in or inferred from this article. Macro Viewpoints & its affiliates expressly disclaim all liability in respect to actions taken based on any or all of the information in this article. Investing is a serious matter and all investment decisions should only be taken after a detailed discussion with your investment advisor and should be subject to your objectives, suitability requirements and risk tolerance.
1."is that all you got?"
Macy's announced a bad miss after the close a week ago Friday. It opened down abut 10% on Monday morning. Then presto!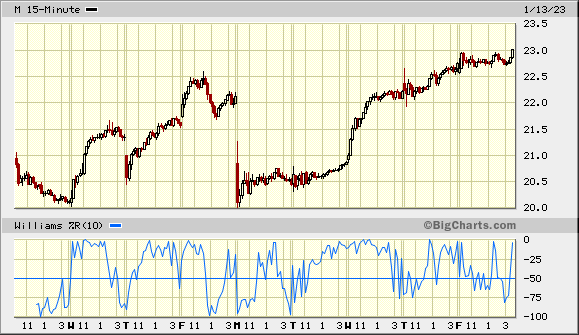 Wells Fargo was down 4%+ after earnings on Friday morning. Then presto!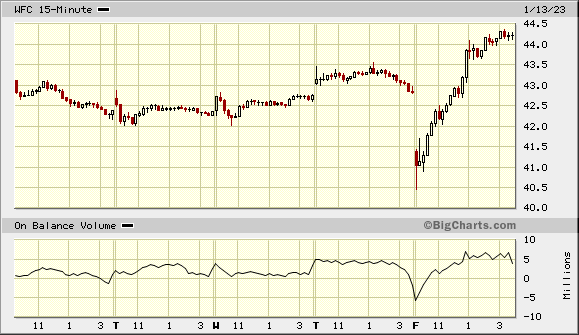 Last week, we pointed out that both Tesla & Micron exhibited similar post bad news performance. Mike Wilson has been right about earnings estimates being too high & clearly the process of revising them downwards has begun.
But that is being overwhelmed by the reaction to investors to these earnings downgrades, a reaction that is driven by the enormity of cash on the sidelines. Especially so because of the joint trigger of inflation trending downward, interest rates falling across the Treasury curve & the Dollar weakening almost every day.
So the only negative these cash holders see is the overbought condition in stocks. But there too is the question of how "overbought conditions" look at key junctures?
As Option Strategist wrote on Friday,
"

Breadth has been extremely strong on 6 of the last 7 trading days. As a result, the breadth oscillators are on buy signals and are in overbought territory. However, it is a good thing for the breadth oscillators to be overbought when a new upward leg is starting out in $SPX (which it appears to be doing).

"
Tom McClellan made a spectacular call in the last week of December telling Mike Santoli that the stock market will make an important bottom in the first week of January. That it did. But McClellan also told Santoli that February would see a sell off.  At that time, he scoffed at people celebrating the January rally indicator.
This week, he seemed to change his tone in his article Stock Market Finally Breaking 2008 Analog.
"If the stock market in 2023 was going to continue following this pattern analog, then we should be seeing a sharp decline right now, the echo of the stock market's drop in September 2008 occasioned by the collapse of Lehman Brothers. Instead, the stock market is showing nice strength in January 2023, setting up hopes for the "January Barometer" to indicate a bullish year."
Then we saw the following on Friday:
Walter Deemer@WalterDeemer –

Jan 13

– Just as a reminder: It takes unusually-powerful breadth over a ten-day period to generate Breakaway Momentum. Which means, by definition, the market is always overbought from a short-term standpoint when Breakaway Momentum is generated.
The most direct statement came from technician Craig Johnson to Kelly Evans in what is usually a segment about three stock ideas (at minute 1:48): 
"we are 100% at a point at the point where this market should be bought; it should be bought; because when you go thru & look at the charts when you look at breadth measures, you look at the metrics, what I am seeing right now in our work is I am seeing metrics in terms of breadth & new highs that I have not seen in over a year ; we are just pushing right up to that downtrend resistance line around 4,000 on the S&P 500 and from my perspective a break above that level technically is gonna set this market up to a FOMO rally & with 4.3T$ of cash sitting on the sidelines; the market is gonna go higher;"
Frankly, it would help if stocks took a breather or even went down some for a pause that leads to what the gurus above call breakaway momentum or FOMO. And that might happen if the cycle work of Larry Williams holds. He told Cramer that we might see a "slight dip or stumble at the end of this month" & then he sees "blast off to early March". His basic call, as relayed by Cramer, is:
"we have just started a new uptrend here and, according to the 24 trading day pattern, this move should keep going till February 3 and it might last longer. Williams thinks we are in an early choppy phase of a bull market" 
See how bullish this past week was:
VIX down 13%; Dow up 2%; SPX up 2.7%; RSP

(equal-weighted S&P)

up 2.7%; NDX up 4.5%; RUT up 5.2%; IWC (microcap) up 6.7%; SMH up 6.8%; DJT up 3.5%; GS up 7.5%; AMZN up 14%; NFLX up 5.5%; GOOGL up 5.5%; Apple up 4.5%; Meta up 5.4%
How bullish is the future when even un-rosy Rosenberg speaks glowingly about becoming a big bull for 2024 and says he is going to prefer growth over value for second half of 2023?
The Dollar ETFs were weak this week and that led to sensible results:
UUP

down 1.6%

; DXY

down 1.3%

; Gold

up 2.8%

; GDX

up 3.4%

; Copper

up 7.6%

; CLF

up 12.1%

; FCX

up 6.3%

; (as suggested by the Carley-Garner & Cramer combo last week) Oil up 8.6%; Brent

up 8.8%;

with OIH

up 7.3%

; 
2. Best Single Idea for 2023
Both David Rosenberg & Jeff Gundlach chose their best idea to be the 30-yr US Treasury Bond in the Best Ideas clip of DoubleLine RoundTable. And so did Hartnett of Merrill Lynch, we hear.
How did Treasuries do this week? How else would they behave in such a Panglossian or Goldilocks environment?
ZROZ up 2%; EDV up 3%; TLT up 1.5%; 30-yr yld

down 6.7 bps

; 20-yr down 7.1 bps; 10-yr down 6.2 bps; 7-yr down 9.3 bps; 5-yr down 9.9 bps; 3-yr down 9.9 bps; 2-yr down 2 bps; 1-yr down 1.6 bps
3. Catalysts for a downtick? 
First & foremost might be interest rates. Inflation is now being discussed as a past phenomenon. That can change quickly. And then you have the FOMC on February 1. The Fed could easily appear hawkish & try to dampen the animal spirits of the bulls.
But that is 2 weeks away. There is also the possibility that the FOMC speaks nasty & the Treasury market says "is that all you got"! Because a Fed signal that is being watered down by weak & low-inflationary data can be dismissed as "meh"!
There is one factor that might suggest we are overdone here, a factor that is sensitive to exhaustion.
Katie Stockton, CMT

@StocktonKatie – – Today has possibility to capture some short-term "macro" inflections, noting signs of downside exhaustion in $usd

, for one, per the DeMARK Indicators (note the "13s" on the chart often mark inflections)

#fairleadstrategies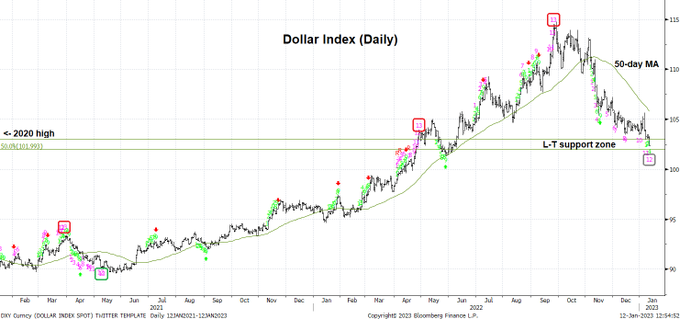 Then she clarified the above message for simple folks – "i.e., $usd pivot up, near-term, alongside Treasury yields"
4. Is Color Inherently Racist? What about Language?
To be clear, we don't mean "racist" in any other way than "about race"! The real question is what was the natural color of humans when the species originated? The related question is whether we can specify genetic races from skin color? We vaguely remember reading that it is more common for the child of a Black-White couple to be of a darker complexion than a fairer one. 
Some readers may recall our reference to an article in Irish Central in our TACs article dated December 16, 2017. The Irish Central article titled Researchers traced Irish fair skin back to India and the Middle East and dated April 21, 2017 wrote: 
"A major US study at Penn State University found that Europeans' light skin stems from a gene mutation from a single person who lived 10,000 years ago. Scientists made the discovery after identifying a key gene that contributes to lighter skin color in Europeans, and the Irish fall into this category."
The article added – "one amino acid difference in the gene SLC24A5 is a key contributor to the skin color difference between Europeans and West Africans". It quoted Keith Cheng from Penn State College of Medicine as saying: 
"The mutation in SLC24A5 changes just one building block in the protein and contributes about a third of the visually striking differences in skin tone between peoples of African and European ancestry"
The article  adds:
"The mutation, called A111T, is found in virtually everyone of European ancestry. …. All individuals from the Middle East, North Africa, East Africa and South India who carry the A111T mutation share traces of the ancestral genetic code. According to the researchers, this indicates that all existing instances of this mutation originate from the

same person

."
As we wrote in our 2019 article, if this is true then we can easily point to the One Man who name became "Man" in Europe – the name of all males in the world. That "man" was Manu, the survivor of the Great Flood that swamped the world about 10,000 years ago. His story has been told since that day AND his son Vaisham-Payan went around giving lectures of what Manu, his father, had told him about the pre-flood society & its norms. These lectures have been recorded as Manu-Smruti or the "recollections of Manu".
Why bring it up now? Because of another interesting article in the July-August 2022 issue of the Harvard Magazine. Most people, at least those with a modicum of reading, know that Latin is semi-derived from Sanskrut and that Indo-European is now regarded as a single language family arising out of one language. 
Understand what a big statement that is. The landmass that spans India, Central Asia & all of Europe (Eurasia as loosely called) is immense. How did languages in this enormous land mass come from one source? Was that genetic? The article in Harvard Magazine titled Telling Humanity's Story through DNA writes about the work of David Reich of Harvard in study of ancient human DNA. 
A specific area of interest to Reich has been the search of the spread of Indo-European languages.  The article says:
"Much of this ancestry is the result of what is known as a "star cluster," when the genes of one very powerful man appear in millions of descendants. Reich estimates that 20 to 40 percent of Indian men and 30 to 50 percent of Eastern European men descend from a single man who lived between 6,800 and 4,800 years ago."
Again these dates are highly interesting to those who have read even the basics of Indian cultural history. The "Aditi" period of Vedic history begins in 6,400 BCE & ends in 4,700 BCE when the "Orion" Period begins. And the "Aditi" period is supposed to have begun when, after a violent & destructive conflict, the followers of Shankar (Shiva) (destroyer element of Trinity) and the follower of Vishnu (constructor element of Trinity)  made Peace & accepted both Shankar & Vishnu as equal members of the Divine Trinity. Daksha was an important element of the conflict & his daughter Aditi the element of the new unity.
This is a part of what is generating serious interest in the study of the Mahaa-Bhaarat, the long story of the India of the Bharats. Already recognized as the Greatest Book ever (in a historical, story sense & not religious sense), the description of the weapons in the Mahaa-Bhaarat is launching "study" of comparisons with today's missiles in American schools like Berkeley, Claremont & others. 
Another highly interesting area of Reich's work, is the relationship between Northern Europeans and "Native Americans":
We of course didn't think that Native Americans sailed across the Atlantic. That seemed implausible," he says. …. " "They would have lived in Siberia, or other parts of northern Eurasia, sometime before 15,000 years ago, and contributed to the ancestors of Native Americans before they crossed the Bering Land bridge into North America."
Hmmm! If the ancient Eurasians were somehow genetically related to Indians, then Columbus might actually have been correct to label the Native Americans as "Indians"! JUST KIDDING folks. 
As a final note, much of what Reich says & his theories are simply that – theories. In contrast, the work of Prof. Cheng at Penn State seems specific – one mutation A111T leads to fair skin color & comes from a single man in India or Middle East.
Finally, in a ludicrous thought out of perhaps intellectual boredom, could Eastern Europeans (Romania, Poland, Hungary, Baltics etc.) claim American citizenship on the basis of being blood-relatives of Native Americans, at least demand the right to settle in Treaty lands ceded to Native Americans by the Congress?
*Orion – because a constellation named Orion was dated in the Rg-Ved around 4,700 BCE because that constellation has NOT been seen from earth since that period.
Send your feedback to [email protected] Or @MacroViewpoints on Twitter