Summary – A top-down review of interesting calls and comments made last week in Treasuries, monetary policy, economics, stocks, bonds & commodities. TAC is our acronym for Tweets, Articles, & Clips – our basic inputs for this article.
Editor's Note: In this series of articles, we include important or interesting Tweets, Articles, Video Clips with our comments. This is an article that expresses our personal opinions about comments made on Television, Tweeter, and in Print. It is NOT intended to provide any investment advice of any type whatsoever. No one should base any investing decisions or conclusions based on anything written in or inferred from this article. Macro Viewpoints & its affiliates expressly disclaim all liability in respect to actions taken based on any or all of the information in this article. Investing is a serious matter and all investment decisions should only be taken after a detailed discussion with your investment advisor and should be subject to your objectives, suitability requirements and risk tolerance.
1.Week that was 
Another terrific week for the U.S.Dollar – UUP up 34 bps; DXY up 24 bps despite Friday's small drop. Despite this continued rally in the Dollar, Metals & Commodity stocks did well:
GDX up 5%; NEM up 3.7%; Silver up 54 bps; Copper up 2.1%; CLF up 42 bps; FCX

up 2.7%

; MOS

up 2%

; Oil up 4.3%; Brent up 4%; Nat Gas up 1.8%; MOS

up 2%;
Weirdly, global stocks rallied despite the continued strength in the Dollar:
EEM up 1%; EWZ up 5.3%; EWY up 1.7%; EWG up 81 bps; FXI up 89 bps;
What about EM currencies, you wonder?
J.C. Parets@allstarcharts –

Sep 16

– Curious outperformance from Emerging Market Currencies during this Dollar rally the past 2 months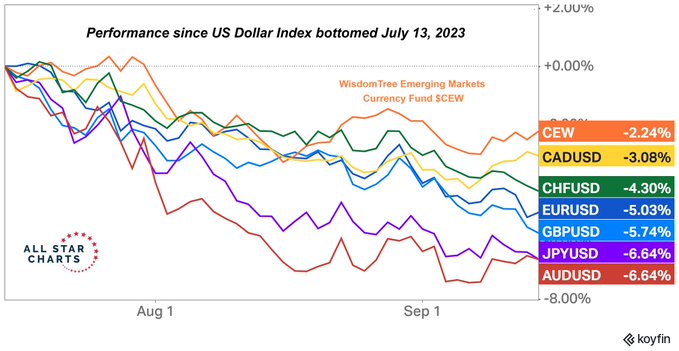 What about good old stocks? A reversal in two sectors!
Dow up 12 bps; SPX down 16 bps; NDX down 51 bps; SMH down 2.3%; RUT down 27 bps; DJT up 86 bps; AAPL

down 2%

; AMZN up 1.4%; GOOGL up 67 bps; NFLX

down 10.4%

; NVDA

down 3.9%

; BAC

up 1.7%

; C

up 5.1%

; GS up 5.1%; 
And Rates:
30-yr up 8.6 bps; 20-yr up 7.5 bps; 10-yr up 7.2 bps; 7-yr up 6.5 bps; 5-yr up 6.2 bps; 3-yr up 3 bps; 2-yr up 5.3 bps; 1-yr up 1.8 bps; TLT down 1.3%; EDV down 2.4%; ZROZ down 2.4%; 
2. Now what?
From a smart observer:
Wayne Whaley@WayneWhaley1136 –

Sep 16

– THE 2ND HALF OF SEPTEMBER WHEN THE 1ST HALF WAS DOWN.…. I do studies like this daily on 14 different markets, http://waynewhaley.com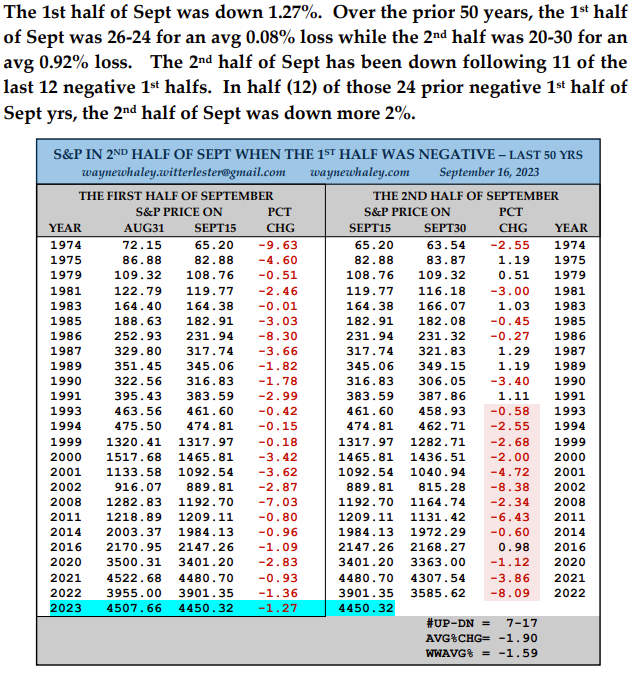 A look into end of September:
Jason@3PeaksTrading –

Sep 15

– $SPY closing ugly after trendline break and under 21 EMA can likely see 440 lower vlaue area next week and if that end of September seasonal weakness plays out could get to 430-433 support zone. Even with the bounces this week

breadth was not that impressive with 52 weeks lows

…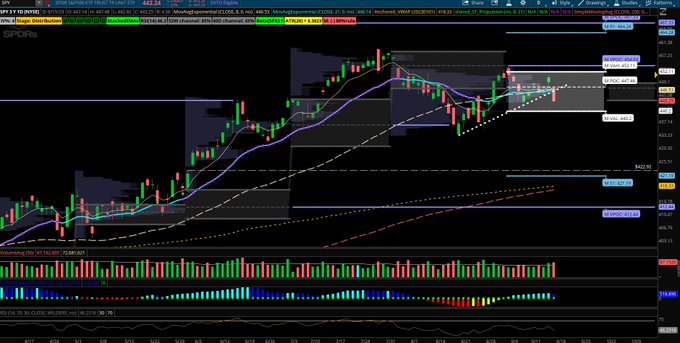 What about the week after September options expiration (next week)?
Jeffrey A. Hirsch@AlmanacTrader –

Sep 12

– September quarterly options expiration treacherous, week after awful. SP500 down 10 of last 11 September quarterly OPEX Fridays and down 26 of last 33 weeks after. https://jeffhirsch.tumblr.com/post/728204195831906304/september-quarterly-options-expiration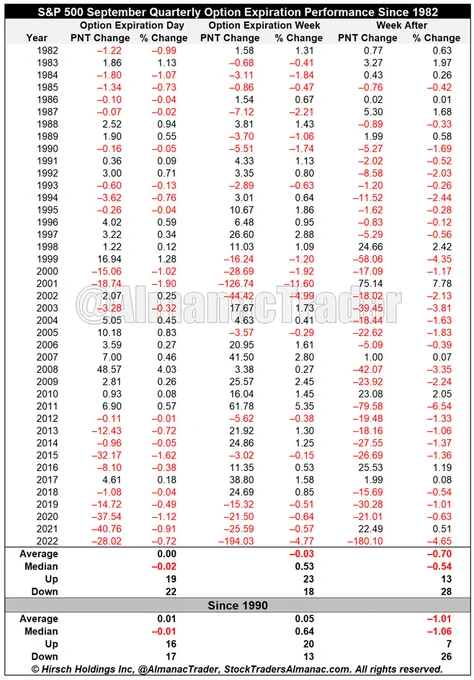 On the other hand,
Jeffrey A. Hirsch@AlmanacTrader – Sep 14 –

Sell Rosh Hashanah

Buy Yom Kippur Sets Up

– Sell Rosh Hashanah, Buy Yom Kippur is

aligning well this year w/ late September seasonal weakness

&

notoriously treacherous week

after quarterly options expiration, AKA Triple Witching. https://jeffhirsch.tumblr.com/post/728373315824238592/sell-rosh-hashanah-buy-yom-kippur-sets-up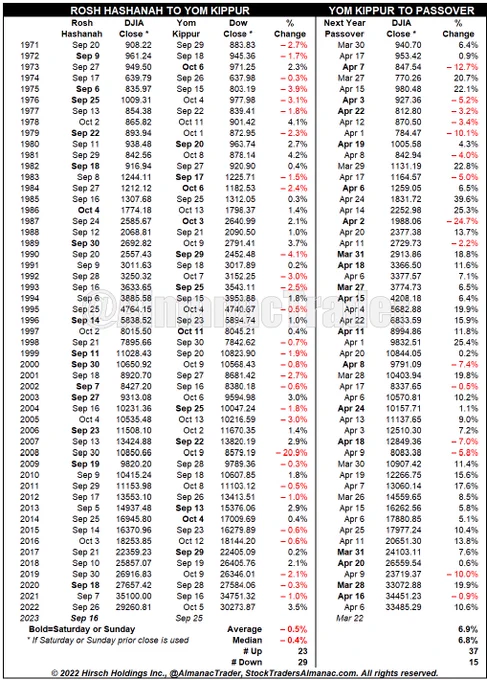 How about a look further out?
Bespoke@bespokeinvest –

Sep 16

– This year's move has been stronger, but it's pretty incredible how closely 2023 has followed the historical script for the S&P. Check out this chart: (From this week's Bespoke Report🙂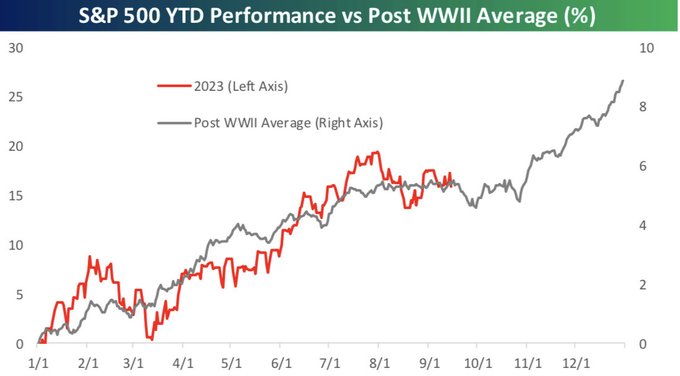 Despite the gloom above, what damage has actually been realized for this quarter?
Helene Meisler@hmeisler – Sep 16 – SPX close on 6/30:

4450

… SPX close on Friday:

4450
Is there a positioning indicator that points down?
Via The Market Ear –

Fri Sep 15

– Dealers are short VIX – Things could easily get a bit "fluid"

should VIX move higher quickly

..

Source Nomura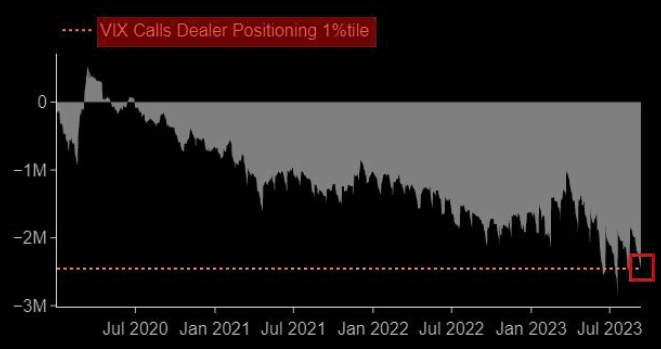 Given that both give the same message, which provides a better implementation?
Via The Market Ear –

Fri Sep 15

– Will it "kick in"? GS advises buying VIX calls over SPX puts, as their EQMOVE model indicates that there is favorable pricing for upside asymmetry.

Source: GS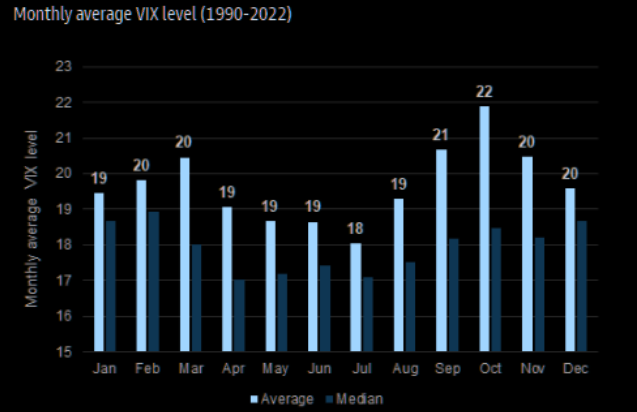 3. Bonds
They don't like bonds necessarily but can't resist showing a glimpse:
Jason@3PeaksTrading – $ZB_F $TLT 30 year bonds with the

hammer candle on daily chart

forming

at key support

.

A

rally here back higher would surprise

the most amount of  people. And pretty good clue yesterday that $VXTLT implied vol of bonds actually got sold. Always key to watch how implied vol's lead into events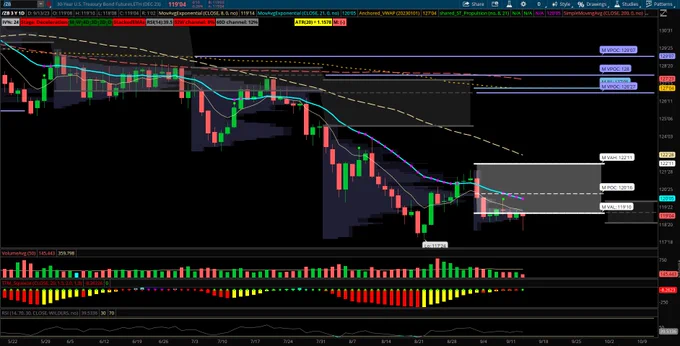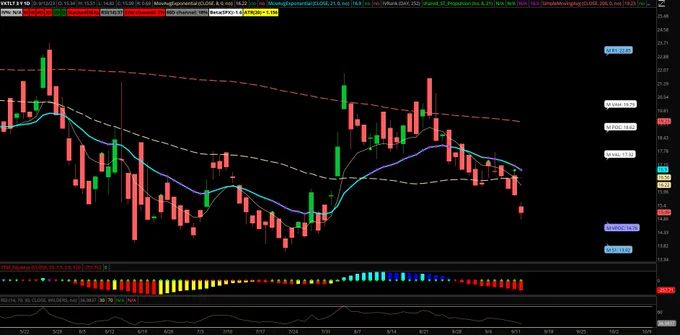 Lonely but bold & that too on 9/11:
Lisa Abramowicz@lisaabramowicz1 –

Sep 11

– "We stand alone, with conviction, telling investors to

buy government bonds

." Morgan Stanley is one of the last firms to strongly believe US yields will drop. Others are open to this idea; MS's conviction is the most contrarian part of the call. https://bloomberg.com/news/articles/2023-09-11/morgan-stanley-favors-treasuries-in-clash-with-wall-street-peers?utm_source=website&utm_medium=share&utm_campaign=twitter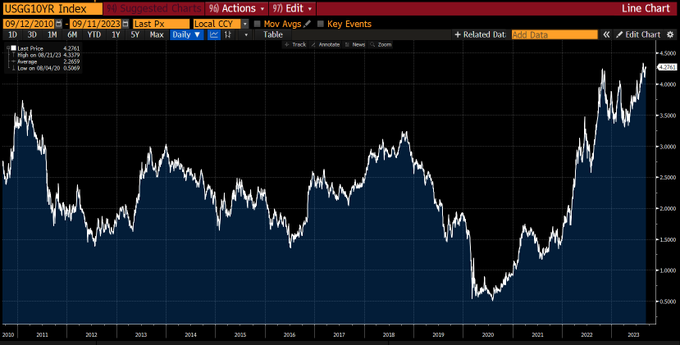 We can't stop the section on bonds without quoting Bob Michele of JPM Asset Management. Below are excerpts of his views from his appearance on Bloomberg Surveillance on Tuesday September 12 (minute 1:42:20 to 1:51 & then minute from 1:55  to 2:01):
we are seeing money come in … actually the highs from October a year ago have held pretty well in the long end of the curve ..
we have clients left, right & center, domestically, foreign countries, retail platforms, institutional platforms looking at where to get into this bond market & they are putting money to work;
wealth management platforms are looking at municipal bonds, at corporate debt, at Treasury debt .. institutions … are looking at long end of the market … you have a whole host of others looking at total return … you can do pretty much everything in the bond market …

we haven't seen this since 2006-2007

;
I think the consumer is

incredibly stretched

right now. .. the

magnitude of the slowdown

we are seeing across the board tells us that we might be

hitting recession around year-end

& they might be cutting rates by then… so we are still incredibly comfortable that we are going to see

3% rates across the curve

…
This may be the place to insert reality that no one on Fin TV seems to care about & neither does the Fed:
Liz Ann Sonders

@LizAnnSonders –

Sep 12

– As of August,

massive uptick in % of households

saying they're

much worse off vs. a year ago

(blue) per NY Fed Survey of Consumer Expectations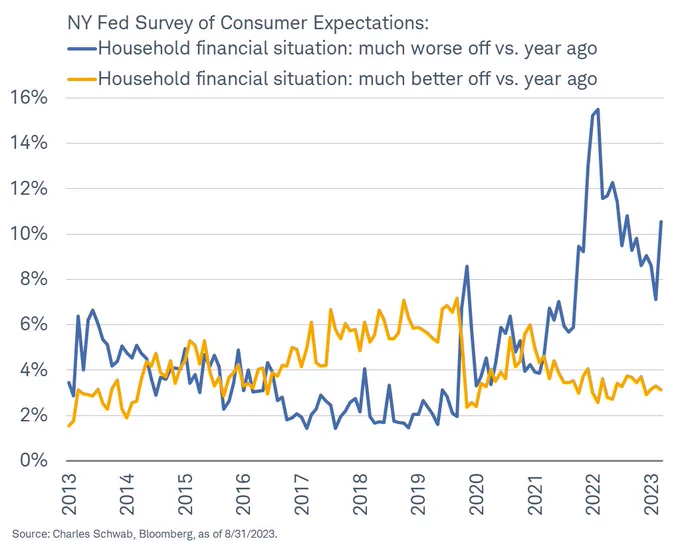 Is the stock market also sending a similar signal?
Holger Zschaepitz@Schuldensuehner –

Sep 16

– Beyond AI euphoria is a worrying stock signal on

US growth

. Stocks

sniffing out something

data isn't showing: Russell 2000 has fallen behind an index of 1000 largest-cap stocks for 2nd month in a row, on track for its 2nd-worst annual underperformance since 1998.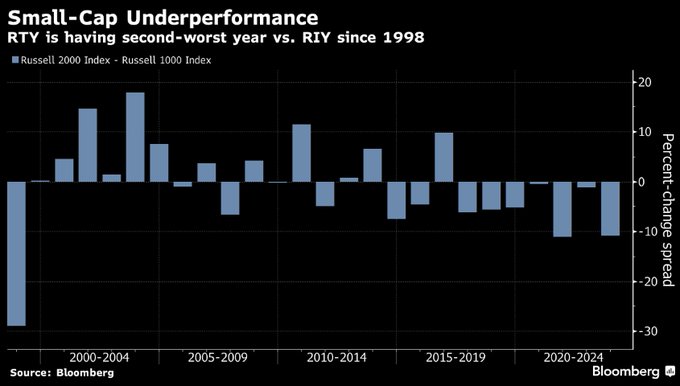 Now let us hear what Chairman Powell has to say on Wednesday, September 20. 
4. A Tweet-video that says so much 
So many have said so much about India & its potential. How about daily reality? Below is a live video of a young woman commuter in Mumbai's "local" trains:
The daily struggle to get a foothold inside a #MumbaiLocal.

Travel Safe… Life is Preciouspic.twitter.com/YUAWaXDmgD

— मुंबई Matters™ (@mumbaimatterz) August 16, 2023
We ourselves used to travel a bit like the above for fun during our school days. But most of our body, one arm & one leg was always inside the train. We travelled so because this way the breeze cools you down.
The above is scary but notice how at ease this young woman seems to be. Because the Mumbai local, like the one above, is the fastest & the most economical form of commute. 
And the safest place for a woman is inside a general compartment that has both men & women. Strange as it may seem, the most risky compartments are "women only" compartment where, as we have been told by several at several times, physical fights often erupt between women commuters on where to stand whereas the women commuters are usually treated better by men passengers in general compartments. 
Send your feedback to [email protected] Or @MacroViewpoints on Twitter