Who was the most Anti-Trump leader in the world for the past four years? The obvious answer is Chancellor Angela Merkel of Germany. She must have been delighted to see Twitter banning President Trump indefinitely, right? Surprisingly not. Actually unsurprisingly not. 
"German Chancellor Angela Merkel blasted Twitter's decision to ban U.S. President Donald Trump. "The right to freedom of opinion is of fundamental importance," Steffen Seibert, Merkel's chief spokesman, told reporters in Berlin on Monday, according to Reuters. "Given that, the chancellor considers it problematic that the president's accounts have been permanently suspended." Seibert said that, while Twitter was right to flag Trump's inaccurate tweets about the 2020 U.S. election, banning his account altogether was a step too far. He added that governments, not private companies, should decide on any limitations to freedom of speech."
And, as CNBC added, "Merkel wasn't alone in criticizing tech giants over their removal of Trump's accounts":
"The move has drawn the ire of other political figures in Europe, including U.K. Health Secretary Matt Hancock and EU Commissioner for Internal Market Thierry Breton, who said it raises key questions about the power of tech companies and the need for regulation."
"The fact that a CEO can pull the plug on POTUS's loudspeaker without any checks and balances is perplexing," Breton said in a Politico opinion piece. "It is not only confirmation of the power of these platforms, but it also displays deep weaknesses in the way our society is organized in the digital space."
Australia has reacted with anger at Twitter for following the lead of China in the dispute between Australia & China. Turkey is reportedly studying how to regulate Twitter & Facebook.
But the above is merely a storm in a tea cup. The Twitter, Facebook cabal is fundamentally in sync with the EU thinking and mission. And Australia, Turkey are just too insignificant & powerless. Further EU, Australia & Turkey have more important issues to discuss with the incoming Biden Administration. So we see nothing coming out of EU, Australia & Turkey, not in the short term at least.
That is why Twitter CEO Jack Dorsey merely made a token comment of regret about banning Mr. Trump indefinitely. 
Frankly, it now seems to us that Jack Dorsey may not have the power to restrain the next two-three layers of Twitter management from doing what they have been doing with impunity. In our opinion, Twitter has demonstrated via Dorsey's statement that they are a dedicated outfit with an intensely passionate drive to remove all ideas & speech they deem reprehensible from their platform.
Apparently no one wins against Twitter & Facebook except the smart country. 
2. China the smart
Once again, the world recognizes the smarts of China's leadership. They were acutely aware that, despite the  alluring front, US Social media companies were at best mind-influencers & at worst mind-brainwashers of Chinese people, especially the Chinese youth. So they prohibited Twitter et al from entering China. 
And they encouraged and enabled Chinese companies to build similar social media platforms in China and in "free-speech" countries. So they got the best of worlds. They got a large social media infrastructure and they control the discussion on it. And they have Twitter, Google etc. literally begging to enter China on China's terms. Perhaps that is why Twitter allows President Xi Jin Ping to tweet while banning President Trump. 
Contrast that with …
3. India the Dumb
Perhaps not so dumb then. Remember who was in control of India before 2014. It was the Italian-born Christian Catholic Sonia who ran the Indian Government with an iron remote control. She despised Hindus and even devised a new civil law structure against the "Hindu" majority that was years ahead of even what the "woke" leadership is now trying to create against Whites & Asians in America. 
Sonia was both ruthless & powerful enough to prohibit Twitter, Facebook et al from entering India if she wanted. But the core interests of US social media matched Sonia's objectives. So Sonia's India allowed unbridled freedom for Twitter, Facebook & Google to enter & dominate Indian minds, especially young Indian minds. And in turn, Twitter & Facebook adored Sonia just like NYT, Wash Post & BBC.
The reach of Twitter & Facebook was very useful to Shree Narendra Modi in his 2014 election campaign. Today he has 64.8 million followers on Twitter, second only to what President Donald Trump had before he was banned by Twitter. But Twitter still seems to be against Hindus & Modi. 
Modi's popularity on Twitter is no protection against being banned in the future by Twitter as he now understands. And he is aware that Twitter, at least in India, appears to be blatantly & unapologetically Anti-Indian. And Jack Dorsey, Twitter CEO, seems to share this anti-Indian bigotry as he demonstrated when he made a public hate-statement against Indian Dharma during his trip to India in November 2018.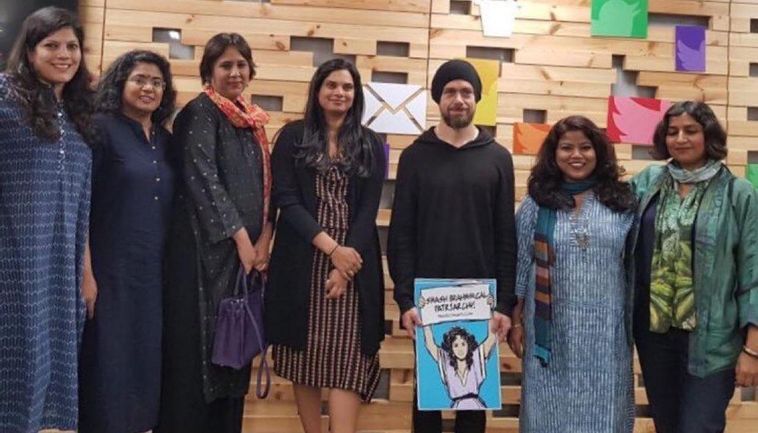 As Economic Times reported on November 21, 2018,
Twitter's legal policy head Vijaya Gadde on Tuesday apologised after users expressed outrage against its founder Jack Dorsey holding a placard reading "Smash Brahminical Patriarchy", with some users threatening legal action against the company of inciting hatred in the country.
"I am sorry for this. It's not reflective of our views. We took a private photo with a gift just given to us — we should have been more thoughtful," Gadde tweeted on the microblogging platform.
But that apology seems to have been just an accommodation to prevent legal action against Twitter in India. By at least one account, Twitter India seems to actively ban people who are pro-Indian. Look at the tweet we came across yesterday on Twitter:
Al [email protected] – Minister of IT and MHA served legal notice to @TwitterIndia for suspending our Twitter handle yesterday. Twitter Head has been told to stop muzzling Pro-Nationalist voices otherwise Indian Government will permanently ban Twitter in India.
While helpful, such superficial stuff will not trouble Twitter in the least. How many such users will go to the Indian Government & how often will the Indian Government keep serving these notices? 
So, 
4. What can India do?
It may be too late for India to follow China's lead in developing domestic social media and banning Twitter et al. It may well come to that but not for the next few years. The easiest first step would be to use India's colonial-era Brit-created laws & ordinances against seditious speech & actions.
The British liberally used these laws to arrest India's political freedom fighters like Gandhi, Nehru, Patel and tens of thousands of Indians. So why can't the Indian Government use the same laws to arrest the high level & medium level employees of Twitter, Facebook et al when they ban pro-India users? Now that the "cancel culture" is deemed to be a weapon for freedom & human rights, why can't it be used by India for protection of Indians from foreign bigots & brainwashers?
Another step might be a total ban on Twitter et al against their banning any user in India on their own without a court order supporting such an action. Don't force ordinary Indians to go to Court against Twitter to protest the ban on them; force Twitter to go to court to get court's approval for ban on any Twitter user. 
This too is but an intermediate step. The real drive should be to get Twitter to license its software & platform for use by Indians in India. Twitter should not be able to run such a licensed Twitter platform in India; it should only get licensing revenue from the use of its platform in India by Indians. This should apply to Facebook as well and to Google. This could be a win-win structure for both India and the US Social Media companies. 
These discussions should start now and not when Modi runs for his re-election in 2024. In the meantime, India should simultaneously encourage, invite and support development of Twitter, Facebook like Indian platforms within India. That may be more important for PM Modi's Atma-Nirbhar or Self-Reliance drive than manufacture of low level goods. 
Why might Twitter, Facebook et al accept such a licensing structure? Because India may be the last huge internet opportunity left in the world:
Kevin William [email protected] – India had about 50 million internet users in 2010, but ended the decade with more than 600 million users. India has nearly 1.4 billion people. Close to 800 million people still don't have internet access. The opportunities in India for startups during the next decade is insane!
It is instructive to remember that many Indians welcomed the initial entry of British in India because of trade & naval technology benefits. Those Indians never realized how single-minded those British were about dominating India and then ruling it. Now we all know that story.
Twitter & Facebook were welcomed in India because they enabled Indians to reach out & learn from the world. Today, with their unprecedented & frankly unbelievable banning of the President of America, they have demonstrated how single-minded they are in pursuing their goal of enforcing their definitions of acceptable speech on all users, including the several hundred million in India.  
How Indian Society & Indian Government act against Twitter & Facebook may well affect India's future and also that of many medium-sized nations in the World. PM Modi wanted his India to become Jagat-Guru or the teacher to the World. He can begin achieving that by restricting Twitter, Facebook et al to the models of entities like Microsoft who license software & cloud platforms globally without running them. If he does so, he can actually make India a Jagat-Guru that teaches other countries how to defend the rights of free speech of their people.  
Editor's PS: Look back to our January 11, 2014 article about global governments charging Twitter for access to their citizens via a per-user or per-tweet fee – Do Twitter et al Owe Income, Cap Gains or Wealth Taxes to the World? How much money would countries like Saudi Arabia, India have made or can even now make with such a fee? But it would not have helped in restricting Twitter's capability to control ideas & speech of their citizens. 
Send your feedback to [email protected] Or @MacroViewpoints on Twitter