Four months ago, on April 18, 2014, we wrote,
"If this week's polls turn out to be accurate, then India will begin its journey towards mental independence just as India began its journey of physical independence in 1947."
The polls proved even more accurate than we could have hoped. And our hope of mental independence of India is turning into reality.
That is evident in the speech of Prime Minister Narendra Modi on August 15, 2014, the 68th Independence Day of Bharatiya Gan-Rajya, the Republic of India.  India's Prime Ministers, elected officials and India's administrators have thought of themselves as rulers of the Indian people. This was the legacy left to them by the colonial British who occupied, plundered, and ravaged India for 200 years. Today's all-Indian Prime Minister broke that mold by going back to the core philosophy of India – that in "the happiness/benefit of the people lies the happiness/benefit of the administration". He said what so many leaders, saints & philosophers have said to the Indian people:
"I am present amidst you not as the Prime Minister, but as the Prime Servant. … and I assure you Brothers and Sisters, as well as my colleagues in the Government, that if you work for 12 hours, I will do so for 13 hours. If you work for 14 hours, I will do for 15 hours. Why? Because I'm amidst you not as a Prime Minister, but as the first servant. I have formed the Government not as a ruler, but as a servant."
The Prime Minister quoted the vision of Svami Vivek-Anand who said over 100 years ago:
"I can see before my eyes Mother India awakening once again. My Mother India would be seated as the World Guru. Every Indian would render service towards welfare of humanity. This legacy of India would be useful for the welfare of the world."
The Prime Minister added:
"The words of Vivekanadaji, his dream of seeing India ensconced as World Guru, his vision, it is incumbent upon us to realize that dream. This capable country, blessed with natural bounty, this country of youth can do much for the world in the coming days."
Words and vision are never enough. They succeed only when accompanied by tireless dedication and hard work. This is why Prime Minister Modi promised to work harder than his people and asked the members of the Parliament, in addition to their current functions, to select one  village in their constituency and make it a Model Village by 2016. This fits well with the succinct message Svami Vivek-Anand had delivered to his country.
This message was derived by Svami Vivek-Anand from the instruction delivered to a young student named Nachiketas in the Katha-UpaNiSad:
उत्तिष्ठत जाग्रत प्राप्य वरान निबोधत

– Arise, Awake, Understand the boons you have obtained.
India has been blessed with many boons and bounties. But Indians of the past 1,000 years have chosen to not understand what they have, chosen to not grow, preserve, and defend their boons. They have forgotten the second part of the instruction, the warning to young Nachiketas:
"The sharp edge of a sword is hard to tread. So also that path, the wise say, is hard to travel."
Prime Minister Modi understands this very well. Read his speech and you will see he does.
India is not just a land of philosophy. It is a bright land of color and music. Below are some pictures we found in tweets celebrating India's Independence Day:
 Ruchira Kamboj @RuchiraKamboj · Aug 15 – Wonderful image! What do you think?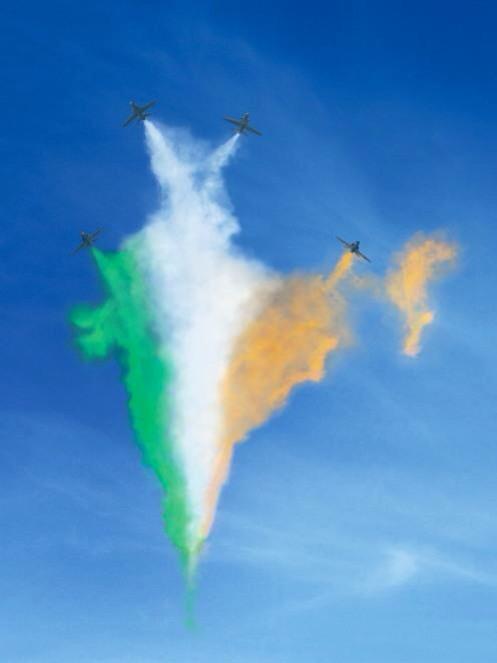 Prasanna Viswanathan @prasannavishy · Aug 14 – Height of culinary patriotism in the hotel i am at now 🙂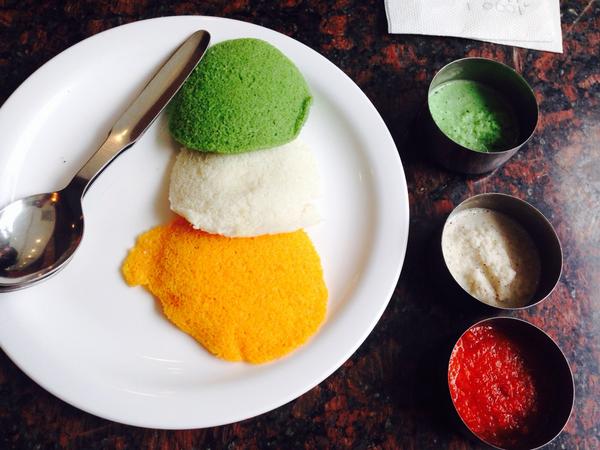 Doordarshan News @DDNewsLive · Aug 15 – – Invented number system; Zero invented by Aryabhatta – World's 1st univ established in Takshila in 700BC
No celebration of Indian Independence is complete without Jai He – the wonderful National Anthem. We would like to share with you an absolutely superb rendering of the entire poem of RabindraNath Tagore which was chosen as India's National Anthem.
Editor's Note: We are indebted to the lady who sent this poem to us, a lady of culture, scholarship, and of tireless service to the children of India.
Send your feedback to [email protected] Or @MacroViewpoints on Twitter