Summary – A top-down review of interesting calls and comments made last week in Treasuries, monetary policy, economics, stocks, bonds & commodities. TAC is our acronym for Tweets, Articles, & Clips – our basic inputs for this article.
Editor's Note: In this series of articles, we include important or interesting Tweets, Articles, Video Clips with our comments. This is an article that expresses our personal opinions about comments made on Television, Tweeter, and in Print. It is NOT intended to provide any investment advice of any type whatsoever. No one should base any investing decisions or conclusions based on anything written in or inferred from this article. Macro Viewpoints & its affiliates expressly disclaim all liability in respect to actions taken based on any or all of the information in this article. Investing is a serious matter and all investment decisions should only be taken after a detailed discussion with your investment advisor and should be subject to your objectives, suitability requirements and risk tolerance.
1.Re-sighting of Dr. Pangloss?
That was almost the case this week. All worries were put aside & everything seemed right with the World. Except, of course, the monies put in hedges to protect long positions. Not just ordinary hedges, but exceptionally performing ones like Gold, Silver and Treasuries. This week, especially Thursday, showed again that hedges end up costing more in lost returns than actually providing positive returns to protect long positions. For example, $GOLD, the new American Barrick, fell over 7.5% on Thursday (& fell by another 2.5% on Friday). What about Treasuries? From The Market Ear on Thursday afternoon:
"Largest 1d percent change up move in the 10yr since the 2016 election."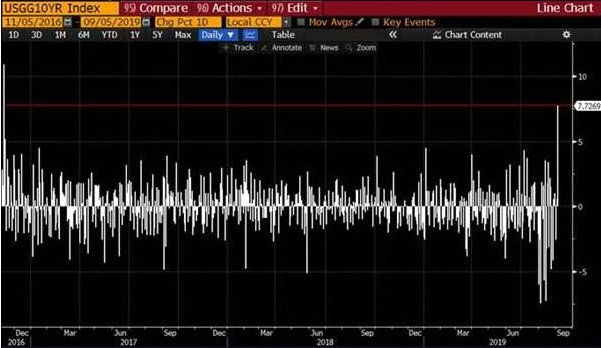 What caused this carnage? Actually a better question is what happened to set all worries aside. As we have seen, US stock indices are most influenced by the US-China trade issue and the Treasury market is most influenced by what happens to German bond yields. 
Well, Hong Kong's Carrie Lam announced that she was withdrawing the extradition bill that had inflamed Hong Kong's protesters & she also agreed to discuss their other demands. And the temperature of US-China dispute began visibly cooling down. That was enough to rally the S&P by 31 points on Wednesday, a 50% bigger rally than the 20 handle decline on Tuesday. 
Then on Thursday, European bond yields shot up on unexpectedly hawkish comments from ECB officials against Draghi's plan to get even more dovish next week. If that wasn't enough, Boris Johnson's defeat in the UK Parliament removed a big fear at least for the short time. That was enough to rally UK 30-year gilts from minus 22 bps on Tuesday to minus 4 bps on Thursday, a rise of 18 bps in 2 days. The UK 10-year yield also rallied by 18 bps in those 2 days, while the German 10-year yield rallied by 11 bps. Despite all this,  the 10-year & 30-year Treasury yields only jumped by 8-9 bps in those two days showing Treasury yields are being driven more by European yield movements than US data.  
A more hawkish than expected ECB was enough to torch Gold & Gold Miners on Thursday despite weakness in the Dollar. And what the ECB began on Thursday, Fed Chairman Powell completed on Friday afternoon in his Zurich speech.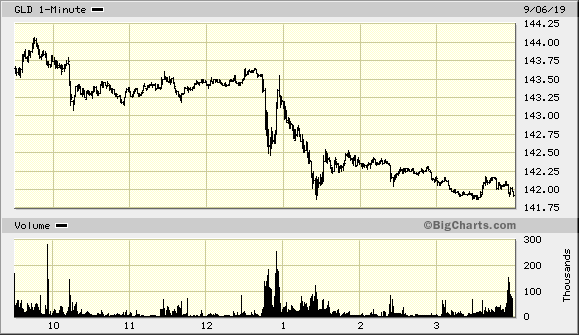 But Treasury yields fell after the tepid Non-Farm Payroll (NFP) report on Friday morning.  The 30-year yield fell back from the old 2.09% high level to close at 2.02% leading Rick Santelli to remark" doesn't look like there is sustained selling pressure". Contrast the action in TLT with the above action in GLD after Powell's comments around 1 pm on Friday: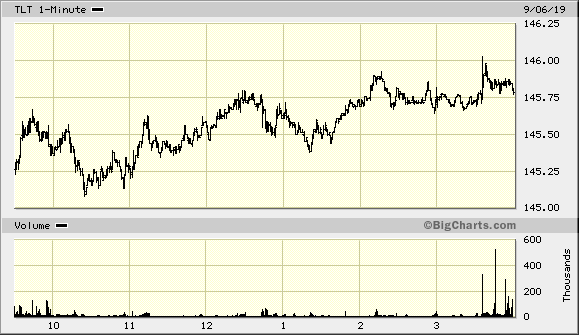 Both TLT & GLD fell at 1 pm thanks to Chairman Powell. But TLT recovered to close higher on the day while GLD failed to rally & closed near the lows of the day. Do both suggest that ECB will be less dovish than expected next week? After all, less liquidity from ECB will be negative for Gold and negative for the global economy & hence positive for Treasuries. No wonder the German 10-year & 30-year yields fell by 4 & 7 bps resp. on Friday.  
So not only is the FOMC divided about further easings, but the ECB is also divided about if, when & by how much QE should be restarted. And how will the FOMC react to a more hawkish ECB? That makes the next two weeks interesting & possibly momentous. 
The real question is how global interest rates would react if Draghi's ECB starts QE And Powell's Fed cuts interest rates? Well, the original Buy Bonds, Wear Diamonds bull is wondering himself:
The chart he is referring to is: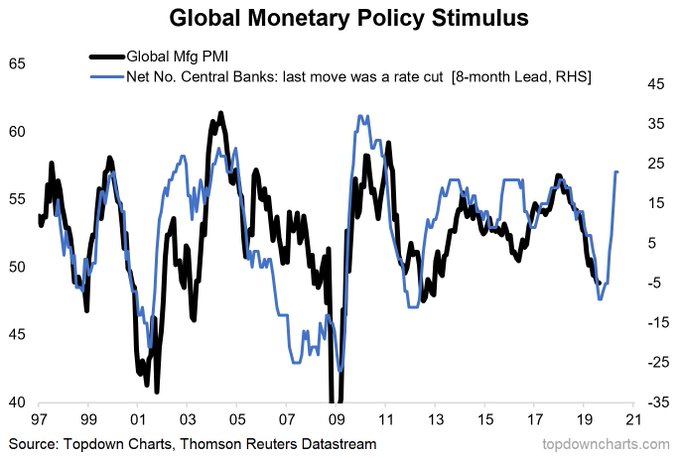 The answer, we think, rests on the strength of the US economy & whether the US consumer can keep it going. That brings us to:
2. "numbers are reassuring" or not? 
CNBC's Sara Eisen was emphatic about the NonFarm payroll numbers on Friday afternoon saying "numbers are reassuring". She was supported by Karen Finerman of CNBC Fast Money. They both added that the "consumer is in great shape". And their colleague Mike Santoli agreed.
We are not reassured partly because,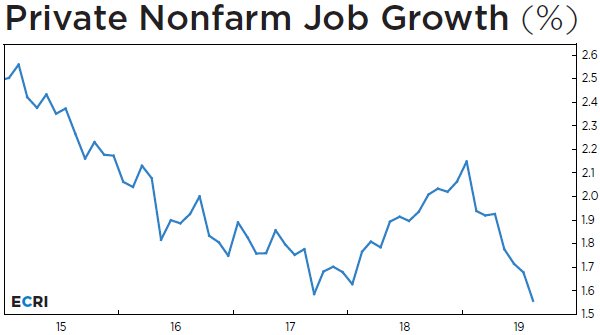 Achuthan hit the nail on the head in his article:
The key reason many people are betting on a soft-landing is the belief that the consumer will save the day, in large part because of solid jobs growth. Here's the problem. Growth in ECRI's Leading Employment Index, which correctly anticipated this downturn in jobs growth, is at its worst reading since the Great Recession.
Nonfarm payroll growth is already at a 17-month low, and the household survey is even weaker. And we already know that the top nonfarm payroll line will be revised down by half a million jobs, when we get the benchmark revisions in a few months.
Guess Mike Santoli had forgotten by Friday morning what Lakshman Achuthan had told him the day before:
Then you have David Rosenberg doing simple arithmetic:
Then there is the other anomaly. Or is that just a sign of an irrational bond bull market?