There has been a discernible change in the US-China dialog over the last couple of weeks. Both sides have cooled down their rhetoric & this week both China & America have taken back some of the tariffs levied against each other. In a sense, President Trump has won at least the first part of his battle against China's President Xi, as is seen by many after the recent Party meeting at Beidaihe.

Clearly Xi is still extremely powerful. But, as Geopolitical Futures points out,  China's Central Committee has made it clear that Xi has to manage the US relationship better. They realize better than every one else that China's export dependence on America brings existential danger to China's economic stability. Big long term issues can wait their turn & so can China's drive to its near-world domination. Economic stability is the primary objective now, secondary only to stabilization in Hong Kong.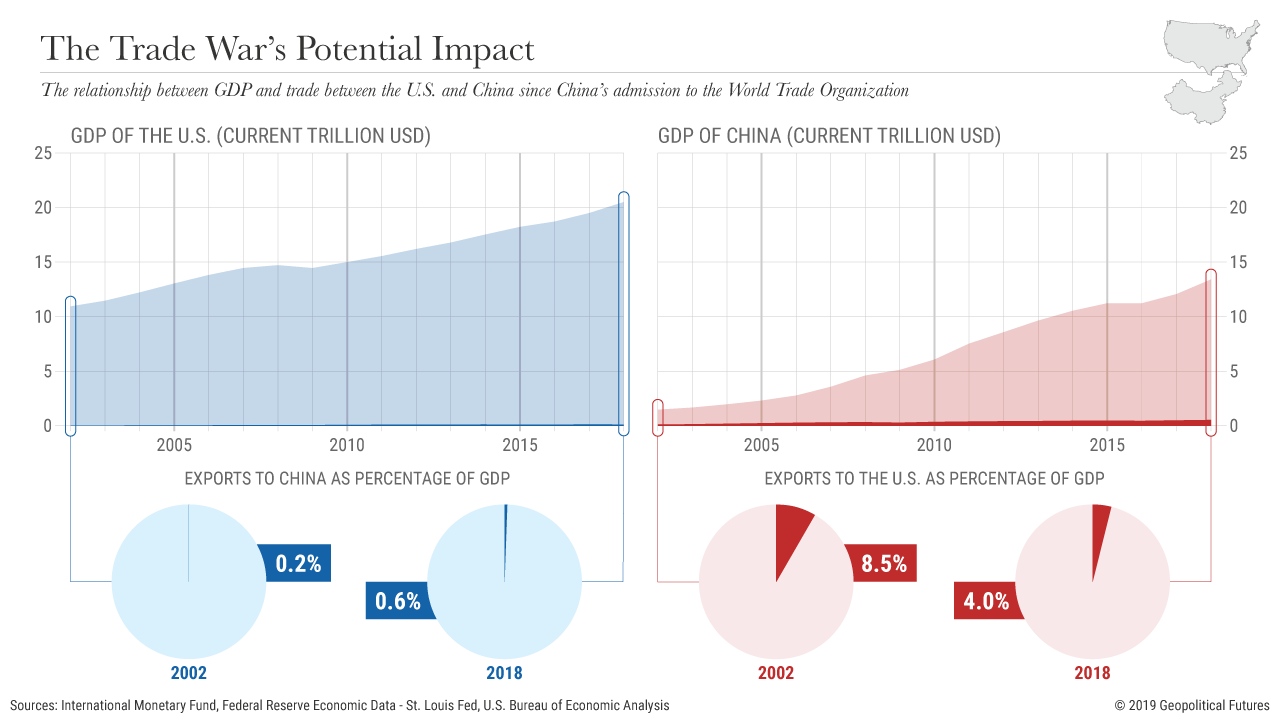 (courtesy – Geopolitical Futures)
The Trump Administration welcomes this stabilization and has responded with friendly tariffs reduction in response. They realize that the easy part of the trade war against China is done & further trade conflicts are likely to hurt the American economy & politically important sectors in America.
1. The Genial side of Trump
By now every voter in America is convinced of President Trump's resolve & fighting ability. So there is little to be gained politically in highlighting that at the cost of a dip in the US stock market. Now is the time to show the other side of Trump, the ability to make a deal, to become a world leader who acts with restraint for joint good. Now is the time to also recognize the good side of adversaries without characterizing them as evil.

That was the stance President Trump took at the recent G-7 meeting in France. It was an entirely friendly meeting without the tension & confrontation of previous G-7 meetings. That was also the message behind the termination of John Bolton, especially his style of describing countries & their administrations as evil to be removed.

Besides China, the Trump Administration is working with Japan to strike a limited but serious trade deal. Getting increased access to Japan's agricultural market would be important for American farmers & for the Trump 2020 campaign. The Trump administration is even trying to get a limited trade deal with India. These discussions began between President Trump & Prime Minister Modi at the recent G-7 in France. A good sign is that a smart guy like Piyush Goyal, the new commerce minister, is leading the negotiations on the Indian side.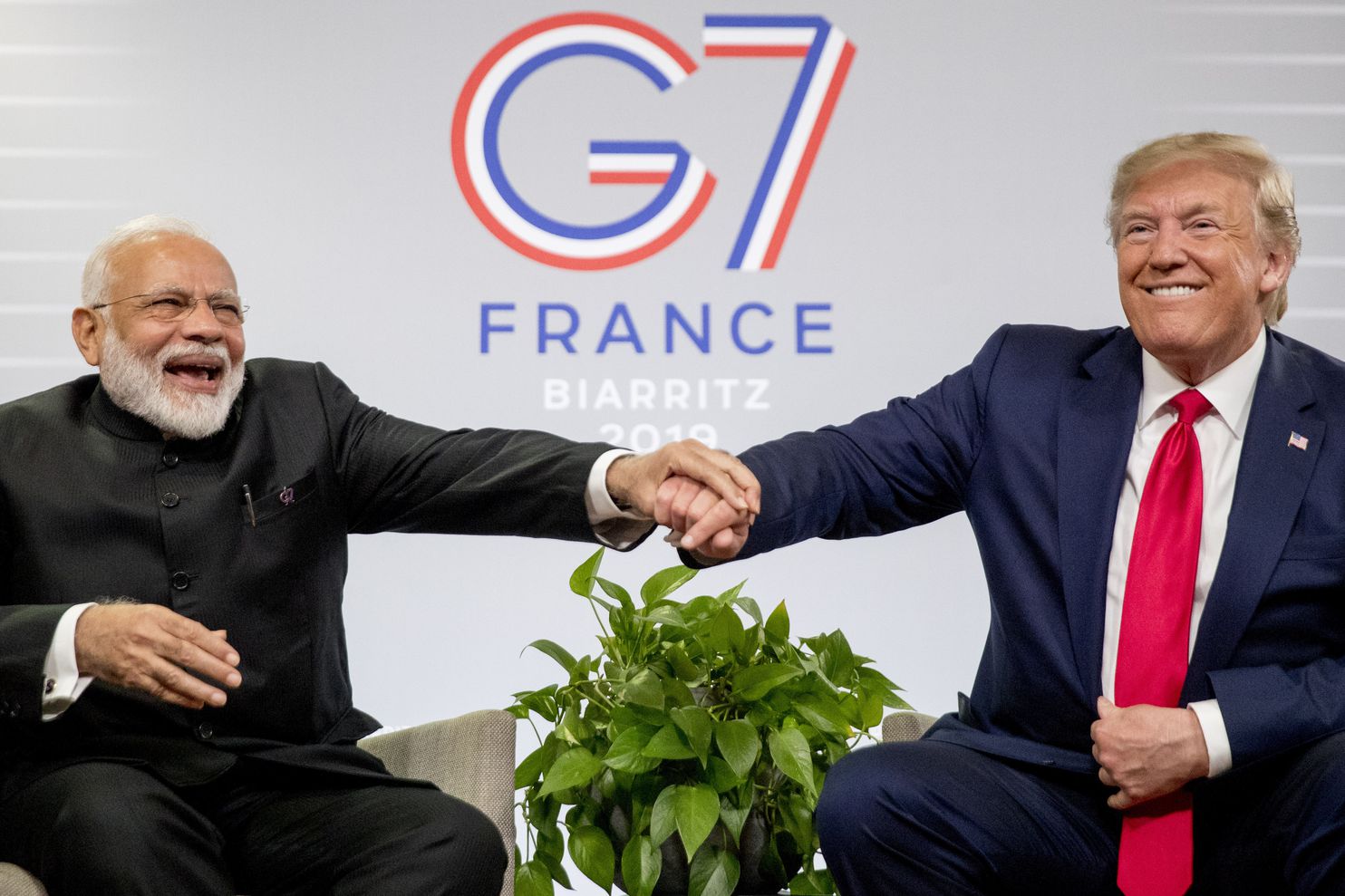 (courtesy- Andrew Harnik/AP & Washington Post)
This is indeed based on the calculation that visible successes of President Trump in dealing with important nations will balance his proven image for Standing Tall for America. The images of world leaders shaking hands with President Trump on trade deals on terms far better than what President Obama got will work well against both Biden & Warren, the two leading Democrats.

That is why we believe we will see a balanced Trump in 2020, a man who will always stand for America First AND a man who can bring the world towards America with resolve-centered charm & geniality.
Could that also end up being a trigger for another cycle change?
2. A Cycle Change for the Next Decade?
Everyone remembers the 2008 financial crisis. But very very few realize that the decade that followed has been America's decade. Emerging markets that dominated the world's markets in the first decade of this century were left by the wayside as American stock market tripled in value. Just look at the chart below: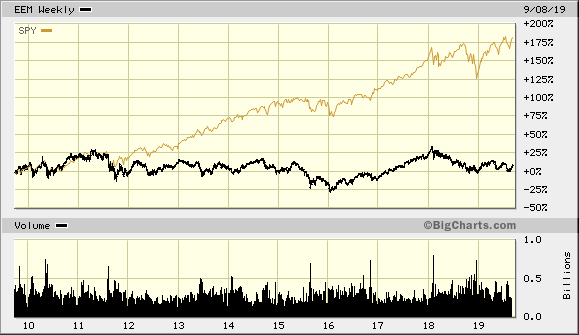 (US S&P in yellow vs. EM markets ETF in black)
This has created a big chasm between economic reality & market value. Today's U.S. share in the world economy is 25% while the U.S. share in stock market value is 55%. In contrast, Emerging Markets have 35% of the world's economic output but only 12% of the stock market value. What a disparity, right?

The man who brings the above facts to us is Ruchir Sharma, Chief Strategist & Head of Emerging Markets at Morgan Stanley. He makes the argument that the next decade will see a rebalancing of the above chasm of disparity, meaning the Emerging Markets will outperform. Hear him explain his reasoning:

He is likely to be right at least to some extent. But the big question is when does this cycle change begin? No one knows the answer to that but this week, two smart investors & analysts began highlighting specific emerging market countries.
Richard Bernstein, President of RBA Advisors & previously Chief Strategist at Merrill Lynch, said in his detailed discussion on RealVision (a must watch clip for interested readers):
"Profits in the United States are decelerating, there's no doubt about that. Profits in Europe are decelerating and they're actually negative. Profits in Japan are decelerating, they're actually negative. In China, maybe they're starting to turn up here. … the leading indicators in China are about the strongest momentum of any major economy in the world…. look at is what are our profit indicators telling us? …They're suggesting that the next quarter or two, Chinese profitability will begin to pick up. It's already bottoming in China … "

Then this week, we saw the tweet below: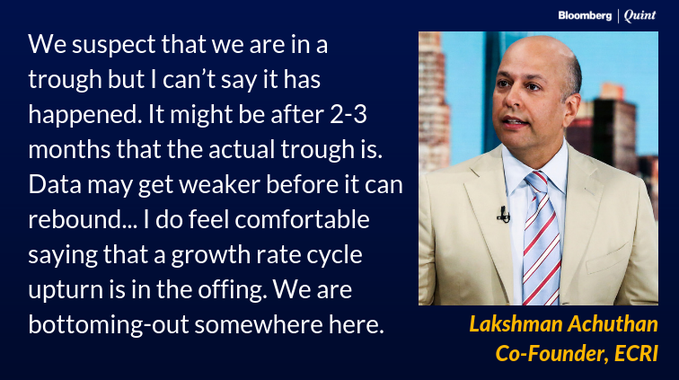 His concluding remarks in the Bloomberg article:
"Weighing in on the debate over whether India's growth slowdown is structural or cyclical, Achuthan said that both elements could be part of the sluggishness. He, however, said that India remains well-positioned from a global standpoint. Potential long-term trend growth has been decelerating for all major economies, with the exception of India, according to Achuthan. The reason is that both demographics and productivity growth trends have been deteriorating across the developed world and some big developing economies like China. "India actually looks pretty darn good. These indicators are both positive here.""
So now we have a top-down strategy call from an investment manager like Ruchir Sharma and recent bottoms-up leading indicator upturns highlighted by Richard Bernstein & Lakshman Achuthan.
But cycle changes don't happen on a dime. But these early signals can prepare the mind. And we all know the adage: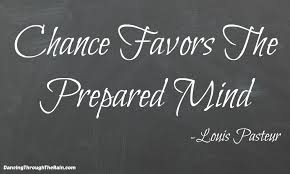 Send your feedback to [email protected] Or @MacroViewpoints on Twitter