Summary – A top-down review of interesting calls and comments made last week in Treasuries, monetary policy, economics, stocks, bonds & commodities. TAC is our acronym for Tweets, Articles, & Clips – our basic inputs for this article.
Editor's Note: In this series of articles, we clude important or interesting Tweets, Articles, Video Clips with our comments. This is an article that expresses our personal opinions about comments made on Television, Tweeter, and in Print. It is NOT intended to provide any investment advice of any type whatsoever. No one should base any investing decisions or conclusions based on anything written in or inferred from this article. Macro Viewpoints & its affiliates expressly disclaim all liability in respect to actions taken based on any or all of the information in this article. Investing is a serious matter and all investment decisions should only be taken after a detailed discussion with your investment advisor and should be subject to your objectives, suitability requirements and risk tolerance.
1.Reversals, Yes; Interesting, Yes; Material, Perhaps? 
Inflation numbers came in lower than expected this week. So Treasury rates should have fallen hard & they did so for a couple of days. Then came Friday & look how that changed the week:
30-yr yield

up 3.6 bps

on the week; 20-yr yld

up 3.5 bps

; 10-yr yld

up 3.1 bps

; 7-yr

up 4.6 bps

; 5-yr

up 3.3 bps

; 3-yr

up 3.3 bps

; 2-yr

up 8.3 bps

; 1-yr

up 3.8 bps

;
Is this how the Treasury market greets bad economic news & a slowing economy? Note that the 20-30 yr curve was up in yields the week before as well. Think back to mid-2007 when Rosie began proving correct with his Un-Rosy outlook & how long maturity rates began rushing down. In contrast, the 20-30 yr curve has been rushing higher in yield for two straight weeks now & the TLT complex keeps going down. Hmmm!
Stocks are behaving the way they have been. 
NDX

up 62 bps

this week with Dow

down 1.1%;

RUT

down 1.1%

; DJT

down 2.4%

; EEM

down 1.7%

; EWG

down 1.7%

; EWY

down 4.3%

; CLF

down 1.7%

; FCX

down 3.8%

; & so on; 
That we can understand somewhat because the U.S. Dollar rose up 1.6% this week with all the increase coming on Thursday & Friday. 
We also saw two reversals among the smart folks this week. Katie Stockton, generally bearish so far, turned medium term bullish on Friday on CNBC Squawk Box:
" … there are indications we will have a better second half; with the next up move, we should start to see some long term momentum buy signals …. for now the market is contending with some short term sell signals with Tom DeMark indicators supporting a 2-week pull back in QQQ; … look for buying opportunities in that dip ; 10-yr, having broken 3.5% could go to 3%; 2-yr down to 3.45%…. " 
The second reversal was much bolder & came from one who usually prefers to go with the trend instead of trying to catch a reversal: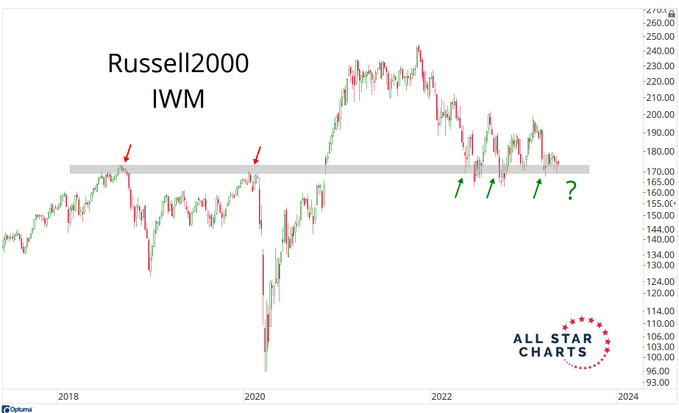 But what about big tech? Anastasia Amoroso said, as we recall, in the miniscule of time allowed for her on CNBC Half Time on Friday:
".. Don't want to be out of Big tech; don't want to be trimming it"
And to complete what host Scott Wapner & his two warring buddies did to her on the live show, CNBC Webmasters also cut the above quote from the clip they posted. Why invite smart minds like Ms. Amoroso if you are not going to let them speak & if you are also going your remove their actionable views from the posted clip? 
About what CNBC webmasters routinely root out from their published CNBC product, namely Cramer's Off-the-charts clips, look at the following:
DeCarleyTrading.com

@carleygarner – – I joined RFD-TV's Market Day Report today (in my casual Friday attire) to discuss today's WASDE report. The market's reaction was justified, but we can't help but feel like the extreme bearish sentiment and news flow are reaching a climax. We will probably look back at these new…

 

Show more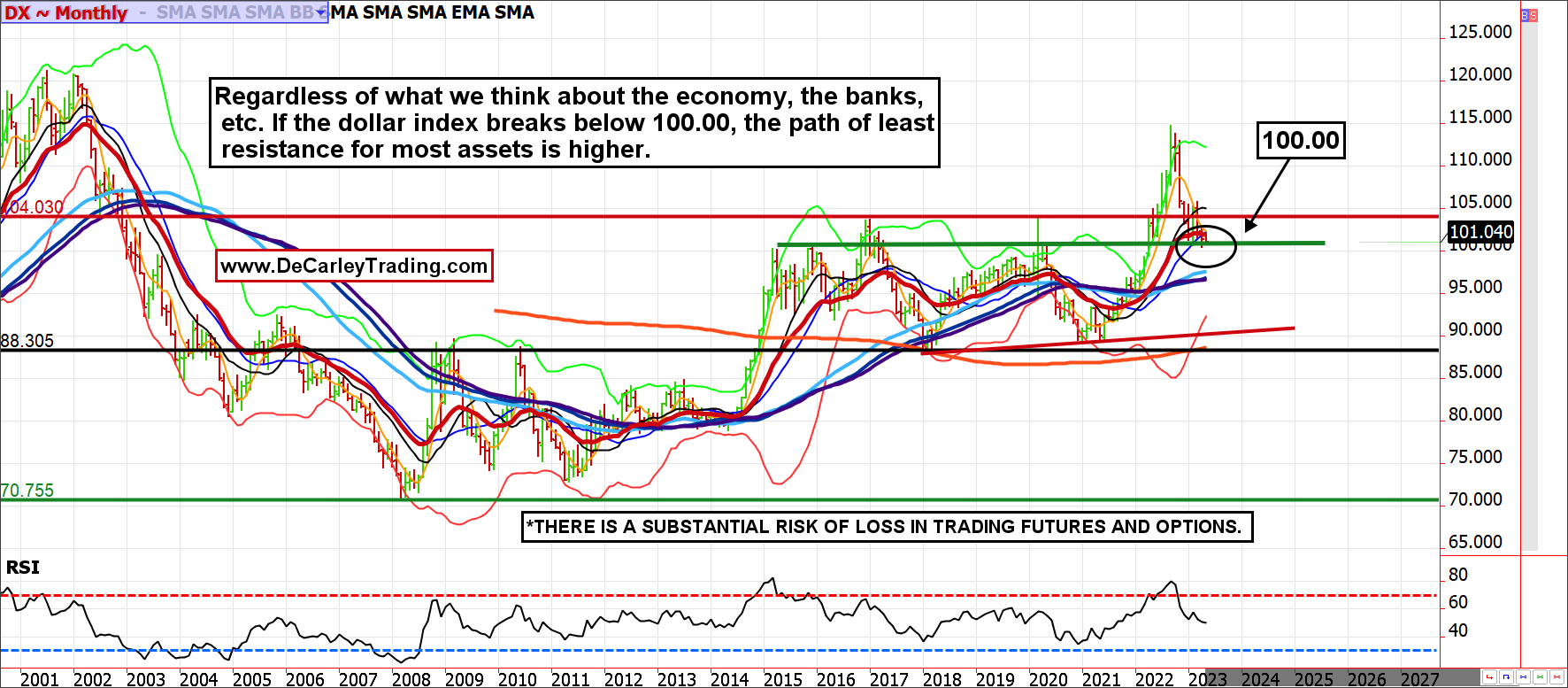 Cramer relayed her views about the Dollar rally being critical for a further rally in stocks. As we recall, Ms, Garner said if the S&P breaks 4,270, it can get to 5070 provided the Dollar goes 98 soon. She also used the words "largest short in stocks in history" as Cramer told his viewers. 
She is not alone with that description:
(((The Daily Shot)))@SoberLook – Bearish sentiment among global investment managers has reached extreme levels. Source: @SPGlobalPMI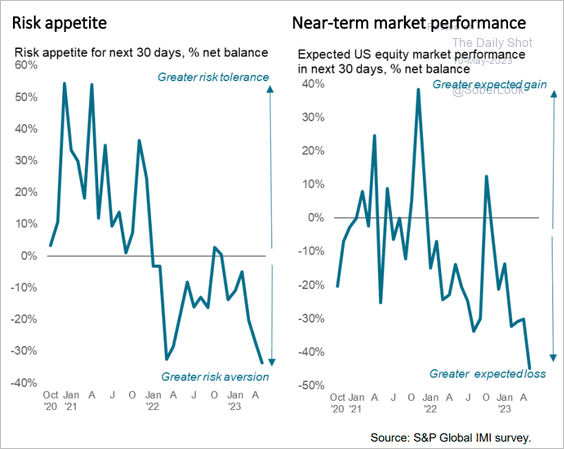 This bearish sentiment prompted Barry Bannister of Stifel to raise his mid-year 2023 target from 4,200 to 4,400. Key sentences from his appearance on CNBC:
"Bull markets don't end with this much bearish sentiment; awful lot of bearish sentiment out there; … even strong rallies don't end with this many bears … markets can stay longer than shorts can stay solvent … "
Going back to the market favorites of Big Tech, watch technician Danielle Shay say stuff  about them in her "Stocks on the verge of Breakout" clip that would cause a few to faint or react the way so many at CNN reacted to the Trump town hall last week. 
Unlike most "sell in May" occurrences of May, this month could prove to be a "rare occurrence".
Todd Sohn@Todd_Sohn – With April's conclusion, the S&P broke a 12 month losing streak with negative rolling 1yr returns. Similar observations and forward returns below. Rare occurrence.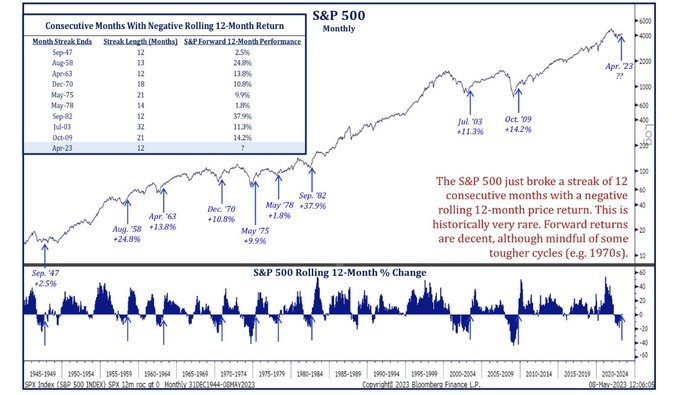 That leads us to the rarest of occurrences we have ever witnessed:
2. How do you destroy a 70+ year edifice?
Many might know that the power of the Army in Non-Pak-istan used to be described succinctly in the following phrase:
"Other countries have armies; In Pakistan, the Army has the country"
This was not merely an acknowledgement of its power, but equally so of the absolute respect & trust in which the Non-Pak military had been held for 70 + years. And the army hierarchy worked strenuously to maintain that respect of the people.  
That is now shattered by a reckless act by a recklessly stupid Chief of Non-Pak army. By arresting popular leader Imran Khan, Gen. Asim Munir lit a huge fuse under the entire land. We assume most saw the nationwide riots & attacks on the military offices across that troubled land. It was so crazy that the Taliban Leadership put out a public message for Non-Pak Military & Government to maintain peace & not succumb to terrorism.  
Look how widespread the riots were:
A full overview of the Pakistan violence since Imran Khan's arrest. (Graphics by @bidishasaha1996 & @defilmeditor) pic.twitter.com/SBUqnrcOBT

— Shiv Aroor (@ShivAroor) May 11, 2023
The storm was such that several Lt. Generals reporting to Munir refused to accept his orders:
Adil Raja@soldierspeaks –  – Copied from a veterans forum: 6 Lt Gens r openly against Asim Munir & PDM: 1) Asif Ghafoor 2) Asim Malik 3) Nauman Zakriya 4) Saqib Malik, 5) Salman Ghani 6) Sardar Hasan Azhar They are supporting a solution by CJCSC, President, and CJP. The next 48-72 hours are critical.
So it was obvious to Gen, Munir & his staff that keeping Imran Khan behind bars was severely aggravating the situation. So as a face-saving measure, it is said they asked the Non-Pak Supreme Court to step in & order that Imran Khan be released. And yes, the mother-in-law of the Chief Justice of Non-Pak-istan SC is a senior party leader in Imran Khan's party. 
Imran Khan takes on the mighty Pakistani Army chief head on. Ignoring Sharif and his PDM govt he has caught the bull by its horns. Now the fight gets even more interesting. The real game has just begun. #PakistanCivilWar #Pakistan #imran_Khan #PakistanArmy pic.twitter.com/NXEcb47nmn

— Danvir Singh दानवीर सिंह (@danvir_chauhan) May 12, 2023
Understand that the battle is just beginning. Look how Imran Khan, after his release, is blaming only 1 man, Gen. Asim Munir (Head of Army) and not the body of the army or the other agencies. These two men cannot both win. Heck, they cannot both survive. Does Gen. Munir unite the army leadership around him & re-arrest or banish Imran Khan from Non-Pak-istan or does Imran Khan manage to get Gen. Munir unseated from his position?
The latter is more sensible & better for the people. If a new Chief of Staff is appointed & he appears alongside with Imran Khan publicly, then this big crisis will end & the regular crisis of Non-Pak-istan will continue. In this scenario, Imran Khan will win the next election as Prime Minister and IMF will probably come in with bailout money with Saudi-UAE et al. 
3. Two Hindenburg targets & one globally Mega project
This week, Scott Wapner of CNBC Half Time focused on the double downgrade of BLOG (SQ), the company about which Hindenberg published a scathing report. CNBC, at least to our knowledge, has done nothing much about this Hindenberg target except to speak in a gentle positive manner about it. 
In contrast, CNBC people seem to have done nothing about Adani Group, another Hindenberg target, except to refer to it snidely. It is their right of course. But weird in our opinion, because the reason we were originally drawn to Adani Group is now becoming a big fulcrum of global US security policy.
Recall that we began discussing the Adani story when Mr. Adani signed on the acquisition of Haifa Port in Israel. We called it a mega deal because what it might mean to the Middle East.
Fast forward to this week. The US National Security Advisor, Jake Sullivan, met with NSAs of UAE, Saudi Arabia & India to proclaim a new & incredibly significant deal of which the Haifa port is an important piece (assuming they implement it, of course).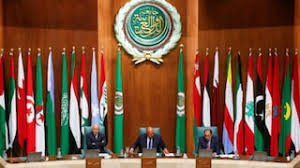 We describe this project in detail in our adjacent article Not Just Lawrence of Arabia Mega but Global  Greece-Rome-Middle East-Indian Ocean Mega? The deal is also likely to exclude China cleanly & elegantly from the future of this huge global area. 
Has BLOG done anything even remotely interesting & profitable, we can't resist asking?
4. Bright as 10 million Suns
In Sindhu Dharma, God is known/believed to be beyond our comprehension, understanding & every attempt at understanding. God is so beyond our sight, beyond our vision & beyond our mental reach that we could only begin to think about God via God's many representations. Anyone who has studied post-graduate Mathematics will recognize this analysis as the realm of Representation Theory, the branch that seeks to study structures we don't know via its representations or mappings on known spaces. 
That's exactly what the original seers of Sindhu Dharma did. The simplest of their endeavors was to describe what they only imagined as the Brilliance of God. They couldn't fathom it of course and so they created a measure for it using the brightest object they saw, the Sun.
This is why every representation of God (every homomorphism, to be rigorous) is described as सूर्य (Sun) कोटी (10 million)  सम (equal) प्रभ (brilliance), or of a brilliance equal to that of 10 million Suns.
While we understood this as a tangibalization measure, a part of us kept wondering why every Sindhu text always used the same multiplier – ten million times our Sun's brilliance. Was it just a cute number? But then why not 100 million or billion? Did those seers have a reason to believe that an object could exist with brightness equal to that of 10 million Suns? 
Guess what? This week we got an answer to the riddle – Yes, there exists in our Universe an object that is literally as BRIGHT as 10 millions Suns; an object with the gravitational pull that is 100 trillion times that of the earth's gravity.  AND above all, this is an object that whose existence is IMPOSSIBLE per today's laws of Physics. Meaning either this object is not real or the current state of Physics is inadequate. 
As we are told, this object has just been discovered by Astronomers:
There is now increasing interest in researching the old Sindhu texts, especially the Mahaa-Bhaarat & Raamaa-Yan not for the stories but for the detailed descriptions of ultra-powerful weapons of mass destruction. Though deemed in the Brit days as merely fanciful, the 2,500-5,000 year old detailed descriptions of these Vimaan (airplanes) & Astra (missiles), that resemble today's machines/weapons are now leading to more thoughtful analysis in America.    
Watch one clip just as example of the questions being asked now – The Flying Vimanas And Nuclear War in Ancient India: – We have no opinions on this topic but having rudimentary knowledge of these texts, we recognize the validity of the questions raised.
Send your feedback to [email protected] Or @MacroViewpoints on Twitter