Remember the intensity of the Adani Washout, the steep decline in Adani Group share price in early February 2023? No one was focused on anything other than Hindenberg's scathing report on Adani Group practices and on the FPO offering on January 31, 2023. So much so that no one wondered why Mr. Adani himself was absent from Mumbai that day.
So where did he go that day? As we pointed out in our Adani Washout article on February 5,
"Mr. Gautam Adani flew to Israel to complete the purchase of the Haifa Port by the Adani Group with Israel's Gadot group as the 30% partner".
And Israeli Prime Minister Netanyahu also flew to Haifa to be present for the closing of the Haifa port deal. A hint of the potential importance of this Haifa deal came from JINSA (Jewish Institute for National Security of America).
"The Adani Haifa Port acquisition, alongside the formalization of the I2U2 framework, signals India's increasing interest in partnering with the U.S. and its strongest Middle East security partners in critical strategic domains."
So what's mega about Adani acquiring Haifa Port?
1.Just A Local Mega?
First the Haifa port will provide a much less expensive way for shipping companies, $1,000 per container cheaper as Mendi Zaltman, CEO of Haifa Port, said then in an interview with Times Now. Then Mr. Zaltman hinted at the mega promise of the Adani-Israel Haifa deal when he said that Emiratti businessmen:
"will enable to install a railway from the Emirates to Haifa port".
The best way to see how mega that can be is to look at the map from our February 5 article: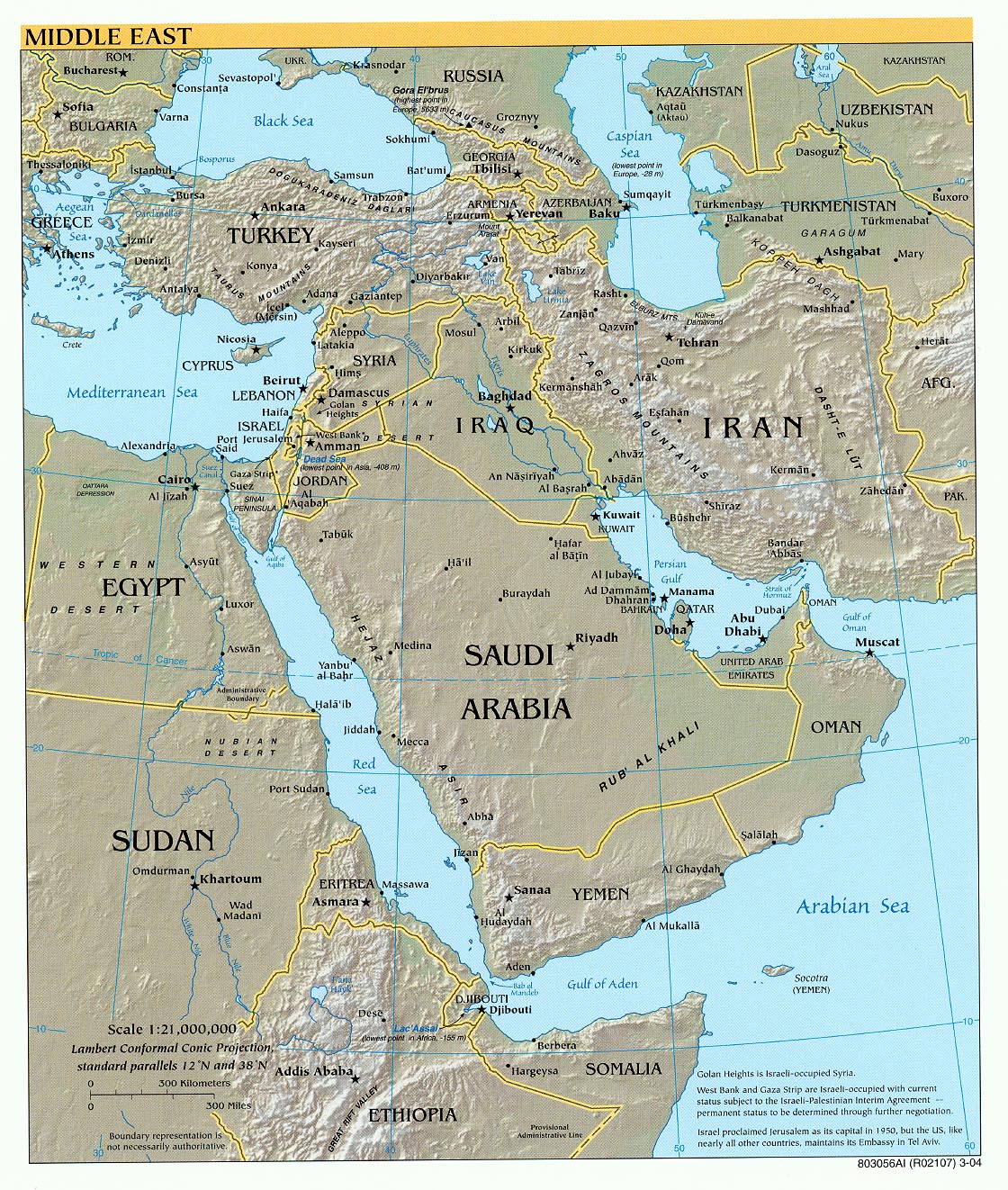 Look at the map above and see what a railway line from Abu Dhabi to Haifa would mean for the economies of Saudi Arabia, Emirates & even possibly the Levant. As we wrote on February 5,
"Everybody knows how interested Saudi Arabia and UAE are to add other business lines to diversify from the oil business. The above transport route could be the trigger for such diversification. And Israel then can be truly a part of the Arabian Peninsula. Israeli technology & military strength, Saudi & UAE financial strength & Indian business could really make this route a huge center of business transport between Europe and the Indian Ocean."
2. Globally Mega
But we admit that while we understood the impact of this UAE-Saudi-Levant-Israel railway  on the Middle East & we saw the help of I2U2 (India, Israel, USA, UAE network), we frankly did not see the real global reach of this ambitious but simple-sounding commercial deal. 
Now fast forward about a month & half to mid-March 2023 to the Saudi-Iran deal brokered by China. As the Unites States Institute of Peace wrote then:
"China offers Saudi Arabia leverage with Iran, an alternative to the United States, deepening ties with Beijing, and technology and other resources that Riyadh needs."
This deal rang alarms in Washington DC besides the intensifying competition between America & China in East Asia. There is also an intensifying relationship between India and China in the Indian Ocean. And the Middle East, especially the near Middle East of UAE & Saudi Arabia, is of major commercial & security interest to both USA & India.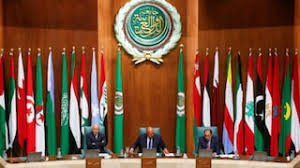 Now read the scoop by Axios on May 6:
"U.S., Saudi, Emirati and Indian national security advisers are expected on Sunday to discuss a possible major joint infrastructure project to connect Gulf and Arab countries via a network of railways that would also be connected to India via shipping lanes from ports in the region, two sources with direct knowledge of the plan told Axios."
The Axios article wrote that the new initiative came up during talks that were held over the last 18 months in another forum called I2U2, which includes the U.S., Israel, the UAE and India, according to the two sources. The article also wrote: 
"Sullivan added the fundamental notion is to connect South Asia to the Middle East to the U.S. "in ways that advance our economic technology and diplomacy." He also said a number of projects are already underway "and some new exciting steps that we're looking forward to undertaking in the months ahead."
Two days later, ArabianBusiness.com reported:
"Jake Sullivan, United States National Security Advisor, met with Mohammed bin Salman, Saudi Prime Minister and Crown Prince; Sheikh Tahnoon bin Zayed Al Nahyan, UAE National Security Advisor and Ajit Doval, National Security Advisor of India, on Sunday in Riyadh, lending credence to a report that the three Asian countries are getting together to create a major railway network".
More details came from Times of Israel:
"Economic ties between the UAE and India are already robust. India is the largest importer of Emirati goods, and the UAE is India's third-largest trade partner. Emirati companies invested billions of dollars to create the India-UAE Food Corridor last year in order to bolster the Gulf country's food security".
"India aims to become the breadbasket of the Middle East, and Israel is at the center of that ambitious goal. The Foreign Ministry has created 29 Indo-Israel Centers of Excellence to improve yields, water use, and crop diversity."
What about Haifa & beyond?
"Rail networks between Israel and the UAE would allow India to ship goods to the UAE, which would then be spirited by train across Saudi Arabia and Jordan, before crossing into Israel at Beit She'an and arriving at the Haifa port."
"From there, goods would be shipped to Greece's Piraeus port, one of the largest in Europe, from which India would be able to access the entire continent

[of Europe]

."
Where is Piraeus & how is this potentially related to Italy?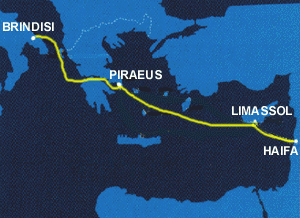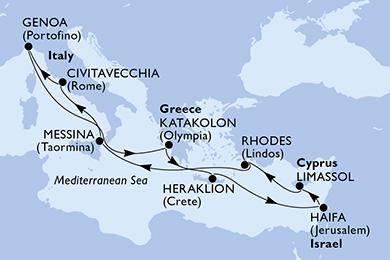 Italy is already set to, as The Telegraph reported, quit New Silk Road project as its ties with China fray. And Italy & India elevated their ties to a strategic partnership and signed MoU on defense cooperation in March 2023. A broader & more defense related relationship between Italy & India seems desired by both leaders and that will only magnify the benefits from the above Haifa Port & the breadth of the planned railway-sea transport network. 
Back on February 5, we merely thought this deal would be mega in the Lawrence of Arabia sense – meaning giving the Arabs an alternative to the Suez Canal.
British military advisor (minute 2:06) – the one essential sector of this front is & must be the (Suez) Canal; you can see that Sir, surely!
Prince Faisal – "I see that the Canal is an essential British interest; it is of little consequence to us".
But now we see this deal as a globally mega deal using a railway network from UAE to Israel via Saudi Arabia to build a global network connecting the Indian Ocean to Europe bypassing the troubled states of Iran & NaPakistan and excluding China. Heck, Lawrence of Arabia couldn't even have imagined it. 
Send your feedback to [email protected] Or @MacroViewpoints on Twitter