This Blog's Disclaimer:  This is an article that expresses our personal opinions about comments about events made on Television, Tweeter, and in Print. It is NOT intended to provide any investment advice of any type whatsoever. No one should base any investing decisions or conclusions based on anything written in or inferred from this article. Macro Viewpoints & its affiliates expressly disclaim all liability in respect to actions taken based on any or all of the information in this article. Investing is a serious matter and all investment decisions should only be taken after a detailed discussion with your investment advisor and should be subject to your objectives, suitability requirements and risk tolerance.
Wherever you turned this week in the Financial Markets world, you kept hearing extreme adjectives about the events related to Adani group of companies & a sense of calamity of never-ever-seen proportions. That got us interested and we began looking at it.
Allow us to admit at the very beginning that we had hardly any knowledge about the name Adani let alone any familiarity or knowledge about either the group's operations or its finances.
The closest we had come before to anything close to "Adani" is "Adana", a Raag with famous compositions in Dhrupad (pre-classical music) & in Khyal (classical music). In a celebration of our devotion & love for "Adana", we include below two celebrated compositions one for Bhagvaan Shiva & one for Maata Mahaa-Kaali. Who knows, by the end of this article, you might even see a remote relevance of attributes of Shiva & Kaali  to the Adani washout!
No one can discuss the Adani washout of the last few days without discussing the waterfall decline in the shares of companies of Adani group, especially of Adani Enterprises. That makes the disclaimer at the top of this article extremely important to read & remember. 
We love markets; we like to think about them & write about them on a weekly basis. That is our pleasure & joy. We know & have said repeatedly in our articles that we are simple folks with simple minds. 
Therefore we deliberately & decidedly warn every reader that our views are merely our views and are not actionable in any way whatsoever. And if, you choose to read further, you will be deemed to have read our disclaimer above & agreed to abide by it. 
1.THE EVENT of the Past Week – Geopolitical, Financial & Adani 
Far away from India and at the opening of Israel into the Mediterranean is Haifa, the third-largest city in Israel—after Jerusalem and Tel Aviv. Per Wikipedia, as of 2016, the city is a major seaport located on Israel's Mediterranean coastline in the Bay of Haifa covering 63.7 km2 (24.6 sq mi).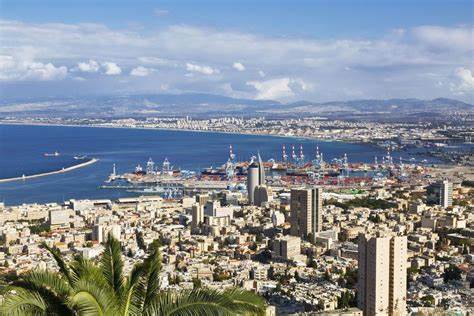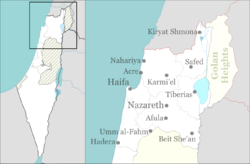 Per Wikipedia, the Port of Haifa (Hebrew: נמל חיפה) is the largest of Israel's three major international seaports. It has a natural deep-water harbor, which operates all year long, and serves both passenger and merchant ships. It is one of the largest ports in the eastern Mediterranean in terms of freight volume and handles about 30 million tons of cargo per year (not including Israel Shipyards' port). 
If Europe-facing Haifa is far away from India, it is much farther from China. But that never stops China, right! A Chinese company, Shanghai International Port Group, owns the Bayport terminal in Haifa. Naturally, this Chinese company was also bidding to build Haifa Port and clearly had the inside track. 
And, according to a JINSA (Jewish Institute for National Security of America) brief, 
"As of 2018, China was the fourth largest source of FDI in Israel standing at 2.9 percent of total FDI inflows, over 75 percent of which was concentrated on critical domains such as transportation, ports, and minerals"
Enter United States of America. There was no way the 2022 USA was willing to accept China to be the sole FDI owner in Haifa Port. Just look at the 2021 map below (Bay Port is owned by China) to understand why: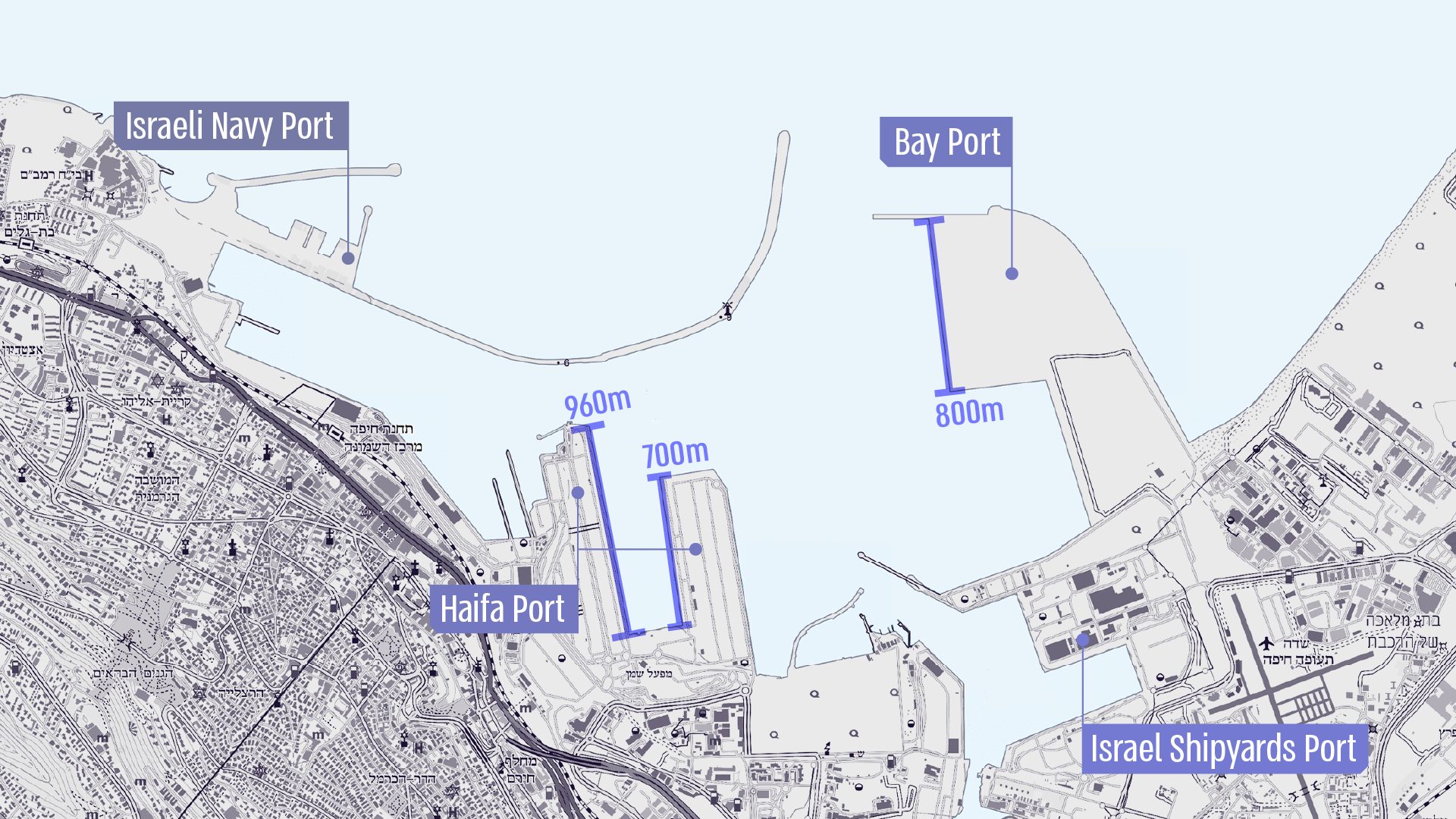 Now recall that USA is a founding member of I2U2, the short form for the strategic coalition of India, Israel, UAE & USA. So you can guess that China was prevented from buying the Haifa Port seen in the map. There must have been many firms bidding for it, right? So who ended up buying it, you ask?
Mr. Gautam Adani flew to Israel to complete the purchase of the Haifa Port by the Adani Group with Israel's Gadot group as the 30% partner. How did JINSA describe it?
"A rise in Indian FDI in Eastern Mediterranean critical infrastructure has the potential to mitigate the deluge of Chinese FDI that has swept the region over the past two decades."
"The Adani Haifa Port acquisition is the first significant manifestation of India's growing economic interest in the Middle East, specifically in Israel, in the context of the expanded opportunities for regional cooperation made possible by the Abraham Accords."
"The Adani Haifa Port acquisition, alongside the formalization of the I2U2 framework, signals India's increasing interest in partnering with the U.S. and its strongest Middle East security partners in critical strategic domains."
"The advent of high-level Israel-India economic partnership also increases the economic value of cooperating with Israel—both bilaterally and multilaterally—heightening the incentives for other regional players to engage with Israel bilaterally or via multilateral fora such as the Abraham Accords"
Acquisition by an Indian company was deemed so important geopolitically that Mr. Netanyahu, Prime Minister of Israel, himself attended the signing of the deal and spoke about the investment opportunities for Israel & India:
"I think this is an enormous milestone…Over 100 years ago, and during World World I, it was the brave Indian soldiers who helped liberate the city of Haifa. And today, it's very robust Indian investors who are helping to liberate the port of Haifa,"
"This is an unequivocal expression of confidence in the Israeli economy," he said, adding that privatization of the ports and the entry of new investors strengthen Israel's economic strength, lowers the cost of living and creates new opportunities for import and export and strengthens ties between India and Israel.
How much was the Adani group acquainted with Israel? Reportedly, "in the last six years, Adani group has struck many critical partnerships with companies such as Elbit Systems, Israel Weapon Systems, and Israel Innovation Authority". 
And Mr. Gautam Adani, at the signing function, said they would transform the skyline of Haifa and:
"We have initiated several dozen technology relationships wherein we have offered the entire Adani portfolio of companies to be a giant sandbox for us to learn together," he said in his speech. "We are also in the process of setting up an Artificial Intelligence lab in Tel Aviv which will work in close collaboration with our new AI labs in India and US."
This is why Mr. Adani was NOT present in Mumbai for the completion of FPO of Adani Group. He chose to be in Haifa to sign the purchase of Haifa Port. He obviously though Haifa Port was a much bigger deal than his group's FPO offering. 
Was he right?
2. Haifa Port, a Mega Deal – possibly Lawrence of Arabia mega?
Those who have NOT watched the film Lawrence of Arabia (1962) should watch it because it is the most magnificent film made by Hollywood & because it will help you understand why the above Haifa purchase could prove to be Mega. Watch, in particular, minutes 2:06 to 2:31, of the clip below showing the conversation in the tent of Prince Faisal:
British military advisor – the one essential sector of this front is & must be the (Suez) Canal; you can see that Sir, surely!
Prince Faisal – "I see that the Canal is an essential British interest; it is of little consequence to us".
The reality is that even today the Arabs in Saudi Arabia, Jordan all the way to the Emirates feel the same way about the Suez Canal – that it is of little positive consequence to them & that it steals all the transport of goods that ideally should be going through their section of the Arabian Peninsula. 
India & Indian Ocean countries feel the same way. Why? Just look at the map below: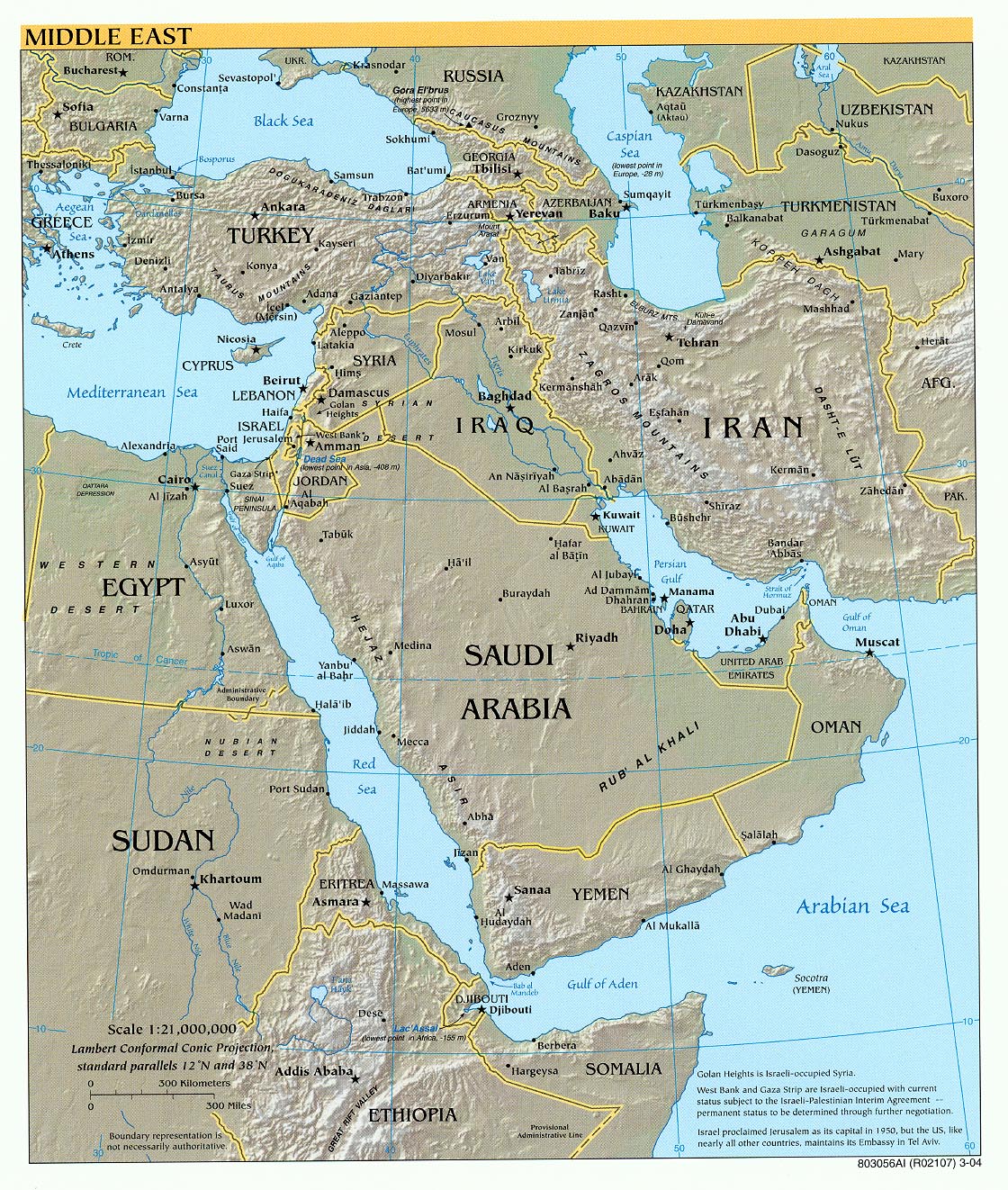 Look what it means for container ships from India & the Indian Ocean to use the Suez canal:
the ships have to travel much farther to get into the Red Sea;

they have to enter the Read Sea through the bottleneck of Dijibouti under the eye of the Chinese naval base there;

then they have to go through the pirate zone of Somalia, Eritrea to enter the Suez canal
And Israel, Saudi Arabia & UAE are completely cut off from this transport route & naturally cut off from the transport fees generated by the goods traffic.
Now read what Mendi Zaltman, CEO of Haifa Port, said in an interview with Times Now:
"…. fees for crossing the Suez Canal are so enormously high …. shipping from the Indian Ocean to Haifa, via the Emirates, will mean savings of $1,000 per container"  
Forget the 64,000 container mega ships; forget even the 24,000 container ships. Imagine savings just for the load of a 10,000 container ship! And Mr. Zaltman added in his interview that Emirati businessmen "will enable to install a railway from the Emirates to Haifa port". 
Now look again at the map above & imagine the future. The Indian & Indian ocean ships would simply get to Dubai or Abu Dhabi. Then use the goods-transport fast railway that can straight go to Riyadh in Saudi Arabia to turn upwards & westwards to get to Haifa via Jordan (completely bypassing Iraq  & Syria). Not only will this route be much faster & shorter but also much much cheaper by avoiding the extravagant Suez Canal fees. 
Everybody knows how interested Saudi Arabia and UAE are to add other business lines to diversify from the oil business. The above transport route could be the trigger for such diversification. And Israel then can be truly a part of the Arabian Peninsula. Israeli technology & military strength, Saudi & UAE financial strength & Indian business could really make this route a huge center of business transport between Europe and the Indian Ocean.
And the United States couldn't be happier because this would give India a much faster & richer route than the route to Europe through Iran-Azerbaijan-Russia under construction now. Look at the map (courtesy of Geopolitical Futures) below for that route between India & Europe via Russia.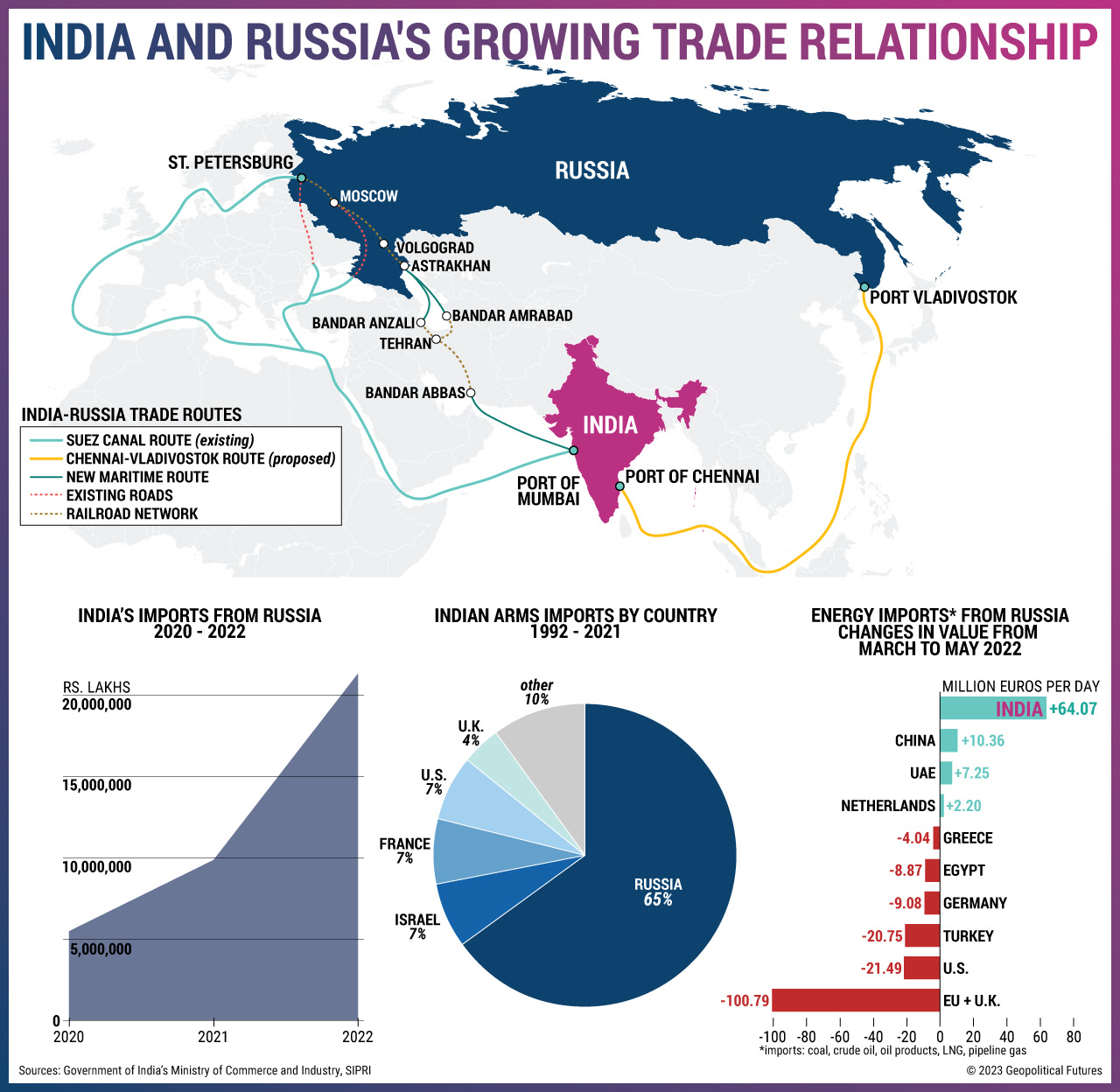 Compare the above two maps & you will see that the route through Abu Dhabi, Saudi Arabia to Haifa is about 40% of the distance of the Iran-Azerbaijan-Russia route. Ask yourselves which route would the USA prefer and back with its diplomatic & market power? 
Now you understand why this Haifa purchase by Adani with the support of UAE, USA & (quietly) Saudi Arabia could end being a Lawrence of Arabia type mega deal. What would you do if you were Gautam Adani? Go to Israel to complete the Haifa Port purchase with PM Netanyahu or stay back in Mumbai for the $2.5 billion FPO offering?
Now you may also understand why Mr. Adani was not price-sensitive about the Haifa purchase and why his bid for the Haifa port was much higher than the next bid? This purchase could be a much bigger deal for India, I2U2 and for Mr. Adani than it might be for a European or other non-Chinese bidders.   
Finally what does Egypt think of this potential competition to the Suez Canal? Most might know that President Al-Sisi was the Chief Guest at India's Republic Day parade on January 26, 2023. Both he & PM Modi have decided to establish a strategic partnership between Egypt & India and President Al-Sisi has committed to provide a Special Economic Zone for Indian investments. (China already has been given such a Special Economic Zone). 
The written statement of President Al Sisi expressed "his readiness to provide all necessary support to India's Adani Group and its planned future projects in Egypt, in particular through cooperation with the Sovereign Fund of Egypt"
3. A potential life boat for the Adani group? 
The basic question is whether the Adani group is relatively unique in the Indian infrastructure sector, or the subsector dealing with ports. We don't know and normally we would have said No. But, based on conversations with Indian sources, the answer might weirdly be yes.
Think of what you have heard about India's problems in attractive off-shore manufacturing. As Marko Papic, Chief Strategist for the ClockTower group said on CNBC, much of the talk about Chinese-offshoring migrating to India is just talk. And most investors are aware that the largest Indian ports are run by state-owned & quasi-State-owned entities and these are mainly bureaucratic in nature. They don't build or manage roads that connect the ports to business centers where the goods are supposed to go. 
In contrast, Adani entered this business with an integrated ports-to-power model that seems to be working well. That is why Adani Ports now manages 13 or so ports in India. And his track record is being appreciated by sovereign funds & Governments overseas & in the Middle East in particular. 
So, in a sense, Adani Group seems to have become to this ports-transportation sector that TCS & Infosys have been to the outsourcing & BPO sector. Meaning the firm to go to for a big important project.
If that is so (& we can't say so ourselves), then is it likely that UAE, Saudi & other Government Funds might throw a financial life boat to the Adani Group if it needs one in the markets washout they are suffering now?  
Our guess is yes and that is why we are not signing up to the "Adani is finished" chorus in Indian & US financial media right now.  
4. Are Indian markets tarnished because of the Adami washout?
Frankly, we have been disgusted with the continued bull-crap at Bloomberg & to a lesser extent at CNBC whether Indian market is tarnished due to the allegations of financial mal-acts of the Adani group. Since markets know best, let look at the 1-year Chart of INDY, the ETF for India 50 stocks: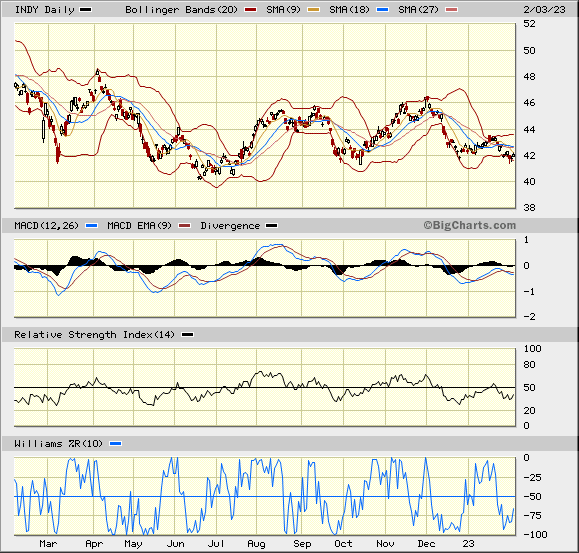 Look, the Adani related fall in INDY was from about about 43.75 to 42. Only Anti-Indian bigots would call a less than 2-point drop a signal that Indian markets have been tarnished by Adani issues. Heck, the Adani-related fall in past 2 weeks is HALF of the fall in December 2022 & 25% of the fall in April 2022 thanks to QT comments from Vice Chair Brainard of the US Federal Reserve. 
Let us not merely look at Indian ETFs in isolation. So look at the 1-yr chart of INDA relative to SPY: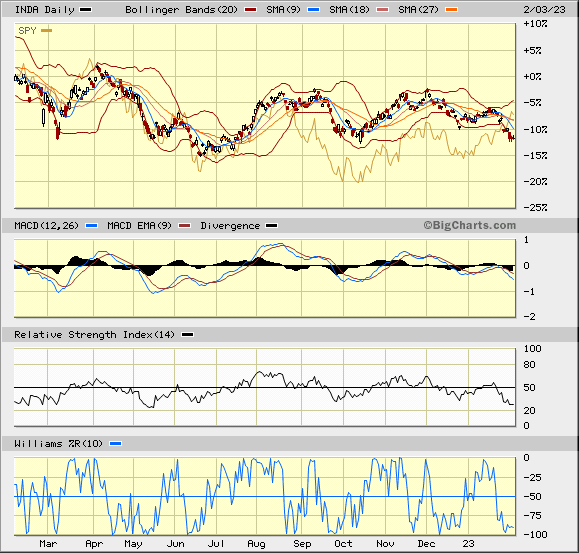 You can see the out-performance of INDA relative to SPY for the past year except for the final crossover in the past 2 weeks. Actually, the indicators below the chart suggest this could actually be a buying opportunity for INDA relative to SPY. 
5. Adani stock Wipeout? Frightening or Matter of course?
While we mock US Financial TV, we realize that Indian Business TV and Indian media in general are probably far far worse. They have portrayed the washout in Adani Group stocks in extravagantly outrageous terms. And they have suggested that the "colossal loss" in itself suggests something might be horribly wrong. And since the public fears have been whipped up, the Indian politicians are up screaming to high heavens in the Parliament.
And Indian editions of US publications like Fortune joined the fray when they should know better. Heck, even globally aware Indians should know better & they don't. Some highly educated & successful in markets were telling us the washout in Adani group market cap was frightening & suggested something really wrong. We asked them whether they had heard of Elon Musk. Of course, they had but they never stopped to compare the drop in Tesla's market cap to the drop in Adani market cap.  
People will say that is America and what is OK in America cannot be OK in India. How do you deal with this utter bullcrap? Musk & Adani have both been anointed as "richest man in the world" and both have fallen from that top. So it makes perfect sense to compare the fall in market cap of Tesla & Adani Group. 
Look at Tesla's chart for past 2 months – Tesla went from about 190 on December 5 to about 101 in January 7 or so. Then it turned up and now is back to $190 again. Tesla's market cap has risen to $598 billion from $321 billion on January 6.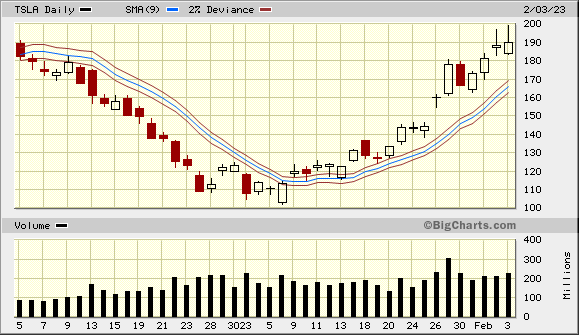 And Tesla CEO Musk makes much more outlandish statements than Adani does. Yet, no one panics about broad US market based on how much Tesla's market cap shoots up or shoots down. And CNBC Fast Money doesn't ask Jim Chanos whether Tesla's huge fall means something is structurally wrong with the US stock market. And Tesla's market cap in still almost 50% below its all-time high. 
Then you have Meta (Facebook). Zuckerberg, its CEO, runs his company as Musk runs his company and as Adani runs his company. And Meta lost far more in market cap from its high than Adani has. And ups & downs in Meta have been as intense as the recent down week of Adani. 
Indian media people and Indian investors are so laden with an inferiority complex wrt to US that their first reaction is to think in idiotically moral terms. So the fear generated on Indian exchanges was far worse last week than what we have ever seen in American markets.
For example, there were no buy orders for over 90 minutes on Friday morning (Feb 3) in Mumbai. Yes, there wasn't a single entry in Buy side of Market Depth on Friday morning. And then, voila! A rally from Rs. 1,015 ish to Rs. 1,566 at the close – a 50% + rally in one afternoon.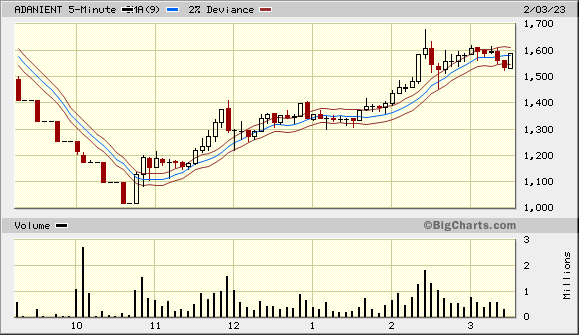 And the "safer" Adani Ports stock was more sedate: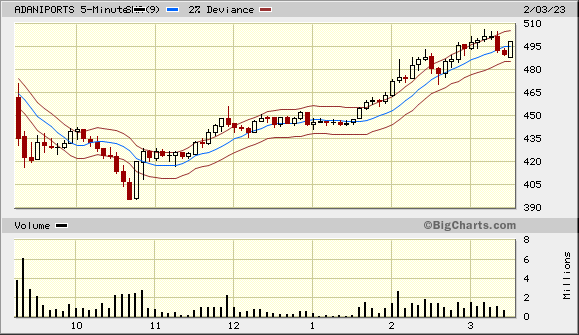 The material event, in our opinion, was the cancellation of the FPO offering by Mr Adani on Wednesday. So we look at the 2-day charts below: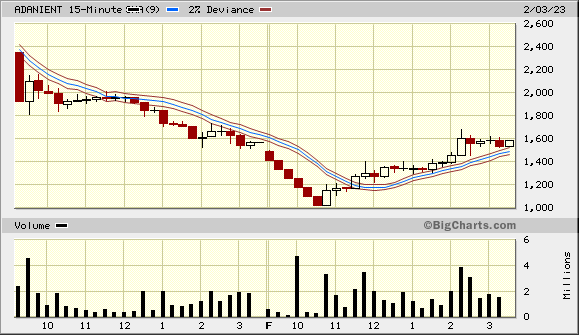 and,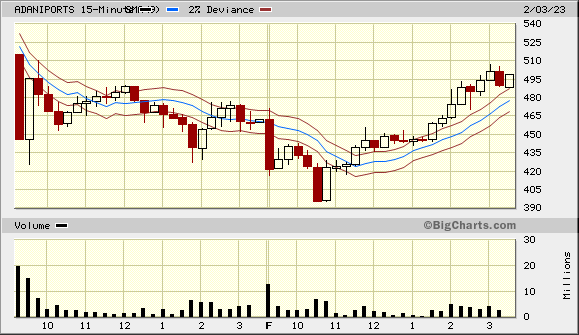 No one indicator is ever enough. But does any one see a small resemblance in the MA envelopes in Tesla in January second week to the MA envelopes on Friday, February 3?
6. Questions about Hindenburg Research 
Kudos to Hindenburg for a highly successful raid on Adani group stocks. It seems to have been highly profitable. But some questions have been raised by Reuters in an article titled Hindenburg bet against India's Adani puzzles rival U.S. short sellers. The issue is that Hindenburg has revealed very little about the "size of its bets and the kind of derivatives and reference securities it used, leaving rivals wondering how the trade worked".
The article quoted Citron Research founder Andrew Left as saying "I wanted to short it myself, but I was not able to find a way to do it with my prime broker,".
And, "Nathan Anderson, Hindenburg's founder, has been coy even with peers about his bet against Adani. Left and Carson Block, the founder of Muddy Waters Research and another prominent short seller, told Reuters that they got a single word response – 'thanks' – to messages of congratulations they sent to Anderson".
We think it is important to get the facts about the methods used to implement the short position by Hindenburg. The moral stance of short sellers is that they serve society & investors by revealing bad stuff. That doesn't stand if they themselves engage in not-so-clean methods themselves. 
In the final analysis, this crash in Adani stock courtesy of Hindenburg could end up being good for the Indian stock market, if the Indian regulators take proper steps to increase transparency. But that might be a big "If".
7. Final Thoughts
Our fundamental view of Adani Group has been highly strengthened because of this week's purchase of Haifa Port. That has the potential of becoming a huge deal. In addition, there is a high probability of Adani group investing in Egypt's new Special Economic Zone provided for India. From what we hear, the existing portfolio of ports & airports of Adani Group is deemed of high quality. 
The problems faced by the Adani group are more of financial behavior nature. While wrong & subject to punishment, these seem to be small in comparison to its portfolio of assets. That, in our opinion, increases the possibility of getting adequate funding from Sovereign funds, Infrastructure investors & private equity funds if needed. 
All the major banks have stepped up to say that they have mainly lent against assets; that they have no issue with their loans & interest payments. 
Given all of the above, the steep fall in the price of Adani Enterprises stock & those of other Adani companies might prove to be short term in nature, especially given the probability of buying high quality assets at a much reduced price.  
PS: Clips the two clips in Raag Adana mentioned above:
Send your feedback to [email protected] Or @MacroViewpoints on Twitter