Summary – A top-down review of interesting calls and comments made last week in Treasuries, monetary policy, economics, stocks, bonds & commodities. TAC is our acronym for Tweets, Articles, & Clips – our basic inputs for this article.
Editor's Note: In this series of articles, we include important or interesting Tweets, Articles, Video Clips with our comments. This is an article that expresses our personal opinions about comments made on Television, Tweeter, and in Print. It is NOT intended to provide any investment advice of any type whatsoever. No one should base any investing decisions or conclusions based on anything written in or inferred from this article. Macro Viewpoints & its affiliates expressly disclaim all liability in respect to actions taken based on any or all of the information in this article. Investing is a serious matter and all investment decisions should only be taken after a detailed discussion with your investment advisor and should be subject to your objectives, suitability requirements and risk tolerance.
1.The Signal 
The S&P was muddling along OK this past week until it hit a falling brick.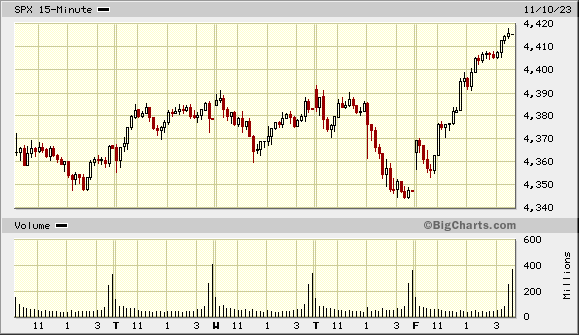 That brick was the long duration Treasuries falling off the proverbial cliff at 1 pm on Thursday.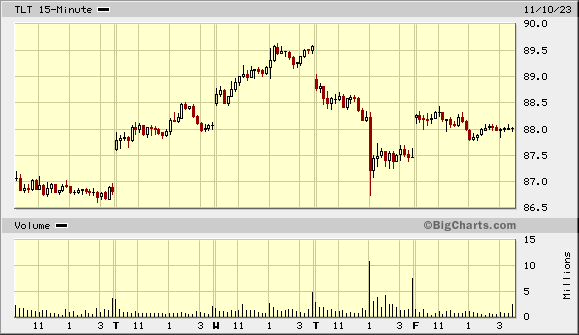 In a manner that reminded us of the previous atrocious 30-yr auction, TLT fell straight down & took the S&P with it. This is better seen in the 2-day chart of TLT vs SPX below. Now we urge all to focus at the Friday 10:30 am point on  the chart below.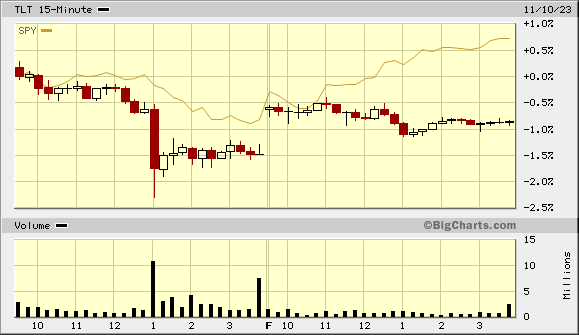 Now look at the tweet below that was posted at 10:33 am on Friday:
Larry Tentarelli, Blue Chip Daily@bluechipdaily

10:33 am Friday November 10

–

$TLT back to where it was at 1PM yesterday, before the bond auction

. Curious to see if this can close higher and over 88.50 today. https://schrts.co/IagpDkjZ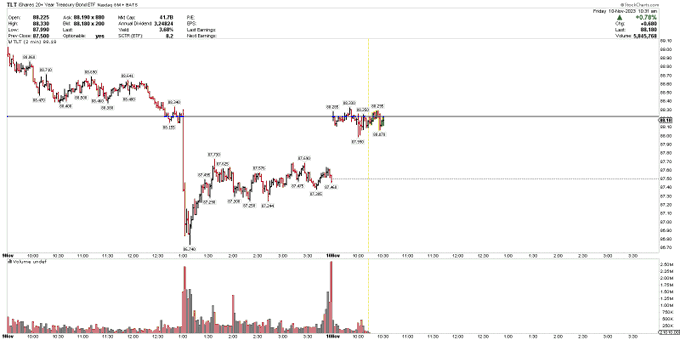 You will notice that TLT did move a bit higher until about 11am on Friday than where it was pre-auction at 1pm on Thursday. The main point of this is to show how the SPX went up from that 10:33 am point & gathered strength through out Friday afternoon. In contrast, TLT didn't do squat & actually closed a bit lower than its 10:33 am level.
This is not backward looking theory for us. By sheer luck, we saw the 10:33 am tweet by Mr. Tentarelli as it was posted. As we saw SPX move higher, we realized what a signal we had seen. That is why we are focusing on it today.
When TLT did not fall abruptly from its reaching Thursday's pre-auction level, it became clear that this is not the September timeframe. We are no longer in that zone in which TLT blows up & takes the S&P with it. We think the markets saw that & went into a melt-up type move on Friday from about 10:33 am. Just look at the 2-day chart of S&P.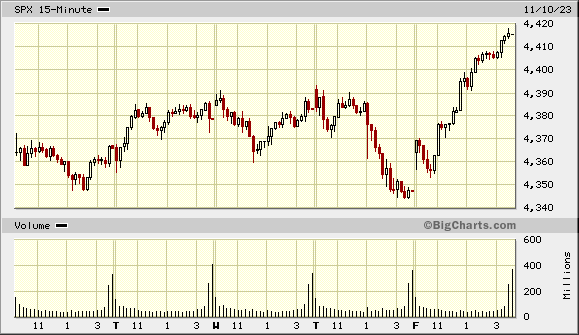 Remember what they reminded us on Tuesday, November 7?
Daily Chartbook

@dailychartbook –

Tue Nov 7

– "In the US,

CTAs are short -$52bn of equities

after selling -$17bn last week. Per GS model, they are

now buyers of global equities in every scenario

over the next week." 

– GS Cullen Morgan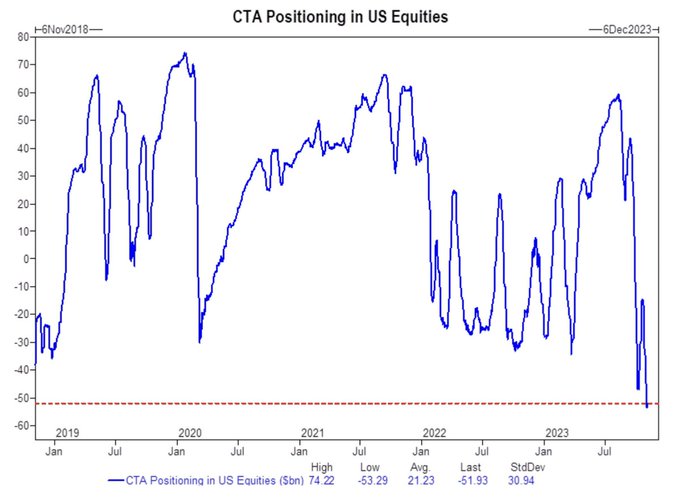 As we recall, @Barchart called this "the largest short in 5 years". 
With the above, read the look-ahead tweets from smart guys who have been proven right so far:
Wayne Whaley@WayneWhaley1136 –

Sat Nov-11

–

22 CONSECUTIVE POSITIVE 'END OF YEARS' (NOV15-DEC31)

, compliments of a +5% calendar year (Dec31-Nov15).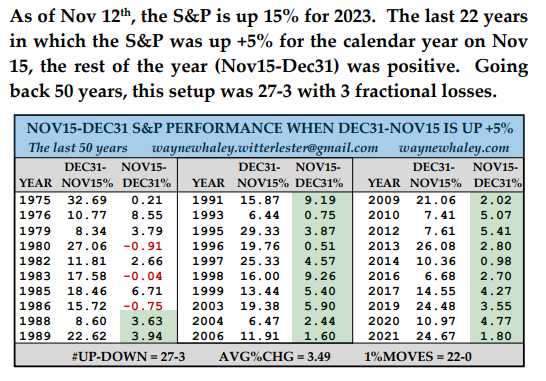 And
Larry Tentarelli, Blue Chip Daily@bluechipdaily –

Sat Nov 11

– $SPX put in a higher weekly high, which

breaks the recent downtrend from July

. Also, a

close over a key 4400 level

.

4250-4300 key support on pullbacks

. https://schrts.co/PutJyTWb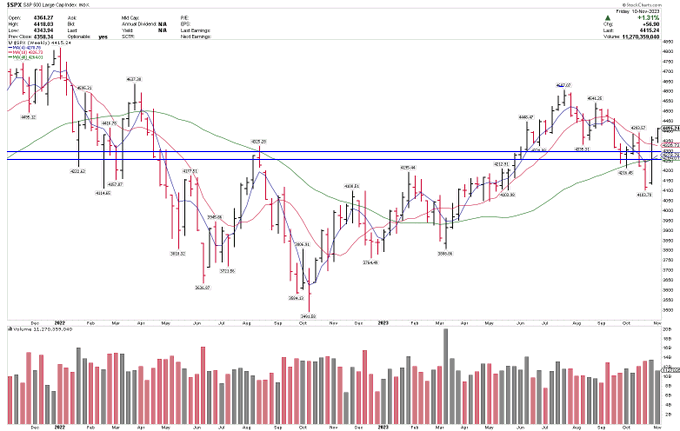 Where could the QQQ go?
Jason@3PeaksTrading –

Friday Nov 10 afternoon

– $QQQ only 3.5% away from the all time highs now, incredible move the past 10 sessions and high likelihood of seeing that old high hit at 387 sooner or

later with 400 a round number target above into year end

becoming very possible. Tried to warn the perma bears they didn't know what they were walking into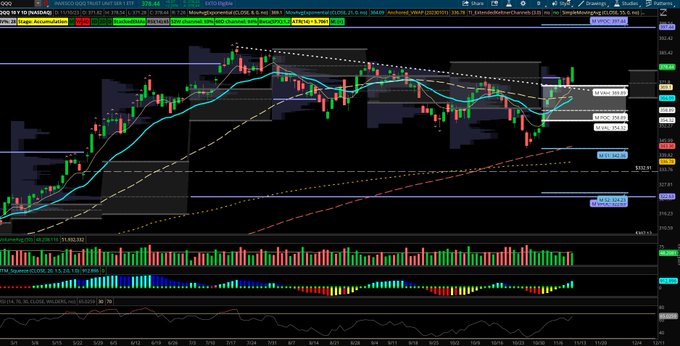 To put it another way, focus on Risk On Behavior into year-end?
Jay Kaeppel@jaykaeppel –

Sat Nov 11

–

High Beta/High Quality Ratio

history suggests the market is poised for a burst of Risk On behavior (HINT: That's a good thing). @sentimentrader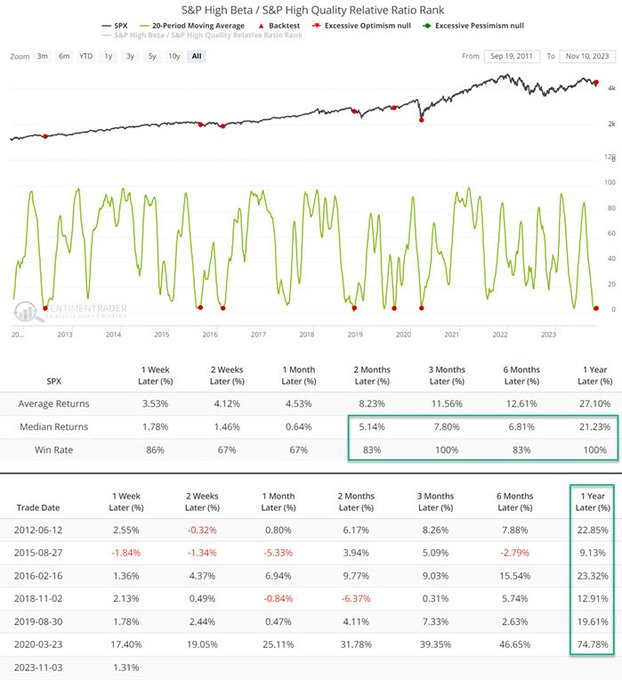 At least one trend-following system turned bullish before Friday's melt-up:
Trader Z@angrybear168 –

Wed Nov 8

– $QQQ Stan Weinstein's trend following system turning bullish as

Mansfield RS turned positive after making higher lows

.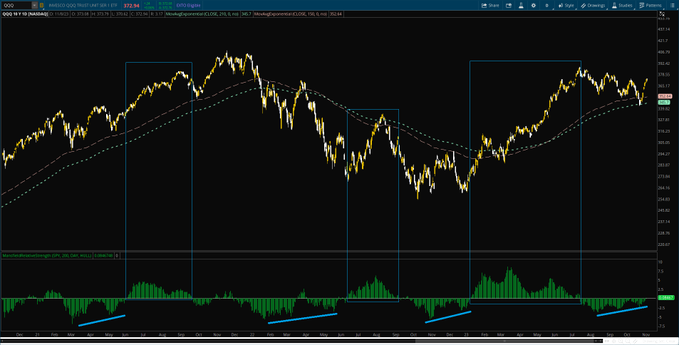 Now a cautionary note about November Options Expiration:
Trader Z

@angrybear168 –

Fri

– $SPY just a guess here, maybe

one more pop on Monday

,

fade into OPEX to set up a higher low above 428

, then finally another rally into December.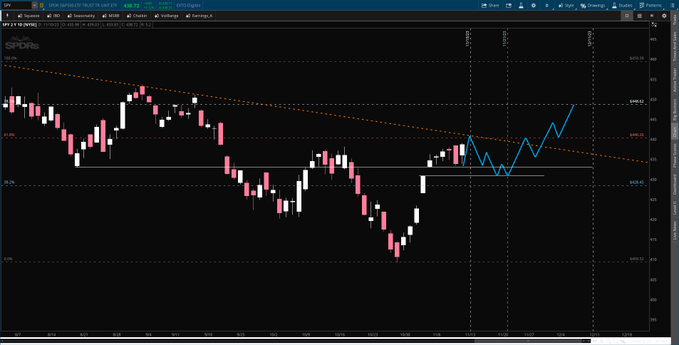 He can't be called a bear but look what Ryan Detrick wrote in an otherwise happy tweet on Saturday – The best 10 days of the year ended on Friday. 
Finally remember what Friday was – Dhan-Trayodashi – the first day of Diwali. And today is Lakshmi Pujan, the height of Diwali. It is a celebration of happiness & prosperity. You wear new clothes & meet for a dinner over sweets. Got to admit, the stock market also celebrated Diwali this year. 
2. The week that was in numbers:
Despite the melt up on Friday, the rally was not uniform. 
VIX

down 5.7%

; Dow

up 65 bps

; S&P

up 1.3%

; RSP

(equal-weight S&P)

down 70 bps

; COMPX

up 2.4%

; NDX

up 2.8%

; SMH

up 5.3%

; RUT

down 3.2%

; IWC (micro-cap)

down 3.8%

; DJT

down 59 bps

;  
Winners & losers extended their runs:
AAPL

up 5.4%

; AMZN

up 3.6%

; GOOGL

up 2.6%

; META

up 4.6%

; MSFT

up 4.9%

; NFLX

up 3.5%

; NVDA

up 7.8%

; BAC

down 2.7%

; C

down 52 bps

; GS down 64 bps ; SCHW

down 2.5%

; KRE

down 4%

;  CLF

down 3%

; FCX

down 4.2%

; 
Jeff DeGraff of Renaissance Macro spoke about this divergence with Scott Wapner of CNBC on Friday but he also said the S&P can get to 4,500 by year-end. 
Dollar was up with UUP up 70 bps & DXY up 66 bps; 
Gold

down 3%

; GDX

down 7.3%

; Silver

down 4.4%

; Copper

down 2.2%

; Oil

down 4.6%

; Brent

down 4.4%

; FXI

down 2,3%

; KWEB

down 1.4%

; EEM

down 29 bps

; EWZ

up 1.6%

; EWY

up 1.1%

; EWG

up 73 bps

; 
Rates were up except for a 3 bps fall in 30-yr yield;
30-yr yld

down 3 bps

; 20-yr

up 0.5 bps

; 10-yr

up 5 bps

; 7-yr

up 12.1 bps

; 5-yr

up 15.6 bps

; 3-yr

up 18 bps

; 2-yr up 22 bps; 1-yr

up 10 bps

; TLT

up 35 bps

; EDV

up 89 bps

; ZROZ

up 1%

; HYG

down 44 bps

; JNK

down 35 bps

; DPG

down 3.7%

; UTG

down 3.3%

; 
The above does not inspire confidence about a strong economy. That actually fits with what veteran investor Lacy Hunt said on Bloomberg TV:
"

economy heading into a hard landing

; … we have a

very serious monetary contraction in real Dollars

… the yield curve will normalize; short yields will drop more rapidly than long yields but the greatest capital gains opportunities will be in the longer end of the curve"
That is actually bullish compared to what Mark Spitznagel of Universa said to Sonali Basak of Bloomberg:
"This is my own crazy theory: I think our rates are going to back to zero as well. I mean, a lot of people would think I'm nuts"
3. Deepavali & its good tidings
Today is the main day of Deepavali, the 5-day festival of lights. Every Indian-origin household in the world adorns their abode with a row (vali) of Deep or festive lights. Though born out the eternal quest of victory of good over evil, the mood on Diwali is sheer, pure joy & good feelings toward all fellow humans.
Indian stock markets usually rejoice with a rally into Diwali. We didn't much of a rally this year. But this year seems to have outdone itself in terms of good news & success for India on many other fronts. Don't forget the Cricket World Cup is going on in India at this time. India's Cricket league is kinda still a new entrant among sports leagues. And Cricket is still nowhere as popular or even well known as Soccer & other sports. But, come to think of it, Football is hardly followed outside America. Even Basketball is primarily played in America. That hasn't stopped either NFL or NBA from being tremendously successful. 
While the largest nation that loves Cricket is India, that game is widely followed by the Indian Diaspora & even more so in the Arab Middle East. Guess what happened in very recently? 
Bloomberg reported that Saudi Arabia has approached the Indian Government to spin off the India Premier League (of Cricket) into a holding company & Saudi Arabia will invest about $5 billion in it at a $30 billion valuation for IPL, about 3X the current valuation. Look at the India-Middle East-Economic corridor under consideration & you will see that the entire belt follows Cricket & enjoys Bollywood. And USA is dipping its toes as well:
In July, Major League Cricket, America's first professional T20 league, played its debut season with six teams funded by investors such as Texas billionaire Ross Perot and Microsoft Corp.'s Satya Nadella. The US will co-host and participate in next year's ICC T20 World Cup and matches will be played in Dallas, Florida and New York. Cricket will also debut at the 2028 Olympic Games in Los Angeles.
And America has a geographic edge in Cricket with its a large portion of its Black talent base – not African-American Black but Caribbean-American Black. The West Indies used to dominate Cricket with Barbados & Jamaica gifting Cricket with legendary players. The American T20 league could draw this potential & use it become a global contender. Cricket in India stops in June with the advent of the Monsoon while June is the beginning of the summer in America. This, in itself, could enable Cricket to have 2 seasons annually.
Moving to a completely different strength-cum-weakness of India, demographics is both a benefit & problem. The top strata of its students go all over the world in pursuit of technology-oriented jobs. But, at least so far, its large middle has tended to remain in India. That may change soon:
Times Algebra@TimesAlgebraIND – Mon 11/6 – BIG BREAKING NEWS ⚡

Israel asks India for 100,000 employees immediately

to replace Palestinian employees who are not allowed to work in Israel anymore after horrific Oct 7 terror attacks. 

Israel and India in May had signed an agreement to allow 42,000 Indian people to work in the Jewish State

.
What about the other extremity of the ocean across India?
Derek J. Grossman

@DerekJGrossman –

"India Plans Labor-Supply Pact With Taiwan as Tensions With China Brew"

Labor supply with Taiwan in addition to Israel — https://time.com/6333753/india-taiwan-labor-pact-china-tensions/
The Time article writes,
India is forging closer economic ties with Taiwan with a plan to send

tens of thousands of workers to the island as early as next month

, according to senior officials familiar with the matter, potentially angering neighbor China.

Taiwan could hire as many as 100,000 Indians to work at factories, farms and hospitals

, the officials said, asking not to be identified as the discussions are private. The two sides are expected to sign

an employment mobility agreement by as early as December

, the people said.

Taiwan is offering the Indian workers pay parity with locals and insurance policies to sweeten the deal, unlike other countries that New Delhi has struck agreements with, the people said.
It should be obvious that, with 100,000 Indians working in Taiwan, India will have a genuine geopolitical reason to increase its friendship & support with Taiwan. Having invested in & backed NaPakistan for decades, China will be hard pressed to challenge India's outreach to Taiwan. 
And by the way, USA & India have just agreed on co-production of Armored Vehicles, increasing the partnership between the defense sectors of USA & India. If you think that is news, focus on this week's Bloomberg article titled US Invests $553 Million in Adani's Sri Lanka Port to Curb China's Influence–
Investment is DFC's largest infrastructure financing in Asia: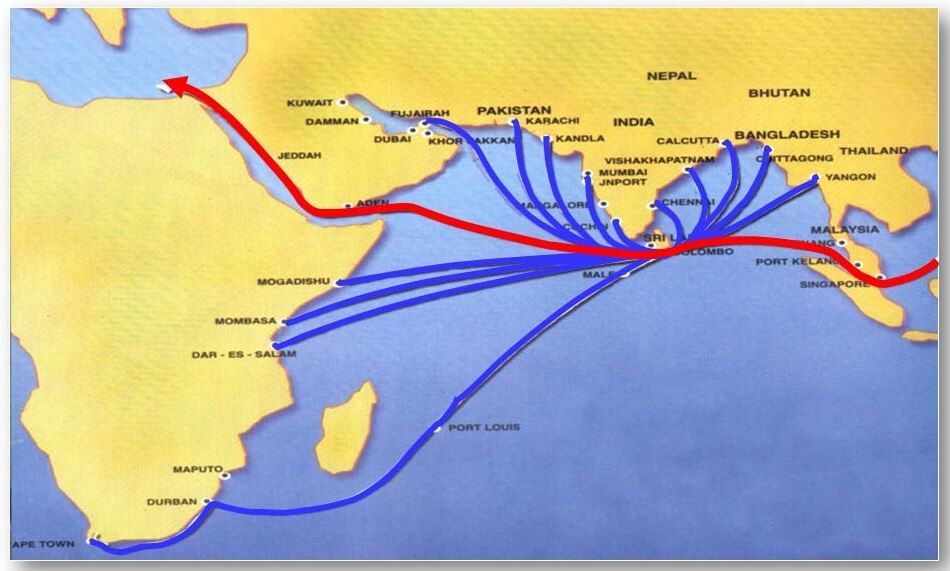 The deep-water West Container Terminal in Colombo is the International Development Finance Corp.'s largest infrastructure investment in Asia, and among its biggest globally. It will bolster Sri Lanka's economic growth and regional trade integration, including with India, "a key partner to both countries," the agency said in a statement.

Colombo's port is one of the busiest in the Indian Ocean, given its proximity to international shipping routes where nearly half of all container ships pass through. The DFC (a development finance agency launched under the Trump administration) said it's been operating at more than 90% utilization for two years and needs new capacity.
Now getting back to the softer message of Diwali, 
Peacock showing off.. 👌 pic.twitter.com/ygTjGJsVtd

— Buitengebieden (@buitengebieden) November 10, 2023
What is more Indian than a peacock? Watch for example the gorgeous song that begins with a beautiful woman singing about a peacock dancing in her garden:
This is a lovely song about three beautiful women marrying or about to marry three brothers. Back in 1994, they made a movie called Hum Apke Hain Koun (who am I to you?) starring the one & only Madhuri Dixit. Derided by western media as essentially a wedding video tape, it was a smashing success. Then they made Hum Saath Saath Hain (we are all together) in 1999. OMG! this film is the pinnacle of the Rajshri genre that is all Indian, at least what all Indians want their family & love-life to be. 
That reminds us of the success of Rio Bravo, the 1959 western film starring John Wayne & Dean Martin. Then in 1966, they made, they made, they made El Dorado, the pinnacle of the classic Western genre, the pre Clint Eastwood western genre. This time John Wayne was paired with Robert Mitchum & that added a wry, sometime sardonic humor to the superb dialogue. We don't have enough or right words to describe this film. And, the message of the film & its title song is as universal as Diwali:
"My Daddy once told me what a man ought to be; there is much to life than the things we can see; And the Godliest mortal you ever will know is the

one with the dream of El Dorado

"
El Dorado was different to different great people – to Mahatma Gandhi it was a peaceful end to British rule; to Dr. King it was the end of Racial Discrimination and, going back to Columbus, El Dorado was finding a naval way to reach India via the western sea route. The film's theme song a pure western song & hearing it will remind you of that remote portion of American West or encourage you to visit it:
If we speak of 1966, John Wayne & the US West, we must must speak of 1952, Stewart Granger, & romantic Paris set in the early days of the French Revolution before the Robespierre mob took over. Everyone knows the Three Musketeers but Scaramouche is simpler, more romantic. The trailer shows a good part of the final duel.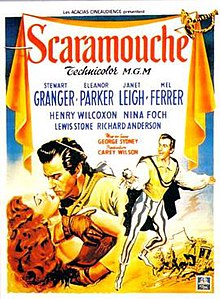 Above are three gifts for Deepavali from us to those romantic at heart, gifts that will appeal to the noble in most. 
Send your feedback to [email protected] Or @Macroviewpoints on Twitter