Editor's Note: America & India are often called natural allies. The truth actually goes deeper. The foundational axioms of American & Indian Society are very similar. That is because founders of both societies were people with unparalleled & noble humanistic vision. Today, on India's 69th Independence Day, we bring to our readers a great example of this American-India foundational congruence.
"We hold these truths to be self-evident, that all men are created equal" – with these words begins the United States Declaration of Independence. These words are hailed all over the world as a symbol of illuminated modern thought, a beacon of light for the entire world, a way out of the swamp of clannish, ethnic, and social conflicts. These foundational values have made America great and kept her great through the past 240 years. This everybody knows.
But very few people know that the above axiom is not American in origin or that the axiom was stated more elaborately in Indian Dhaarmic Thought that was composed at the beginning of known history.
Read the Sixth Verse of the Isa-UpaNiSad:
यः तु सर्वाणि भूतानि आत्मन् एव अनुपश्यति   (Yah Tu Sarvaani Bhutaani Aatman Ev Anupashyati)
सर्व भूतेषु च आत्मानं ततो न विजुगुप्सते (Sarva Bhuteshu cha Aatmaanam Tato Na Vijugupsate)
One who sees All Beings in One's Self & One's Self in All Beings,
[that One] is not recoiled/repelled [by any being]. 
This verse, frankly, goes much farther than the words in the American Declaration of Independence. Not only does the verse clearly state that all human beings (not just men) are the same (not just equal), but it goes further and states that this realization of "sameness" is the key to removing revulsion at clannish, ethnic & color-based differences between humans. 
The seventh verse of the Isa-UpaNiSad takes this a step further by describing the ideal condition:  
 यस्मिन् सर्वाणि भूतानि आत्मैवाभूत (Yasmin Sarvaani AatmaiyevaBhut)
Where All Beings are Unified in One's Self
The above verses are foundational axioms of Indian Dharma and enunciated in one of the most important  UpaNiSads – Dhaarmic treatises that reveal & teach the fundamentals of Indian Philosophical & Religious Thought. Their revelation or creation goes back to the beginning of human thought as we know it.
These axioms did not remain in ancient texts; they were re-enunciated and re-taught through out the past 4,000 + years by Indian Saints, Poets, & Reformers of which Mahatma Gandhi is the most widely known.
With foundational axioms so similar & congruent, is it any surprise that India & USA should be natural allies?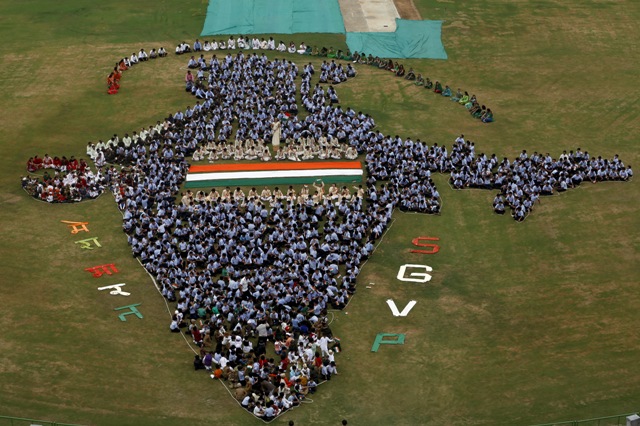 Send your feedback to editor@macroviewpoints.com Or @MacroViewpoints on Twitter