Remember what respected analyst James Grant said on March 25, 2013?

"I think the world is always looking for the next growth story and I would nominate India. … Narendra Modi, a.k.a. NaMo, has vowed to put his vast, poor and comprehensively mismanaged country on the road to modernity. Now under way is a financial travelogue whose terminus is optimism. China is yesterday's growth story, India might be tomorrow's."
That was so last month. Two weeks ago, a mutual fund manager called India "a gem" on CNBC. And now this week, the investment giant Bank of America-Merrill Lynch wrote "India is our top pick" in a report titled "Incredible India". India has won this "top pick" status by winning over China.

Source: BofA Merrill Lynch Asia Pacific Quant Strategy, MSCI, IBES
Merrill's Asia Quant Panorama
group categorizes companies as "contenders" vs. "defenders", contenders
being companies that are expected to win going forward. In their Incredible India report, Merrill-Lynch write:

"More Contenders are currently from India than any other country. Just three months ago, 11 Contenders were from China while only 2 were from India. In a dramatic reversal, now 6 are from India while only 1 is from China."
Hmmm! What happened in the past three months that drove this "dramatic reversal" from India to China?
Two of the three factors that drive a company into "contender" status are Price Momentum & Forward Price-Earnings Ratio ("PE"). We know that the Indian stock market has been racing ahead while Chinese stock market remains stuck in the proverbial "mud". So that accounts for Price Momentum.
What about PEs? The prices are high and so forward PEs should be lower for Indian companies, all things being equal. So why has Merrill Lynch ranked Indian companies attractive on PEs? We found the answer in the body of the report which argues that forward earnings of Indian companies should be higher because of a turn around expected in the Indian economy. And why should anyone expect such a positive turn around? We found another line in the report that suggests a positive outcome for the Indian economy as a result of the elections.
In other words, NaMo or Narendra Modi. His front-runner status is pulling the world's giant investment firms into increasing their growth prospects for the Indian economy and into pushing Indian companies into "contender status", more than those of any other country.
This is what Nobel laureate Robert Shiller describes as "Tale Risk".

Vaishnav Goes to Shiva's City
Gujarat is a land that owes its prosperity and culture to Bhagvan Sri Krishna, the Avatar of Vishnu, a part of the Divine Trinity. Sri Krishna persuaded his Yadav people to leave Mathura in Northern India to settle in Dwarka in Gujarat. There the Yadav prospered and became the richest group in India principally because of trading. That began the entrepreneurial & trading culture that has made Gujaratis famous & prosperous. Even today, the traditional Gujarati greeting is "Jai Sri Krishna".
Varanasi, the holiest city in India, is the city of Shiva, another part of the Divine Trinity. It is home to the Kashi Vishvevar (Lord of the Universe) temple. The sacred river Ganga flows through Varanasi and the sight of prayers on the Dash-Ashvamedh Ghat is great to behold, especially from a boat in the river. No Indian wants to leave the earth without having seen Ganga-Maata (Mother Ganga).
Narendra Modi has chosen to run from this holy city of Varanasi. This week, he went to Varanasi to file his nomination papers. How did Varanasi welcome him?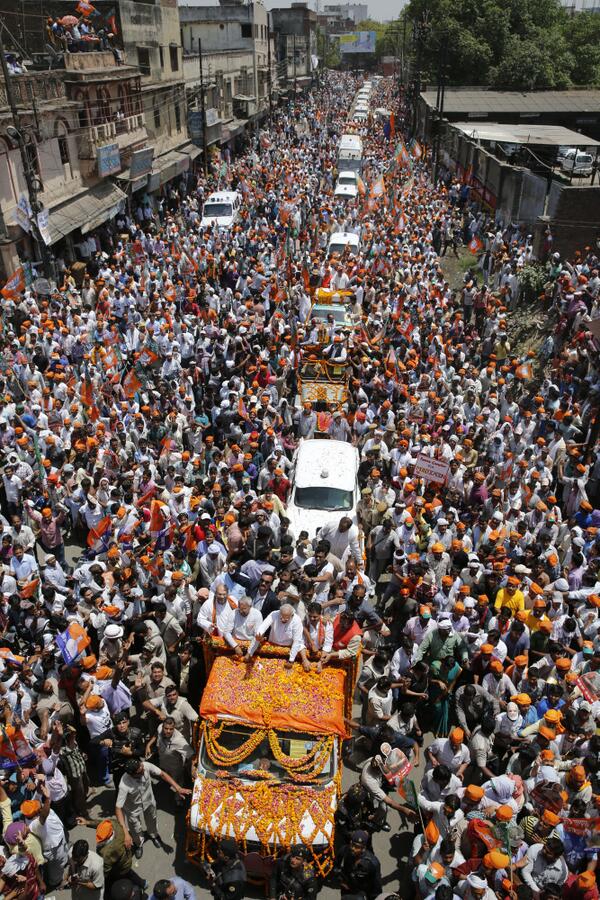 This was best described by NDTV anchor Barkha Dutt, a sceptic & opposer of Mr. Modi, on her show:
"Unprecedented surge, biggest road show, frenzy, no room to draw a pin…few ways of describing Narendra Modi rally today"
Our case has been simple. We have always been bullish on India's micro story. If Mr. Modi becomes the next Prime Minister with the support shown in his rallies, then India's Macro story will be bullish as well. And that is how India will become a Contender.
That is why Mr. Modi's slogan is "Acche Din aane wale hai" or "Good/Happy days will be here".
Send your feedback to [email protected] Or @MacroViewpoints on Twitter.