Editor's Note: Micro-Aggression is the new term in US campuses now. In that terminology, this article is likely to prove not just micro-aggressive but Macro-Aggressive. We believe in the true Indian tradition of being utterly candid in our analysis. So readers are gently warned that what follows below, though both true and necessary to understand, is likely to offend feelings. So please read at your risk.
1."Britain Kowtowed to China"
This was "the week Britain kowtowed to China", as the British newspaper Guardian wrote this week. They also published the comment below in their article:
After observing the British establishment's deferential behaviour during the visit of Xi Jinping (

Report

, 21 October), I now fully understand what the Chinese word kowtow really means.  Stan Labovitch, Windsor, Berkshire
The term "kowtow" was also used by publications like Management Today of UK which used "Britain kowtows to China as its economy sputters" as their headline. Of course, nothing captures the public mood like a cartoon: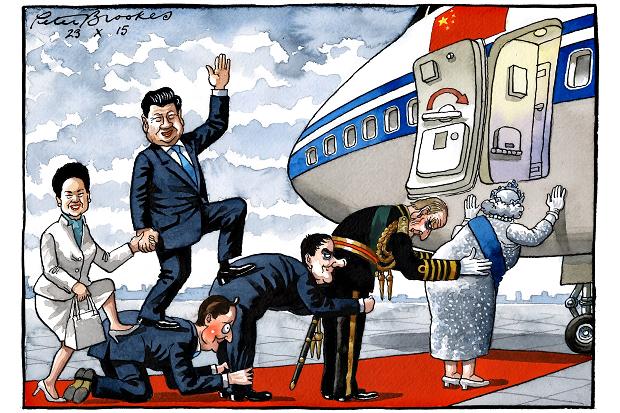 American publications like Atlantic & Fortune used the "kowtow" term too. The real message was delivered by Stratfor's headline which read "After Two Centuries, China and the U.K. Switch Roles".
Frankly, this should be deja vu all over again for American media & US Government. America was the first British colony to first de-Britify itself and then make Britain into a poodle of America. And it wasn't chief kowtower Cameron of Britain but Winston Churchill, the lion of Britain, who said "Britain has nothing to hide from America" as he stood naked in front of President Roosevelt.
China began its own de-Britification process after Chairman Mao took power in China. The real de-Britification began with Deng Xiao Ping's turn towards America in the 1970s. The first transfer of power in the China-Britain relationship was Britain's surrender of Hong Kong to China.
Kudos to China but what about India, the 3rd large country subdued by Colonial Britain? Many Indians wondered when Britain would kowtow to India. They should first look at the photo below. The "royal" crown of Elizabeth, Britain's native queen, is studded with jewels Britain looted from India. Britain, as PM Cameron stated explicitly in his last visit to India, has no intention of ever returning what they looted from India. They are  legitimate spoils of victory, Cameron said.
But so was Hong Kong for decades. China had to get strong and begin inflicting punishment on Britain before Britain would even consider surrendering Hong Kong. Finally the pressure got too much and Britain chose the discretion of surrender over valor of retaining its colonial conquest.
Would that happen with India & Britain? Not for a very, very, very long time. Actually not until Indian society changes back to what it used to be.
2. Why is India different from America & China?
First, American and Chinese leaders came to power by fighting and winning wars. Nothing eliminates an inferiority complex as winning a long difficult war. America fought and won not just one war but two wars against Britain. And after the second war, America began its de-Britification process in earnest. Go around America today and see if you can find any monuments to British colonial rule in America. Come to New York and look at the magnificent Customs House named after Alexander Hamilton, the first secretary of the U.S. Treasury. It was built after destroying the old colonial British & Dutch fort that stood there.
This is what victorious societies do. And that is what today's India, India after 67 years of independence, cannot even think of doing. That is because British domination of Indian minds remains as strong today as it was under British colonial rule.
The stark reality is that India never WON its independence from the British as America did. The British left on their own after breaking up India and after leaving the most Britophile Indians in charge of India. We don't just mean India's first prime minister Jawaharlal Nehru but the entire British-trained, British-established class of Indians that we call BrIndians for short.
3.BrIndians as modern India's ruling caste
The best example of this is the Indian Judiciary, the only part of Indian Government that is NOT answerable to the Indian people. Yes, in a land that falsely calls itself the largest democracy in the world, the people of India do not have ANY SAY in who become their Judges and how these Judges rule over them. Only the Indian Judiciary decides who become Judges and only the Indian Judiciary can punish the Judges. How crazy is this? Imagine US Chief Justice John Roberts having the ultimate & only power to appoint Judges in every court in America. It would unacceptably make the US Judicial branch a stand-alone government unanswerable to the people of the United States.
Simply put, the Indian Judiciary is a body of Indian Judges, by Indian Judges and for the Indian Judges. And they are totally and unabashedly Britophiles in their mindset. Not just Britophiles but deeply anti-Indian in every core of their institutional being. The Chief Justice of India's Supreme Court insists on being referred to as "His Lordship" and every Judge in every court in India insists on being called "milord" in the classic British manner. And forget de-Britification; the Indian Judiciary refuses to associate itself with the patriotic cultural aspirations of the Indian people. That is why the Indian Judiciary insists on using British colonial names like Bombay, Madras for its courts even 20 years after the people of these states have replaced these horrible British impositions with traditional all-Indian names like Mumbai, Bengaluru & Chennai.
Other Indian institutions like India's Media, Literature Academies, Indian Schools & Colleges and even the Indian Administrative Service remain under the control and influence of the BrIndian caste. And we mean "Caste" in the strict Latin/Iberian origin & usage of the term meaning "lineage". BrIndians only marry other BrIndians and their children are brought up as BrIndians & sent to BrIndian schools.
The power of this BrIndian caste has actually risen in the past 10 years as more American & European money has entered India for investments. This power surge is best seen in English language media in India and its new determined push to put down Indian or Hindu culture & traditions.
So forget about de-Britification in India as long as BrIndians remain in power and forget about India ever being able to exercise its power, even its limited power, on the world stage.
But why blame BrIndians when their north Indian ancestors have been doing the same for the past 1,000 years?
4.NonPak-USA handshake this week
While China's President Xi JinPing was receiving the kowtowing of Britain, the Prime Minister of the dinky little regime in Islamabad received a warm friendly hand shake from President Obama. And it was not merely a ceremonial hand shake.
President Obama gave the real power behind that regime a real gift – US fighter jets. President Obama announced the sale of US fighter jets to NonPak military with the full knowledge & understanding that they would ONLY be used to kill thousands of Indians & only Indians. Because these jets are capable of delivering nuclear weapons, Obama's gift could kill millions of Indians. President Obama obviously sees no conflict in giving NonPak military the means to kill millions of Indians while lauding the strategic partnership he has built with India.
The reaction of Indians is best summed up via a famous composition that says "kinu bairan kaan bhare, mora piya mose bolot nahin" or "which step-wife of mine has whispered in his ears, my man is not talking with me". Listen to this song in Raag Darbari which was created by Hindu-converted-to-Muslim musician Tansen of the 15th century in the voice of the one & only Amir Khan of the 19th century.
[embedyt] http://www.youtube.com/watch?v=5RqGzyapPYc[/embedyt]
The Indian officials try so hard to tell the world, meaning the United States, how obedient they are to the world policies, how they have been meticulous in observing non-proliferation rules and how they are a peaceful state that doesn't hurt anybody. They also plead with the world, meaning the United States, to recognize how badly their neighbor, NonPakistan, behaves. Why don't you do something about it, plead Indian officials. Then, when they see President Obama bestow gifts on the NonPak military, they quietly cry as so many women cry in silence about the behavior of the men on whom they depend.
This sounds terribly genderist but unfortunately this genderist reality is the absolute crux of the problem between NonPakistan & India, and by extension between India & America.
5."Mard" vs. "Naa-Mard" 
We saw a tweet on Friday that seemed superficially dumb to us:
Neither Dhume nor Tufail Ahmad understand the real issue. The fact is that the people of NonPakistan adore their military for a simple, basic reason. Their military is totally & unalterably committed to a conflict with India. They know that their civilian leadership including Prime Minister Nawaz Sharif will sell out their war for the sake of their economy or development but never their military. And their military is the torch bearer of their great history as Muslim conquerors invading India and ruling India. Every one in NonPakistan feels in their hearts, minds & bones that they are the true rulers of India, that they are the masters of those disgustingly feminine Hindus who populate India. This is also why the people of that regime have supported the religious cleansing from their land of Hindus, Buddhists & Sikhs.
The absolute reality is that the Muslims of NonPak are convinced that they are the "Mard", or "men" of the Indian Subcontinent and Hindus are the "women" of the Indian subcontinent. Don't blame them because the British also thought so and wrote so. Read the words of Macaulay, Mill, Kipling, Churchill, and you will see the constant characterization of Indians or Hindus as an effeminate race/religion whose destiny was to be ruled by masculine Muslims and by a supremely masculine race like British. Winston Churchill was a big proponent of this concept and so was the US establishment over the past several decades. This is also beneath the obvious charm exercised on many in the Pentagon by NonPak generals.   
Can you really blame them? Look at India today, especially North India. It is a land that still considers Muslims of the North West as the true "mard", especially the Pashtuns/Pathans. Bollywood is dominated by Pathans and the lingo of Bollywood is purely Irano-Afghan. Check out how many Hindu women marry Muslim actors of Bollywood and see how trivially few Muslim women marry Hindu actors. This is true of all strata of Indian society. Check out India's villages and see how Indian customs of today are the result of 1000 years of history of Muslims assaulting, raping and carrying away Hindu women from Hindu men powerless to stop them. Check rape stats in India and see how many Hindu women have been raped by Muslims and how trivially few Muslim women are raped by Hindus. All this has and continuously feeds the underlying characterization of Hindus as "feminine" or "Naa-Mard" and Muslims as "masculine" or "Mard".  
You see this in all walks of Indian society. This is why Muslim artists, singers, and politicians from NonPakistan keep getting invitations to India, even to Mumbai where several hundred Mumbaikers were killed by NonPak terrorists in November 2008. None of these Muslim artists from NonPak have ever visited the CST railway station to pay respects to the victims of terrorists from their regime. Forget paying respects, these Muslim artists from NonPak have never condemned their military for terrorism against India. Yet, Indian organizers keep inviting these "artists" and paying them large sums of Indian money to take back to NonPakistan.
Understand this is not merely Muslim vs. Hindu. Because there is no market in India for Muslim artists, politicians or cricketers from Muslim BanglaDesh. Indians only want to get Muslims from NonPakistan because they are the only "Mard" Muslims who conquered Hindus. No one from BanglaDesh ever conquered Hindus of India and so who cares about them?
Muslim rule in India ended in all practicality in early 1700s and finally in 1857. But India has not been able to shake off its history of Irano-Afghanization in the last 160 years. So how long could it take for Indians to shake off their Britification?
Who knows? But we know one thing for sure. Until Indian society gets de-Britified and until North Indians get their "mardaangi" or "manhood" back, India will not be taken seriously by the world.
6. Hope for the Future?
Underneath what we have described above is a renaissance slowly developing in core India. As Indian middle class prospers and becomes more confident, they are beginning to assert their views and their passion for India's greatness. And they have something absolutely unique going for them – their history of being the ONLY nation, the ONLY society that has maintained its culture since the beginning of known time despite attacks, massacres & occupation by the ruling global powers of the day. As long as Raamayan & Mahaa-Bhaarat remain the heart and brain of Indian society, it can always regain its old glory.
This week was the Indian celebration of Vijay-Dashami, the 10th day of celebration of Victory of Good over Evil. From where we come from, this festival is also knows as the day for "Seema-Ullanghan", the crossing of their borders by armies in search of conquest. If you want to know what that Indian tradition felt like, view the clip below from this week's episode of the story of Karn from Mahaa-Bhaarat – watch the great teacher Dron demand a conquest from the royal students he has trained (from 05:31 minutes onward):
[embedyt] http://www.youtube.com/watch?v=LTzXWTnGdAA[/embedyt]
Check out Indian history. The great periods of Indian history have been strongly correlated with the periods in which the great Mahaa-Bhaarat was accepted as the dominant text or shastr of the day. And that remains the secret for India's eventual de-Britification and de-Naamard-i-fication.
Send your feedback to [email protected] Or @MacroViewpoints on Twitter