Look back to August 16, 2016. That was the day Candidate Trump went Back to the Trumpian Movement with a rousing speech in West Bend, Indiana. Robert Costa of Washington Post praised that move, Chris Mathews of MSNBC gushed "That is great Stuff" and, Mark Halperin, then of Bloomberg & MSNBC, said:

"That may have been his best speech of the campaign in terms of a message that can win;  … "if you are happy with the way things are, vote for Hillary Clinton; if you don't like … , vote for me".
But Candidate Trump was behind in that race and it was time for the "stretch run". Could he, a candidate with the lifestyle of a Pharoah, finish the race to win, many wondered.
[embedyt] http://www.youtube.com/watch?v=1vjUpxnkx8E[/embedyt]
Our conclusion was:

"Yes, if he runs like the American Pharoah did in the Kentucky Derby, coming from behind at the turn and finishing the final furlong with power & determination that keeps "wearing them down". "
The November 2018 election is different. Mr. Trump is not running himself but the race is undoubtedly about the Trumpian Movement. He has to drive Republican candidates to victory in November 2018 to keep Republican majorities in the Senate and the House. His opposition seems united & flush with some early wins.
So the election will depend on whether President Trump can persuade voters to send him reinforcements with Republican Senators & House Representatives who will back his program. To do that, President Trump has to justify what he has done so far for the American people. He began doing that with a rousing speech this Thursday in Elkhart, Indiana.

Whether you believe in omens or not, it is better to get a positive omen than a negative one. Well, President Trump got a positive omen last weekend. Guess which horse won in the 2018 Kentucky Derby last Saturday – the favorite named Justify.

[embedyt] http://www.youtube.com/watch?v=UOsHcyFkJkw[/embedyt]
The "Justify" win was merely the beginning of a great week for President Trump.
On Tuesday, he withdrew from the Iran nuclear deal fulfilling another campaign promise. The Iranian leaders reacted by burning the American Flag and shouting "Death to America" thereby increasing support for President Trump among American voters.
On Wednesday, President Trump announced that Secretary of State Pompeo was flying back from North Korea with 3 American hostages freed by Kim Jong Un. They landed at around 2:00 am on Thursday morning and President Trump was there to greet them with the First Lady. How did super elite, uber foreign policy expert Ian Bremmer react?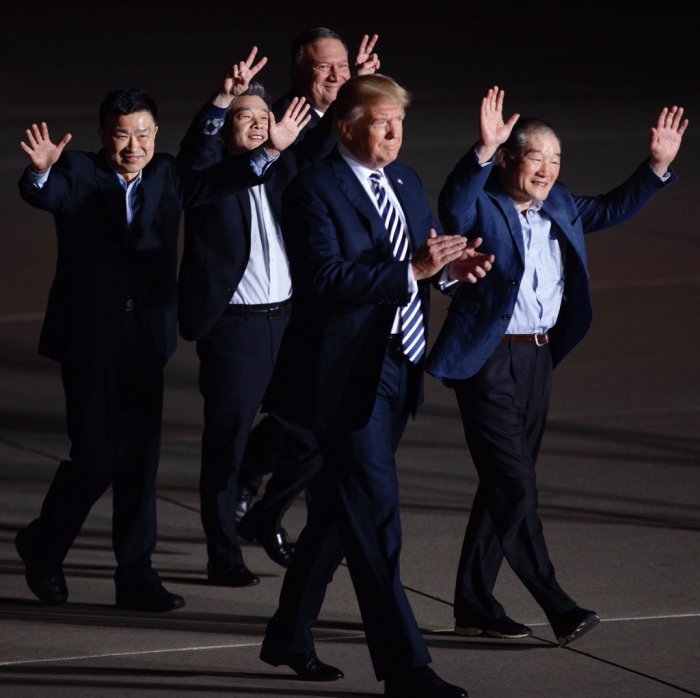 President Trump followed up with a rousing speech Thursday evening in Elkhart, Indiana. It was a virtuoso performance. He told the story of how he had cut the cost of the new American Embassy in Jerusalem from $1 billion to about $150,000 – $200,000. He showed the contrast between his experience & the Obama Administration's dumb decision to move the American Embassy in London to a worse location at four times the cost.
He was proud of what he had accomplished. He was politely disdainful of Nancy Pelosi's virulent opposition to the Tax Cut & her commitment to repeal it if Democrats win in November. He pointed out that what he had accomplished was with a tenuous majority in the Senate. He talked about what still needed to be done. And then he went for the close with:

" … give me some reinforcements, please"
The following day, he announced his Prescription Drug program to lower the costs for the American people. This used to be a core Democrat agenda. But no prominent Democrat attended the launch of this Prescription Drug Cost Reduction program.

That may well become the story of the November election. Democrats themselves are going to justify why the American people should vote for Trumpian candidates this November instead of old stay-away Democrats. May be that is why President Trump's poll numbers are going up; why African American voters are following Kanye West into supporting President Trump and why more & more Americans are beginning to believe he has been subjected to a witch hunt by the Mueller run investigation.

If these trends continue, American voters could break with mid term tradition and justify President Trump's program with a larger majority in the Senate & the House. If so, then President Trump would get the reinforcements he is asking for to get an infrastructure program next year and make the American economy more vibrant as well as more equal.
[embedyt] http://www.youtube.com/watch?v=ab3wW2sJVKw[/embedyt]
Send your feedback to [email protected] Or @MacroViewpoints on Twitter