We had never given much thought to shipping, the business of large ships plying the world's oceans carrying massive amounts of cargo. If you own a shipping company, have you considered storage container rental? Yes, anyone who has ever bought a foreign-made car knows that the car was shipped to the local dealership on a ship. There are often lots of different businesses involved in this process, including the shipping company, an import broker and the local dealership just to name a few. But it doesn't end there. From the ports, they were then most likely transported from there to the dealers using a trucking company like CSA Transport to make the cross-country journies with the freight. But how many of us give a second thought to how that shipping business works. We certainly did not. You don't stop to think about the hard work gone into it by companies like Bulk Cargo Services that handle the bulk commodities, or who the people are that work in these industries. However, this should change.
For us that changed when we heard Lori Ann LaRocco talk about this topic on a CNBC TV Show. She referred to her book "Dynasties of the Sea" and we felt we had to read it. Having read it, we felt we ought to bring it to the attention of our readers.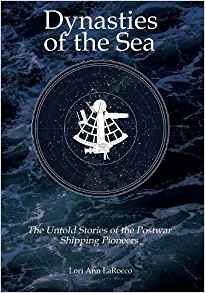 There are two aspects to this book. First & probably more interesting are the stories of risk-taking, bold decisions & investments of billions of dollars by individuals, families ("dynasties") and businesses but not governments. The book tells us about
Miles Kulukundis, patriarch of a Greek shipping family

Felipe & Ricardo Menendez Ross, "masters of the Americas"

Sabrina Chao, a Hong Kong Scion

Michael Hudner, a Wall Street pioneer
and others.The second is more about the ups & downs of the shipping business, the cycles as they are called. There you realize the business has been more about trading ships not cargo. Because the price of a ship can fall by 60% in months and freight rates can move even faster. Read the quote of Dr. Martin Stopford from the book:

"In 2007, orders were placed for $240 billion worth of new ships, representing 28% of the fleet. "The 2007 to 2008 peak was driven by a torrent of cash ", Stopford observed … In June 2008, a Capesize bulk carrier worth around $150 million was chartered for $300,000 a day. To put that in context, for most of the previous 25 years a Capesize had earned less than $25,000 a day, so this was new territory. But that was the peak, and in fall 2008 the whole speculative edifice came crashing down. In November 2008, a similar Capesize was chartered for $3,000 per day and its value had fallen to $45 million, in the unlikely event that anyone would buy it. Now that's a cycle!"
What surprised us was the statement below by Mike Hudner, the Wall Street Pioneer referred above:
"The shipping industry and the real estate market have a lot in common. Investors of real estate and shipping are long-term."
But what part of the real estate business? Look at price drop from Dr. Stopford's quote above – A ship worth $150 million in June 2008 was only worth $45 million in November 2008 and that is assuming some one would actually want to buy it at that price at that time. And until a seller shows up, the owner has to keep paying "carrying costs" to keep the ship in running condition. Any one who has tried to sell a house in a bad real estate market knows that feeling.
Now you understand what Mike Hudner learned from the distressed real estate business:
" … distressed property, where you could pick up real estate and get a lot of sellers' credit, or take distressed assets off the hands of the banks and buy them at a fraction of the original cost".
But what turns the shipping business around? As Mike Hudner writes,
"…. there's more capital in the world looking for deals than there are good deals to get info …"
And you have the fundamentals of global growth, if you manage the cycles. As Dr. Stopford tells us "Sea trade grew 60% faster than the world GDP" since 1950. And the future could be terrific:
"India is a massive market and southeast asia has enormous potential, if supported by a cheap, fast, and efficient maritime logistics system".
And today that requires different skills. As Peter Keller, chairman of the board for SEA/LNG, a multisector industry coalition points out:
"When I started, the transportation manager was usually somebody on the dock who was actually moving the freight. Today it's somebody with an M.B.A. and advanced degrees in data processing, process optimization, and transportation management…."
There is a lot to learn from the lessons told in this book by the founders & scions of the dynasties of the seas, lessons that can help you in any activity into which you put your own money.
Send your feedback to [email protected] Or @MacroViewpoints on Twitter