Question – Has India ever sent its troops into Chinese-claimed territory in an attempt to seize or even physically claim territory? No. Not even once that we can recall. On the other hand, Chinese routinely sends Chinese troops into Indian territory to claim or even physically seize territory. Hundreds of such incursions have taken place in this century let alone in the 20th century. 
Question – How has India managed such incursions by China? Has India answered by incursions into China by its own troops if for no other reasons but to demonstrate India doesn't accept "rape"? Never to our recollection. India's style is to claim India is a peace-loving nation with a great culture and then enter into talks with the Chinese. The Chinese are happy to talk AFTER they have seized territory and are sitting on it. They actually use the weeks spent in talking to reinforce their control on the territory they have seized or set up an advantage for a future incursion. The Indian side is happy that they have managed to lower the tension and pat themselves on their backs for their successful diplomacy. 
This is how Hindu leaders behaved with the British colonizers in the late 18th & 19th century. And the British slowly but surely took control of larger & larger areas of India until one day they had it all. That is also how Hindu leaders behaved with Afghan invaders since 998 to 1300 until the Afghans dominated virtually all of India under Alla-ud-din Khilji. Not even once until mid 1700s, did any Hindu state go into Afghanistan & attack them in their home base. Not even once in 700 years. 
1.Pattern continues?
Sadly, this Hindu pattern continues to this day as demonstrated by the Indian military & Indian Strategic command over the last month. We see people saying that the Indian Army was surprised. Baloney, we say. The Chinese buildup on their side of Line of Control was visible had the Indian Army decided to look. We read that Indian Intelligence had warned the Indian Military of the buildup. But the Indian military chose to ignore it. So one day they were "surprised". 
The other Hindu pattern has been to actually believe that agreements about disputed borders are real, meaning they have validity. The British never believed that; the Afghans never believed that & the Chinese don't believe that.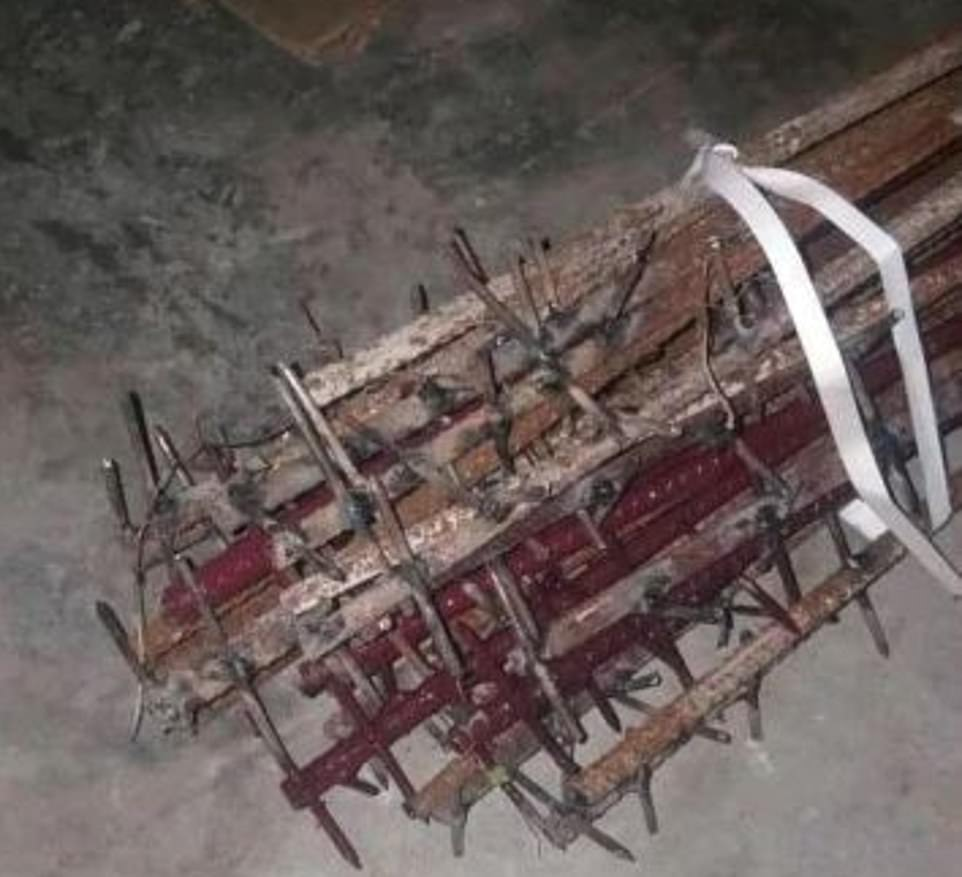 Yet, the Indian military actually believed that the Chinese have "agreed" to withdraw their incursion from Galwan valley and sent only a small group of soldiers to verify the withdrawal. The Chinese troops turned back on Indian troops and killed 20 of them with rods with nails & barbed wire attached to the rods. Fortunately, the Indian troops are far braver than their pathetic strategists. They reportedly returned to the Chinese post with reinforcements and killed 35-45 Chinese soldiers including a senior officer (35 = reportedly US intelligence figure & 45=Times of India figure).   
Then the Chinese Foreign ministry claimed that the entire Galwan Valley was actually Chinese territory and it was India that was encroaching on Chinese territory. And all this while, the Indian Strategists & Diplomats were convinced that the area under Indian control was "settled" area and "undisputed Indian" territory. 
So now what? Same as outlined by Ashley Tellis of Carnegie on May 28 in an interview with India Today via an article from the Observer Research Foundation :
"India – like all other countries – which share a border with China have only three choices. First, retaliate against expansionism by copy-cat capture of poorly defined territory held by China. Second, resist expansionary claims actively – on the ground and diplomatically. Third lie back and accept the rape" 
We will see what today's India does. 
2. What about economic boycott threats?
Indian media & Indians on Twitter are full of boasts of boycotting Chinese goods. Forgive us for an "uncouth" analogy. Borrowing the "rape" analogy used by Ashley Tellis & reported by ORF, the Indian threat of an economic boycott of China is like a raped woman telling the rapist that she will refuse to cook & feed him and he can see how he likes that.    
Other sensible minds have also wondered why China decided to attack as it did? 
Jeff M. Smith@Cold_Peace_ 

Jun 17

– As a cost-benefit fanatic, I struggle with China's strategy. What cost does it assign to alienating a country with the world's third largest defense budget & fifth largest GDP (and still rising in both columns)? What benefits will it derive from this crisis to outweigh the cost?
One answer to Jeff Smith and many like him was given by Yun Sun of the Stimson Center in her article this week titled CHINA'S STRATEGIC ASSESSMENT OF THE LADAKH CLASH:
"Some outside observers might see antagonizing India as strategically unwise — it may seem imprudent, after all, for Beijing to confront a large, important neighbor over a barren stretch of mountainous terrain — but China believes it needs to stand up to India whatever the cost."
A more detailed explanation from her:
"Some argue it was strategically unwise for China to clash with India in Ladakh. Doing so will inevitably damage China's reputation among the Indian military, diplomatic corps, and population at large. The move could also drive New Delhi into a closer partnership with Washington. But for Beijing, standing up for its interests and territorial claims is worth the cost. India is believed to be strategically unreliable to begin with and China has no interest in acquiescing to India's attempt to advance its position on territorial disputes to trade for concessions. That is almost an established rule in China's India playbook: Having dealt with India in the past, such acquiescence will not be seen as China's good will, but a concession extracted due to India's strength. This will only lead to even more aggressive Indian behavior down the road."
3. "Paying for the same real estate twice?" – Chinese posture
Remember that classic line from Patton? During the discussions on who will relieve Bastogne in the Battle of the Bulge, Patton stunned every one by saying "I can attack with three divisions in 48 hours". When Montgomery's guy said to him "I should have thought you would want to fall back and regroup", Patton replied "Not me, I don't like paying for the same real estate twice".  
The Chinese seem to be saying the same thing to themselves. They believe they won the territory in Ladakh in the 1962 war in India and then generously gave it back to India. What territory do they mean?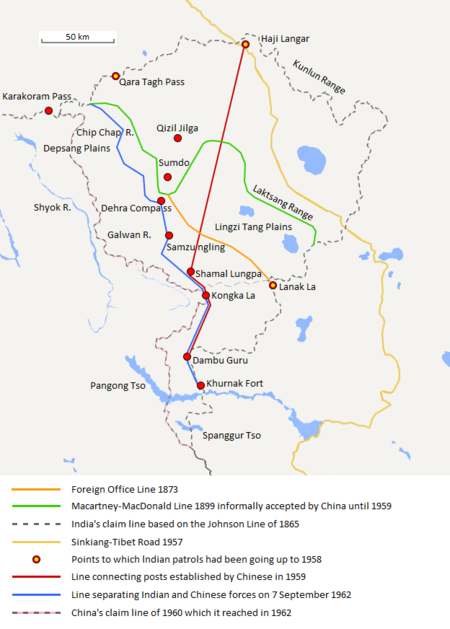 Look at the blue–orange line denoting "China's claim line of 1960 which it reached in 1962".  The Galwan River valley is indeed on the Chinese side of this line. That may be why China is re-claiming Galwan River valley as China's sovereign territory.
The reality is that Chinese forces withdrew in 1962 because their supply lines were getting too extended and the Indian Army was reinforcing its strength to hit back. That doesn't matter if China thinks they have the determination, the strength & the time to get back to what it won in the 1962 war.  
Now this is almost nuts like USA claiming of all Western Europe as its sovereign territory because US forces captured Europe and then unilaterally withdrew or India claiming BanglaDesh to be sovereign Indian territory because Indian Army captured that territory in 1971 & withdrew unilaterally after BanglaDesh became independent.
Nevertheless, China's negotiating position is based on everything it claimed in 1960 & achieved in 1962 (blue-orange line above) while India's negotiating position is based on the blue line separating the Indian and Chinese forces on 7 September 1962. As Yun Sun writes, 
"According to Chinese government analysts that I've spoken with, the precondition for China not to enter the 20-kilometer zone from the 1959 LAC (from which it withdrew in 1962) is that India would refrain from entering as well."
But this seems to be a one-sided view which India rejects pointblank. From China's point of view, "all the things China fought for in the 1962 war would have been in vain", if India can build up its infrastructure in this territory that India views as it own but China views as a unilateral gift to loser India. 
So what we saw during the past few weeks is the just the beginning, we think. 
4. Warfare is basically Engineering – One Road & One Highway 
In our prior two articles, we highlighted the importance of the Leh-Dabruk-DBO road that India built last year. In the words of  Lt. Gen Prakash Katoch, this road 
"dominates the area where China undertook two major intrusions in April 2013 and September 2014 in the Depsang Plains, one of them 19 km deep in area of Raki Nala while Chinese premier Li Keqiang visited India."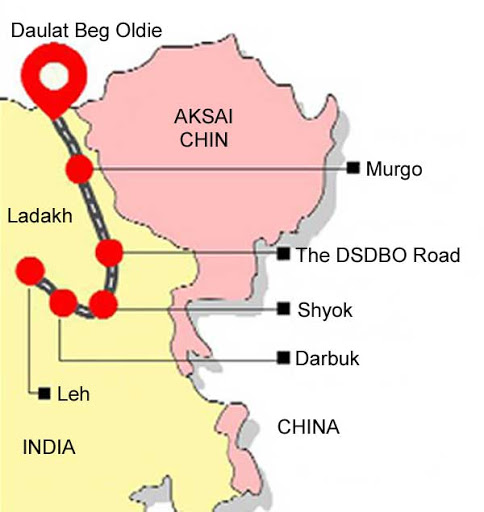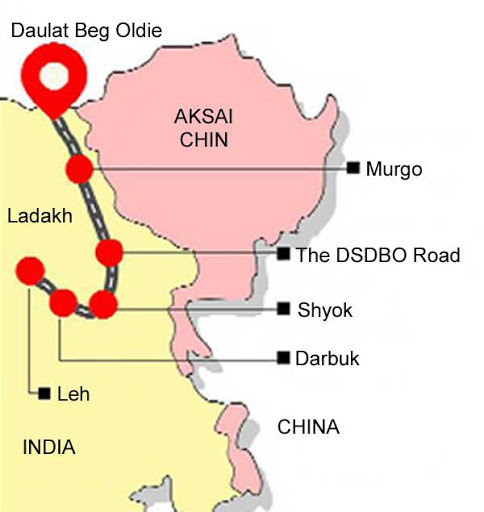 The road reaches the Daulat Beg Oldi (DBO) airbase that virtually sits next to the Karakorum highway that connects Chinese occupied Xinjiang to Napak-occupied Kashmir & then to the Arabian Sea. 
Now look where the Chinese penetrated into the Galwan valley:
It makes perfect sense from the Chinese side to launch an incursion to build a post overlooking this highly strategic road. But it makes no sense for the Indian side to be caught unawares by this Chinese incursion.
Though the incredibly bloody clash in Galwan became big news, the real & almost intractable problem is the Pangong Lake (Tso) area. See below how strategic Pangong Lake is to northern & southern Ladakh: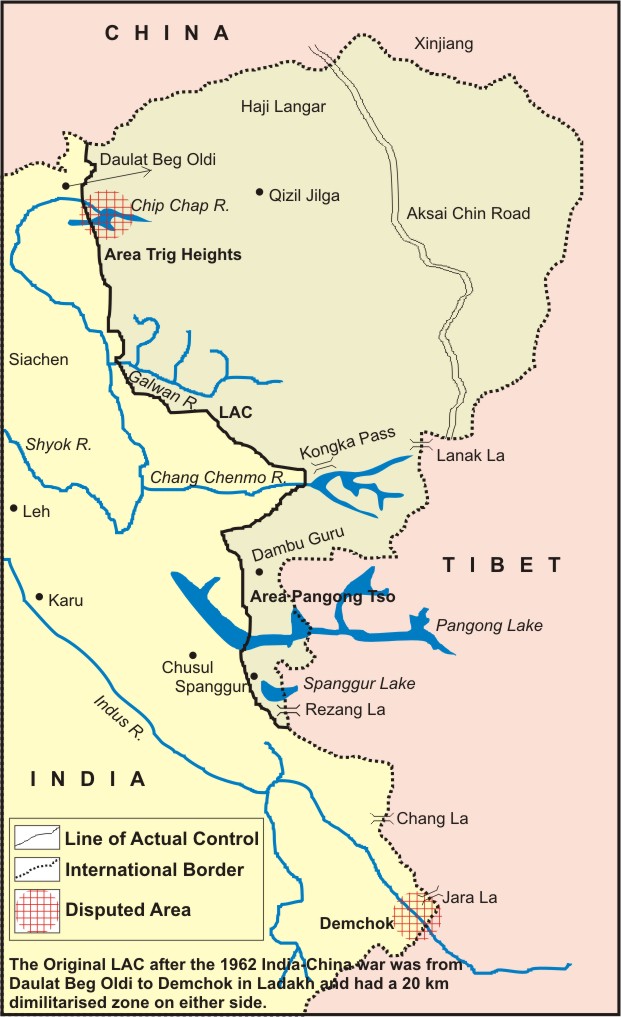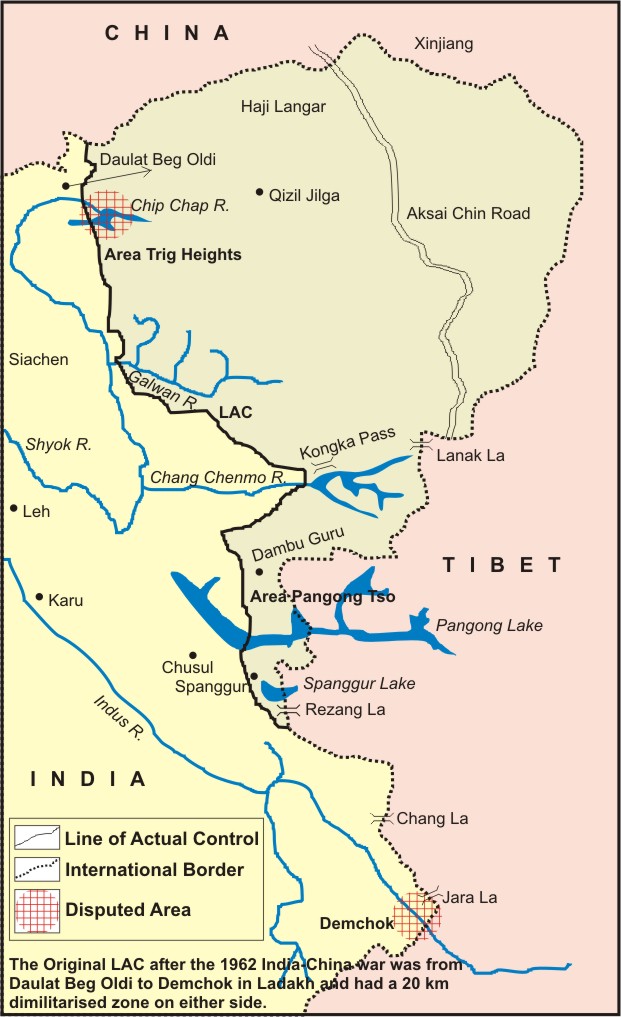 Now look at the eight fingers of Pangong Lake: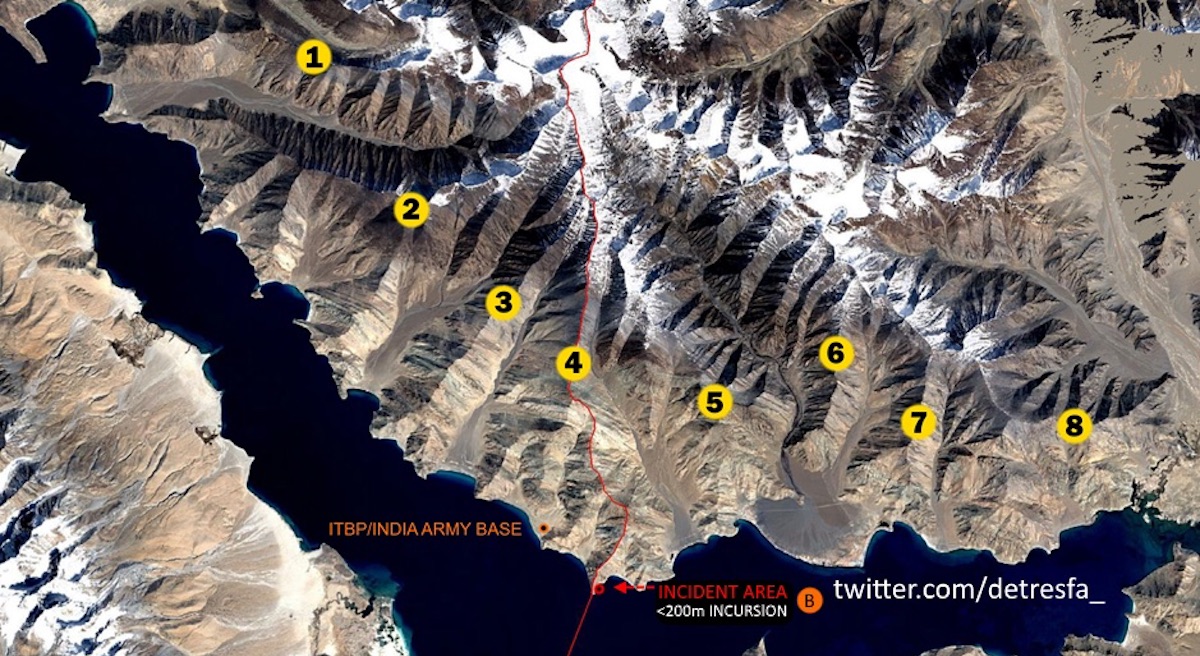 Indian forces used to patrol until Finger 8 on the map. No more. Because China has now occupied this neutral territory and built positions on Finger 4. 
Jeff M.

[email protected]

_Peace_ "Chinese positions have also emerged on the Finger 4 ridgeline [at Pangong Lake], with observation posts and tents clearly visible. Some of these new Chinese ridgeline positions are less than a kilometer from Indian positions which have also emerged west of the ridgeline."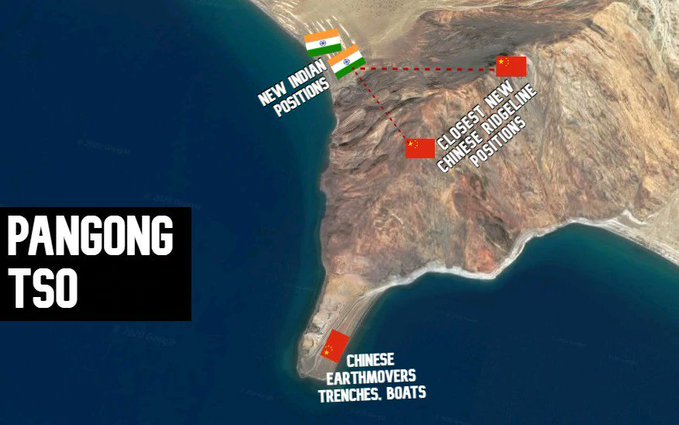 The Indian Army is reportedly focused on this Chinese intrusion in finger 4 of Pangong Tso. But it is going to be very difficult to force China to withdraw. This is a big problem with allowing a strong enemy to intrude first & then negotiate with them to withdraw.  
To understand why Pangong Tso is important to China, recall what we wrote last week about how China built a road from Xinjiang to Tibet (from 1950 to 1957) and used this road to annex Aksai Chin province in 1957 from a passive, unguarded India. This is THE ROAD for China even today, as Yun Sun explains in her article:
The western sector — Aksai Chin — offers the only direct road connection (National Highway G219) between China's Xinjiang Uyghur Autonomous Region and the Tibet Autonomous Region. In the event of major unrest in either area, which is home to millions of ethnic minorities, China will have to rely on G219 for access. Losing Aksai Chin, in other words, would jeopardize the stability of China's entire western frontier.
Now look how & where this all-important Chinese highway touches the end of Pangong Tso inside China-controlled Aksai Chin. (Our deep apologies for the amateurish red arrow we use to show where this long north-south critical highway touches Pangong Tso).  So Indian control of Pangong Tso could enable India to cut off this critical highway and hence the movement of troops & artillery in Aksai Chin up to Xinjiang.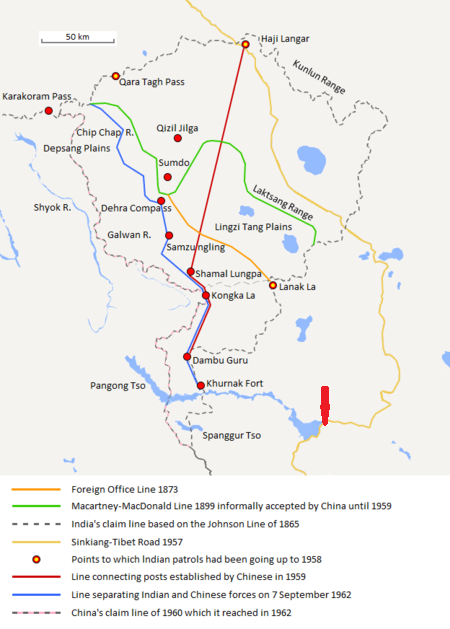 The above is why they say Warfare is basically about Engineering. All of the above involves building roads, highway, bridges and other military infrastructure to dominate a terrain and create major advantages for the military. 
5. Just the beginning to the Final Conclusion?
Remember how Yun Sun described the shift in the regional dynamics of the Indian Subcontinent last week!  
"Regional dynamics have shifted, leaving the United States and India on one side with China and Pakistan on the other."  
Just look at the map below and you will see how Ladakh & Napak-occupied Kashmir (green) impact the long-term war between China and India. China is serving notice TODAY to India that NaPakistan-occupied Kashmir is a vital area of China & that India cannot interfere in that. So we would not be surprised to see that China intervenes militarily in the next India-NaPak battle.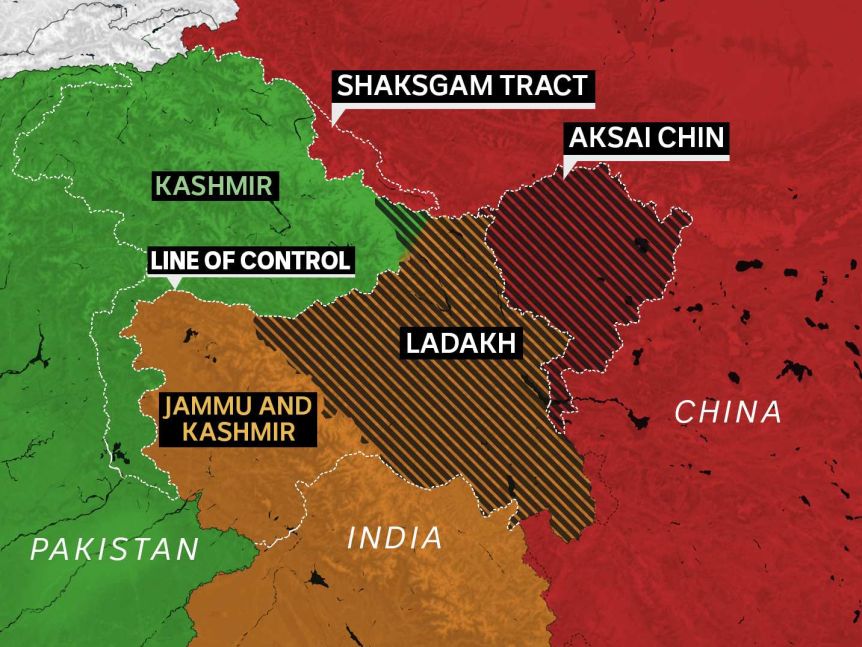 In fact, we would not be surprised if China declares the 1842 Chushul treaty as ex-parte & invalid and claims all of Ladakh as Chinese sovereign territory. Frankly, China can claim a greater right to Ladakh than it can to Xinjiang. That did not stop China from annexing Xinjiang. So nothing could stop China from claiming all of Ladakh as sovereign Chinese territory. 
What is just as likely is for China to "convince" NaPakistan to cede all of Napak-occupied Kashmir (in green above) to China just as China convinced Napak to cede the Shaksgam tract to China. NaPakistan is a failed state and China could actually buy NaPak-occupied Kashmir from them. India would have to go to war with both China & NaPakistan to prevent that. 
It is also possible that India could take back NaPak-occupied Kashmir as India's foreign minister Jaishankar has publicly threatened to do. We do think that will force China to intervene militarily unless China is already at some war in South China or the Pacific at that time. 
These are really long-term projections, meaning about 20-25 years in the future. But this is a highly consequential end-game. If India keeps Ladakh & wins Napak-occupied Kashmir (in green above), then China's hold on Xinjiang becomes weak & suspect. If China seizes Ladakh & takes NaPak-occupied Kashmir, it would be like chopping off India's head.
In the mean time, we think China will continue to create incursions into Indian territory at places & times convenient to China. So the ball will be in India's court. The reality is that the only way China will take India seriously if India demonstrates it is ready to go to war with China. 
As many have argued this past week, 
Jeff M.

[email protected]

_Peace_

Jun 18

– "the policy of riding on two horses – getting closer to the US without ruffling too many feathers in China – has run its course. India will have to decide whether to reinforce a failed policy, or forge a new one which involves a much closer alliance with the US and its allies."
And, as many in India have noticed, Russia is no longer the steadfast ally of India that it once was. 
Send your feedback to [email protected] Or @MacroViewpoints on Twitter