Remember the China of 2016! No one doubted that it was a major power on its way to becoming a global superpower with the largest economy on earth & a dominant military. Every bloc & virtually every nation was eager to sign a free trade treaty with China. But this is 2020 and today's China is very different.
That statement came from Canada's foreign minister Francois-Philippe Champagne in his interview about Canada's decision to walk away from free-trade talks with China: 
"I don't see the conditions being present now for these discussions to continue at this time, .. The China of 2020 is not the China of 2016".  
There is no doubt that the world was awakened & then persuaded to take a hard look at China by President Trump. He was the first one to publicly jeer at the notion that China was an economic superpower and he began demonstrating that with his hard trade stance. He has kept up his rational attack on China's economic & political behavior and most nations are coming around to his view including Europe. Even the New York Times wrote this week that China, Seeking a Friend in Europe, Finds Rising Anger and Frustration. How intense is the frustration?
"You should be ashamed," another lawmaker, Pavel Novotny, an outspoken district mayor in Prague, wrote, calling the Chinese "impudent, thoughtless, uncouth clowns" and demanding an apology.

[emphasis ours]
Remember China is still an exporting economy and needs large amounts of foreign capital. To get so openly rejected by a soft, even timid, country like Canada is a big negative. But the greater risk is Europe, as the New York Times pointed out:
"For China's leader, Xi Jinping, a lasting shift in European views poses an enormous challenge. In the short term, it threatens to undermine the country's post-pandemic economic recovery by stifling new investments as the United States restricts them, especially in high tech. In the longer term, it could blunt his ambitions for China to offer an alternative to the United States as the global leader dictating the rules for governance and trade."
Frankly that ambition of Xi is over & caput. No one today, except perhaps North Korea & NaPakistan, considers China to be an alternative to the United States. And there is only one to blame, Xi Jin Ping. 
But the situation in Asia has been different. Neither Europe nor Canada face the Chinese army on their borders. In contrast, South East Asian nations are deeply worried about that risk. Countries from Vietnam to Thailand & Myanmar have had to tread lightly when faced with Chinese threats. 
Even India had to tread lightly against China. Yes, India was a vocal & determined critic of Xi's One Belt One Road program. And Modi did feel he had come to an understanding with Xi and stayed cool. But that was not enough for Xi. His was the great Middle Kingdom and all neighbors had to accept supremacy of his China. So India had to be taught a lesson and a statement had to be made about China's need for greater access & control to NaPakistan & through that to the Middle East.
So, after meticulous planning, Xi authorized the Chinese military & his favorite General to slice off critical chunks of Indian territory along the line of control. In the classic Chinese style, they took the territory and then began endless talks with the Indians. And while they were talking, the Chinese military began preparing to take additional strategic chunks of Indian territory.
But Xi & the Chinese Army were in for a very rude & unpleasant surprise. The Indian military was also preparing for a long & protracted conflict in Ladakh and in all other theaters. So when they saw the Chinese  preparing their move, the Indian Army pre-empted them and seized the mountain tops & ridgelines along the strategic Pangong Tso.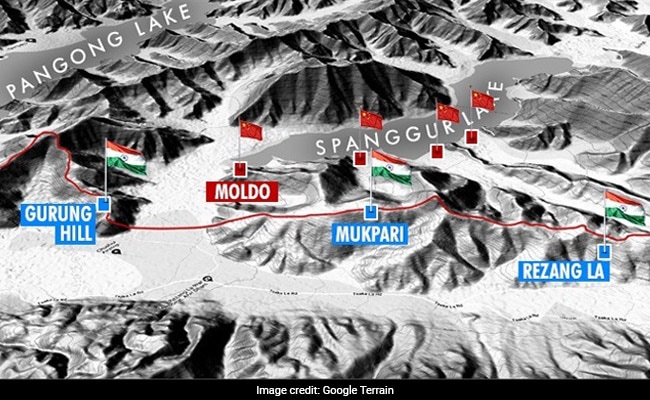 Not only was this pre-emptive move a military reversal for the Chinese Army but it was deeply embarrassing to China's stature & Xi's prestige. The Chinese military has not been so embarrassed in the last 40 years or so. It is clear that Xi miscalculated badly & the entire World especially Taiwan & Asean countries see that.
So Xi has two choices. Either he orders the Chinese military to get back to their pre-conflict positions or he orders the Chinese military to retaliate to get a win. The first would be a public loss of face, something Chinese leaders cannot handle. The second could prove even more disastrous if the Chinese army loses the next battle or even suffers a draw. 
Unfortunately for him, the Indian Military is now completely ready:
Devjyot Ghoshal

@DevjyotGhoshal – Sep 16 – With months to go before winter sets in, military officials told us they've already got everything they need. And if things do get worse, the airforce can bring in more, in double time. Full story here, with pictures by@dansiddiqui

:

reut.rs/3mtpyVw
The shots of US-made C-17 and Chinook helicopters landing in picturesque Ladakh are a must watch in the 3-minute clip below. Also listen to Major General Arvind Kapoor explain:
"Our logistics infrastructure is now so smartly built-up that any unit or formation brought in from outside can team up with troops already here in a Plug & Play manner & become immediately effective." 
"In recent months, one of India's biggest military logistics exercises in years has brought vast quantities of ammunition, equipment, fuel, winter supplies and food into Ladakh, a region bordering Tibet that India administers as a union territory, officials said."
Not only have both armies deployed 50,000+ plus troops with artillery & tanks across from each other, the Chinese have amassed 150 aircraft including helicopters near the line of control. The Indian Airforce has matched this & even more. That makes this an extremely dangerous situation. No one can predict what will happen in a war and India has made it clear that war in Ladakh would not stay restricted to Ladakh. 
These adventures of Xi are increasingly isolating China geopolitically as well. As The Diplomat reported, this week featured the inaugural meeting of the The India-France-Australia trilateral. Among the three nations, France made the most explicit statement about the trilateral:
"the meeting "helped underscore the goal of guaranteeing peace, security and adherence to international law in the Indo-Pacific by drawing on the excellence of bilateral relations between France, India and Australia."
"There is also an India-Australia-Indonesia trilateral that is taking shape. In fact, Indian media reports note that India, Australia, and Indonesia are getting ready for two virtual meetings in the coming weeks between the foreign and defense ministries of the three countries in order to enhance broader regional strategic cooperation as well as maritime security in the Indo-Pacific region." 
"There is also the India-Japan-Australia trilateral, another significant group, which had its first meeting in 2015. There is already an India-U.S.-Japan trilateral. Since 2015, Japan has also participated with India and the United States in India's Malabar series of naval exercises as a permanent partner. "
Let us be clear. Very little of this would be happening had India simply bowed to Chinese pressure & accepted the slicing of its territory by the Chinese military. The Indian standup defense, the pre-emptive military success of the Indian Army and their demonstrated readiness to wage war against the Chinese military on Himalayan land, air & Indo-Pacific waters have not only raised India's stature but also encouraged other nations to join India in a united front to thwart China's aggression. 
Combine this with Trump's determination to defend Taiwan & to maintain free shipping lanes in the South China Sea and you will soon see Asean countries standing up to China. 
Trump & USA in the South China Sea and the Pacific with Modi & India in the Himalaya and the Indian Ocean have caught Xi in a formidable two-sided Trump-Modi bind. A Tru-m-odi or Trumodi bind if you will. 
Send your feedback to [email protected] Or @MacroViewpoints on Twitter