1.This week in Ladakh
As Shiv Aroor of India Today tweeted this week, 
Shiv Aroor@ShivAroor – Last weekend, something changed in Ladakh. The Indian Army's traditional defensive/reactive posture has shifted to a series of first mover actions, a historic shift across eastern Ladakh.
And Vishnu Som of NDTV tweeted earlier:
Vishnu Som@VishnuNDTV –  3. For the first time in months, the ball is now in China's court – will there be sanity in a mutual disengagement across the region, a protracted standoff through the winter or, I dare say, will shots be fired.
As Nitin Gokhale, founder of StratNewsGlobal, pointed out in his excellent but long clip, "Ladakh" is indeed "on knife'e edge" – the "Chinese commanders are fretting, fuming & angry at being out-maneuvered by the Indian army; .. tempers are running high".  Indian & Chinese troops, fully armed with artillery guns, tanks and anti-tank missiles, "are merely 300-400 meters apart". Conditions are almost brutal for these troops; they are sleeping on the ground without tents on hill tops in zero-degree weather without adequate drinking water. President Xi is reportedly livid at his commanders for backing down. 
The big questions is whether the Chinese try to avenge their humiliation or embarrassment with attempts to retaliate in Ladakh or at other parts of the India-Chinese line of control that stretches from Ladakh in the Northwest to Arunachal Pradesh in the Northeast? It is clear that the Indian Army is prepared across the long border & in all services. This week, General Naravane, Indian Army Chief, visited the troops in Chushul, the center of this week's action while Air Marshal RKS Bhadauria, chief of the Indian Air Force, visited the air bases in Arunachal Pradesh. 
What the Indian Army did this week should not surprise anybody, least of all the Chinese Leadership. The signs were evident to any one who listened & who remembered  Kargil-1999. The Chinese had ample warning but they were too arrogant to notice. 
2. "Less Talk More Action" from "A Newly Assertive India"
Look back to our article on June 27, 2020 titled A Newly Assertive India vs. China – Will Galwan-Ladakh-2020 Be A Trigger Like Kargil-1999?. The answer as we saw this week is a resounding YES. 
Prime Minister Modi set the tone in his speech to the Indian Nation on June 17, 2020. That speech persuaded Rodney Baker of Stratfor write on June 24 (see Section 3 of our June 27 article)  that "India is poised for a significant strategy shift in how it manages its contested border with China". He titled this shift as "a New Indian Strategy of Less Talk, More Action Against China".  
But most ignored or forgot this during the calm that prevailed in Ladakh during the last two months. So we asked on August 2, 2020 (almost rhetorically) Calm at India-China Line of Control – Real or A Time to Prepare?.
"So why the quiet on the Ladakh-Tibet line of control? First the Indian Military was not prepared for a real conflict when the Chinese army entered land on India's side of Line of Control. So the first priority has been to build up the Indian military capabilities & get the three services ready for a conflict if China begins one. Secondly, geopolitical discussions with like-minded countries have to be initiated & carried out. Finally decisions have to be taken about either restricting any conflict to Ladakh-Tibet sector or making it clear to China that any conflict would be expanded to cover all areas of the India-China space." 
We not only asked the question but pointed out in this August 2 article what India was doing to get its "three services ready":
"This week, the South China Morning Post reported that India has moved 35,000 additional troops to the Line of Control between India & China."
"… the IAF deployed almost all its frontline fighter jets like Sukhoi 30 MKI, Jaguar, Mirage 2000 aircraft in the key frontier air bases in eastern Ladakh and elsewhere along the Line of Actual COntrol (LAC). The IAF has been carrying out night time combat air patrols over the eastern Ladakh region in an apparent message to China that it was ready to deal with any eventualities in the mountainous region." 
"The Indian Navy deployed a range of its frontline warships and submarines to send a clear message to China … The Navy has significantly expanded its deployment in the IOR 

[Indian Ocean Region]

 deploying a plethora of warships and submarines to create pressure points on China as the maritime space around the Malacca Straits in very critical for its supply chain through sea routes."
And not just in the Malacca Straits in Indian Ocean area. It was disclosed 6-7 days ago that a front-line warship of the Indian Navy was deployed in the South China Sea over intense Chinese protests. And this Indian warship was in constant contact with the U.S. warships deployed on the other side of the South China Sea. Secretary of State Pompeo mentioned this in his address to the US-India Forum last week – "Your Navy has joined ours in the South China Sea; there we were able to reinforce our partnership …. "  
And the Chinese analysts understood the signal, as Antara Ghoshal Singh pointed out in her article this week:
"Not just that, the Chinese side also noted with concern the news about India sending warships to the South China Sea. … A Chinese military expert Li Jie argued in Huanqiushibao (the Chinese version of the Global Times) that by such actions the Indian side is sending a strong signal that if an uncontrollable conflict occurs on the land between China and India on the border, it may resort to retaliation against China at sea by targeting China's oil and gas transport vessels, "thereby, urging the Chinese government to take proper countermeasures to deal with the disturbances at the sea.""
So now it is clear that India used the calm of the past two months to :
to build up Indian military capabilities & get the three military services ready, 

conduct geopolitical discussions with like-minded countries like USA, EU & Russia,

make it that any conflict would be expanded to cover all areas of the India-China space.
As a result, Indian military was ready when the Chinese forces tried another adventure on Saturday, August 29. Not just ready but a changed Indian Army. Shiv Aroor of India Today explained the big change in the Indian Army's posture in his clip. A quick Before-After summary is below:
Before – Talk Route to Protest Surveillance; After – Armed Actions to Damage Chinese Equipment
Before – Emphasis on Border Mechanism; After – Recognition that Mechanism Destroyed by China
Before – Watch & Wait policy at LAC; After – Act Now Without Delay
Before – Reactive Actions after Chinese Move; After – Preemptive Actions to Thwart China
 This is why General Naravane, Chief of Indian Army, said in Ladakh last week – "the actions taken by the Indian Army in the last week have been historic". And, as Shiv Aroor pointed out in his clip, the Indian Army establishment does not use words like "historic" lightly. 
3. History Rhymes
The history of China shows that Han China requires buffer states to protect the interior from external land-based forces. Whenever one of the buffer states gets in trouble, that leads to trouble in China's interior. Mao was a great student of Chinese history. So soon after he gained control of China, China annexed the Turkic-Central Asian province Xinjiang as a buffer state in 1948. Two years later, Mao's China annexed the huge state of Tibet without paying any military or strategic costs. 
But these two buffer states were isolated from each other even though they were geographically adjacent. So China quietly built a highway from Lhasa, capital of Tibet, to Kashgar in Xinjiang through territory that was nominally in India. Then to protect the highway, China annexed the big province of Aksai Chin that was a part of the Indian province of Ladakh.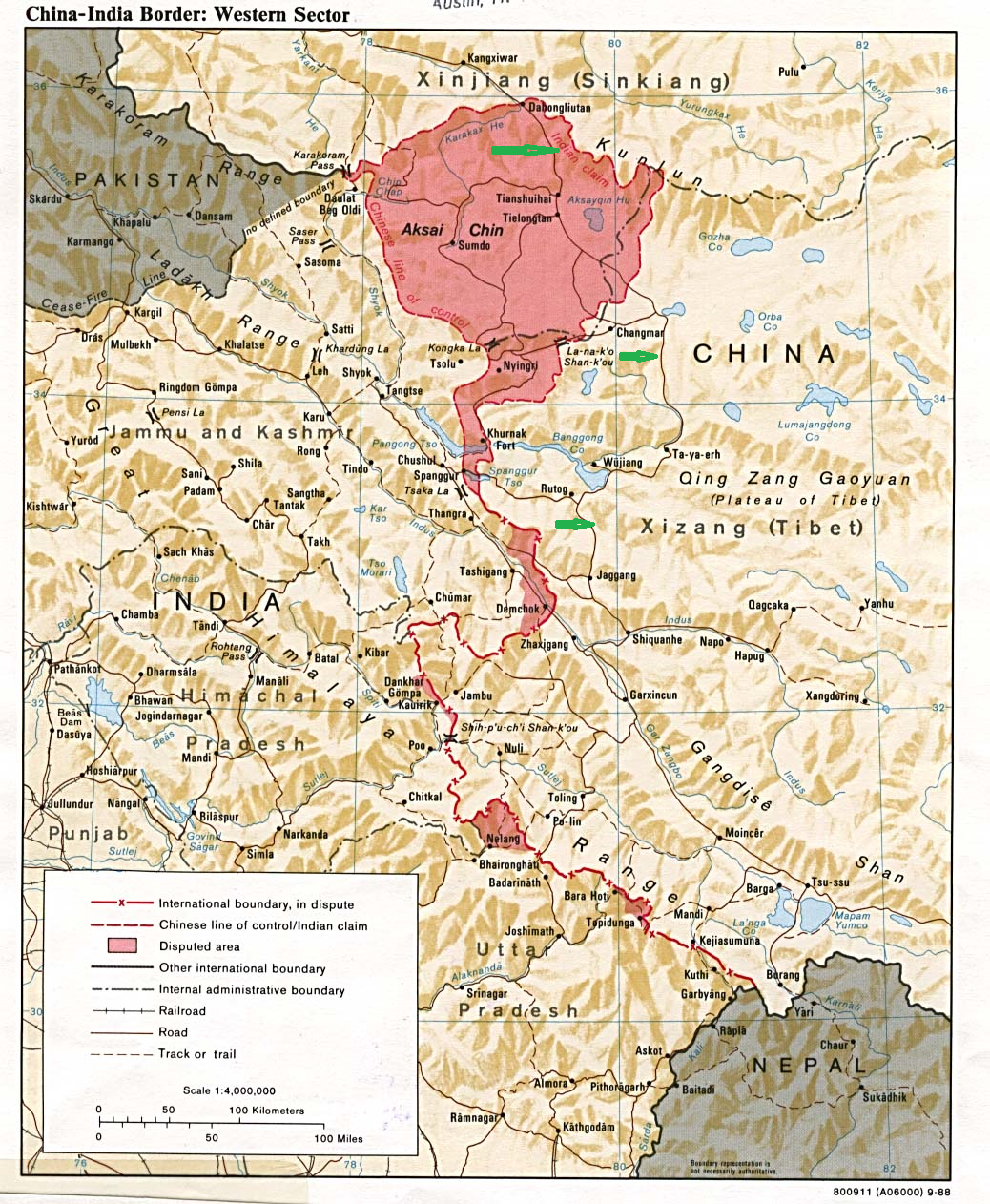 (green arrow annotation above shows the Xinjiang-Tibet highway & the Aksai Chin province)
When Indian protests about Aksai Chin annexation kept getting louder, China invaded & humiliated the Indian Army in 1962. Then China withdrew while keeping a part of their conquest.
It is absolutely amazing that after 50 odd years & despite the amount of road building & infrastructure development in China, this road built in 1950s remains the ONLY direct road that connects Xinjiang & Tibet. As Yun Sun of the Stimson Center wrote in June 2020, 
The western sector — Aksai Chin — offers the only direct road connection (National Highway G219) between China's Xinjiang Uyghur Autonomous Region and the Tibet Autonomous Region. In the event of major unrest in either area, which is home to millions of ethnic minorities, China will have to rely on G219 for access. Losing Aksai Chin, in other words, would jeopardize the stability of China's entire western frontier.
Now that India is stronger & more in control of its border, Chinese fears of India cutting off this extremely critical road resurfaced in 2020 and Chinese troops began slicing off important heights & territories that control the India-China line of control. They did so systematically as the NDTV chart below shows: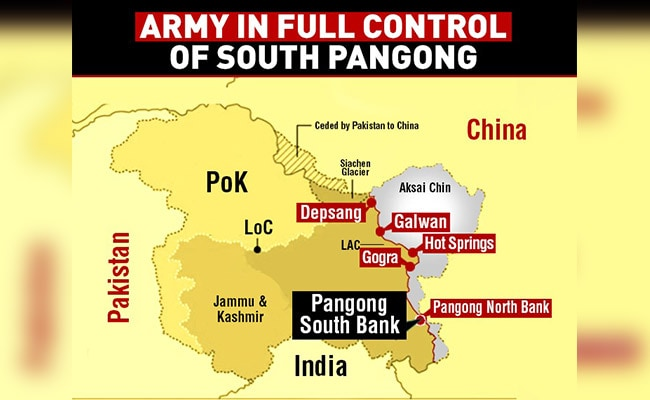 Chinese troops entered Depsang plains adjacent to Indian airport of Daulat Beg Oldi. Then they occupied Galwan River area in a brutal battle with Indian troops. They also entered the Hot Springs & Gogra area. Finally they occupied important heights on the north bank of Pangong Lake. 
But this was mainly tactical, not strategic. Because the above incursions didn't give China an easy access to get to Leh, the capital of Ladakh. What could they do to threaten Leh? Let us look at an imperfect map from our June 13. 2020 article. We are not sure where the map below originated but it serves our discussion well: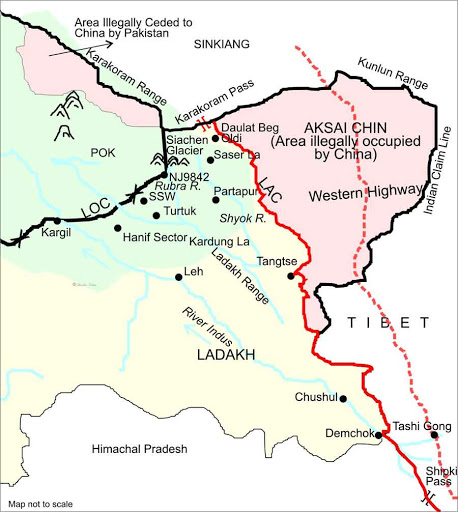 Look at Leh in the center of the yellow Ladakh area & then look southeast towards the red line of control. You see the town of Chushul that has a direct road connection to Leh & is closer to the Line of Control.  Once you see that, don't you think the Chinese army would want to slice off border territory that brings them closer to Chushul? 
As it happens, Ladakh was won back from Chinese Qi-dynasty run Tibet by the Indian Dogra-Sikh kingdom of Kashmir. That victory in the battle for Leh was ratified in the 1842 Treaty of Chushul between the Dogra-Sikhs & Qi-run Tibet. Couldn't today's China claim that this treaty took advantage of a weak China  and that Leh, at least Chushul, is a part of China? But wouldn't it be easier to make such a claim once Chinese troops get in position to threaten Chushul? 
History rhymes, right?
4. Geography dominates
Now look at the map we used in our Back to 1962 War Capture article on June 20, 2020: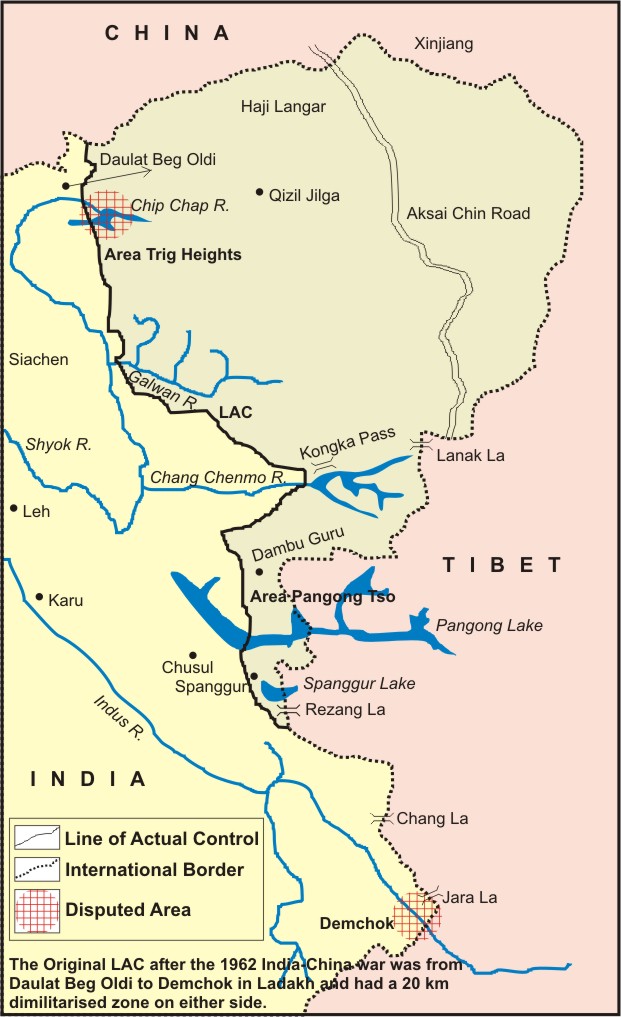 Now compare this again to the NDTV map above. You will see that Chinese troops are already in Depsang plains, next to the Daulat Beg Oldi airport in the northernmost area in the map above. Then you come down to Galwan River area where 20 Indian troops & 35-43 Chinese troops died in the June conflict. Come south and you get the Pangong area where the Chinese troops have occupied Finger 4 to Finger 8 ridges on the North bank of Pangong Lake.   
Now come a little more south, even south of the Chushul line, to get to Spanggur Lake, a lake that is all inside Chinese control. See that black dot at the western end of Spagnggur lake that is almost at the line of control? That dot is called the Spanggur gap. Now look where the flat area of the Spanggur Gap opens in the Swarajya map below from elevationmap.net: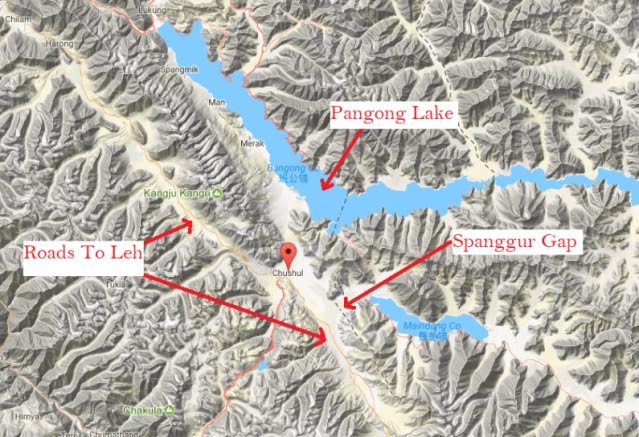 (courtesy Swarajya)
Holy Whatchamacallit!!  The Chinese could actually send infantry troops with light artillery through this Spanggur gap to get closer to Chushul & position themselves on the road to Leh, right? This is not idle theory. According to NDTV, China has also built a tarred road on the south bank of the Spanggur Lake, through which it can bring in heavy vehicles including tanks and armored personnel carriers.
But to use flat areas like the Spanggur Gap, you have to control the ridge lines or hill tops that overlook the gap. So what would you do if you wanted to control the ridge lines? You would send troops late in the day or the night as surreptitiously as possible. AND you would rely on the wait-watch-talk attitude of the Indian Army, Because you know that once you capture the heights, you can't be moved off without a 12:1 advantage & a real artillery battle. And you know the Indian Army wouldn't dare do that. And once you capture the heights, you can always claim that is Chinese sovereign territory as you did in June to Galwan, Depsong & Pangong North.  
Oh Baby! Chinese commanders must have been salivating on the afternoon of Saturday August 29, right? Geography was welcoming them & History was rhyming to their song of winning what China could not win in 1842 or 1962.  
5. Oops! "AFTER" is so different than "before"! 
Guess no one told the Chinese commanders & planners about the change in the Indian Army's posture from BEFORE to AFTER as explained by Shiv Aroor above:
Before – Watch & Wait policy at LAC; After – Act Now Without Delay
Before – Reactive Actions after Chinese Move; After – Preemptive Actions to Thwart China
The Indian commanders saw the Chinese movement & recognized what it meant. So they took hard preemptive action. They sent their Special Frontier Force to get to ridge tops before the Chinese & take control of the heights. This is a highly specialized force that is largely manned by Tibetan resistance fighters & no one, per Indian Army, is better at climbing mountains of Tibet-Ladakh than these trained special ops.
About 2,500-,3000 Tibetan forces climbed up the mountain ridges at night and occupied them. They absolutely stunned the Chinese who were trying to climb up. When faced with the Indian forces already on control of ridge tops, the Chinese troops had no choice but to go back down. The Flag of Tibet was finally hurled on Himalayan mountain tops after 70 odd years.
(Snow Lion insignia of the Special Frontier Force)                                   (Flag of Tibet) 
Reportedly, the Indian Army has also taken ridge tops all the way south to Requin La & Rezang La, two passes that enable the Indian Army to now dominate Spanggur lake. Look at the map below from Swarajya: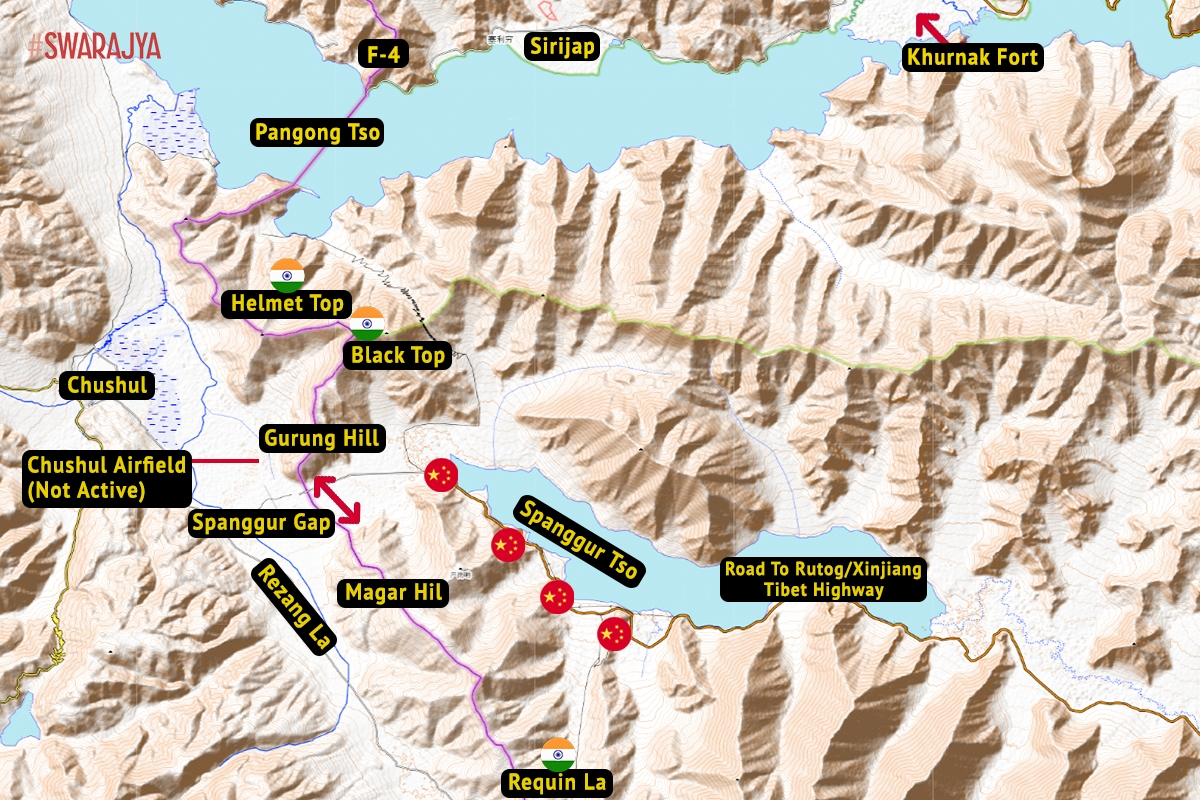 These actions were not, by any means, seat of the pants type decision. According to reports by Gaurav Sawant of India Today, the Indian Army had war-gamed the above operations & other operations up to three levels above the one described above. That is why the decisions to seize the ridge heights both on Pangong South and the Rechin & Rezang passes were taken & implemented with such swift precision. 
We are a bit hazy about who controls what in these numerous ridges. And the Indian Army is smartly not talking. What is obvious is that the Chinese army & political leadership are extremely angry at their embarrassment. That, in itself, suggests the Chinese army has suffered significant reversals in their positions. 
Below is a 5-minute clip titled what happened at Spangur Gap & Kala top . We share it below even though we do not know the channel or its creators. The tone & handling of the subject seem sensible & the images  are very good. We are also respectful of the U.S. Department of State Geographer notice on the maps. So watch it for you get from it:
6. Back to the Xinjiang-Aksai Chin – Tibet Highway
Look at the big map from Swarajya above, the map that shows Spanggur Tso & the various ridge lines near it. The black sign to the right of Spanggur Tso reads "Road to Rutog-Xinjiang-Tibet Highway". 
Now look at the small portion below of the big Xinjiang-Aksai Chin-Tibet map (of Section 3) above and focus on our green arrow annotation: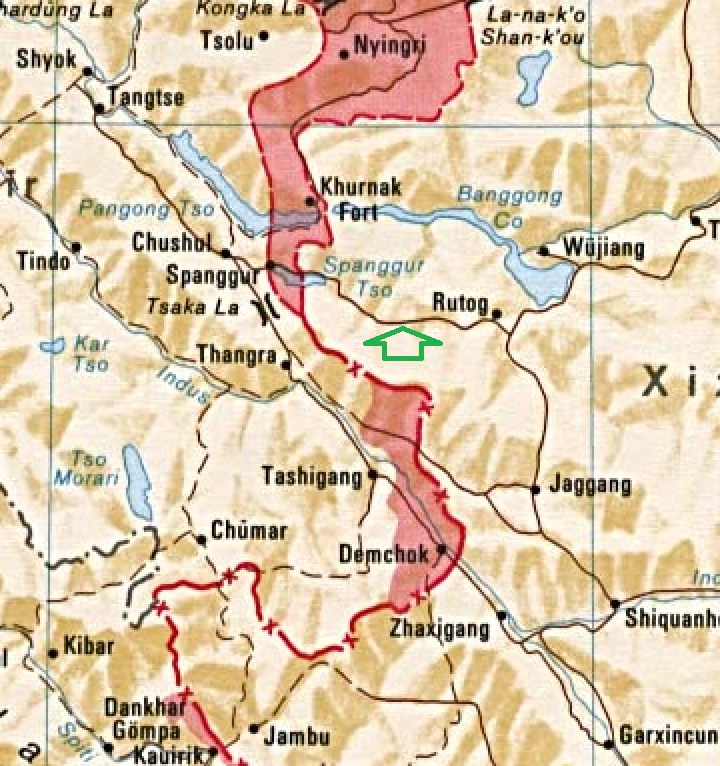 See how close Rutog is to Spanggur Tso (Lake).  Google map provides driving directions between Spanggur Tso & Rutog, a straight journey of 106 km that takes 2 hours.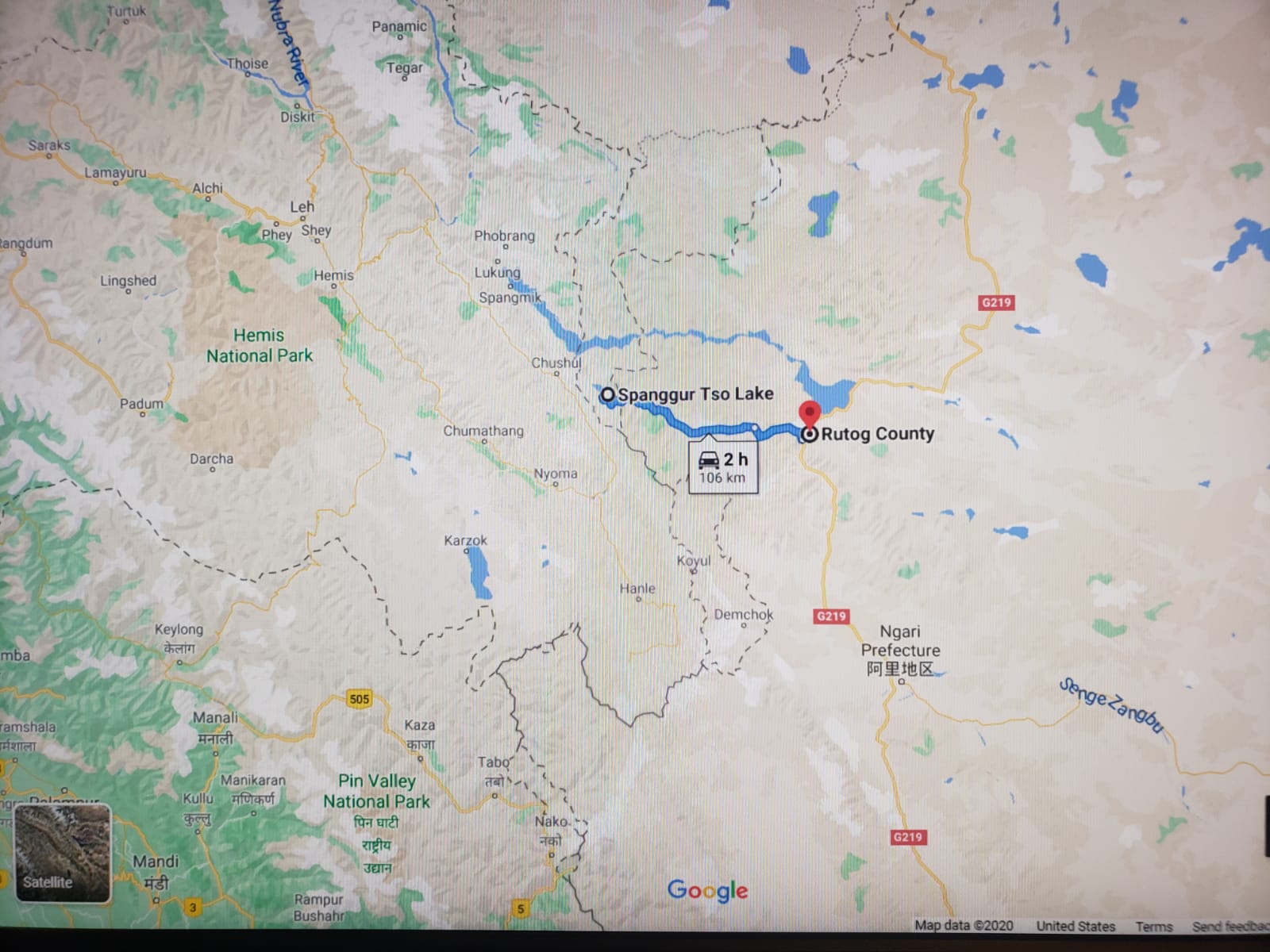 Notice also how close Rutog is to the G219 highway also called the Xinjiang-Tibet highway, the lifeline between Kashgar in Xinjiang & Lhasa in Tibet. And Rutog is a Chinese military garrison town that acts as a supply base to Chinese forces in Ladakh & Aksai Chin. 
Two weeks ago, we would have looked this driving map & wondered how easily the Chinese Army could march from Rutog into Spanggur Gap & take Chushul. That is now highly unlikely given Indian Army is sitting on ridge tops dominating Spanggur Lake.
Actually the dominant control of the Indian Army over Spanggur Lake, Requin & Rezang passes makes us now wonder if the Indian Army forces could wipe out the Chinese positions on the road that spans the south side of Spanggur Tso & then ride-fly to take Rutog to snap the Xinjiang-Tibet lifeline & cut off supply to Chinese troops in Aksai Chin.
Look at the Google Earth map below & decide for yourselves: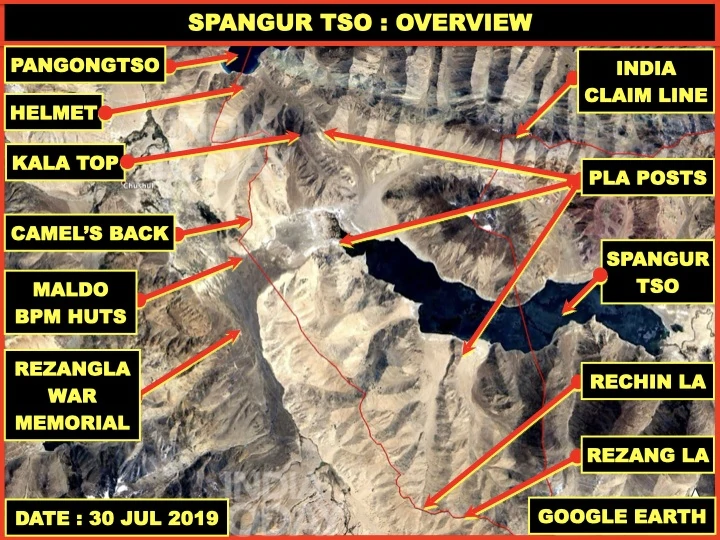 This is why control & firepower from heights is everything in mountain warfare. If the Indian Army holds & strengthens the heights they captured this past week, they will have protected Chushul & the capital Leh while simultaneously putting Rutog & the Xinjiang-Tibet highway at risk. 
7. Tibet – A new risk for Xi
As is reasonably well-known, Xi Jin Ping is facing opposition from rival members of the Chinese Communist Party. His standard strategy has been to use force to crush opposition and force people to give up their national-cultural identities to become totally Han-Chinese in thinking. 
Unfortunately, this is backfiring in the oldest & bigger provinces annexed by China – Tibet. Last week, Secretary of State Pompeo called on China to negotiate unconditionally with the Dalai Lama. And Joe Biden actually said publicly that he will meet with the Dalai Lama & sanction China over Tibet.
In the midst of this, the largely Tibetan Special Frontier Force of the Indian Army conclusively defeated the Chinese army by climbing high ridges in the Pangong South area & hurled Tibet's Snow Mountain Flag after their victory. That, reportedly, has gone viral in both Tibet & in China. The Tibetan resistance inside Tibet is no doubt both proud & thrilled while the Chinese are livid. And the Tibetans have a new martyr who dies in last week's action at Black Top hill:
Maj Gen (Dr)GD Bakshi SM,VSM(retd)

@GeneralBakshi – our tribute to Company Leader Nyima Tenzin of SFF- a brave Tibetan Warrior who laid own his life Fighting against the Chinese in Eastern Ladakh on the Black top Feature.RIP- om shanti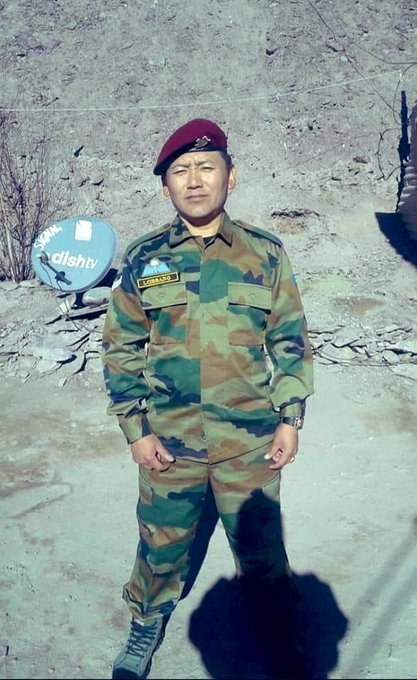 Company Leader Tenzin was given a ceremonial cremation in Ladakh with full military honors. 
It seems this week's embarrassment & loss of ridge lines to Indian military has intensified the fight in China about how to handle India. According to Antara Ghoshal Singh's article in India Today, the hawkish side argues,
"if China does not respond forcefully to India's "misadventures", it may even seek to occupy the entire Aksai Chin, while on the other hand, the United States, Japan, Vietnam, the Philippines and other countries will further up the ante against China. Therefore, a counterattack by force against India at this point is necessary, as it will not only be a counterattack, but also a way of proving the world of China's great power credentials,"
The trouble with this approach is that China must win decisively in a war with India. A loss would be disastrous & even a draw would seriously downgrade China's stature. A nation that proclaims itself as the next global superpower & a serious challenger to America cannot fail to defeat India decisively. 
Some doves argue, according to Ms. Singh, that
 "impulsively investing too much attention and resources in a strategic direction that is not currently China's primary strategic direction" is not in China's interest. Instead, they argue that starting a military conflict with India at this juncture is like walking into a trap that will drain China's national strength and will only make its key adversary that is the US happy." 
China's primary strategic adversary is America, not India. In contrast, India's primary strategic adversary is China & not NaPakistan. And NaPakistan is becoming more & more of a failed state with its old friends like Saudi Arabia, UAE & America distancing themselves. That enables India to devote the bulk of its strategic & military efforts to restrain & even cut down China. 
Regardless of what China does or chooses, India has made it clear that THE pre-condition to serious talks is that Chinese troops have to return to their pre-May positions. Can China climb down that much? We doubt it. 
This is why the entire China-India situation is on a knife's edge to paraphrase Nitin Gokhale of StratNews Global. And the entire Himalayan border shuts down from November onwards. Just look at the stretch of  the tourist-favorite trek between Darcha & Padum in central Ladakh in summer & winter:
So if there is to be an escalation, it is probably going to be in the next 4-6 weeks. 
Send your feedback to [email protected] Or @MacroViewpoints on Twitter