The reality is that all of India is primarily focused on economic development of Indians. That makes India focused inwards. As a result, Indian foreign policy has been mainly reactive and the Indian military defense-focused. As a result, the Indian Army has not been alert to threats & not quick to respond to encroachments. The preferred choice has been to assume that the neighboring regimes will adhere to the agreed upon status quo. 
1. Kargil-1999
Think back to the high altitude mountainous line of control between India & Napakistan in Kashmir. The peaks are some 14,000+ feet high & almost unreachable in winter. So the Indian army had always vacated  their forward posts on mountain peaks in winter. Sensible practice that had been the norm for both countries  for decades. 
Until 1999. That winter, Napaki troops & their terrorist outfits climbed up to the Himalayan peaks in the dead of winter. They built bunkers, stationed troops with mortars and posed a dangerous threat to the one road that connects the southern & northern parts of Kashmir, the only road available to the Indian Army to move troops & equipment. 
It took a massive war effort for the Indian military to re-capture the Himalayan peaks & evict the Napaki troops. The Indian Airforce used laser-guided bombs to first pound the Napaki posts at mountain tops, then heavy artillery & finally a mop up by the Indian infantry. Watch a short clip of the Mirage-2000 using laser-guided bombs over Muntho Dalo, the first such operation by the Indian Air Force.
(watch the laser-guided bombs release & hit from 2:40 minute onwards)
The Kargil war was a game changer for both the Indian Military & the Napaki military. The Indian army now is on alert in all areas of the line of control and Kargil-1999 was the last military adventure undertaken by the Napaki Army against India.  
2.Galwan-Ladakh-2020 
Just as the Napaki army left the Himalayan peaks alone in winter for decades, the Chinese army had conducted & withdrawn from hundreds of small incursions along the long India-China line of control for decades, the big ones being conflict at Nathu La pass in Sikkim in 1967, Sumdorong Chu in Arunachal Pradesh in 1986 and the Doklam-Bhutan incursion in 2017. Each one resulted in Chinese backing off after India reacted with military reinforcements. 
Perhaps that is why the Indian side did not react fast & furious when they noticed the Chinese encroach on Pangong Lake. And that was not a real encroachment either because the Indian army used to patrol that area but had no encampment there. Similarly, the reaction to the Chinese encroachment at Galwan was a soft one to be resolved via established pattern of talks. 
And that seemed to work with the Chinese agreeing to dismantle & withdraw from Galwan. Then it changed. The Chinese withdrew and then came back with force to attack & kill the small contingent of Indian soldiers who were there to watch over the Chinese withdrawal. 
This was a very different encroachment by China just as Kargil-1999 was a very different encroachment by Napakistan. It was a planned attack designed & orchestrated by General Zhao Zongqi, a hand-picked choice of Xi Jin Ping. Zhao was the same General who had launched the Doklam incursion in 2017. He had been seething about that reversal & reportedly looking for a chance to humiliate India especially as PM Modi was occupied with the CoronaVirus pandemic: 
"… the current standoff with India was planned in the early months of 2020. The intrusion was supposed to be so shamefacedly aggressive that India would be forced to capitulate and surrender its positions. He also calculated that going into a previously settled place like Galwan Valley would be advantageous as India would not be expecting any action there…."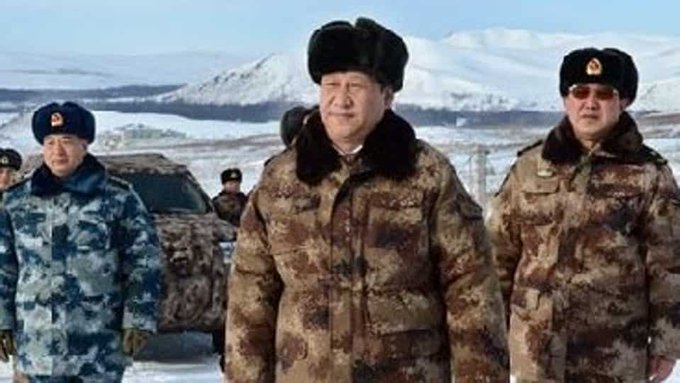 (President Xi Jin Ping & General Zhou Zongqi)
And his plan might have worked but for the bravery & sheer will of the Indian soldiers. Despite losing their commanding officer, they returned with more troops & killed about 45 Chinese soldiers while losing 20 of their own. Despite this perfidy, PM Modi decided to talk more to resolve the situation and it looked for a day that the Chinese would pull back. Once again the Chinese pulled a reversal and went back into Galwan area with more soldiers & construction. 
That did it. Now the Indian military has moved its positions to the line of control all across Ladakh with heavy artillery as well as air-superiority fighters & deep strike aircraft:
GAURAV C SAWANT

@gauravcsawant –

Jun 25

–  Deploying Su-30 MKIs to Mirage 2000s, from Chinooks to Apaches & from T-72 tanks to battle hardened mountain warfare expert soldiers along 830 km India China LAC in Ladakh post Galwan face off, message is clear: no walk over to China. Soldiers will protect every inch of our land.
Not just in Ladakh, but reportedly,
"India has deployed its specialised high altitude warfare forces along the 3,488 km Line of Actual Control (LAC) to repel any transgression by the Chinese People's Liberation Army (PLA) in either western, middle or eastern sectors."
What most people don't know but what every military in the world knows is that the world's largest & best military in high altitude warfare is the Indian Army with over 200,000 mountain-warfare trained troops in 12 divisions. As Huang Guozhi wrote for Modern Weaponry magazine,
"The world's largest and experienced country with plateau and mountain troops is neither the US, Russia, nor any European powerhouse, but India,… The Indian military has also spent massively on advanced heavy equipment from the US including the M777, the world's lightest 155mm-towed howitzer, and the Chinook heavy transport helicopter that lifts the gun, to boost its fire support and anti-armour capabilities".
Also according to a China expert quoted by the Hindustan Times,
"The other thing that works for the army is that the Tibetan plateau is flat on the Chinese side while the Indian side starts from K2 peak in Karakoram, to Nanda Devi in Uttarakhand, to Kanchenjung in Sikkim and Namche Barwa across Arunachal Pradesh border. "In mountains, it is not only difficult to capture territory but more difficult to hold it," 
Remember what Harvard's Belfer report said about the Indian Air Force & the Chinese Air Force:
" … China's J-10 fighter is technically comparable to India's Mirage-2000, and that the Indian Su-30MKI is superior to all theater Chinese fighters, including the additional J-11 and Su-27 models. China hosts a total of around 101 4th-generation fighters in the theater, of which a proportion must be retained for Russian defense, while India has around 122 of its comparable models, solely directed at China."
"The high altitude of Chinese air bases in Tibet and Xinjiang, plus the generally difficult geographic and weather conditions of the region, means that Chinese fighters are limited to carrying around half their design payload and fuel. In-flight refueling would be required for PLAAF forces to maximize their strike capacity…  Against these underpowered fighters, IAF forces will launch from bases and airfields unaffected by these geographic conditions, with maximum payload and fuel capabilities."
The point is that the problem with India has always been in the mind, in their deep aversion to waging war. That has changed, we see & think. Just as Kargil-1999 changed the mindset of the Indian Military vs. Napakistan, we think Galwan-2020 has permanently changed the mindset of the Indian Military towards China. 
If true, then Chinese President Xi Jin Ping made a very big mistake by allowing his pal Zhao Zongqi to attack Indian soldiers in Galwan.
3. "New Indian Strategy – Less Talk, More Action Against China"
Bulls are bullish & Bears are bearish. But pay heed when a Bear turns bullish or a Bull turns bearish. This is not just true of markets but of all human interactions, especially geostrategy.
Stratfor has hardly been a bull on India, especially on the Indian military or on India's determination to speak with its military. But look what Rodger Baker, Senior VP of Strategic Analysis for Stratfor wrote this week in his article A Border Clash Portends a New Indian Strategy of Less Talk, More Action Against China.
In his section "Modi Sets the Tone" Baker writes,
"Modi's language was reminiscent of the rhetoric normally reserved for Pakistan, demonstrating a renewed resolve to reinforce Indian claims of territorial sovereignty, and signaling a willingness to use force if pressed. This would mark a dramatic change for India's management of its border tensions with

China

after nearly 30 years of relying on dialogue and deconfliction."
In his section on the Indian military Baker writes,
"It is in the military sphere where India is likely to make the most dramatic moves, though it is also where New Delhi could face the greatest consequences." In addition to expanding cooperation with its fellow Quadrilateral Security Dialogue (Quad) members in the maritime space, which includes the United States, Japan and Australia, India will likely maintain a larger, year-round troop presence near the LAC (rather than its usual seasonal reductions in forces), and accelerate its existing infrastructure development plans in the region. India may also begin to move artillery and armor closer to the LAC, with the threat to move even closer if

China

 continues to violate existing bilateral agreements. If the parallel of language to the Pakistan situation plays out, we could see India deploy large numbers of troops to remove 

Chinese

 structures in dispute (such as tents, outposts and roadblocks) in dispute, rather than relying on small groups. In addition, India will likely respond to any major clashes on the border with firearms, rather than sticks, thus marking a significant escalation in its decades long territorial dispute with

China

." 
In a comparison of the two militaries Baker writes,
"… India's military has been involved in a steady stream of battles since the country gained its independence in 1947; its a "bloodied" force.

China

's People's Liberation Army, by contrast, has fought little since the 1970s, and remains untested in battle. India's threat to use force, despite the risks, is thus more believable. The Indian public has an understanding of the risk and cost of military action. 

China

 hasn't yet fully reshaped domestic acceptance of the use of force abroad, and for now, the 

Chinese

government does not appear ready to make that transition."
As we all know, China has not revealed to its people the number of Chinese casualties in the clash at Galwan.  Can they ever admit that China lost more soldiers than India despite having larger number of troops and surprise on their side?
Another bear on India has been Geopolitical Futures. They have argued for some time that India is too beset with internal problems to be considered a major player in the world. But, coincidentally as India takes a hard military stance towards China's encroachments, Geopolitical Futures published an article titled India Rising.
"India's days as a fairly quiet giant on the world stage are coming to an end. The global center of gravity, both militarily and economically, is shifting from the Middle East to the Indo-Pacific, bringing India front and center in world affairs. Considering that this comes at a time when India's relative power is increasing, it appears that the country is set to earn a more prominent role in the international system."
Speaking geopolitically, the article points out:
"India is much better positioned to be an important player in the U.S.-China standoff than it was during the Cold War. Internally, the government has made important strides in military and economic development, though more work is needed. Politically and socially, the country still has significant divisions, but it's stable and is many more decades removed from its founding. Its geographic position makes it extremely valuable to the United States. China will saber rattle along the border, but it has sizable problems internally and in its trade war with the U.S. that prevent it from acting rashly against India. Pakistan will continue its tough talk, but its inferior military and frail domestic economy are obstacles to any actions that would provoke a strong response from New Delhi. Russia's domestic weaknesses undermine its international hand, but Moscow still provides a counterweight to Beijing and Washington. India is also an important arms buyer for Russia at a time when Moscow needs its export sector to make up for low energy prices."
Their conclusion?
"The country is on the verge of becoming a major player on the world stage."
4. Vulnerability – India's or Russia's?
It is interesting how a strength can quickly become a big weakness. For decades, Russia has been a strategic ally and a reliable supplier of advanced military weapons. As a result, the major front-line weapons of the Indian military are imported from Russia – Sukhoi SU-30-MKI air superiority fighters, T-90 battle tanks, Kilo-class submarines. And with imports comes the need for continuous reliable supply of spare parts. Russia's track record in this aspect has not been great even during the best of times.
Faced with US sanctions, a weak economy & lack of allies, today's Russia needs China more than India. China is a permanent member of the UN Security Council with a Veto and allows Russia to not face US & Europe singlehandedly. China is also a big buyer of Russia'e energy, Russia largest export.
So would Russia continue to supply such front-lines weapons to India for use against its new ally China? Would Russia go ahead with the sale of S-400 anti-aircraft system to defend against Chinese aircraft? On the other hand, the Indian military is Russia's largest customer and success of Indian military with Russian weapons has been Russia's best marketing for decades. Russian defense companies are debt laden and not doing very well. So can Russia afford to say No to India and consequently become a captive of China? 
These are critical questions for India and for the Indian military. So the Indian Defense Minister went to Moscow this week to press for early delivery of the S-400 system and supply of 30+ new fighter aircraft. 
Geopolitical Futures reported on Friday that,
"The Russian government will accelerate implementation of a defense contract with India that includes delivery of five S-400 air defense systems, according to the Russian newspaper Kommersant. New Delhi was originally set to receive the first S-400 in 2021, but after a three-day visit to Moscow by India's defense minister, India now expects initial delivery by the end of this year. Russia and India are also intensifying negotiations over a contract for the supply of 21 MiG-29 fighters and 12 Su-30MKI fighters – an arrangement estimated to be worth $650 million."
This is a big relief for the Indian military at least for now. But this dependence on Russia also shows that India needs to accelerate domestic manufacture/assembly of its front-line weapon systems. No country became a major player without domestic production of its critical weapon systems.
If India & PM Modi have actually decided to become more militarily assertive against China and if PM Modi is able to build up the Indian military with more sophisticated weapons from America, France, Israel and Russia, then President Xi & his pal Zhao may have done something truly novel & remarkable – They would have lost the war without winning a battle. 
Send your feedback to [email protected] Or @MacroViewpoints on Twitter