The entire world now knows that there is a potential conflict developing on the Western Indo-China border. In his classic style, President Trump talked about this trouble between two 1.4 billion people countries with powerful militaries & offered to mediate. 
This was the President of the United States with the most powerful military in the World. And the above comments came after his tough comments about China in his speech yesterday.  
Even more direct were comments about China's behavior towards India by Ambassador Alice Wells, top diplomat for the Indian Subcontinent & Central Asia:
"The flare-ups on the border I think are a reminder that Chinese aggression is not always just rhetorical. And so whether it's on the South China Sea or whether it's along the border with India, we continue to see provocations and disturbing behavior by China that raises questions about how China seeks to use its growing power,"
Then Secretary of Defense Mark Esper got involved:
Sidhant Sibal@sidhant – Breaking: India's defence minister Rajnath Singh & U.S. Defense Secretary Mark Esper speak amidst India China border row. The call happened at the request of US
The message is simple. The United States has India's back at least diplomatically. 
On the other hand, China is already on the defensive diplomatically & economically. Almost every country, every group of countries, blames China for the terrible damage inflicted on their economies by the Chinese Wuhan virus. 
Doesn't China have far more important matters on its plate such as Hong Kong & Taiwan? Why did they add to their public relations mess by trying to coerce India via troop incursions?
1.Ladakh – China's nightmare future scenario?
An authoritative book on China-Japan, The Perils of Proximity, includes a comment on when China uses or tries to use force:
"China has used force most frequently when it perceived an opening window of vulnerability or a closing of  opportunity." 
There is no question that Taiwan & South China Sea are of paramount importance to China. We have no doubt that China will do as it has said, go to war if Taiwan declares its independence. In that situation, China's biggest worry would be India entering Tibet or Xinjiang while China is fighting a war with Taiwan, assisted by USA & Japan.
So far, the idea that Indian Army might enter Tibet or worse Xinjiang was laughable. Now it may not that laughable. 
China has always been confident that time is on its side vs. the USA & the West. But even in that confident frame of mind, China knows that time is NOT on China's side when it comes to India, either demographically, economically or even militarily. That is why China tries hard to coerce India or diminish  India's posture vis-a-vis China. Their basic style is to send Chinese troops into Indian territory to either occupy more Indian territory or embarrass India. 
But why did China provoke a major incident now by sending its troops into at the north-eastern corner of India's Ladakh province? Specifically why Ladakh & why now?
As the map below shows, Ladakh borders Chinese-occupied Xinjiang, Chinese-occupied Aksai Chin & sits on top of the Karakorum Highway that links China to NaPakistan-occupied Kashmir all the way to the Arabian Sea.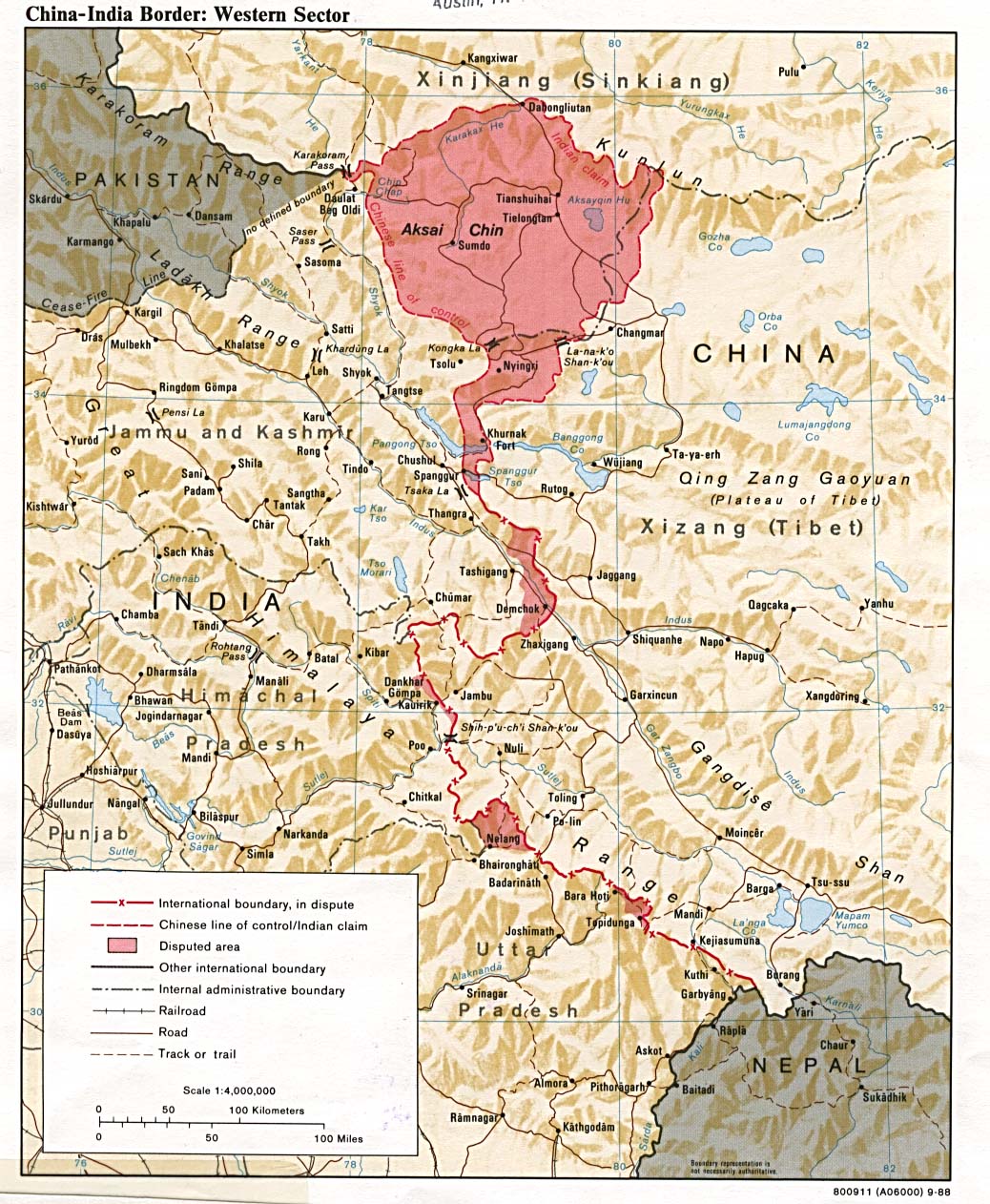 The red area is Aksai Chin which China annexed by simply sending its troops there in late 1950s when Indian military wasn't even there. The dark green area on the left is NaPak-occupied Gilgit-Baltistan area of Kashmir. The small line connecting to two is the Karakorum highway at the top of the world. A serious military power could snap this link in a heartbeat.
But that India was not even a power, let alone a serious one. Besides India couldn't even move troops to that area without roads or an airstrip. So China was sure that they could take that corner area of Ladakh any time they wanted without any risk.
But even a passive India had its limits. So in 2008, India activated the old airstrip at Daulat Beg Oldi located merely 8 km below the Karakorum highway. But that India only had ancient Russian Antonov-32 & MI-17 helicopters to ferry small numbers of troops into that strip. 
Then in August 2013, the Indian Air Force landed the huge (US-made) C-130J Super Hercules transport aircraft at Daulat Beg Oldi and the strategic picture changed somewhat. A short 2:37 minute  video explains the difference:
Then look what happened last year – the long awaited road from Ladakh's capital Leh to Daulat Beg Oldi was completed.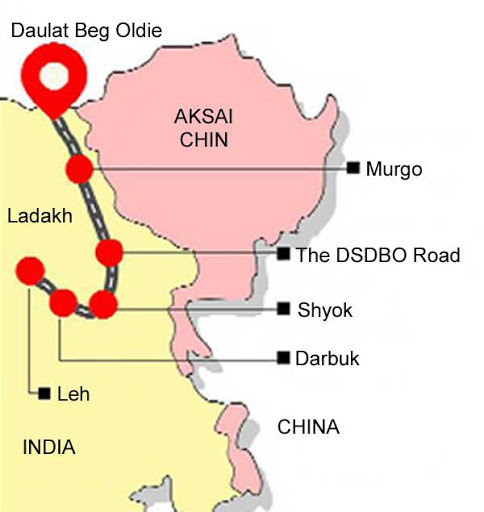 Now India has a motorable road from Leh all the way to Daulat Beg Oldi over the turbulent Shyok river. And, as Lt. Gen Prakash Katoch pointed out in his article in the Indian Defense Review, 
This road linking DBO to Leh via Karu over the Chang La Pass, dominates the area where China undertook two major intrusions in April 2013 and September 2014 in the Depsang Plains, one of them 19 km deep in area of Raki Nala while Chinese premier Li Keqiang visited India.
But doesn't every military road need a feeder road too?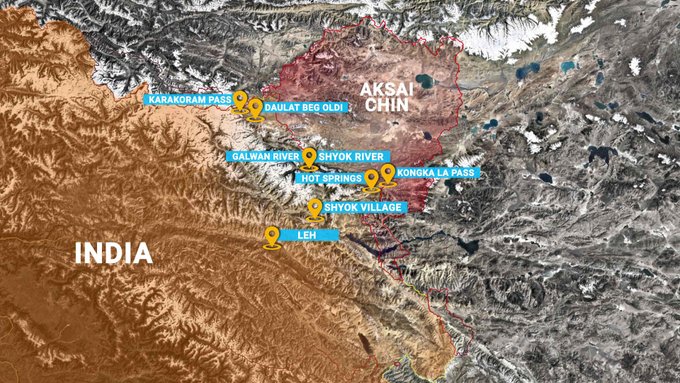 So on May 9-May 10, India began building a feeder road between the Galwan River & the Shyok River.
These are roads built in Indian territory by India. But to China these roads dramatically decrease the infrastructure superiority Chinese military has enjoyed since 1962. So the Chinese sent troops into the Galwan River area to halt Indian military's road infrastructure development, as Jeff Shaw said on CNBC-TV18 in India. 
But why? What does that high altitude & virtually barren region have to justify this level of long term worry? Look at the map below. 
Remember where Daulat Beg Oldi air strip is from the map at the beginning of this section? Right at the tip of the triangular edge where Napak-Baltistan, India & Aksai-Chin meet. Now see what meets Daulat Beg Oldi (DBO) from the Xinjiang side. The old trade route (in blue) from Yarkant in Xinjiang. And look how close Kaxgar, capital of Xinjiang, is to Yarkand. 
Now what is the weakest province in China from a diplomatic & even unrest point of view? Xinjiang with the concentration camps for Uighurs. So a powerful military presence in Ladakh would create a risk to China's control of Xinjiang.
Now look what India's foreign minister JaiShankar told U.S. Senator Lindsey Graham:
"Don't worry Senator, one democracy will settle it"
Settle what? The taking back of Kashmir occupied now by NaPakistan. Now look at the map at the beginning of this section. Focus on the dark green area labelled Pakistan that meets Chinese-occupied Aksai Chin via the Karakorum Highway. Minister JaiShankar is talking about that dark green area becoming a part of India as it always was. Imagine that is now a part of India with the Indian army based there. How exposed will Chinese-occupied Xinjiang get then? Can China truly assume that India will not enter Xinjiang while Chinese military is fighting for taking over Taiwan & control of South China sea?
Now think ahead a few years and think of a more prosperous & more powerful India with better aircraft & a more lethal army based in today's Napak-occupied Kashmir. If that is not a nightmare situation for Chinese military strategists, we don't know what is. 
Now consider how China always claims territory based on history & old Chinese control? What about old historical control of Xinjiang, you ask?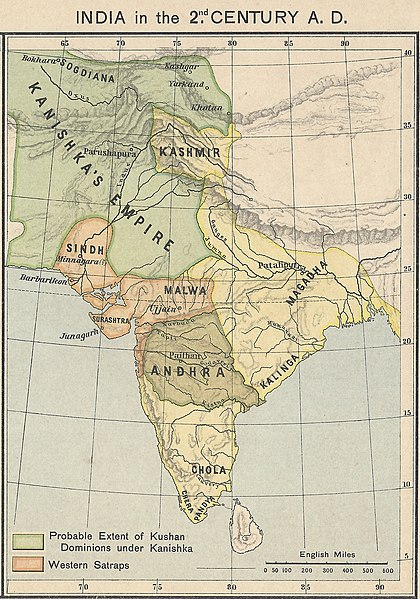 Xinjiang was a part of the famous Kushan empire of the celebrated Buddhist emperor Kanishka the Great. He was responsible for spreading Mahayana Buddhism from Indian Gaandhaar across the Karakorum range into China. 
Add it all up and ask yourself if you would not try to shut down Indian military infrastructure now? Unfortunately both Doklam-2017 & Ladakh now show they are too late. That opportunity has already closed. 
2. China vs. India – Strategic Military Concentration – Western or Ladakh Sector
In this section, we borrow heavily from the authoritative report authored in March 2020 by Frank O'Donnell & Alexander K. Bollfras of Harvard's Belfer Center. It is titled The Strategic Postures of China & India: A Visual Guide. It is a comprehensive report that includes both nuclear & conventional forces across the entire border from Ladakh in the West across Tibet to Arunachal Pradesh in the East. 
We will only discuss conventional forces available in the Western or Ladakh sector. The report points out, 
" In Tibet, the region closest to Indian border areas, the PLA presence is judged to number just 40,000 troops. More numerous forces are located in the Xinjiang region north of Tibet, totaling around 70,000. This means China is regularly operating with a permanent Indian conventional force advantage along its border areas. In the event of a major standoff or conflict with India, it would have to rely upon mobilization primarily from Xinjiang and secondarily from the Western Theater Command forces deeper in China's interior. By contrast, Indian forces are already largely in position. " 
What about the Chinese Air force (PLAAF)? 
"The PLA Air Force (

PLAAF

) also suffers from a numerical disparity to the IAF in the border region. Unlike the tripartite organizational division of Chinese ground forces facing India, the Western Theater Command has assumed control of all regional strike aircraft.

 

"In the Western Air Command, the IAF possesses around 75 fighters and 34 ground attack aircraft, besides 5 ALGs close to Chinese Tibetan areas. Crucially, the IA and IAF forces described above are all permanently close to China's border, shortening their mobilization time and limiting the prospects of a successful Chinese cross-border advance."
"Other comparative weaknesses permeate the PLAAF's posture against India. On a strict comparison of available 4th generation fighters, authoritative assessments hold that China's J-10 fighter is technically comparable to India's Mirage-2000, and that the Indian Su-30MKI is superior to all theater Chinese fighters, including the additional J-11 and Su-27 models. China hosts a total of around 101 4th-generation fighters in the theater, of which a proportion must be retained for Russian defense, while India has around 122 of its comparable models, solely directed at China."
The high altitude of Chinese air bases in Tibet and Xinjiang, plus the generally difficult geographic and weather conditions of the region, means that Chinese fighters are limited to carrying around half their design payload and fuel. In-flight refueling would be required for PLAAF forces to maximize their strike capacity…  Against these underpowered fighters, IAF forces will launch from bases and airfields unaffected by these geographic conditions, with maximum payload and fuel capabilities.
So what is the report's conclusion?
"We assess that India has key under-appreciated conventional advantages that reduce its vulnerability to Chinese threats and attacks. India appears to have cause for greater confidence in its military position against China than is typically acknowledged in Indian debates, providing the country an opportunity for leadership in international efforts toward nuclear transparency and restraint."
In short?   
"In total, India is in a stronger conventional position vis-à-vis China than much of the analysis on this topic concludes."
Now you understand why Prime Minister Modi has been firm in not allowing China to bully India. 
Send your feedback to [email protected] Or @MacroViewpoints on Twitter