Summary – A top-down review of interesting calls and comments made last week in Treasuries, monetary policy, economics, stocks, bonds & commodities. TACs is our acronym for Tweets, Articles, & Clips –our basic inputs for this article.
Editor's Note: In this series of articles, we include important or interesting Tweets, Articles, Video Clips with our comments. This is an article that expresses our personal opinions about comments made on Television, Tweeter, and in Print. It is NOT intended to provide any investment advice of any type whatsoever. No one should base any investing decisions or conclusions based on anything written in or inferred from this article. Macro Viewpoints & its affiliates expressly disclaim all liability in respect to actions taken based on any or all of the information in this article. Investing is a serious matter and all investment decisions should only be taken after a detailed discussion with your investment advisor and should be subject to your objectives, suitability requirements and risk tolerance.
1.The best week of the year
for the S&P. Thoroughly enjoyable especially for those who were prescient enough to get long on prior Friday's close or on Monday morning. Actually you had the entire morning to get aggressive because the up move began just around noon. And you had a reason to do so if you followed the message of the tweet below:
Monday – Ryan Detrick, CMT ?@RyanDetrick – Remember, the past 20 yrs $SPX in Nov has bottomed on the 12th.  Did it just bottom on the 13th?  $SPY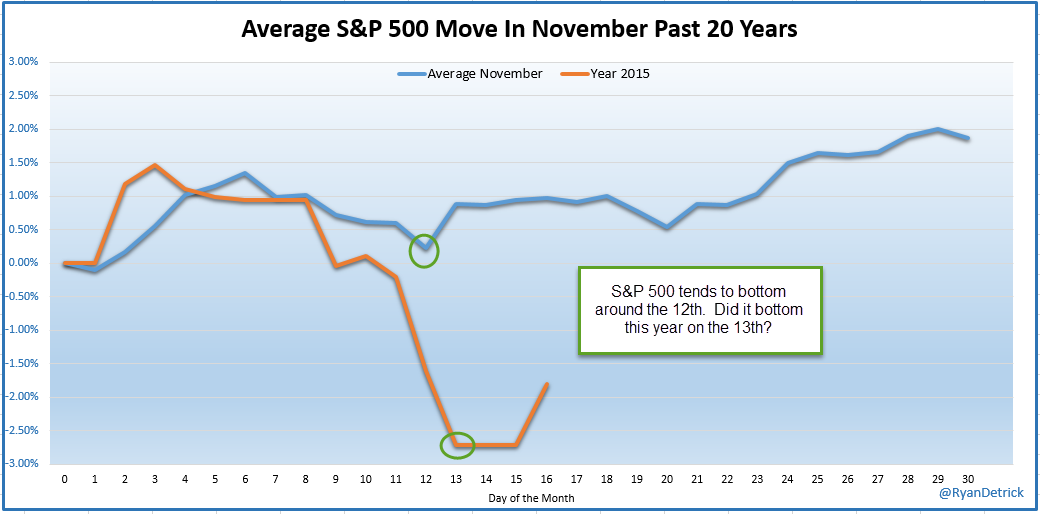 The S&P futures were down 20 handles overnight and then they rallied another 30 handles from Friday's close making the total gain an astonishing 50 handles. A part of the rally, we hope, was patriotic & anti-terrorist but another part must be fear of falling behind in the fabled year-end rally. A rally on Tuesday was given up when news of a cancelled Soccer match in Germany hit. Then came Fed minutes on Wednesday and that must have opened the barn door because the S&P flew up by 20 handles after the Fed minutes. It didn't hurt that this was an Options Expiration week.
But there is another side to the best week of the year. It didn't make up for all the decline that took place the week before this past week. If you look at the past two weeks, you find that most broad indices closed this week 40-60 bps lower than Friday, November 6. Only the Dow Transport closed 74 bps higher. Will next week lead the indices indisputably higher?
Ryan Detrick, CMT ?@RyanDetrick – Ready for this one?  The last 7 times the $SPX was up >3% for the week it was green the following week.  Dec '11 last time wasn't.   $SPY
How smart is Stanley Druckenmiller to remain long Netflix & Amazon? His record speaks for itself. And the track record of the proverbial year-end rally says remain long winners  especially when the rally is liquidity driven. Remember Q4 1999? Sort of a similar story so far:
Ryan Detrick, CMT ?@RyanDetrick – The top 10 stocks YTD in the $SPY are up 76% on avg.  They were up 7% on avg last year.
We all know what is coming in mid-December but we are resolved to not use the F-word any more this week. Instead, we merely quote:
Nick ?@NicholasOC – I'm a student of mkt internals and we've been here before. What it currently looks like is the market has a big decision to make around Jan. 
2. Treasuries
One asset class that has rallied both of the past two weeks is Treasuries, more specifically long duration Treasuries with 30-year yield down 7 bps during the two weeks and the 10-year yield down 6.8 bps. But the 3-year & 2-year yields were up a couple of basis points over the two weeks. .  
Is the rally in the long end mostly a bounce from an oversold condition or is slower growth being factored in? Jeffrey Gundlach said this week " There is something of an "industrial recession" going on in the U.S. … Industrial production year-over-year is "already in recessionary conditions,". Gundlach is not alone.
ValueWalk ?@valuewalk – Strong Dollar Leading To U.S. Industrial Profit Recession In 2016 – SocGen http://www.valuewalk.com/2015/11/strong-dollar-recession/ … $$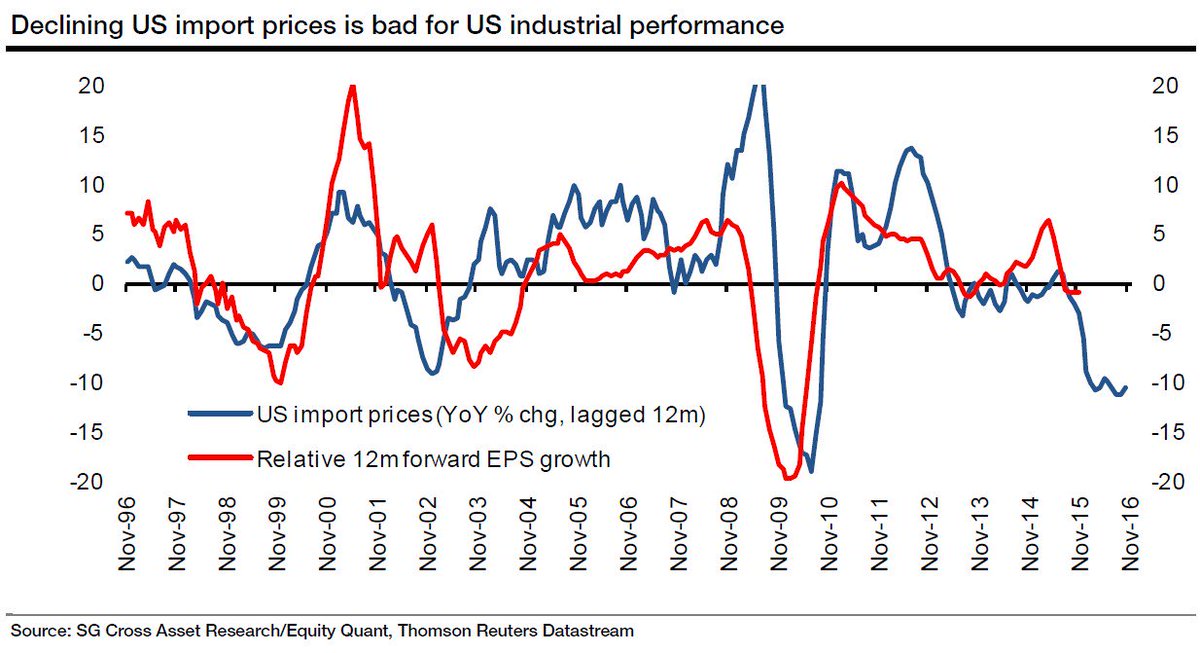 Then you have the chart that Gundlach described as  "one of the scariest indicators in the world"
As the article in Advisor Perspectives wrote "The chart shows that nominal global GDP growth on a dollar-denominated basis is -5.0% on a year-over-year basis. It was this low only twice, in 2009 and 1982,"
What about profit margins? The article quoted Gundlach – "If you want to be depressed and lose a lot of sleep, look at this chart of profit margins"
If you look at the charts above, you just have to ask why the 30-year yield is still above 3%. We won't answer because we are resolved to avoid using the F-word this week.
3.Credit
Just as Treasuries have rallied two weeks in a row, High Yield ETFs have declined two weeks in a row.
FxMacro ?@fxmacro – The HY market is trading much worse than the indices indicate and forget about Levered Loans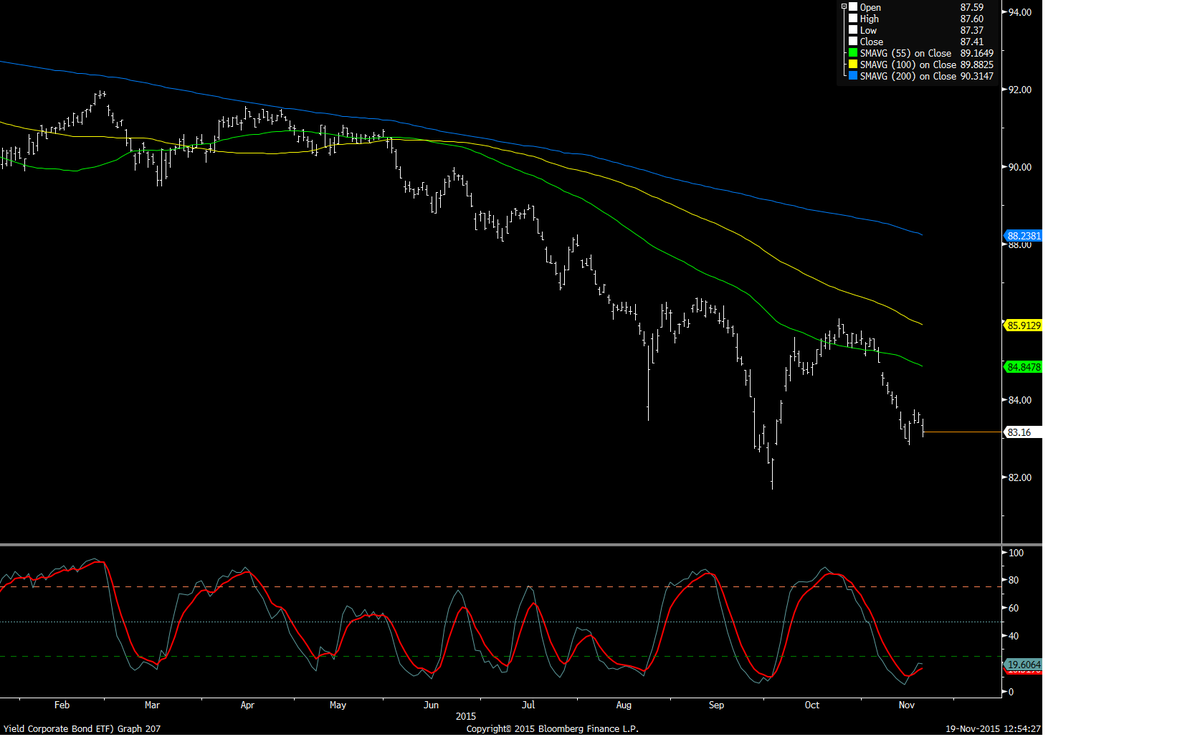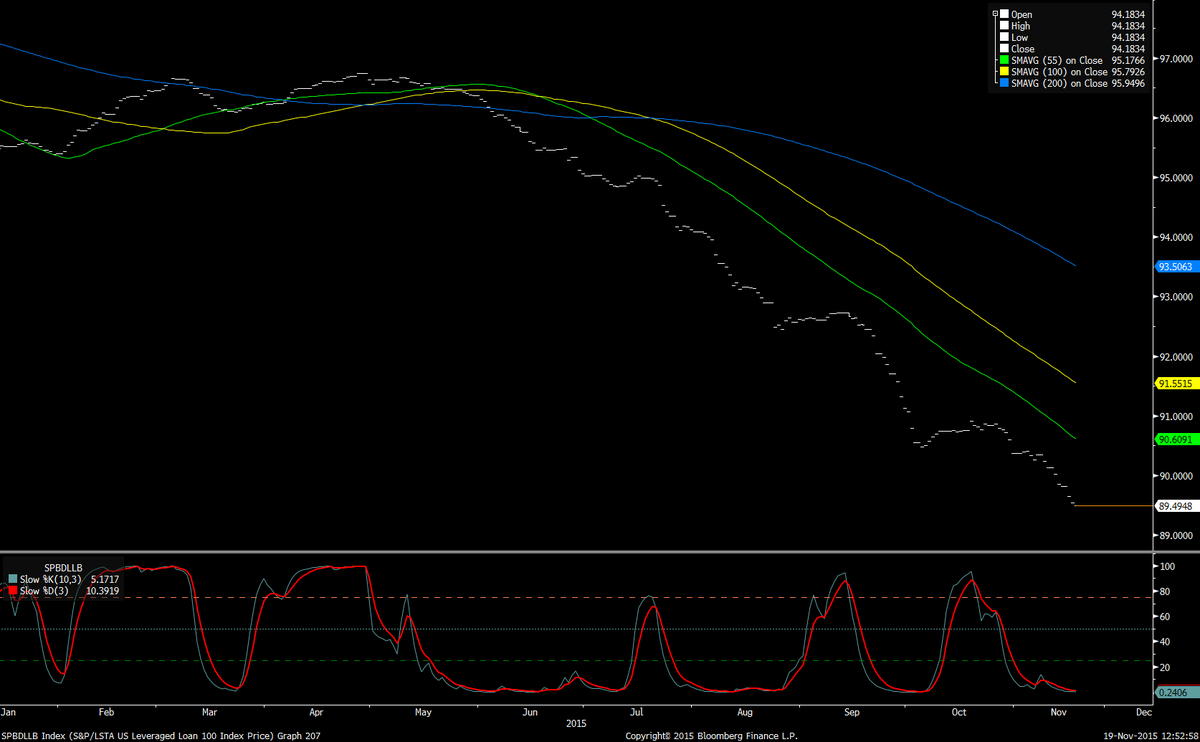 ValueWalk ?@valuewalk – Could High-Yield ETFs Be The New CDOs? http://bit.ly/1T1G9e2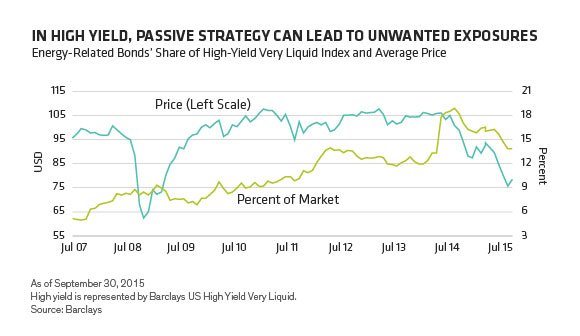 What about the spread between credit & equities? 
Todd Harrison ?@todd_harrison – Corporate Credit vs. $SPX – If bonds are the smart money, this is no bueno for equities. $HYG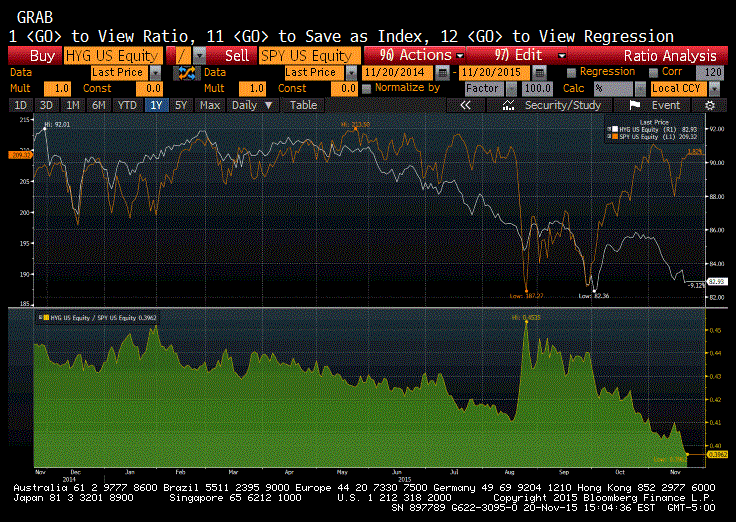 4. Stocks -Analogs, Europe & EM
Jim Rogers ?@AllJimRogers – History Rhymes: A Look At A Pair Of Popular Stock Market Analogs http://www.snsanalytics.com/uD1ny9
The referenced article is by Jesse Felder and discusses both 2011 & 1937 as analogs for the 2015 SPX. It is an interesting article which we leave for readers to read.
What about the rally in European stocks?
Thursday – Dana Lyons ?@JLyonsFundMgmt – ChOTD-11/19/15  European Equities Bumping Into Multiple Resistance; "Easy" Money Over? $STOXX600 $FEZ $HEDJ $VGK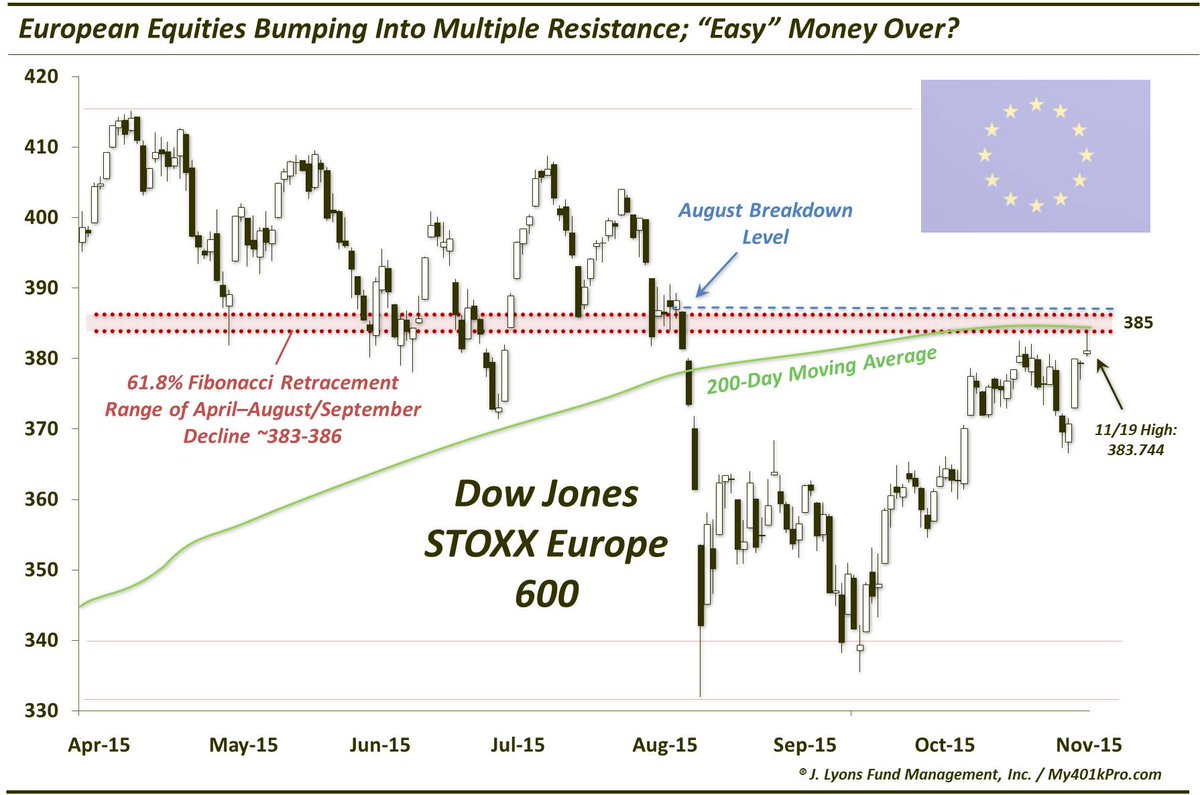 Emerging markets have enjoyed a strong week especially beaten down markets like Russia & Brazil. Is that fundamental or just an oversold bounce? One view is:
Joseph Weisenthal ?@TheStalwart – The Citigroup economic surprise index for emerging markets recently turned positive for the first time since April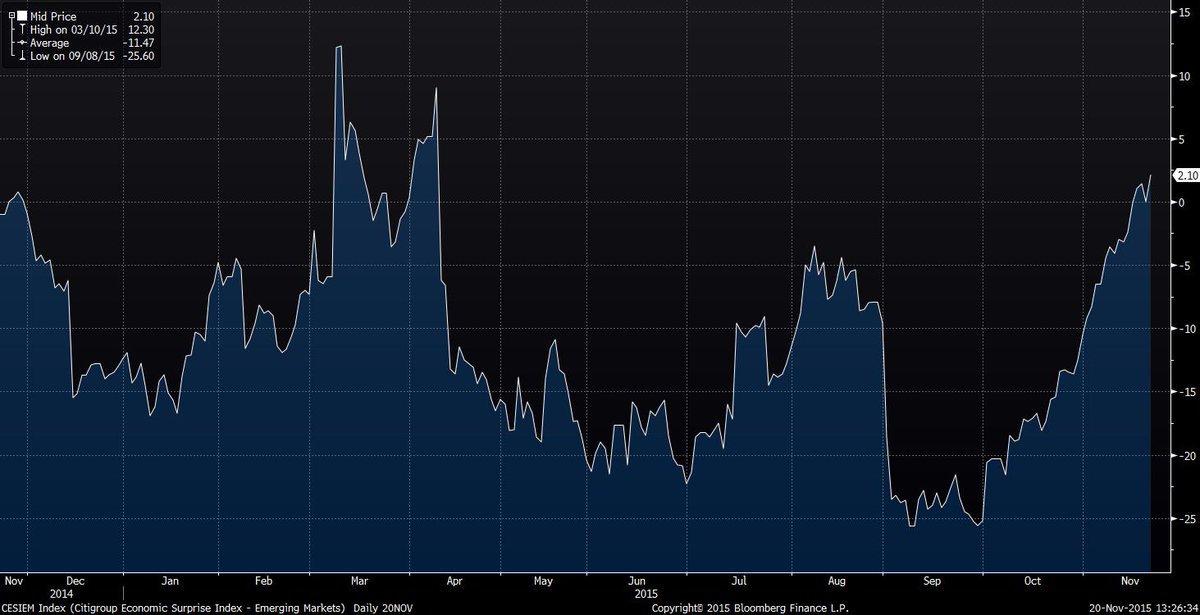 Another view:
Mike Bird ?@Birdyword – Emerging market charts that scream 'debt overhang' http://uk.businessinsider.com/ubs-research-emerging-market-impact-from-corporate-debt-overhang-2015-11 …
Gundlach is relatively sanguine about Emerging Market bonds despite the above "debt overhang":
"Emerging-market dollar-denominated bonds were a "little bit cheap," he said. If the dollar stays controlled (the DXY below 100), Gundlach believes that emerging-market bonds would be the best-performing sector in the fixed income markets. He said that if emerging-markets bonds do well, investors would be fine in dollar-denominate bonds and it would not be necessary to hold local-currency bonds."
5. Dollar, Gold & Oil
The U.S. Dollar has risen two weeks in a row. Naturally, Gold & Oil have declined two weeks in a row not to mention base metals like copper. But if the above data is correct and the action in credit stays weak, a near term ceiling in the U.S. Dollar may not be that far away. May be that is why we found more bullish comments on Gold than bearish.
Elliott Wave Int'l ?@elliottwaveintl – This one indicator has a good history of marking gold's recent tops and bottoms: http://bit.ly/1OPen5Y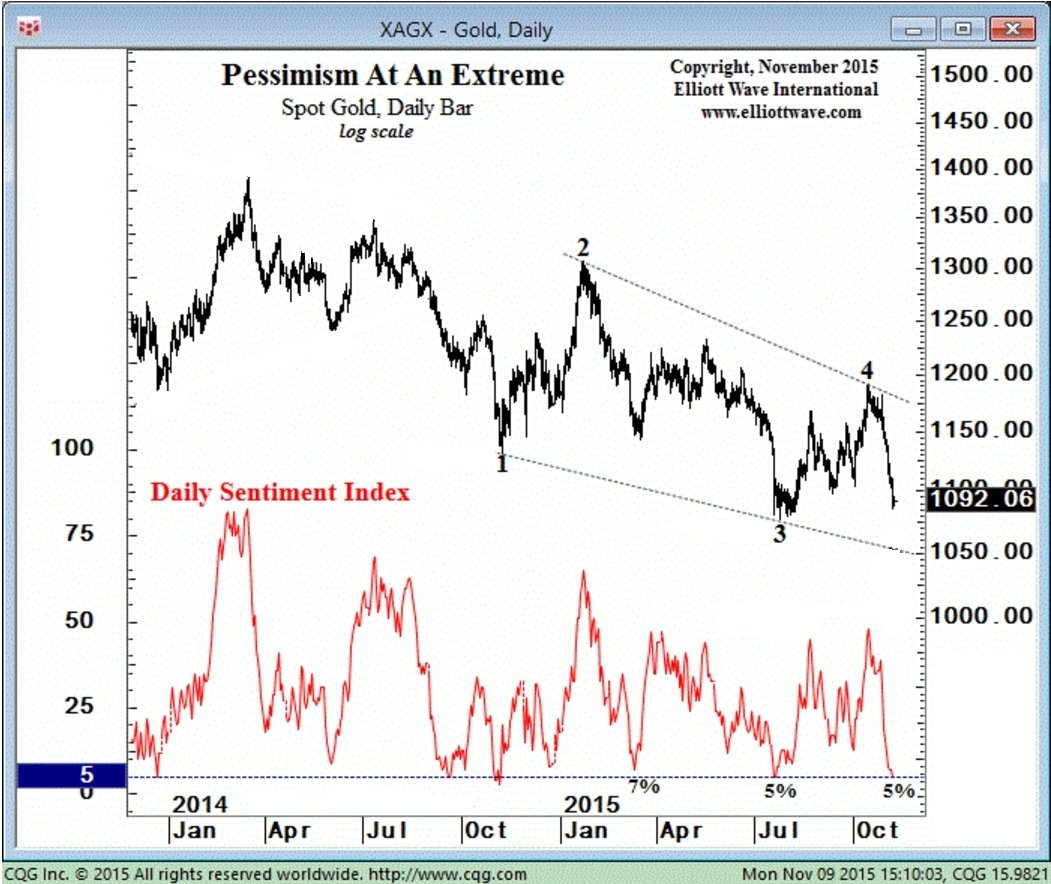 and,
Urban Carmel ?@ukarlewitz – Maybe a mini H&S bottom forming in $GLD 60′ w/ NL 104 area
What about Silver?
See It Market ?@seeitmarket – New Post – "Silver Price Patterns Imply A Bottom Is Nearing" http://www.seeitmarket.com/price-patterns-imply-silver-etf-slv-price-bottom-is-near-14999/ … by @TradingOnMark $SLV $SI_F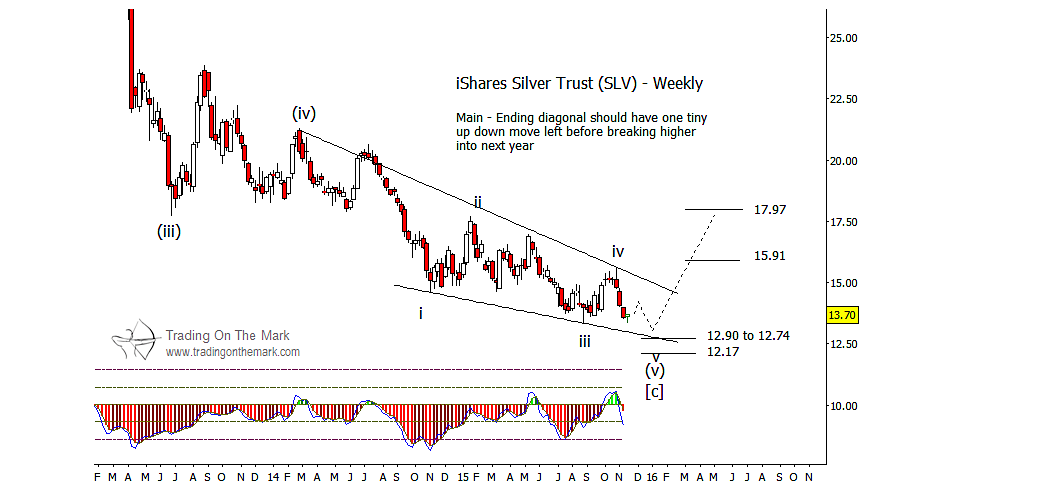 But can a real bottom be formed without a credit accident or at least a credit scare?
Chris Prybal ?@ChrisPrybal – Credit Default Swaps on Barrick Gold $ABX have reached a critical apex. My contrarian "long dollar" play…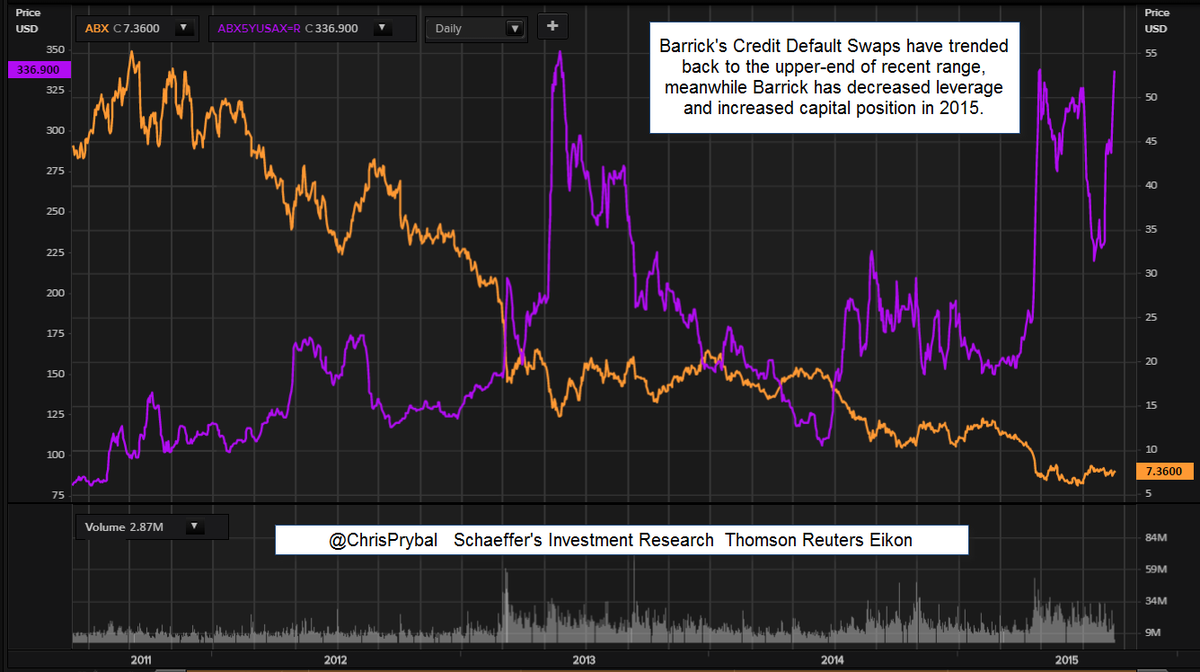 But unlike Gold, we find it hard to find bullish comments on oil except:
Urban Carmel ?@ukarlewitz – $USO still hasn't broken 12.8 tail down low. Day 6 of a maybe base
We found several in the following vein:
Gavekal Capital ?@GaveKalCapital – Is Crude Oil Set to Go the way of Copper, Lumber and Gold on a Breakout of the USD? http://blog.gavekalcapital.com/?p=9779 
and,
Bloomberg TV ?@BloombergTV – Here's why oil could go way, way lower, according to Gary Shilling http://bloom.bg/1QPiPkp  @agaryshilling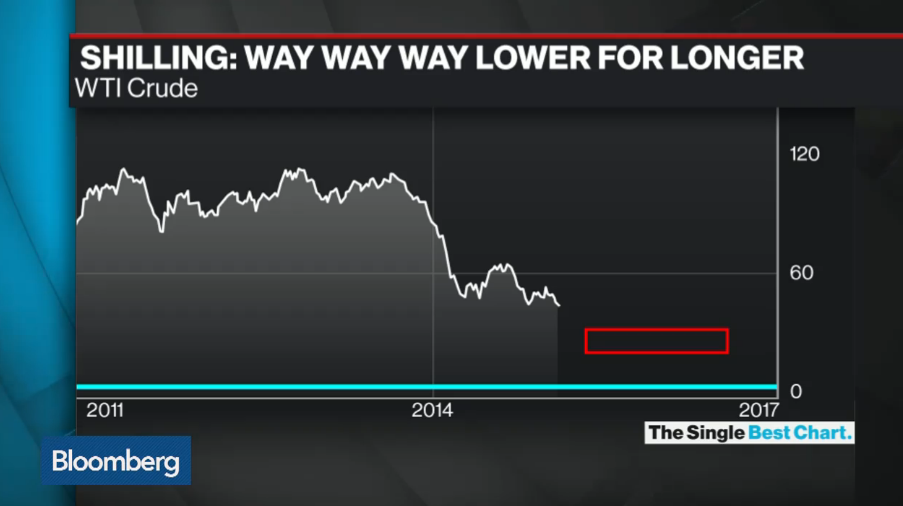 Speaking of lumber, Tom McClellan makes the following point in his article Housing Starts – Lumber's Message:
"Here we are, facing a likely start to Fed rate hikes at the Dec. 15-16, just as lumber is saying that a downturn in economic activity is coming.  We know from watching the 2-year T-Note yield that the Fed should have started this process a long time ago.  So now they appear to be finally getting around to doing the right thing, at the wrong time."
Is that why the Treasury yield curve has flattened two weeks in a row?
6. Foreign Affairs or Just Fun?
Alyssa Ayres, now a Senior Fellow at Council of Foreign Relations, was the Deputy Assistant Secretary for the Indian Subcontinent in the first term of the Obama Administration. Her tweets are usually serious and formal. She surprised us this past Tuesday morning with the tweet below:
Alyssa Ayres ?@AyresAlyssa – .@youtube suggested that I watch this video: "Koreans React to Indian Actresses" http://youtu.be/kVp0GvjaSHA
Kudos to Ms. Ayres. It feels good to see that our diplomats have a sense of humor and a touch of lightness. Watch at least a bit of this clip:
[embedyt] http://www.youtube.com/watch?v=kVp0GvjaSHA[/embedyt]
All these actresses are our favorites. So we thought we would introduce readers to some of them via highly popular clips:
6.1 Deepika Padukone – John Travolta said recently "I just saw Deepika Padukone in Ram Leela and I loved her in it! " Below is a clip of Deepika in Ram Leela, a clip that already has received 55 million hits
[embedyt] http://www.youtube.com/watch?v=cLIQzxgFeNE[/embedyt]
6.2 Priyanka Chopra – a previous Miss World & now the star of the ABC series Quantico (Sunday 10:00 pm). This short clip has 29 million hits and the longer clip has almost 18 million hits.
[embedyt] http://www.youtube.com/watch?v=bC47NhozqG4[/embedyt]
6.3 Katrina Kaif – in an answer to Rihana in one of the biggest blockbuster songs. This clip with 43 million hits is one of many clips of this song on You Tube.
[embedyt] http://www.youtube.com/watch?v=ZTmF2v59CtI[/embedyt]
Enjoy these songs, if you have taste for a beauty from Scotland, with what is recommended below:
DK1 ?@canuck2usa Thursday – Tonight's Juice 
You could watch the above dances & drink your favorite spirit at home or at work. Or you could do that live in a magical place that looks something like this: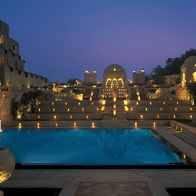 Send your feedback to [email protected] Or @MacroViewpoints on Twitter