This week the Finance Ministry of India finally bit the bullet and named Dr. Urjit Patel, the Deputy Governor of the Reserve Bank, as the new Governor. Dr. Patel will take over from Dr. Rajan next week. This was a sensible choice, one that confirms our voiced opinion about the pragmatism above all style of PM Modi. 
This should be a seamless transition just like the transition from Fed Chairman Alan Greenspan to Fed Chairman Ben Bernanke. Dr. Bernanke had served under Chairman Greenspan just as Dr. Patel has served under Governor Rajan. Patel & Rajan seem to share the same monetary approach just as Bernanke & Greenspan did.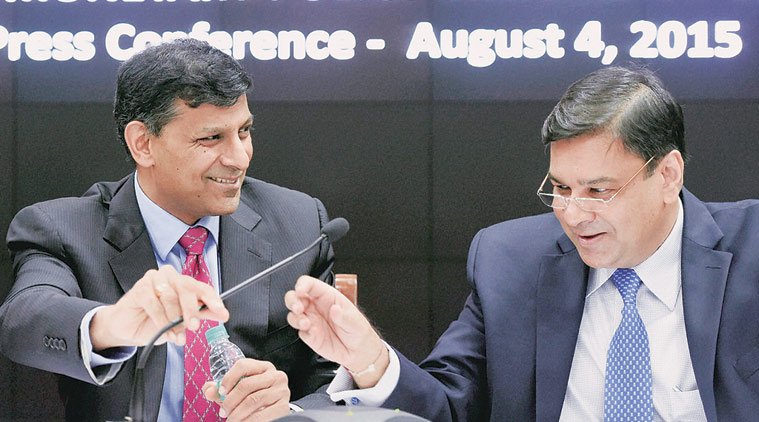 There is another similarity to the two pairs. Bernanke was vocal and seemed to enjoy disseminating his opinions whereas Greenspan's motto was if you understood what he was saying then he had failed. Rajan was even more vocal than Bernanke, actually wrongly so. Bernanke never ventured outside monetary policy in his public comments & speeches. In contrast, Rajan often overreached & abused his position to opine on issues that had nothing to do with monetary policy.
Urjit Patel seems to be more in the Greenspan mold. Look at his answer to a reporter's question about a fall in the Rupee weighing on RBI's future actions:
"What is internalized in terms of policy action emanating from external developments is looking only at the headline inflation number and therefore it is one of many factors that would go into this decision and we would not be focusing on the external value or the volatility in the environment directly, but only indirectly through its feedback into the headline inflation rate".
Alan Greenspan would approve, we think.  
You can't talk about the Bernanke-Greenspan tradition without bringing up a caveat or a misgiving about the Fed chair transitions. Remember what happened when Greenspan took over from Chairman Volcker – October 1987 crash. Bernanke took over on February 1, 2006 and look what happened in September 2008. Yellen took over on February 1, 2014 and now she is signalling an imminent hike in the Fed Funds rate, possibly as early as September 21, 2016.
Napolean was said to prefer "lucky" Generals over "smart" ones. Investors have the same preference. And Rajan proved to be a lucky central banker. He took charge at the bottom of the Rupee value & the Indian stock market. Almost all the decline was finished by the time he took over. The rest of his term was protected by the unprecedented global easing by all the major central banks. They let the world be awash in liquidity. So Rajan never faced the one test he was trying to prepare for – a tightening cycle by the US Federal Reserve with a resultant withdrawal of global liquidity from emerging markets. That is why we call him a "lucky" central banker.  
Will Urjit Patel prove as lucky? We doubt it unless the US Fed doesn't raise rates for the next three years. That might happen if & probably only if the US & the rest of the developed world fall into a recession. And that would not be so good for Urjit Patel either. 
Regardless of the specific scenario he could face, Dr. Patel's term could prove taxing and require lot of diligent effort. Fortunately he has the background, the experience and the right name. His predecessor's name meant "king" and he often behaved as such. Dr. Patel's first name, derived from Urjaa or energy, means the energetic one. He will have prove worthy of that to steer Indian monetary policy and India's economy through troubled waters over the next three years. Our best wishes for his success.
Send your feedback to [email protected] Or @MacroViewpoints on Twitter,