There was such glee in so many places & among so many people by Thursday evening. The consummation they had so devoutly wished for the past three & half years was now here or just about so. They ignored the National Emergency declared by NY Governor Cuomo to use texts, email, WhatsApp to say that President Trump (they used different terms, of course) is completely delusional & not up to the task; that he is helpless & clueless. To be fair, much of this was about President Trump's speech on Wednesday night.
Then on Thursday, NY Governor Cuomo & NYC Mayor DiBlasio declared Emergency in New York but refused to either shut down New York or close schools. During their declaration & press conference, both these Democrat officials refused to comment on questions about the President & the Federal Government. That, in itself, should have been seen as a clue, but it was not. 
The utter joy among the Anti-Trump crowd was not even the least bit diluted by what was happening in New York. One message we saw exhibits the mood:
"They tried everything; demonstrations, objections, impeachments, controlling the media, slander……in the end it was a droplet from Wuhan that took him down"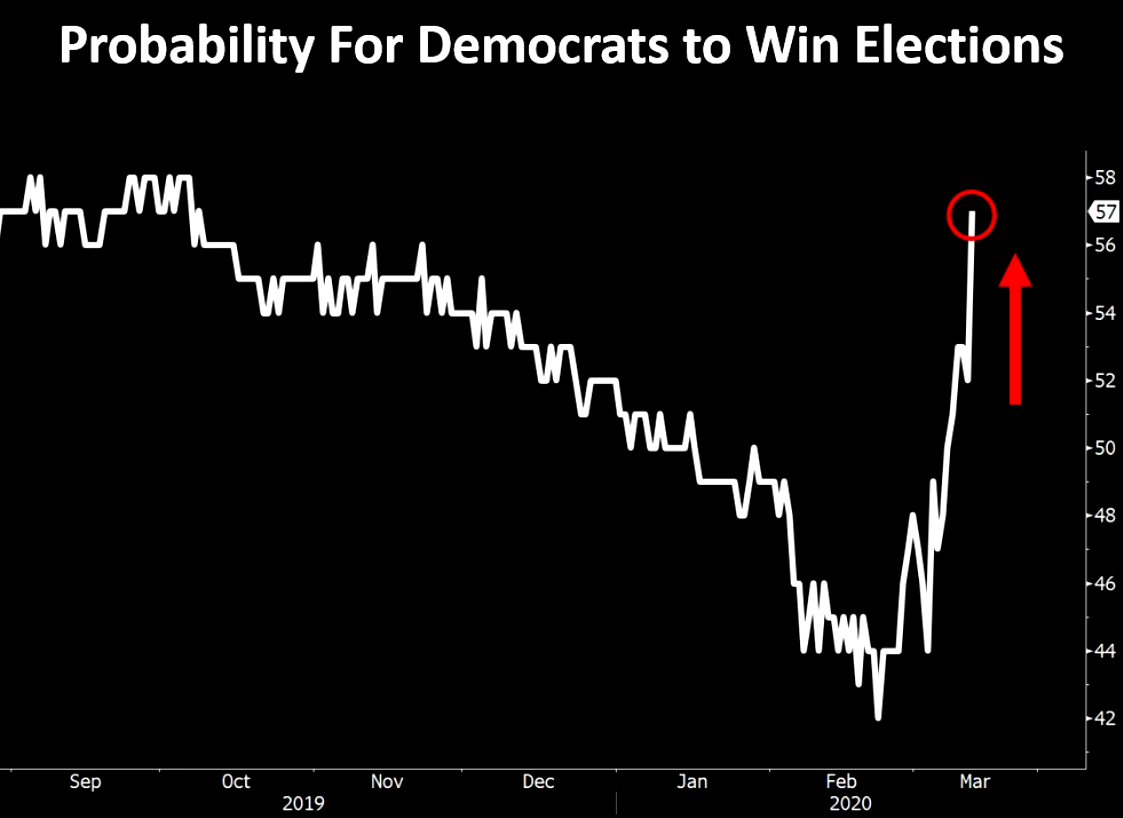 Is that how Imperial Japan felt after Pearl Harbor? At least Japan had won that attack on Pearl Harbor. What had the Democrats won by this past Thursday? They forgot the lessons of previous wars. 
It takes time for America to get its act together & even when Americans begin doing so, it isn't visible. But finally when the plan is ready, when the infrastructure is mobilized, and the plan is launched, the power of America is unleashed.
That was precisely what was going on for the past two weeks as Dr. Deborah Birx, a legend in the fight against HIV & now White House Coronavirus Response coordinator, said on Friday:
"I understand that a lot of this behind the scenes action over the last couple of weeks was invisible to the Press & the American people… "
OK, but what has now been unleashed? Dr. Birx announced during Friday's National Emergency Declaration by President Trump that,
"Last night the initial company Roche received FDA approval, moving from request to development to approval in record time. This innovative approach centered fully on unleashing the power of the private sector focusing on providing convenient testing to hundreds of thousands of Americans within short turnaround time….. this intense effort has not only resulted in innovative solutions but also in automated high through put system bringing the availability of this quality CoronaVirus testing to the American people at unprecedented speed".
Now look again at the above chart of Democrat probability to win the election. As Dr. Birx & the White House CoronaVirus Team was building this public-private partnership during the past two weeks, the absence of news was leading Democrats to heights of glee.
Then came Friday's White House National Emergency Declaration by President Trump and his introduction of Dr. Birx & the CEOs of US private sector companies that will be partners in this launch. Watch it & see the confident effective power being unleashed:
Which American does not know of Walmart, Target, Walgreens & CVS and their stores across America? Which American patient has not got a test done at or at least heard of LabCorp & Qwest? CEOs of all these companies spoke at President Trump's Emergency Declaration & committed their organizations to the CoronaVirus effort. 
Not only was this an awesome display of the power & reach of this partnership but it created a feeling of confidence in its success. No wonder the stock market exploded into a 1,500 point (almost 7% rally) in 25 minutes into Friday's close.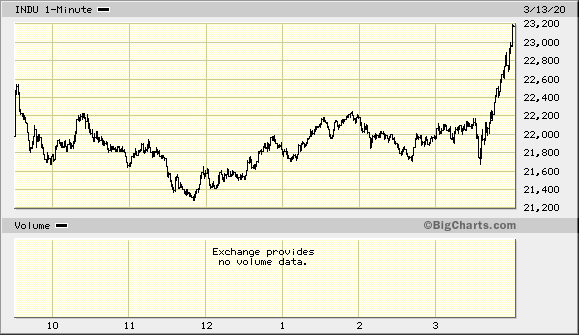 The effectiveness, the power & reach of the White House plan & the incredibly enthusiastic reaction of the stock market literally coerced Nancy Pelosi & Chuch Schumer, Democrat leaders of the House & the Senate, to come to an agreement with President Trump.
Donald J. Trump

@realDonaldTrump – Good teamwork between Republicans & Democrats as the House passes the big CoronaVirus Relief Bill. People really pulled together. Nice to see!
Economic Damage from CoronaVirus
But what about the damage to the US Economy and to countless small business owners & workers who will suffer income loss & even job loss because of the CoronaVirus? As announced by National Economic Council Director Larry Kudlow on Sean Hannity show on Friday, the total economic stimulus from President Trump's drive is $400 billion including deferment without penalties or interest the student loan payments for hundreds of thousands of Millenials. It allows purchase of 75 million barrels of oil from US shale producers to save jobs of workers in the energy sector & to protect them from the price war between Saudi Arabia & Russia. 
The US Federal Reserve launched a Trillion Dollar repo support plan to free the Treasury bond market from congestion & to enable rates to go down. Further the Federal Reserve is expected to lower interest rates during Wednesday's Fed meeting.  
So the plan announced by President Trump on Friday is not only directed at containing & mitigating the CoronaVirus epidemic but also directed at protecting the US economy and US businesses & workers from a slowdown that might result from the epidemic. 
Stopping incoming contagion from abroad
That this Virus originated in & initially spread from China is now clear. But China is probably not the epicenter any more. Thanks to brutally severe methods, it looks like China has arrested the growth of this epidemic in China. But now America faces a bigger, graver & a much closer danger. 
As Dr. Anthony Fauci, the epidemics expert in the CoronaVirus team, said on Friday "Today, the new China is Europe". We all know that Italy is in a state of quarantine. But this morning's news says that Spain has now prohibited all non-force travel. The decree reads:
"Citizens "may only circulate on public use roads to carry out the following activities: a) acquisition of food, pharmaceuticals and basic necessities. b) Assistance to health centers. c) Travel to the workplace to carry out their work, professional or business provision. d) Return to the place of habitual residence. e) Assistance and care for the elderly, minors, dependents, people with disabilities or especially vulnerable people. f) Displacement to financial entities. g) Due to force majeure or need. h) Any other activity of an analogous nature duly justified ""
How does the rest of Europe look?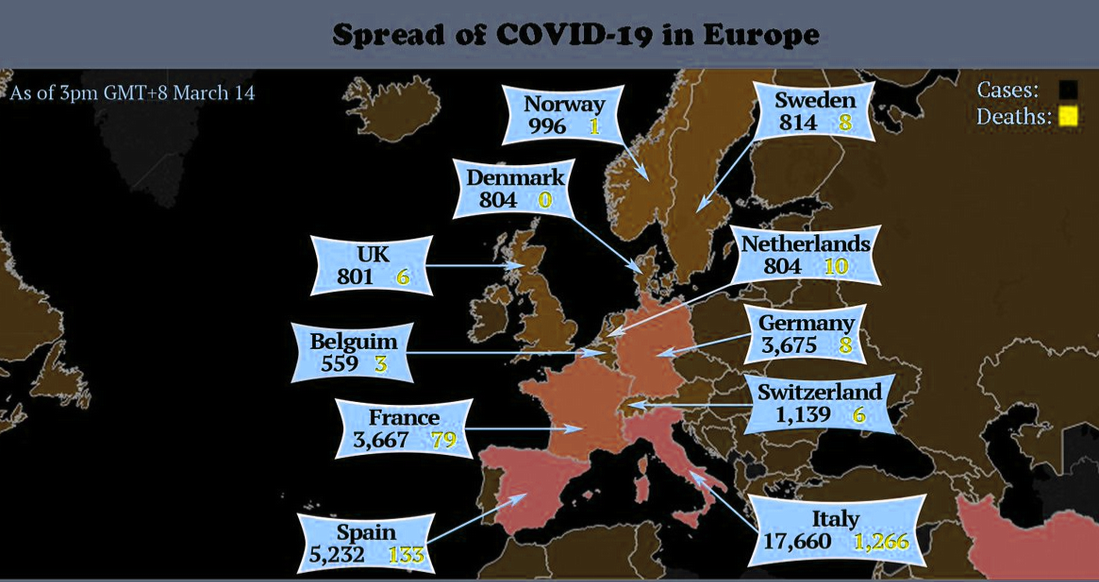 Now President Trump looks smart in announcing on Wednesday a travel ban on Europeans entering America. We can't think of any American we know who would want to import non-US cases of CoronaVirus into America. Yet former Vice President Biden angrily denounced this travel ban & termed it as "racist". Earlier this year, Biden promised to free health care to all who enter America legally or illegally. How does that seem sensible or Presidential as the US Health Care system is about to undertake enormous responsibility & stress of handling American CoronaVirus patients?
We don't know what will happen in the next few months. But we do think that if President Trump remains focused on both CoronaVirus & the US economy and if the American people see & feel that he is marshaling the entire power of America to do both, they will support him.
After all, America is now engaged in two simultaneous wars, one against an unseen & dangerous enemy called CoronaVirus & second against the economic slowdown in China, Europe & the world from affecting the US Economy. And the American people have always supported their commander-in-chief who is fighting a war for America effectively, sensibly & with total dedication.
The alternative would be President Biden or President Sanders running the country. We can't even imagine the horror of that possibility. 
Send your feedback to [email protected] Or @MacroViewpoints on Twitter