This Blog's Disclaimer:  This is an article that expresses our personal opinions about comments about events made on Television, Tweeter, and in Print. It is NOT intended to provide any investment advice of any type whatsoever. No one should base any investing decisions or conclusions based on anything written in or inferred from this article. Macro Viewpoints & its affiliates expressly disclaim all liability in respect to actions taken based on any or all of the information in this article. Investing is a serious matter and all investment decisions should only be taken after a detailed discussion with your investment advisor and should be subject to your objectives, suitability requirements and risk tolerance.
A month ago on February 5, we wrote our first article on this topic titled Adani Washout – Our Reflections. As we admitted in that article at that time, "we had hardly any knowledge about the name Adani let alone any familiarity or knowledge about either the group's operations or its finances". As we wrote then, we got interested because the story was told in Fin TV with "a sense of  calamity of never-ever-seen proportions". 
We are followers of Bhagvaan Shankar and his Taandav, the dance of destruction that leads to a new revival. Moving forward to the time of Alexander, we also recall that VishnuGupt Chaanakya, the great StateCraftist/Economist, always taught his students that a society with discontented turmoil is the ideal one for growth & success. 
Either because of these teachings or due to our own simple nature, we love intensely high volatility in markets and assets. By its very nature such volatility is transitory and if you manage to learn the right direction from it, you can have a lot of fun & even perhaps win a bit. 
That is why we began looking at the intense media & markets storm that engulfed the Adani group stocks. Our style is not to engage in elaborate & long-winded analysis. As we wrote on February 5, "we are simple folks with simple minds". We prefer to look at complexity & extract some simple truths. 
And that worked very well over the past month. We navigated downstream from Adani Washout of February 5 to a weaker Adani Turbulence of February 15 to this week's Adani Stabilization.  As you will see below, it was all about simplicity of thinking.
But before we go on, we want to draw attention of readers to our Disclaimer above and re-emphasize our warning to all readers:
We love markets; we like to think about them & write about them on a weekly basis. That is our pleasure & joy. We know & have said repeatedly in our articles that we are simple folks with simple minds. 

Therefore we deliberately & decidedly warn every reader that our views are merely our views and are not actionable in any way whatsoever. And if, you choose to read further, you will be deemed to have read our disclaimer above & agreed to abide by it. 
1.The centrality of the Mega Deal 
Remember why Mr. Adani was not in Mumbai when the media storm hit about the group's FPO offering? We remind readers that he was in Haifa, Israel to close the purchase of the Haifa port. As we wrote then, "He obviously though Haifa Port was a much bigger deal than his group's FPO offering". 
As we wrote on February 5, we thought the Haifa Port deal was a mega deal, a "Lawrence of Arabia" type mega deal. Our view was simple:
"Everybody knows how interested Saudi Arabia and UAE are to add other business lines to diversify from the oil business. The above transport route could be the trigger for such diversification. And Israel then can be truly a part of the Arabian Peninsula. Israeli technology & military strength, Saudi & UAE financial strength & Indian business could really make this route a huge center of business transport between Europe and the Indian Ocean."
And how did we link this deal to we termed as a "potential life boat" for the Adani group?
"is it likely that UAE, Saudi & other Government Funds might throw a financial life boat to the Adani Group if it needs one in the markets washout they are suffering now?  Our guess is yes and that is why we are not signing up to the "Adani is finished" chorus in Indian & US financial media right now." 
What about Israelis? You couldn't find more hard-nosed people in the world. For example, look what the Commander of US-JSOC tells his number 2 in a Forsyth bestseller:
"You know the Israelis. They don't give away sand in the Negev."
There are over 10 large & well known container port management companies in the world. So if Israel wanted to use the financing turmoil to replace the Adani group by another bigger & more established operator, they could have done so. Not only did they not show any signs of wavering, the Israeli Ambassador publicly stated their unstinting support & happiness with Adani managing the port:
" the purchase of the Haifa port by Adani, I think that it was a very important move from our point of view; .. we have 2 ports in the Mediterranean; its a strategic asset & … the fact that we are giving it to an Indian company, I think from our point of view its a symbolic sign of deep trust; ..they have the potential to make the Haifa port the port it needs to be & to utilize it to increase trade in the region .. we are very happy with this …"s
This was on Wednesday, February 22. We think this was a crucial declaration from Israel, one that gave confidence to Sovereign Wealth funds in the Middle East. Bloomberg reported over that weekend that the Adani Group had arranged a roadshow to global investors in Singapore & Hong Kong beginning Monday, February 27. How did it go? Listen to Bloomberg's Annabelle Droulers asking Adani CFO Jugeshinder Singh on February 28 about the roadshow in a Bloomberg exclusive: 
After the roadshow, Reuters reported, citing a memo that was circulated to participants, that the Adani Group had secured a $3 billion in credit from a Sovereign Wealth Fund in the Middle East and that it could be increased to $5 billion, per Reuters sources. 
2. From Hong Kong, Singapore & Middle East to USA & New York City
As we wrote in our Adani Turbulence article dated February 19, a very big step had been taken by highly respected distressed debt investors like Oaktree in buying Adani Dollar Bonds. That worked very well because, as we wrote on February 19,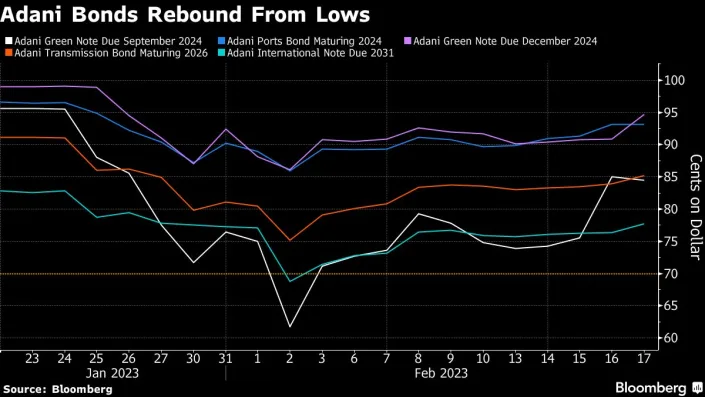 Many may not understand how absolutely critical this rally in Adani Bonds was. Equity investors are "scared" to buy stocks in a company whose bonds are not acting well. In fact, famous emerging markets investor Mark Mobius said they were scared away from the Adani FPO offering because of worries about Adani debt. So will Mark Mobius step up to Adani group stocks now?
Whether he does or not, a highly regarded emerging markets equity fund stepped up big.  Fast forward to the stunning announcement on Thursday March 2 by New York based GQG Partners:
"GQG Partners, a leading US based Global Equity investment boutique, announced today the completion of a INR 15,446 Crore (USD 1.87 billion) in a series of secondary block trade transactions in the Adani Portfolio companies – Adani Ports and Special Economic Zone Limited, Adani Green Energy Limited, Adani Transmission Limited and Adani Enterprises Limited (all listed on the Bombay Stock Exchange (BSE) and National Stock Exchange(NSE))."
Look at the 10-day charts of both Adani Enterprises & Adani Ports to see the impact of this GQG purchase: :
This is why Turmoil & Turbulence is as welcome today to smart investors as it was to great Indian figures quoted above. As Annabelle Droulers tells us in the clip below, Mr. Rajiv Jain of GQG has been interested in Adani shares for the past five years or so but did not buy because of the valuation. This Adani Turbulence gave him the opportunity to buy Adani shares just as the fears about Adani Debt gave Oaktree & others the opportunity to buy Adani bonds. 
This enables us to get back to Simplicity 2, the first one being the Haifa deal discussed above.
3. Indian Infrastructure
As their media release noted,
"The investment has made GQG a key investor in the development and growth of critical
Indian infrastructure".
It also quotes Rajiv Jain, Chairman & CIO of GQG Partners as below:
"I am excited to have initiated positions in the Adani companies. Adani companies own and operate some of the largest and most important infrastructure assets throughout India and around the world. Gautam Adani is widely regarded as among the best entrepreneurs of his generation. We believe that the long-term growth prospects for these companies are substantial, and we are pleased to be investing in companies that will help advance India's economy and energy infrastructure, including their energy transition over the long-run."
From our point of view, a look at the Financial Times chart below is enough: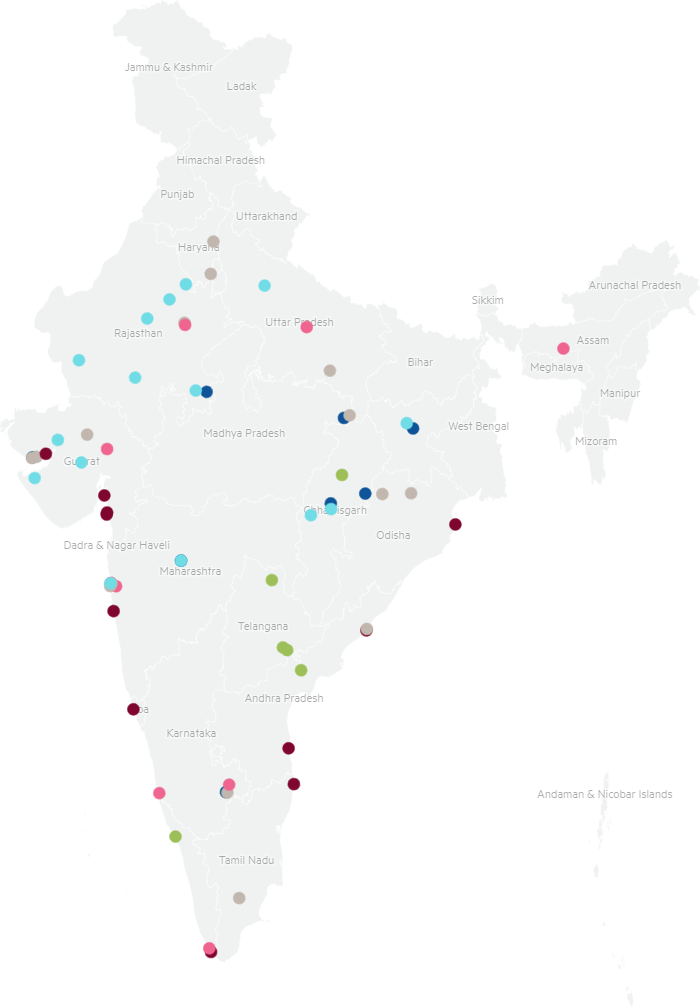 It is now widely expected that India will grow into the 3rd largest economy in 7-10 years. That means trade in goods & services will increase in a secular manner for that period. Now look at the chart above of Adani assets and imagine the growth in business for the Adani assets.  
So between our first simple story of Haifa-UAE-India transport opportunities and the second simple story of the Adani assets in India, what's not to like? The simple answer has been valuation. But as, Rajiv Jain & GQG realized, that was solved by the Adani Washout & Turbulence. What an opportunity for them & what courage to step up & seize it!
Kudos to Oaktree & their cohort for getting Adani Bonds on the cheap and Kudos to Rajiv Jain & GQG for getting Adani group shares on the cheap. As they say, fortune favors the brave!
Finally, remember the nonsense you heard & read about whether the Adani situation would sully reputation of Indian market or make investors reticent about the Indian market. We had thought this so utterly dumb that we wondered on February 5 whether a long INDA & short SPY trade would make money. It was sort of an emotional thought but it has worked so far: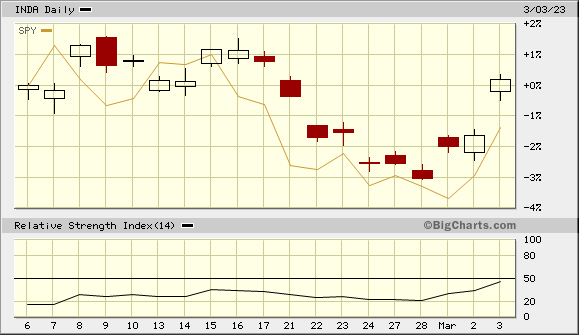 Kudos to Bloomberg's Annabelle Droulers for her fantastic work in chasing this story & presenting it factually, sensibly & with alacrity on Bloomberg TV. 
Send your feedback to [email protected] Or @MacroViewpoints on Twitter