Summary – A top-down review of interesting calls and comments made last week in Treasuries, monetary policy, economics, stocks, bonds & commodities. TAC is our acronym for Tweets, Articles, & Clips – our basic inputs for this article.
Editor's Note: In this series of articles, we clude important or interesting Tweets, Articles, Video Clips with our comments. This is an article that expresses our personal opinions about comments made on Television, Tweeter, and in Print. It is NOT intended to provide any investment advice of any type whatsoever. No one should base any investing decisions or conclusions based on anything written in or inferred from this article. Macro Viewpoints & its affiliates expressly disclaim all liability in respect to actions taken based on any or all of the information in this article. Investing is a serious matter and all investment decisions should only be taken after a detailed discussion with your investment advisor and should be subject to your objectives, suitability requirements and risk tolerance.
1."Nuts"
While a number of events of this week are worth commentary, nothing in our opinion is as critical as the semi-breakdown of long duration Treasuries. We think what happens to long duration Treasuries will reverberate across most if not all asset classes. 
What happened? As Warren Pies of 3Fourteen Research said on CNBC Closing Bell on Friday,
"the real impetus for the selloff (in long duration Treasuries) is tons of issuance – trillion dollars of issuance estimated for Q3; who is going to buy that? the Fed's not buying it;

banks are definitely not in a position to buy it

;

Foreigners have been stepping away from the bond market

; so you are talking about levered hedge funds & households & those are

price-sensitive buyers

; so

they need higher yields

;

that's where we are going

"
What if he proves right &, after perhaps a brief fall in 10-30 yields, Treasuries are sold again in late August & in September? To our pleasant surprise, CNBC's Tyler Mathisen said this is reminding him of 1987. Yes, that was the year of continuous sell off in long duration Treasuries coincident with a strong momentum rally in stocks. We do recall a WSJ article showing the diagram of the widening Jaw between Treasury prices going down vs. stock prices going up. Then came September and a selloff in stocks began. As we recall, the Dow was already down 10% as October 1987 began.
Apres that was the deluge! (To be clear, we didn't then follow financial markets a lot given that we had an honest regular job at that time). But with our weird way of thinking, that crash convinced us to join the investment business & a year later we began approaching major Wall Street firms for a job. Our assumption was that the Street would have laid off far more than they needed to by year-end 1988. Stupid reason to throw away a technology consulting career but in a totally weird way it worked. The Street was actually in a hiring mode for 1989 and we actually got interest from two mega firms. We chose the one who offered us first & moved to Manhattan. 
It was a revelation to a simple mind like ours that every tidal wave does eventually crest & dissipate & it pays to wait for early signs of that. And this week, we heard the same anti-wisdom about selling Treasuries Short after practically everyone had already done so. That prompted a smart man to say: 
"Taking advice from Ackman concerning short selling is like taking advice

from Napoleon

or the

German General Staff on how to invade Russia

," Icahn said. 
Mr. Ackman did come on & brag about jumping into what has been termed as "the most crowded trade" today, courtesy of @Schuldensuehner.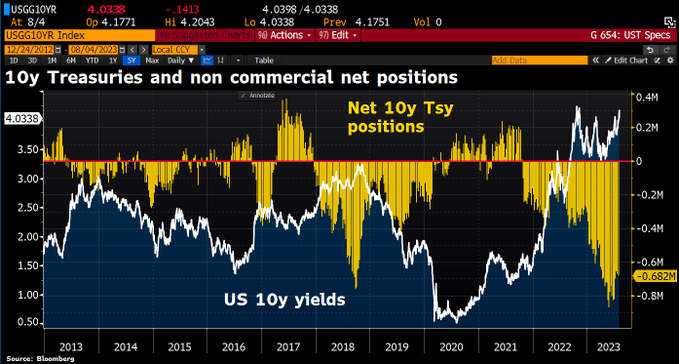 Mr. Ackman may well be proven right at least for awhile. Many who sold short November 87 Dow-Jones Puts in August 1987 (to take advantage of massively inflated implicit volatility) proved right for some time, as we recall from stories we heard at that time.
Just a couple of words from us, before we cite some smart folks on the Treasury market. If the real impetus for the Treasury sell-off is the trillion dollars of issuance in Q3, then isn't it already known in the markets? It was published on July 31, 2023 by Treasury.Gov:
During the July – September 2023 quarter,

Treasury expects to borrow $1.007 trillion

in privately-held net marketable debt, assuming an end-of-September cash balance of $650 billion.  
During the October – December 2023 quarter,

Treasury expects to borrow $852 billion

in privately-held net marketable debt, assuming an end-of-December cash balance of $750 billion
No wonder long duration Treasuries sold off in increasing massive volumes for 3 straight days from August 1 to August 3 for the reasons. Now it is a known story: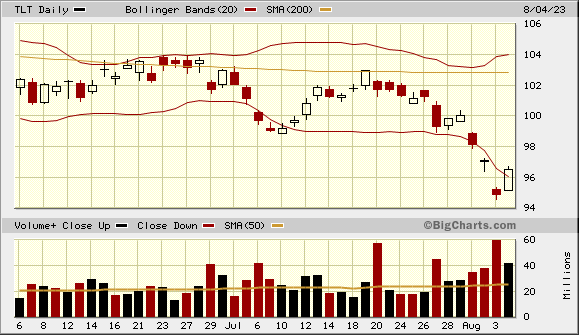 But Mr. Pies was actually understated compared to some chartists:
Philip Calrissian@Trading_Sunset – Aug 5 – I'm with Ackman. Multi-month structure on the US 10yr yield is a bull flag, and its playing out. Friday… was just some cooling. Soft target… around 4.70%, psy'5.00%, then 7.00%. I'm starting to wonder if Buffett will live long enough to

ever see the Fed cut rates again

.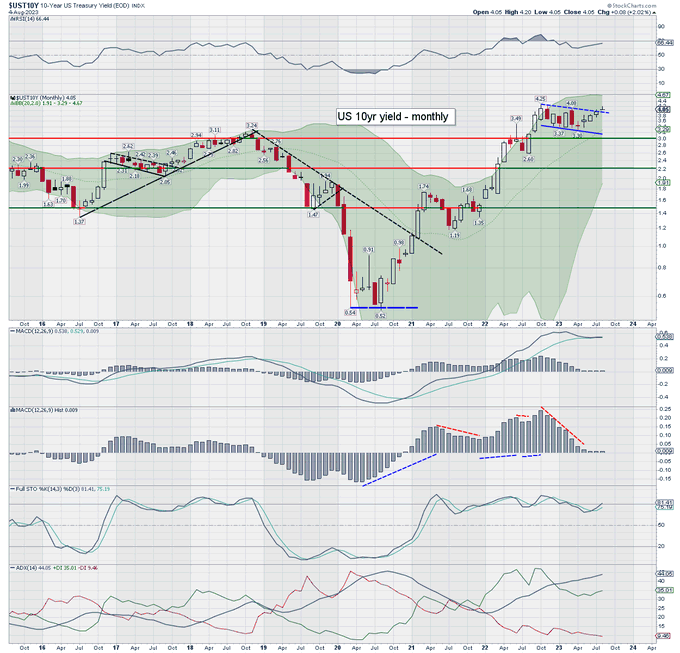 We don't know much but we feel certain that the US Economy will undergo a recession before the 10-yr yield reaches 7%. And the Fed will cut rates during that recession. Even if Treasury rates don't go that high, a much higher trajectory will shoot US budget to, if not the moon, but at least into space. And what does a Reserve Bank do when they see that? Buy Govt. Bonds as BoJ has for so long.
Via The Market Ear –

Hartnett writes: "…ultimately policy destination is

Yield Curve Control across G7

once next recession provokes fiscal policy panic & even higher government default risk."
Speaking of foreign demand,

David Marlin@Marlin_Capital – US economic data is increasingly surprising to the upside, while the rest of the world's economic data is increasingly surprising to the downside. Outside of the 2020 Covid shock, the gap between US and global data surprises is the largest on record. $SPY $EFA $EEM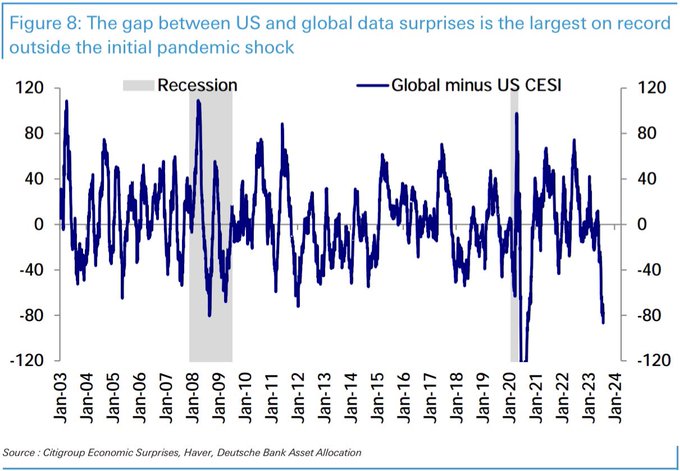 Mr. Pies also said on CNBC that "the only path for a positive return in bonds from here is a recession".  That was unlikely he said as "was reflected in the jobs report" on Friday. In that context,
Kantro@MichaelKantro – 6th consecutive month of negative Nonfarm Payroll revisions (bottom panel). That's occurred twice before: in 2H 2007 and 1H 2002. #hopE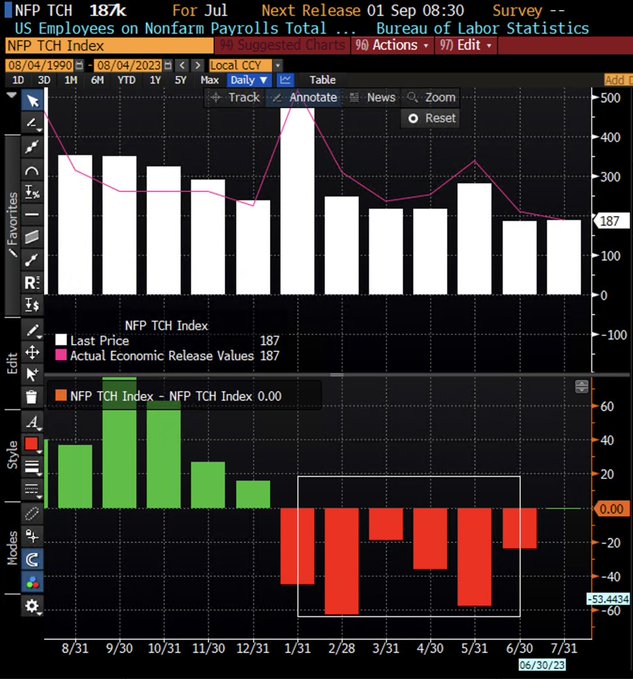 Getting back to the Napoleon & German High Command comment of Mr. Icahn, we do think the absolute conviction of Bill Ackman, Philip Calrissian (above) in shorting Treasuries reminds is of two of the surest* bets in history –
that Stalingrad was guaranteed to fall to Germans in WWII, 

capture of Moscow would help resuscitate Napoleon's conquest of Russia. 
If asked whether we are throwing in the towel in our buy Treasuries bet, our simple reply would be NUTS!, in honor of the encircled commander of the 101st Airborne in the Battle of the Bulge in 1944. Last week's selloff reminds us of the sudden blitzkrieg in Ardennes by the Germans in December 1994. It was a wipeout of the allied forward positions & it looked impossible for Bastogne to survive. But when his surrender was demanded by the Germans, the US Commander of the 101st Airborne said "Nuts".
Bastogne was encircled on December 25, 1944. Then came from the south the 3rd Army of Gen. Patton and on December 27, 1944 (left picture below) the encirclement of Bastogne was broken & by January 18, 1945, the Bulge was reduced to a slight curve (right picture below) :
It might be the single malt rolling inside us, but we do think that happens to long duration Treasuries. And, fortunately, there are many who seem to side with us against Ackman & (weirdly) against Karen Finerman of CNBC Fast Money.
It was CNBC's Dominic Chu who said that shorting Treasuries now was like shooting against a 90:10 probability. Then came Rick Santelli who pointed out on CNBC Fast Money that both the 30-yr & 10-yr have made a technical failure & created a double top. We don't know who runs CNBC Fast Money but honest coverage is not something they practice. They did not publish that good discussion & instead ONLY published a brief segment of Karen Finerman making her anti-Treasury case. 
Fortunately CNBC Options Action is made of sterner & more honest stuff. In fact, below was the best clip we saw on why Treasuries & TLT should be bought:
Treasurys in vogue?@Michael_Khouw explains why he's going long on bonds@CarterBWorth lays out the charts.@BrianStutland weighs in. pic.twitter.com/5R6benBkaF

— Options Action (@OptionsAction) August 4, 2023
Mike Khouw –We hit peak bearishness for Treasuries … option markets also hit peak bearishness in TLT … this week we got very close to the taper tantrum we saw in other periods of real bearish sentiment – I am kinda induced to take the other side of the trade – Buy TLT Dec 100 call for $2.63. 
Carter Worth – Rates peaked 5-yr, 10-yr, 30-yr almost a year ago. That rates are breaking out call – its the exact opposite; if we do break out,  its going to be a small event a head fake that's if we do; TLT chart has the makings of a perfect double bottom … 
Kudos, CNBC Options Action. Kindly teach yr cousin CNBC Fast Money some of your honesty. Frankly we are confused by the rigid & un-smart attitude of Hedge-Fund manager Karen Finerman in this Treasuries  issue. We get that she had not ever bought a Treasury note before & so far she has only bought the 6-month Treasury bill. But she has been generally circumspect so far on CNBC FM. So it almost seems that there is some kind of an emotional conflict about Treasuries going on within her & against someone else in her team or outside CNBC. We hope she gets out of this emotional state soon & returns to her cool, balanced side that we viewers need.
*(we must add a 3rd – a near certainty that Alexander after his defeat of Paurav would conquer the Indus Valley, if not India. Very very few know that Alexander's army retreated down the Indus river in the same straits as Napoleon's retreat from Russia. Then Alexander's remaining force crossed the desert to reach Iran where Alexander chose to remain for the rest of his life – General Zhukov, who destroyed the Nazis at Stalingrad & went on to capture Berlin by destroying the German Army, described Alexander's stupidity in a lecture in the 1950s at Dehradun, India).
2. Equities
What if Treasury yields begin falling even softly? Then we might get something like the Mother of Healthy Corrections?
Wayne Whaley

@WayneWhaley1136 –

Aug 5 –

THE MOTHER OF HEALTHY CORRECTIONS: The S&P is down 2.4% in the 1st 4 trading days of Aug

after a 19.5% Jan-Jul

. In all 12 prior cases of +10% JanJul's, followed by a neg 1st wk of Aug, the remainder of the yr was positive for a gaudy 8.4% avg gain, the last 3 cases each up +10%.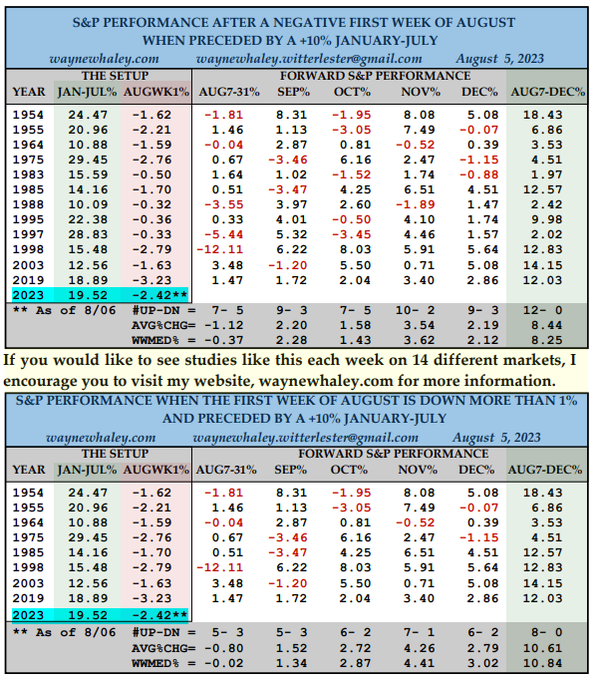 And,
Dean Christians, CMT

@DeanChristians –

Aug 5 –

A rising 200-day moving average provides additional evidence to support a bullish big-picture backdrop.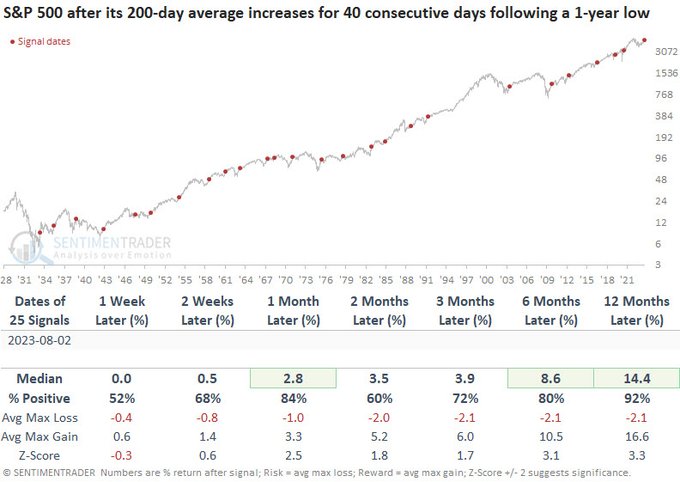 Heck, we will even take the below:
Bespoke@bespokeinvest – Interestingly, August has typically been a "breather" month when the market has been up big YTD (>10%) through July. And

it has been a bounce back month

when markets have been down YTD through July. Check out the chart: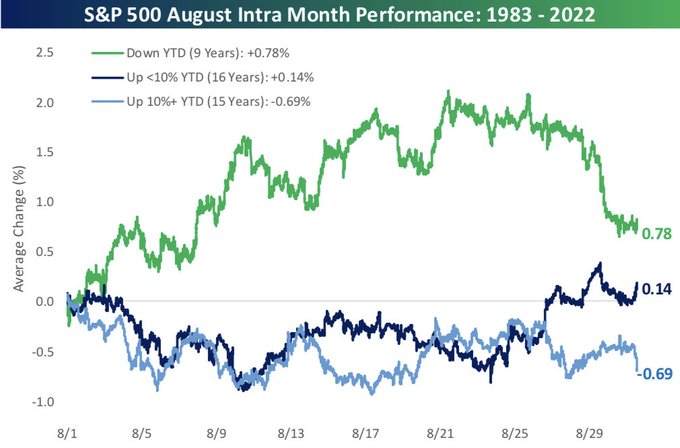 Jeff DeGraff said on CNBC on Friday that he sees a potential big rally in Q4 into year-end. But we can't find his clip on CNBC. Mr. DeGraff is a veteran & accomplished technical analyst. But we can hardly ever find a clip of his on CNBC website or on YouTube. The ways of CNBC webmasters are beyond us simple folk but this exclusion of DeGraff does seem kind of casteist to us.
Now veering to the other side:
Macro Charts

@MacroCharts –

Widespread weakness: • Since the 2021 Top, similar weakness was seen *

after

* Stocks had already peaked. • It was

*too early*

to Buy. 

• Waiting for stabilization & strength was *much more effective*. 

Patience is critical here

.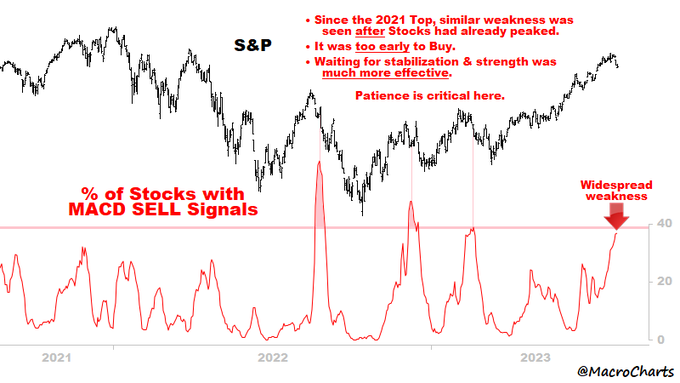 Now all the way to the other side via comparisons with previous years:
Via The Market Ear –

-25% or -60%?

What's next when unemployment stops falling? 3 scenarios. From 'no landing' to 'crash landing': timing of decisive policy reaction is key to outcome.



3. International
Is anything certain for the duration? BRIC was invented as a term back before the Financial Crisis. Then it expanded to BRICS by adding South Africa. Recently there has been a rush to join BRICS & talk about a new BRICS currency.
Perhaps it is time for a name change. It is said that India wants to exit BRICS because of China's larger than desirable power within the group. And Argentina wants to join the group. So BRICS may become CRABS with I out & A in?
But for now, let us focus on 2 equity markets from the original BRICS:
Otavio (Tavi) Costa

@TaviCosta –

Brazilian equities have been

attracting unprecedented levels of foreign capital investments

, marking a fundamental shift since the global financial crisis. Net inflows from international investors over the past 50 days have reached historically elevated levels, maintaining a… Show more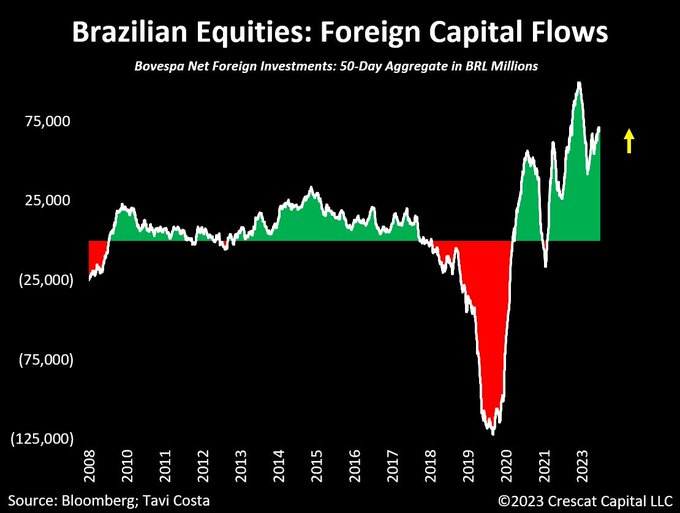 Now to the other side & continent:
Jonathan Garner, Chief Asia & EM Strategist of Morgan Stanley, upgraded India to major Overweight & downgraded China, Taiwan & Australia to Underweight. In fact, he said he is Most Excited about India right now. Listen to him make his case.
His upgrade & the calm in India's financial markets shows that path of India is not even altered a bit by the horrific stuff that we are all reading. What began in Manipur has now spread to other areas in worse ways as you can see below. But amazingly that has no bearing on India's march forward to doubling its GDP by 2031 as some calculate. 
4. From Manipur to rest of India?
4.1 – Manipur vs. the #1 State in Rape 
Regardless of the real reason of inter-racial violence in Manipur, the entire focus of global media has been on the public stripping & humiliation of two Kuki women in Manipur. Perhaps out of sheer outrage about what happened or perhaps because of the focus of global media, the Chief Justice of India's Supreme Court publicly decided to hear a PIL ("Public Interest Litigation") focused on Manipur only while disregarding any other such incident in the rest of India. Because, per @LiveLawIndia, the Supreme Court stated that "Manipur Violence Is Of Unprecedented Magnitude" while dismissing the need to similarly examine violence against women in West Bengal: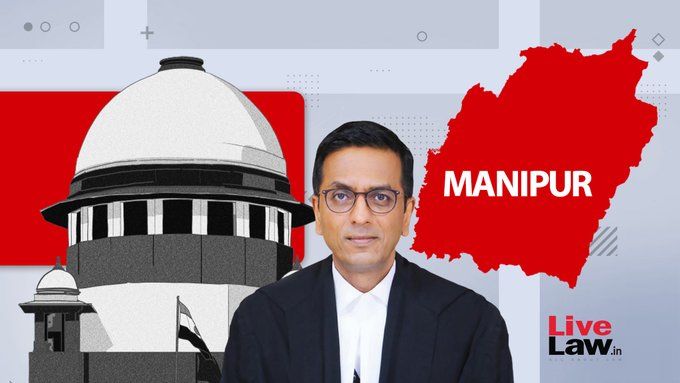 Look what happened this past Monday (July 31) in the Southeastern State on Kerala: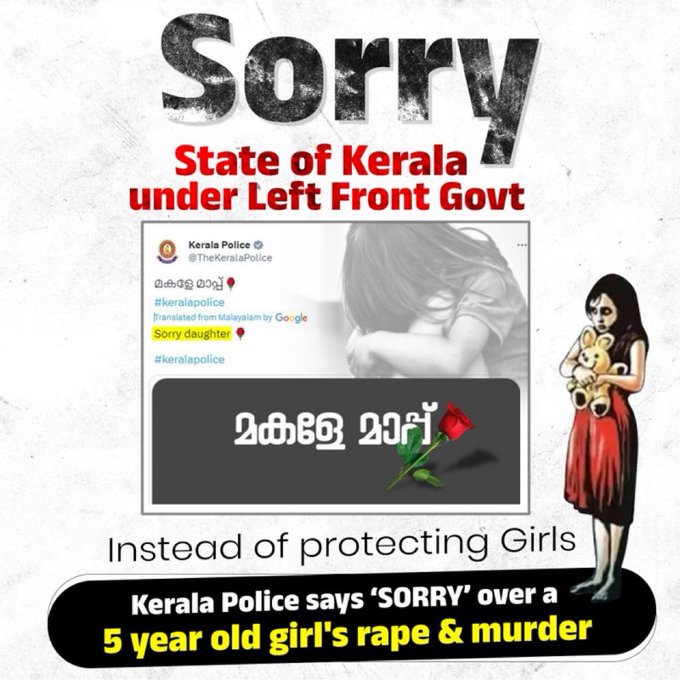 According to India Today, a "5-year-old girl was raped, strangled, dumped in sack near Kerala market: Cops". The article quotes the Police naming the rapist-murderer as Asfaq Aslam, a Muslim name. We didn't see this news in any US Media publications, not even in the ones that profess to focus on international human rights issues. And the Supreme Court of India has not chosen to admit this in its discussions of violence of "unprecedented magnitude". Is that because the Kerala State Government is run by the favored Anti-Modi & Anti-Hindu political parties? 
Do we ask because the Speaker of the Kerala Assembly made public statements mocking Bhagvaan Ganesh & Hindu beliefs? Not really. We ask because a case has been registered in Kerala against 1,000 Hindus who demonstrated peacefully to protest the insult to their religion: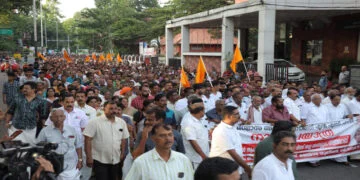 Moving back to Rape, guess which state is No. 1 in rape crimes? Has to be Manipur, the state which featured violence against women of "unprecedented magnitude", right? No!
Soumyadip 🇮🇳 🕉️ @asksoumya – Jul 20 – Crime against women || #Rajasthan vs #Manipur As per NCRB report, 2021
🔶Number of rape victims:🔹#Congress led Rajasthan: 6342 (Rank. 1)
🔹#NDA led Manipur: 26 (Rank. 28)

🔶Number of rape incidents per 1 lakh population:


🔹#Congress led Rajasthan: 16.4 (Rank. 1)… Show more
But that was in 2021, right? You haven't heard anything recent, have you?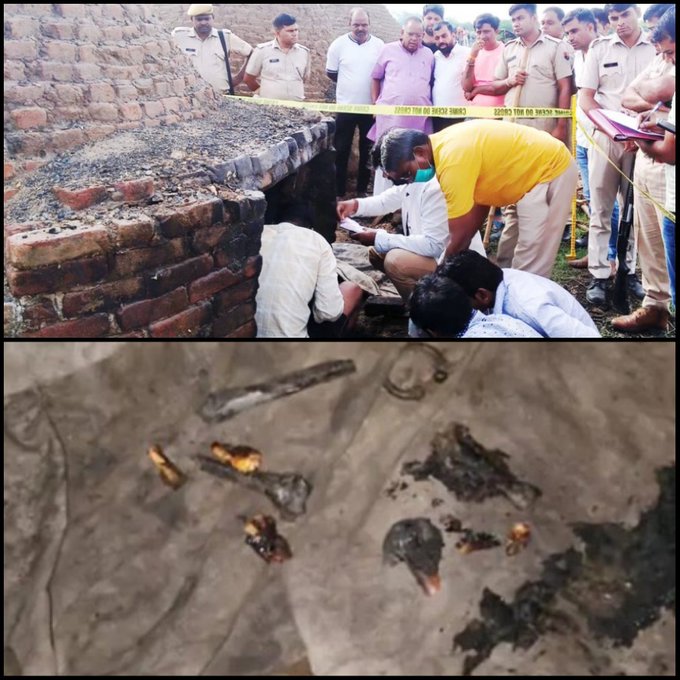 Did you see this in BBC, New York Times, Washington Post, Bloomberg, CNBC, CNN or any of the global media that profess to focus on human rights? Not even when the Times of India provided explicit details in their article titled "Rajasthan rape horrors continue; Bhilwara minor girl gang-raped, killed; her body burnt in furnace". How did the police react to the family that went to them for help? The Times of India article wrote:
The BJP legislator accused police of laxity and tardiness. "

"This is a small village of about 50 houses. How could the cops remain oblivious to the fact that the locals were carrying out a major search for a missing girl? When the family went to the police station to

report their daughter's missing

,

police asked them to furnish documents instead

" said Bhadel. 
So why has the Supreme Court of India not taken "cognizance" of this heinous violence? Do they not consider this to be a case of "unprecedented violence? They may actually be right because of the publicly stated attitude of Rajasthan State towards rape. Look what the Rajasthan Parliamentary Affairs Minister Shanti Dhariwal, while replying in the assembly in March 2022:
"

We are at number one in rape cases

.

There's no doubt

. Why are we ahead in rape cases?…

Rajasthan has been the state of men

," Shanti Dhariwal said while speaking in the Rajasthan Assembly.
(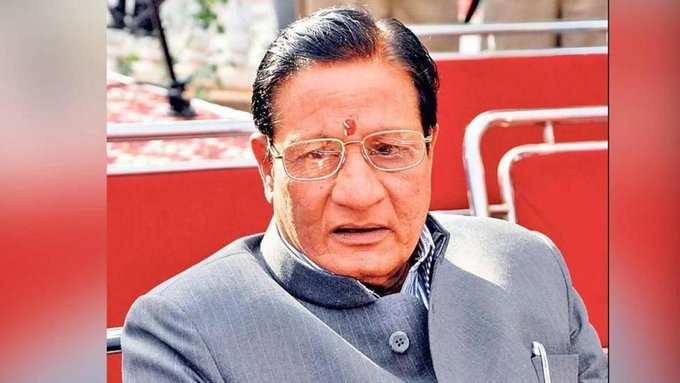 (Courtesy – India Today article)
Actually, "men" is an insipid English translation of the term "mard" used by Minister Dhariwal. Mard is a term of Muslim, mainly Afghani usage which means proudly martial men. Just get any Bollywood clip and you will see actors routinely calling themselves Mard & calling their enemies as Na-Mard (non-Mard). 
But this is a minister of state saying this proudly in the state legislative assembly and NO ONE in NYT, BBC, Wash Post, CNN, CNBC Bloomberg has condemned it or even brought it up. Just think how much vitriol would have been poured on PM Modi & Hindus had these statements & the horrific rape & burning of the 14-year old girl had been  in a Modi state & had the minister been a member of Modi's party. 
SHOCKING
DISGUSTING

BUT NOT SURPRISING

Rajasthan's cabinet minister laughs & says in the assembly that Rajasthan is number 1 in rape because it is a "state of men" (mardon ka pradesh). LEGITIMISING RAPE

AFTER KARNATAKA CONGRESS MLA NOW THIS

PRIYANKA VADRA SILENT pic.twitter.com/dBY8f7MBSy

— Shehzad Jai Hind (@Shehzad_Ind) March 9, 2022
Now, it seems the Rajasthan situation is getting warm:
Republic@republic – – Rajya Sabha proceedings resume. Union Minister Piyush Goyal makes statements in the House, says 'The situation of

Rajasthan

is serious. We must have a debate on that also. The state government has failed to tackle the situation.' #PiyushGoyal #UnionMinister #RajyaSabha

…

 

Show more

https://twitter.com/i/status/1687365087663996929
Rajya Sabha proceedings resume.

Union Minister Piyush Goyal makes statements in the House, says 'The situation of Rajasthan is serious. We must have a debate on that also. The state government has failed to tackle the situation.' #PiyushGoyal #UnionMinister #RajyaSabha… pic.twitter.com/8MP0w9gz9X

— Republic (@republic) August 4, 2023
We have seen contradictory statements about whether the raped 14-yr old girl was alive or dead when her body was put in the tandoor-type oven. Next time you eat Tandoori chicken in an Indian restaurant, think of this young girl & ask NYT, Wash Post, BBC, Bloomberg, CNN, CNBC why they didn't even report this case.
To us the more important question is, after expressing their serious human-rights concern to the 2 Manipuri women paraded naked, will the US State Department now follow up and express their serious or not-so-serious concern to the parents of this 14-year old girl?
Also we wonder whether the Indian Supreme Court considers this gang-rape, murder & burning of the 14-year old girl to be a case of "unprecedented violence" as well? 
Getting back to where it began, look how a Meithi woman scolded visiting anti-Modi members of Parliament visiting Manipur:
BhikuMhatre@MumbaichaDon – Aug 1 – Hats off to this brave #Meitei Sister who ripped apart Opposition MPs' Picnic in #Manipur .. 🔸Why did you come here without speaking in #Parliament?🔸Why did't you raise your voice for burning a Meitei woman to death at her home by Kukis?🔸Meiteis women here, are r@ ped &… Show more …

https://twitter.com/i/status/1686424712455577600
Hats off to this brave #Meitei Sister who ripped apart Opposition MPs' Picnic in #Manipur

🔸Why did you come here without speaking in #Parliament?
🔸Why did't you raise your voice for burning a Meitei woman to death at her home by Kukis?
🔸 Meiteis women here, are r@ ped &… pic.twitter.com/pICjWszsuh

— BhikuMhatre (@MumbaichaDon) August 1, 2023
4.2 From Nuh to Gurugram – 
The fear in every violence upsurge is that it spreads to Muslim-Hindu violence. It happened in this case too via Rajasthan, the state proud to be #1 in rape.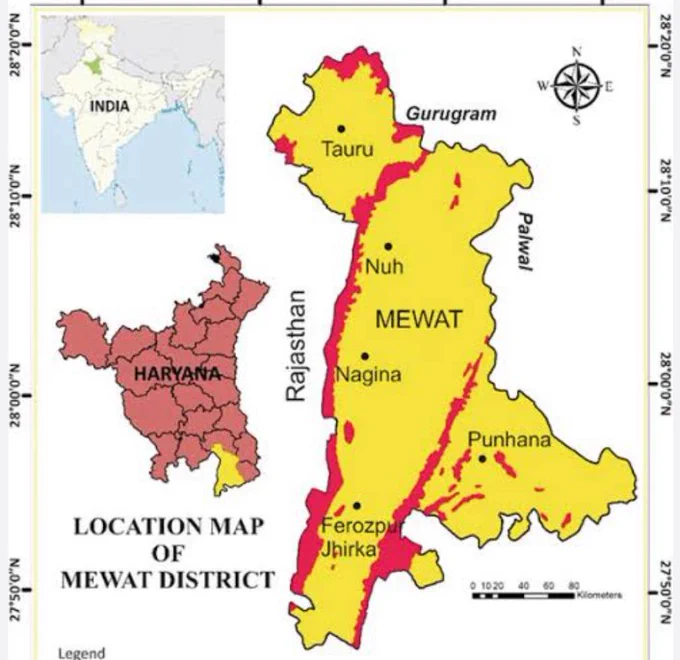 Reportedly, a Hindu procession that happens annually in Nuh was attacked violently by a Muslim mob from neighboring hills. Also a senior police officer was in that procession. This large crowd had to take shelter in a temple. It took hours for the Police to arrive to rescue them. All this seems true given the eye-witness reporting. The Muslim attackers came from the neighboring state of Rajasthan.
Rafiq, Nuh Sarpanch President accepts that people of his community were involved in rioting and looting. pic.twitter.com/SMedr3599B

— Facts (@BefittingFacts) August 4, 2023
The real Nuh incident 🤬🥲pic.twitter.com/gNX8HPAMVl

— Boiled Anda 🥚🇮🇳 (@AmitLeliSlayer) August 5, 2023
A day later, retribution took place in Gurugram, a more prosperous area in the state. A mosque was burnt & attacks on Muslims in Gurugram were reported. This has the potential to get worse: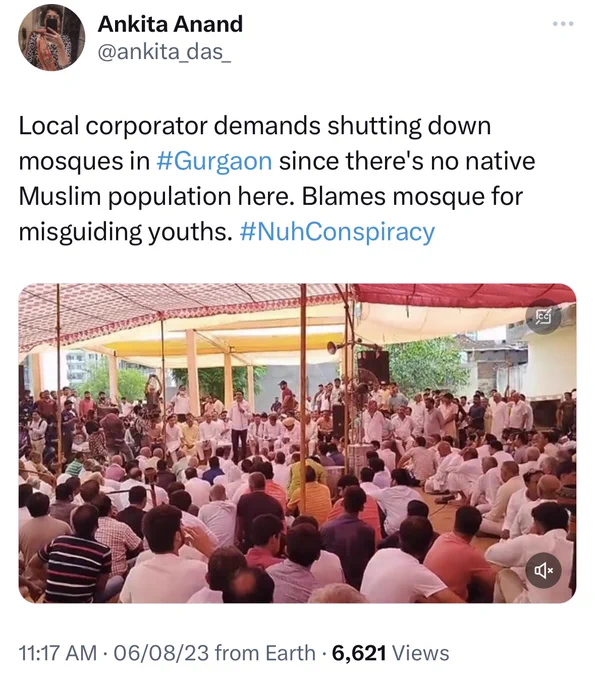 And,
Triggering Warning: Radicalised Muslim youth from Mewat, #Haryana asks fellow Muslims to either kill Hindus or die killing Hindus. Gives rape threats Hindu women.
(strong language) #Mewat #Nuh #Gurugram #MewatTerrorAttack pic.twitter.com/DHm8eTKclG

— World Hindu Council (@WldHinduCouncil) August 2, 2023
The same kind of exhortations to violence were seen in Mumbai in early 1990s & in Gujarat in 2002. The eventual response was serious violence against Muslims. Yet, the same is now being repeated in Haryana & Rajasthan. And guess what remains the reality – US , UK & EU reporters only cover the rebuttal violence by Hindus & don't utter a word against the Muslim youth that attacked Hindus first. Go to Google.com, open two tabs; in one type Nuh & in the other type Gurugram. Only in the Gurugram tab, you will see Reuters, Tribune, Al-Jazeera stories while in the Nuh you won't see any global media. 
There is another issue that can have nationwide implications. Muslims from outside came & ruled over India for over 600-800 years. During these centuries, countless temples were converted into Mosques. Most of these show signs of the conversion. Now Hindus want these Mosques converted back to temples. The most important of them is Gyanvapi, in Varanasi, the Holy of Holy towns of Hindus.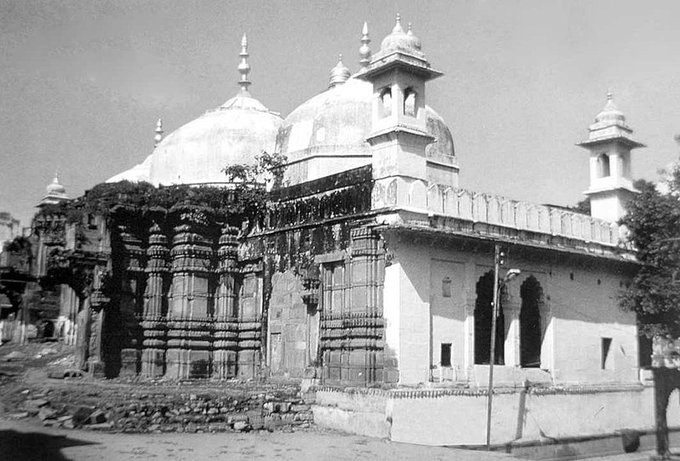 Finally an agreement has been reached for a thorough survey of this edifice by the Architectural Society of India. So hopefully, this can be resolved peacefully. 
The real problem in India is that the people vote for the Parliament while the unelected Judiciary retains its British teachings & mindset, even in tiny issues such as being addressed as 'Milord" in proper British fashion. This is now emerging as the most serious fight in India, presumably after the next election.
Because the BrIndian Judiciary follows the British tenets of favoring Muslims over legitimate rights of Hindus. That made sense when Hindus were poor, beaten down & unwilling to fight. Now you increasingly see Hindus getting organized & challenging the anti-Hindu precedents laid down under Britain.
You already see fights between the State High courts & the Supreme Court in Delhi on issues such as the Gyanvapi temple-mosque. Even then, the Brit-loyal Supreme Court judge delayed the accord until he became concerned about a public revolt in Delhi.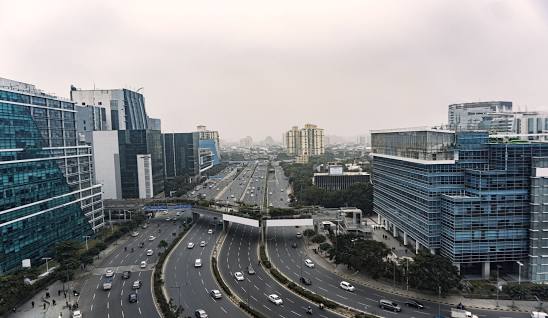 Think if this violence can take place in above Gurugram, termed by TripAdvisor as a Best Place to Visit India 2023, why should Delhi be far behind?
With all this, what idiot or sets of idiots decided to make Manipur a nationwide & worldwide issue? They probably viewed it as a wonderful way to attack Modi with the blessings of US, UK & EU anti-Modi lobbies. Like the previous ones, this one also seems to have backfired & now spread to other states. Don't they get that every state in India is a majority Hindu state & any issues that creates anger among Hindus against other groups end up making them adversaries & making their allies in US, UK & EU s adversaries too.  
The reality is India is going to become the 3rd largest economy in the world & its growth is making global firms upgrade India. This is despite the reality of Brit-Nazi haters of Hindus behaving as they did 25 years, 50 years ago & even 100 yrs ago.
Send your feedback to [email protected] Or @MacroViewpoints on Twitter