Summary – A top-down review of interesting calls and comments made last week in Treasuries, monetary policy, economics, stocks, bonds & commodities. TAC is our acronym for Tweets, Articles, & Clips – our basic inputs for this article.
Editor's Note: In this series of articles, we clude important or interesting Tweets, Articles, Video Clips with our comments. This is an article that expresses our personal opinions about comments made on Television, Tweeter, and in Print. It is NOT intended to provide any investment advice of any type whatsoever. No one should base any investing decisions or conclusions based on anything written in or inferred from this article. Macro Viewpoints & its affiliates expressly disclaim all liability in respect to actions taken based on any or all of the information in this article. Investing is a serious matter and all investment decisions should only be taken after a detailed discussion with your investment advisor and should be subject to your objectives, suitability requirements and risk tolerance.
1. "as bland as you can get"
That was Jeff Gundlach's apt description of the Powell presser & the Fed meeting. Very little moved on Wednesday. But Thursday was another day with strong economic data leading to a fast up move in interest rates:
30-yr yield up 12 bps on Thursday; 20-yr yield

up 14 bps

; 10-yr up 16 bps; 7-yr

up 16 bps

; 5-yr yield up 15 bps; 3-yr up 14 bps; 2-yr up 11 bps; 1-yr

up 1.5 bps

; 
Some of this move was given up on Friday but Treasury rates were up in double digits on the week in the 7yr-30yr part of the curve leading to a small steepening. 
Hedge funds shorting Treasuries must be happy given the size of their positions:
Barchart@Barchart –

Jul 28

– Hedge Funds are shorting treasuries at historic levels and are the most short they've been since AT LEAST 2016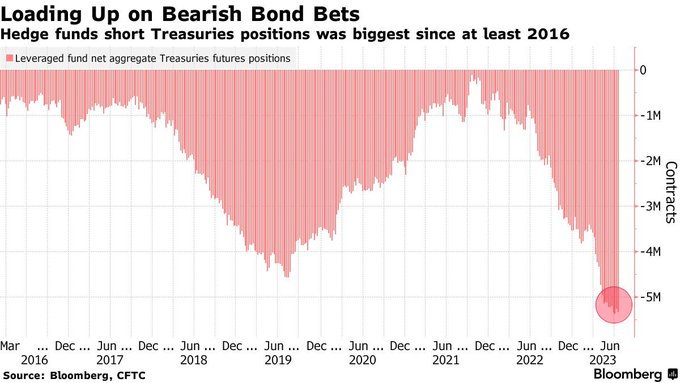 In a "Worthy" comment paraphrasing a "so bad that it might be good" thought,
Jay Kaeppel@jaykaeppel –

Jul 29

– For the record, the two primary bond investment models I follow are still unfavorable for long-term treasuries. That said, for shorter-term traders, IF t-bonds are going to bounce (no guarantee), August would be a good a time as any (low $ risk TLT options position?).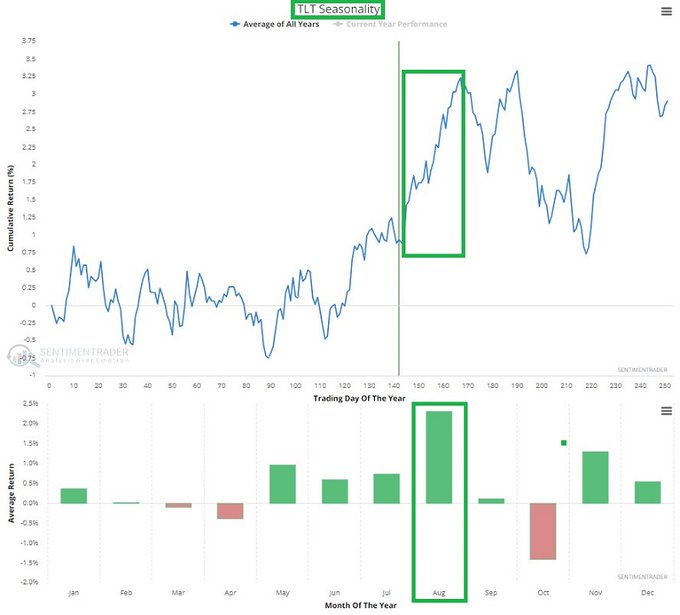 Any chart about the 10-yr?
Via The Market Ear – The rates range – The US 10 year continues trading inside the "Goldilocks" range, but the most recent move higher has confused many. 4,1% is the upper part of the range and a must watch level. Support is the trend line, currently around the 3.8% area.

Source Refinitiv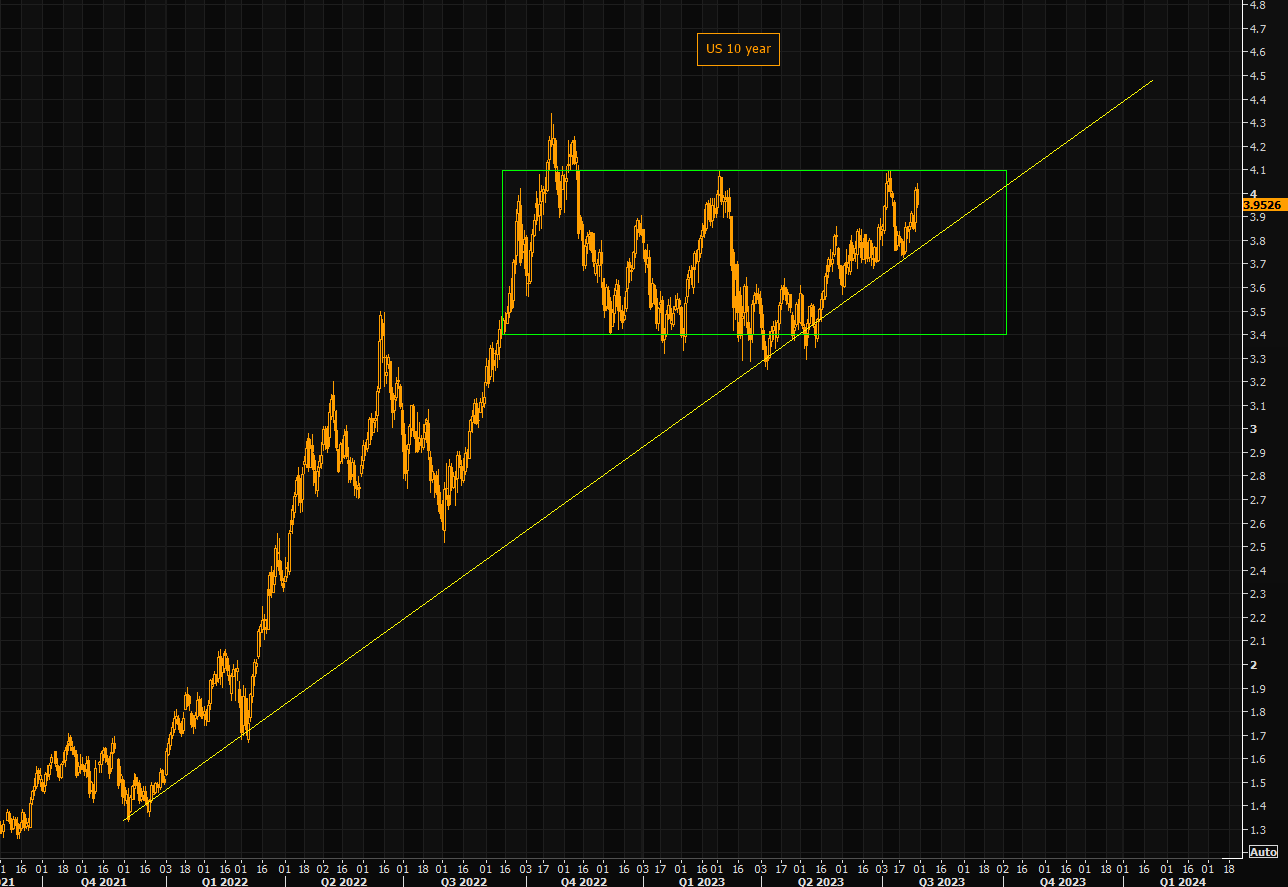 The coming week should tell us more both with ADP & then with the NFP on Friday.
2.Stocks
A nice week indeed.
Dow

up 66 bps

; SPX

up 1%

; NDX

up 2.1%

; RUT

up 1.1%

; DJT

up 2.9%

; SMH up 4.7%; VIX

down 2%

; 
The earnings have come in well and many of those stocks have maintained their rallies after the earnings – GOOGL up 10.8%; META up 10.7%. And,
Larry Tentarelli, Blue Chip Daily@LMT978 –

Jul 29

– $SMH

new all-time weekly closing high

.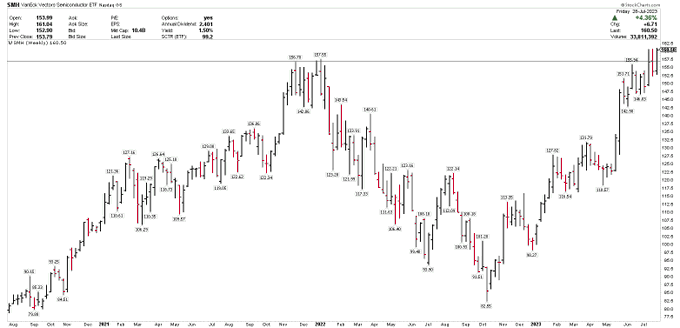 Also,
Dean Christians, CMT@DeanChristians –

Jul 29

– For 63 consecutive sessions, the S&P 500 Technology sector avoided closing at a 10-day low, establishing the longest win streak since the post-COVID melt-up and ranking as the 10th most significant count in over 70 years.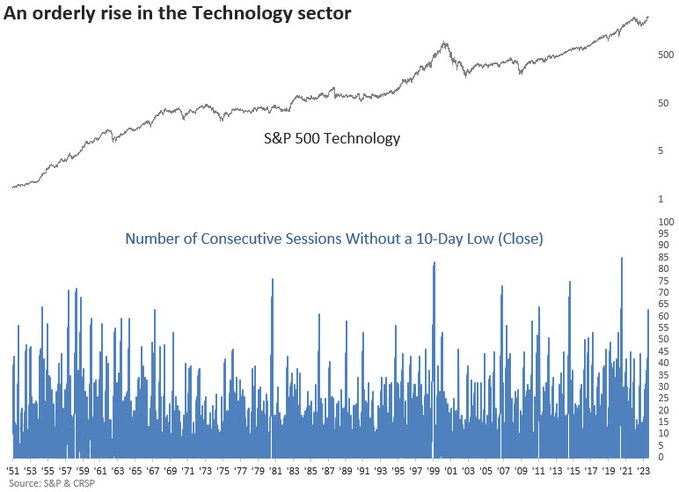 What about the transition from growth to value?
Dean Christians, CMT@DeanChristians – I'm seeing a lot of chatter about an imminent rotation from growth to value. I have no clue whether it will happen, so I will let Mr. Market, the best forecaster of market action, do the talking.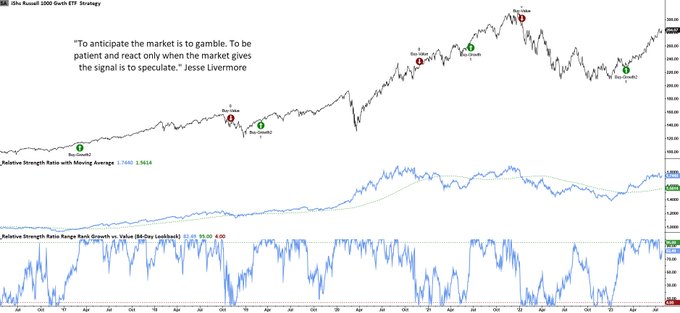 Doesn't any one have a question?
Bespoke@bespokeinvest – One of the key questions for technicians here is whether the small-cap Russell 2,000 can make a higher high. Read more in this week's Bespoke Report: https://bespokepremium.com/interactive/posts/think-big-blog/the-bespoke-report-disinflationary-boom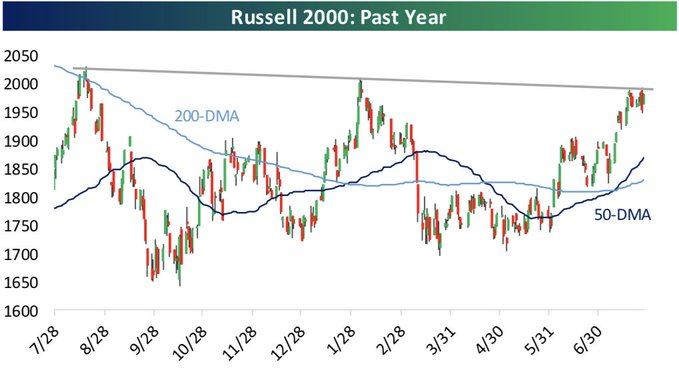 RUT may or may not move but,
Mark Ungewitter@mark_ungewitter – Rest of world on the move.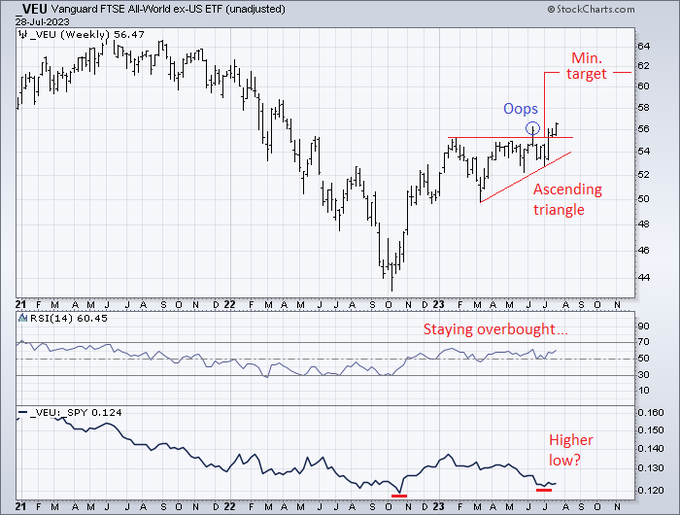 Indeed,
EEM up 4%; EWZ

up 1.2%

; EWY up 2.2%; FXI up 8.9%; KWEB up 12.7%; INDY up 1.3%; 
What does the above tell you?
Via The Market Ear – CSI 300 – the break up – CSI 300 is surging to levels not seen in a while. The index is exploding above the negative trend line as well as crushing the 200 day moving average. Impressive price action. Credit where credit is due, GS have been pushing the China long story (here) recently. This has played out very well.

Source: Refinitiv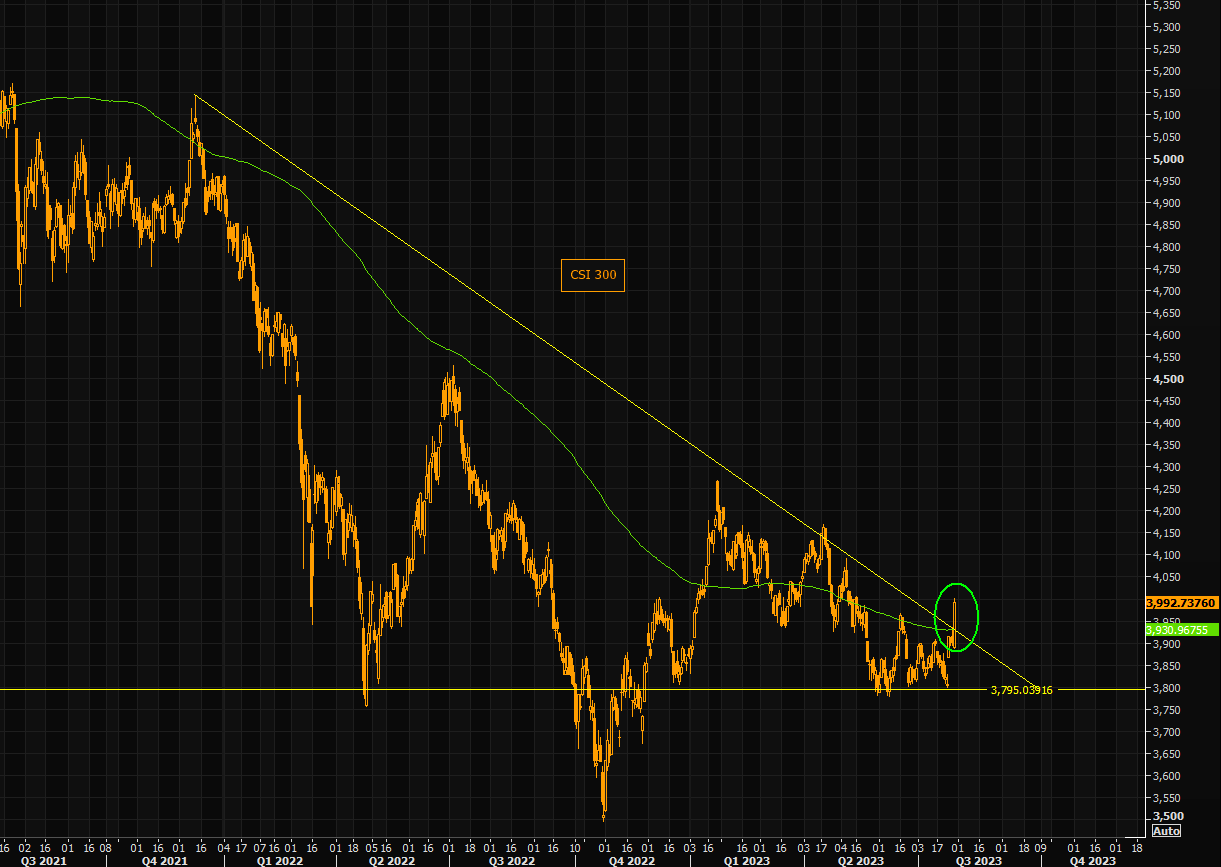 If China is a long, how should commodities react?
Copper up 3%; CLF up 7.2%; FCX up 7.6%; Oil up 4.5%; Brent up 4.8%; OIH up 2.6%; XLE up 2.1%; 
Like RUT, is there a question or expectation about Copper?
Longview Economics@Lvieweconomics –

Jul 27

– Copper generating a

long term pennant formation

.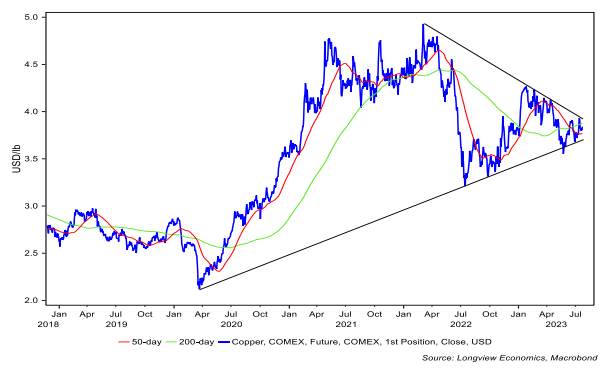 What about Oil?
Otavio (Tavi) Costa@TaviCosta –

Jul 28

– The energy sector is poised for another major move to the upside with E&P stocks likely to break through this multi-year resistance level on the monthly chart. ▪️ Operating rig count falling ▪️ SPRs already at 1980s levels ▪️ Ongoing deglobalization trends ▪️ Overall capex for…

Show more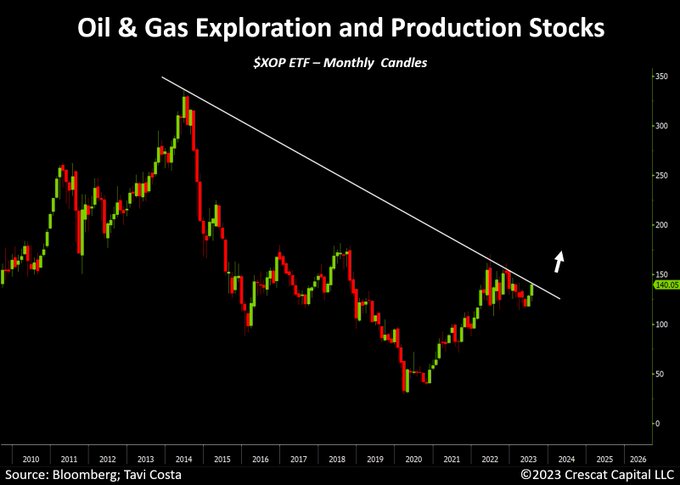 3. Violence in Manipur revisited
3.1 Drugs & poppy fields
Speaking of poppy fields, remember what the US attitude was towards poppy fields in Taliban-controlled Afghanistan? As Google.com pointed out:
"Billions of dollars were spent by the US in Afghanistan to try to eradicate opium production and trafficking, in the hope of cutting the Taliban's source of funding. They launched airstrikes on poppy fields in Taliban-controlled territory, burnt opium stocks and conducted raids on drug laboratories."
As we recall, Joe Scarborough spoke out against President Obama's wanton air attacks on his MSNBC show after an air attack mistakenly bombed a wedding procession. 
How are the Taliban treating the same poppy fields now that they are in power? Again per Google.com, 
"The Taliban have successfully reduced poppy cultivation by more than 99% in Helmand province, which previously produced more than 50% of the country's opium," the report said. " – Jun 25, 2023
The above should make it amply clear that no Government, whether Christian US or Muslim terrorist Taliban, wants to or does tolerate cultivation of poppy fields inside their territories because those are mainly used by Drug Dealers to make large amounts of money for their anti-Government causes. 
Why is this relevant now & to Manipur? And when did the problem explode? Apparently since the February 2021 coup in Myanmar. With the coup and the intense sanctions imposed by the US & EU on the Myanmar junta, there was a general exodus from Myanmar especially among those who could leave to more hospitable areas. And what areas were available? China & India. China does monitor its borders via its armed forces. India, as in Manipur, uses militia operated by the state & local Governments.  
But why is this relevant NOW to Manipur? Because the drug dealer influence & illegal poppy fields in Manipur are at the root of the "recent violence" in Manipur which, according to a BBC.com article, "fuelled by influential illegal poppy cultivators and drug lords from Myanmar settling in Manipur". In more detail, the BBC.com article wrote:
"The underlying tensions in Manipur stem from a complex interplay of various factors, one of which is a crackdown on drugs in recent years. The Bharatiya Janata Party (BJP)-led state government, under Chief Minister N Biren Singh, who is a Meitei, launched a controversial campaign targeting poppy farming. Since 2017, his government claims to have destroyed more than 18,600 acres of poppy farms, the majority of them in Kuki-inhabited areas. (Manipur has long battled a drug-addiction crisis and is among four north-eastern Indian states bordering Myanmar, the world's second-largest opium producer.)"
Reportedly, the two main communities – Hindu Meithi & Christian Kuki-Chin (converted by British after WWI) – have opposite feelings about poppy fields. The Hindu Meithi are farmers and do not grow opium whereas the Christian Kuki-Chin consider growing poppy as their fundamental right. 
(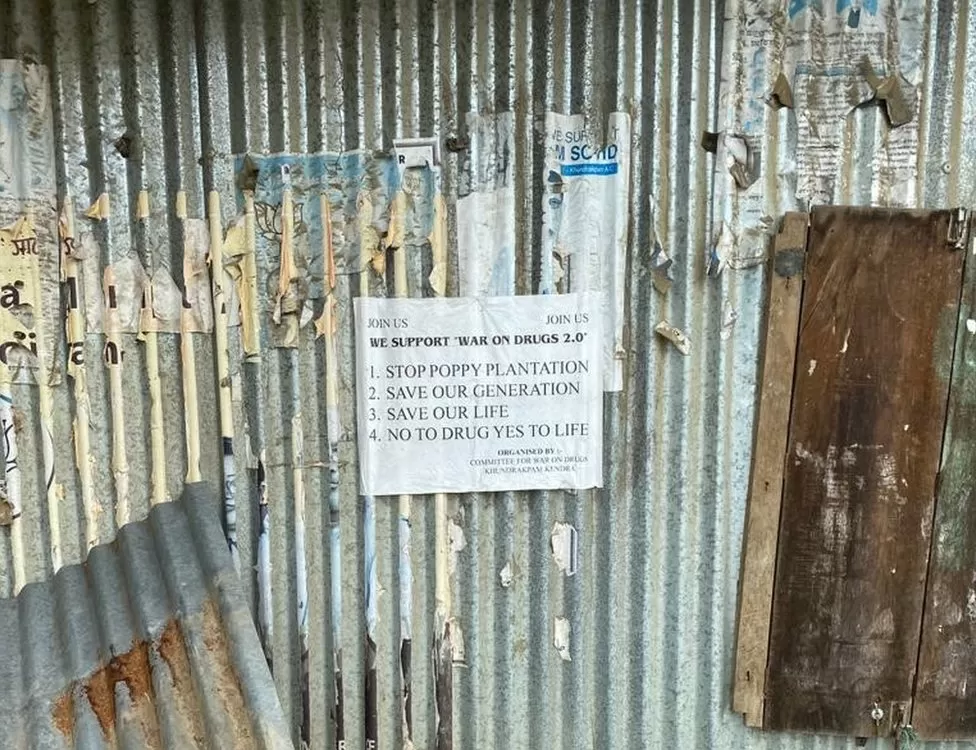 (Courtesy of BBC.com)
Does any one recall the American Government or the US Media speaking of Poppy growing as an "affirmative action row" inside Talibani Afghanistan? But the same BBC.com article described this current violence as a "thorny affirmative action row" inside Manipur. That organization can change a bit but really can't change its true spots. How bad has this "affirmative action row" become since May 3? 
"More than 130 people have died since, during clashes between the majority Meitei and the tribal Kuki minority groups. Some 60,000 have become refugees in their own land."
It is rarely explained that the "minority" Kuki people occupy almost 60% of the land in Manipur while the majority Meithi occupy about 35%. How come? The Hindu Meithi live in valleys in settled villages & cities while the majority of Kuki live in large hilly areas which allows the Kuki to "take pot shots" from the hills on Methis. And the Manipur-Myanmar border is forested & hilly making it very difficult for India's border control to monitor. Look what happened on July 22 & July 23:
Anshul Saxena@AskAnshul – – How did 718 Myanmar nationals illegally enter Manipur in 2 days (22 July & 23 July)? Over 40,000 people from Myanmar are already living in Mizoram & Manipur since military coup in Myanmar in 2021. Border breach is a threat to national security. Safeguard India-Myanmar borders.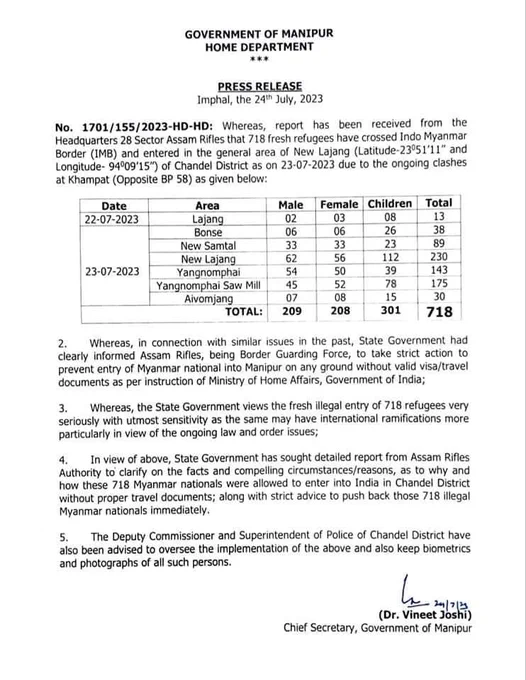 How does this happen? Assam Rifles is a local State organization and not the Indian Army. It is not as horrible as the organizations of the "Government" of West Bengal, but it is subject to local pressures. 
So the reality is that the Kuki-Chin population of Manipur grows with illegal immigration from Myanmar while the Hindu Meithi population gets no inward migration from India. After all who would move from more developed India into Manipur? 
The media reality is that the above is too complex to be used to create a media storm that the world can be horrified by. Ergo, entered the old video of a few Manipuri men parading a few naked Kuki women through the streets.
Boom, went the media & the world. No one was interested in the deaths of 130 people or in the 60,000 people displaced. The public stripping of two Kuki women, an old video, was enough to blow up the crisis.
3.2 Treatment of the few Kuki women in Manipur
No one, not even the media in India, was interested in pointing out how common this horrific abuse is the neighboring states in India, most prominent being West Bengal. The opposition parties also seem totally committed to NOT discussing the public stripping of women cases in the rest of India. They want to restrict all discussion to the Manipur stripping. Sensible from their point of view because the BJP apparently has all data & videos from worse atrocities on women in states run by the opposition parties. 
We do wonder where this video of public stripping of the Kuki women was for weeks, even months and how did it surface suddenly? We also wonder why the few men who stripped the women & paraded the women have not been brought forward. No one in the Indian opposition is demanding the culprits be found & brought before the public. We do wonder why. In contrast, notice the entire coverage of this incident has been focused on abusing PM Modi.
Regarding the stripping of Kuki women, look what we found:
Ahan

@sgtweeets – – We all saw Kuki woman getting stripped & paraded. Now let's also see the other side of the coin when the Kuki women removed their own clothes to push back in duty Indian Armies while they were going to save the innocent Meiteis. #manipur #ManipurViolence twitter.com/yumjaoleima/st
We can't access the video specified in the tweet. But this idea has been featured in Bollywood films where wives, sisters even mothers of criminals strip in front of police chasing the criminals into their homes or communities. Because the sight of a naked woman standing to obstruct the path of a policeman works far far better in stopping cops than any bullet would. So smart police organizations in India have developed teams of women cops who can charge at naked women without any media risk. 
But far away undeveloped states like Manipur have neither this urgency nor the budget to ensure all police teams have women cops especially for situations like this. Sadly, the Indian Army does not seem so equipped either. So they put out the tweet below:
SpearCorps.IndianArmy

@Spearcorps –

Women activists in

#Manipur are deliberately blocking routes and interfering in Operations of Security Forces. Such unwarranted interference is detrimental to the timely response by Security Forces during critical situations to save lives and property.  Indian Army appeals to all sections of population to support our endeavours in restoring peace. "𝗛𝗲𝗹𝗽 𝘂𝘀 to 𝗛𝗲𝗹𝗽 𝗠𝗮𝗻𝗶𝗽𝘂𝗿" @adgpi @easterncomd @official_dgar  #HelpUsHelpManipur
Women activists in #Manipur are deliberately blocking routes and interfering in Operations of Security Forces. Such unwarranted interference is detrimental to the timely response by Security Forces during critical situations to save lives and property.
🔴 Indian Army appeals to… pic.twitter.com/Md9nw6h7Fx

— SpearCorps.IndianArmy (@Spearcorps) June 26, 2023
We don't know what the Chinese army would do if any group of minority women stop them so. But we do know how the Na-Pakistani army would treat these women. That's why you don't hear of women in China & NaPakistan standing to obstruct the Chinese or NaPakistani army.
So how are Indians reacting to condemnations by EU, Britain & now even the US State Department?
3.3 USA-India Relations
When we don't think the US anti-Hindu lobby could be more adamantly stupid, they show they can. The US State Department formally expressed concern & reached out to the Kuki women who were subjected to public stripping. That would be good & positive if the US State Department did so for & to every such woman, like the Hindu woman who was reportedly subjected to public stripping recently in Bengal. 
This just reconfirmed to many in India who say the USA remains as anti-Hindu as it was since the partition of one-India in 1947. They can point to every incident when the USA leaned far towards NaPakistan & Muslims against India & Hindus. Literally over a million Hindu women have been raped, forcibly converted to Islam & forcibly married to their rapists in Na-Pakistan while that NaPakistan "democracy" was hailed as America's "critical ally in the War on terror". 
We might be doing an injustice here because possibly those US administrations were aware of the following dictat of Islam that we became aware of this week. Below is an unverified video from a handle we have never seen before. We include it simply because we recall many "Clerics" & "Scholars" in NaPakistan using similar religious "doctrines" to justify rapes of Hindu girls & their forced marriages to their rapists:
 ElsaRules@RulesElsa – July 28, 2023- 🤮 – A Muslim cleric says, If a girl gets raped by muslim man, he could get away with it as long as he does not do it in the presence of 4 other Muslim men. The testimony of a woman is not accepted and she would be punished with 80 lashes for defamation and 100 lashes for adultery
🤮

A Muslim cleric says, If a girl gets raped by muslim man, he could get away with it as long as he does not do it in the presence of 4 other Muslim men

The testimony of a woman is not accepted and she would be punished with 80 lashes for defamation and 100 lashes for adultery pic.twitter.com/8DvoPS6DD4

— ElsaRules#NDM (@RulesElsa) July 28, 2023
How does the Indian Judiciary look upon a rape accusation by women? They have been unambiguous. The word of a woman must be believed & it is the responsibility of the accused man to prove his innocence. The accusing woman is not even reprimanded, let alone punished, if she is found to have lied & made a false accusation. And yet, the US State Department voices concern about the treatment of women in India & never about Hindu women in NaPakistan.
Now look the other doctrine established by the Indian Judiciary – that a female cannot "legally" molest a male. This "doctrine" has had horrible consequences for minor Indian boys. Back in April 2017, we highlighted the case of a 2-year old boy accused of sexual molestation by a 35-year old woman.  This case was actually published in the Hindustan Times at that time.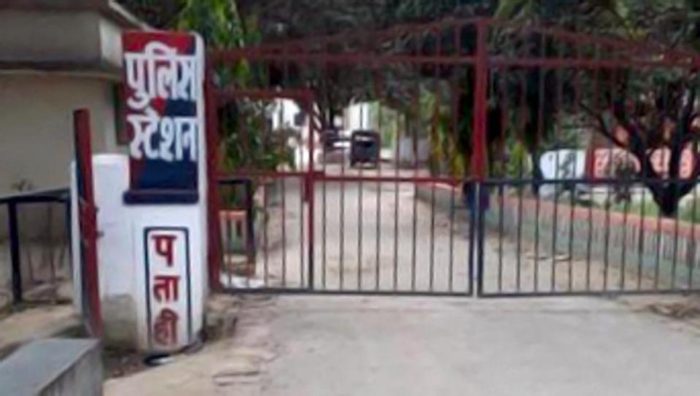 (the police station in Patahi village in Bihar where the 2-year old boy was charged with molestation of a 35-year old woman – courtesy of Hindustan Times)
That boy was lucky because it was a published case. (even though prominent women journalists in USA did not care). The reality is many minor boys (typically 10-12 yrs +) are subjected to forced sexual relations by middle-age women in their neighborhood. The parents of the boys do NOT DARE to complain to the police. Because if a molestation is proven, the per the Indian Judiciary, the female cannot legally molest a male & so the minor boy is convicted as the molester. That ruins the boy's future. 
Yet, the US State Department has NOT uttered a single formal note of concern about such heinous treatment of minor boys in India. Why? Because boys/men are not worthy of human rights according to the US State Department or because these are Hindu boys & who cares about Hindus? Note no Muslim boy will be subject to this because the onus of Muslim law is left to Islamic religious authorities by the Indian Judiciary. 
This horribly disparate treatment of Hindus vs. non-Hindus by the US State Department is well known & well discussed through out India. And Indians think that the anti-Hindu hate is why the State Department does not reportedly approve of PM Modi.  
In fact, one prominent journalist in India pointed out recently that the US consular officials have been openly asking "influential" people how the Modi government can be toppled. But interestingly, the same journalist pointed out that there is a tussle if not an actual battle inside the Biden Administration about India. According to him, the State Department is openly hostile to India & Hindus, while the Department of Defense is totally for PM Modi, his defense policies & specifically about Mr. Ajit Doval, India's National Security Advisor.
Apparently PM Modi & his staff are aware of this. That may be why all the Defense deals signed in this atmosphere involve single issue purchases like very high quality Drones & not fighter aircraft purchases. The latter can bind India & make it dependent on future administrations. Also the deals involve US Naval vessels using Indian ports for servicing & repairs which is to the advantage of America & delivers revenue to India. Even the vaunted GE deal is about manufacturing engines in India & not buying them outright in a dependent stance. And continued acts of anti-Hindu messaging by USA keep Indians wary of trusting America for any long term dependency like purchase of the next generation anti-air defensive networks, long-range bombers, etc. 
Notice every few months a new scandal emerges & creates loud ruckus against PM Modi. More recently, it was the Adani Enterprises case. While it was published by Hindenberg in the US, back in India it was portrayed all about PM Modi & his suspected backing of the Adani group. So far, nothing wrong has been attributed to Adani and the reality is that Hindenberg did a big favor to new investors – Distressed Credit investors in USA bought Adani Bonds, other EM fund managers bought the common stocks of Adani companies & even many simple-minded individuals bought stocks of Adani companies. 
Now the Manipur stripping has been the topic of raucous protest. Sorry, not the Manipur stripping itself but the responsibility of PM Modi as India's Prime Minister. Amazingly, the leader who is being brought forward as an alternative to PM Modi is the son of the leader from the same party that was convicted of mass killings of Sikhs in India's capital New Delhi in the 1980s. 
As this recent political firestorm dies down, expect another one to come up in the next few months. The reality is that there is a huge supply of money, big media power being supplied from outside India to anti-Modi groups in India in a fervent attempt to unseat PM Modi. 
On the other hand, what is a new worry about Indians? The same old worry at new levels – Why are Indians spending so much?
Now look closely & see how many American products you can find in the above video about Indians splurging on everything luxury!
Send your feedback to [email protected] Or @MacroViewpoints on Twitter