Summary – A top-down review of interesting calls and comments made last week in Treasuries, monetary policy, economics, stocks, bonds & commodities. TAC is our acronym for Tweets, Articles, & Clips – our basic inputs for this article.
Editor's Note: In this series of articles, we include important or interesting Tweets, Articles, Video Clips with our comments. This is an article that expresses our personal opinions about comments made on Television, Tweeter, and in Print. It is NOT intended to provide any investment advice of any type whatsoever. No one should base any investing decisions or conclusions based on anything written in or inferred from this article. Macro Viewpoints & its affiliates expressly disclaim all liability in respect to actions taken based on any or all of the information in this article. Investing is a serious matter and all investment decisions should only be taken after a detailed discussion with your investment advisor and should be subject to your objectives, suitability requirements and risk tolerance.
1.Fed & Markets – In Tandem
Fed delivered what they wanted to deliver. A strong message that they are focused on inflation & they think tough love is necessary to tone down a strong economy – strong based on data they see. Yes, they know themselves that they are looking backward to drive forward. But their primary goal is NOT look weak & make the same dovish mistake twice. 
This is what we have been afraid of all along. We do think by the time they summon up their courage to accept the possibility of a recession, it will be too late as it was in 2007-2008.
That is essentially what Daniel Tarullo (the best bank regulator ever; there is no clear second " per Steve Eisman on CNBC ) said on Thursday Sep 21 on CNBC Squawk Box:
"The Fed is largely dependent on backward looking information, the data that has already come in & I am a little concerned that they don't seem to have their arms around … the degree to which the past increases of the Federal Funds rate has yet to work their way through the real economy ."  
Frankly, they know it but again the risk of damaging their reputation outweighs all such risks that will borne by the people of the USA.
That brings us to the clip we think is absolutely a must watch by all, the clip of Duke Professor Campbell Harvey. We must also express our absolute admiration of how Becky Quick handled this interview. She spoke as little as she could & she asked simple but critical questions at the right time. Kudos to her. 
First he points out that the "inverted yield curve" indicator is 8 out of 8 in predicting recession & it doesn't have any false signals. He says, in the last 4 recessions, the average lead time from inversion to recession is 13 months. So at the average, he would expect the recession to start in December or January 24. 
Secondly, based on Shelter, he said "there is a false narrative going on from the Fed that inflation is well above its comfort level". Do watch the clip to listen to his sensible rationale for saying this. 
He says the Fed made a major mistake in merely pausing instead of saying "this is it" & "now the next decision is to decrease rates". He adds at the end that this "increases the probability of a scenario that nobody wants" and "I do think if we pause & begin to decrease rates" , we can avoid the worst possible case".
By the way, Steve Eisman did say on the same show – "I happen to think the whole banking sector is uninvestable". And, as he reminds, Jamie Dimon virtually said the same thing by saying he would be market weighted in the sector.
2. The week that was
Stocks were awful:
VIX up 25%; Dow down 1.9%; SPX down 2.9%; NDX down 3.3%; SMH down 3.3%; RUT down 3.5%: DJT down 2.3%; BAC down 4%; C down 4.1%; JPM down 2%; SCHW down 5.2%; Apple flat; AMZN down 7.5%; MSFT down 4%; GOOGL down 5.1%; NFLX down 4.2%; CLF up 1.1%; FCX down 8.1%; MOS down 6.8%; 
Treasury bonds & high yield bonds were down hard as well:
TLT down 1.8%; EDV down 3.5%; ZROZ down 2.8%; HYG down 1.3%: JNK down 1%; 30-yr yield up 10.5 bps; 20-yr up 10.6 bps; 7-yr up 10 bps; 5-yr up 10.5 bps; 3-yr up 9.8 bps; 2-yr up 7.4 bps; 1-y up 2.3 bps; 
One asset class rallied big, the one no one wants to see rally. 
Dean Christians, CMT@DeanChristians –

Sep 18

– A breakout system triggered a new buy signal for the Dollar Index. After similar alerts, the

DXY rallied 79% of the time over the next three months

. The

dollar becomes a problem for stocks once the 6-month ROC shows a gain of 10% or more

.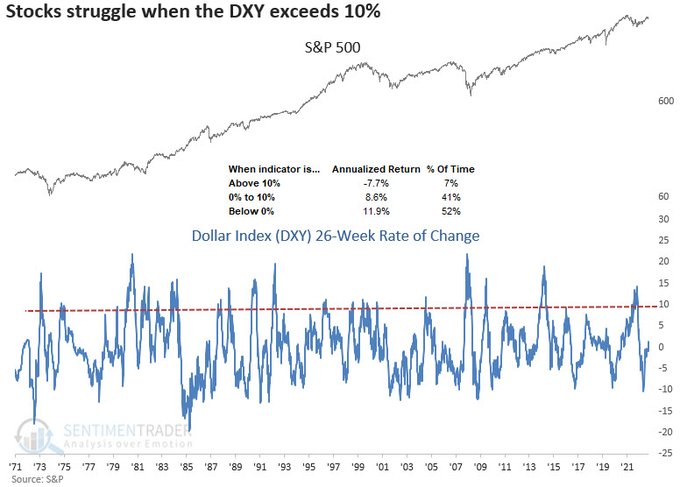 That was Monday. What happened by Friday?
Via The Market Ear –

Dollar's golden cross

– Like it wasn't enough…the

DXY golden cross is now in place

. There are some resistance levels around here, but a

proper close above 106

, and this risks

squeezing even more.

…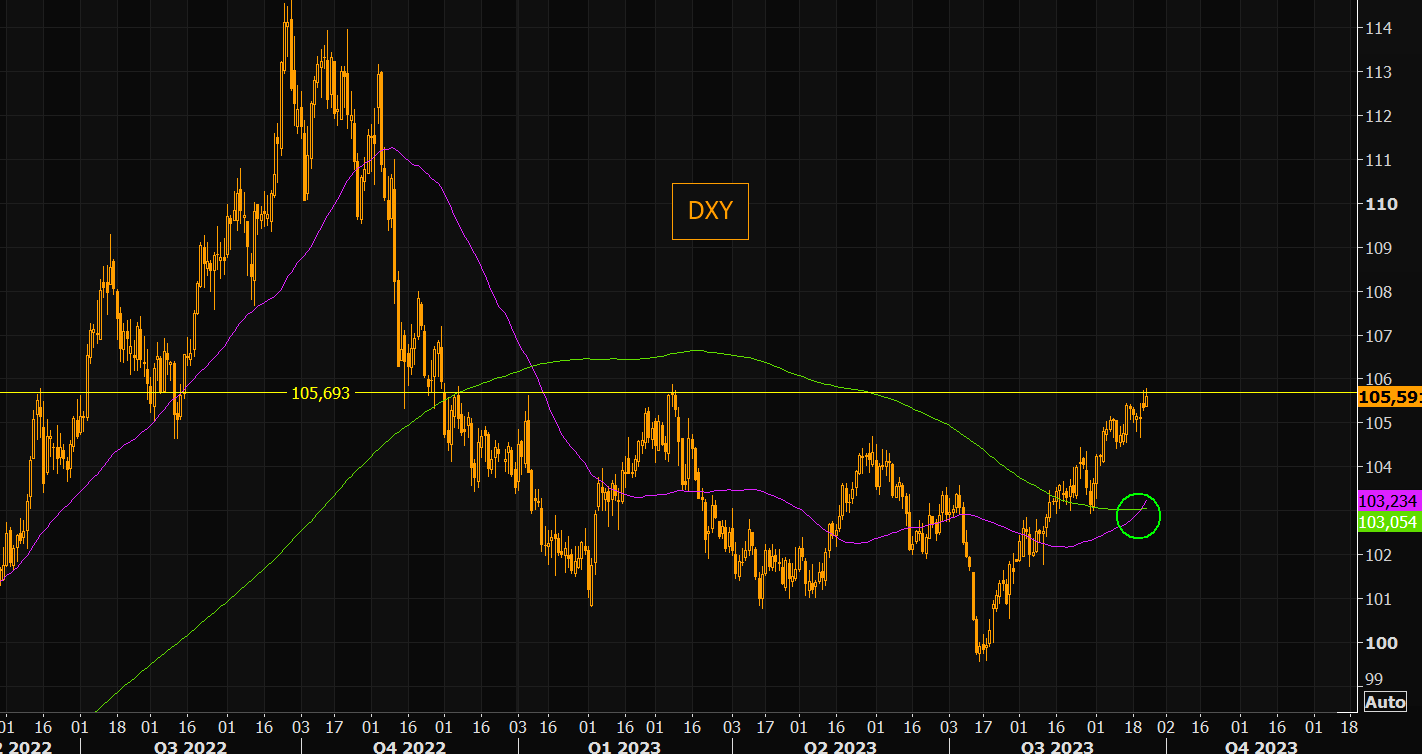 3. Stocks
The smart tweets in last week's article were proved correct. What do those smart people say about next week?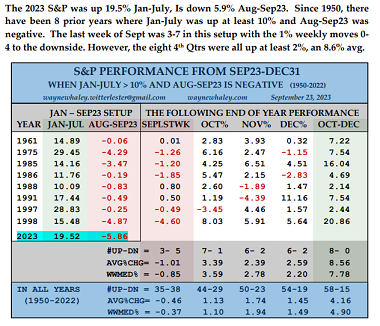 Last week, it was smart to Sell Rosh Hashanah. Will it be also smart to buy Yom Kippur tomorrow?
Jason@3PeaksTrading suggested last week that 430-433 might be a support zone. This week, he tweeted:
On the other hand, a slightly longer call:
Seth Golden@SethCL – Sep 23 – Oddly enough, the data suggests that

negative monthly returns in AUG. & SEPT.

are

famously bullish for $SPX the remainder of the year

. Remember, if headlines drove price, market would be down 75% of all years instead of up 75% of all years since 1928. h/t @RyanDetrick $SPY $QQQ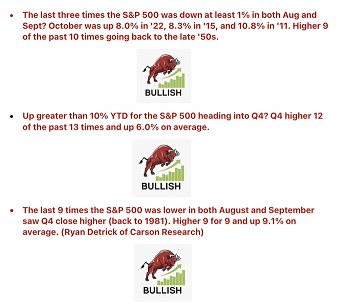 Is the below fuel, if not now then soon? 
Via The Market Ear –

Biggest de-risk of the year

– Fundamental hedge fund net leverage has come down a lot since August highs and is now at YTD lows.

Source GS Prime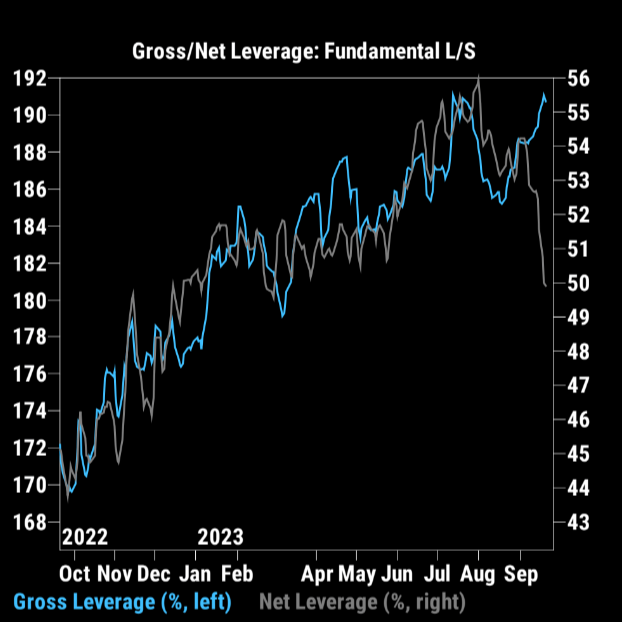 4. "our friends up north" OR/AND "Canada is the new Pakistan"
This conflict is simple and stark:
Canada states that it cannot accept an attack on a Canadian citizen on Canadian soil and

India states that it  will not tolerate terrorism by Canadian citizens in Canada on Indian soil against India and accused Canadian Government of sponsoring such terrorism.
A CNBC contributor used the "our friends up north" phrase to describe Canada. And Sushant Sareen, a well-known Indian think tanker & writer, tweeted the factual view:
sushant sareen@sushantsareen –

Sep 18

– Canada is the new Pakistan…

supports terrorism

, is

a sanctuary for terrorists

,

narcotics and human traffickers

, has politicians hand in glove with these criminal elements and

providing them political protection.

This is @JustinTrudeau's real legacy. Meanwhile Canada economy crashes
That description matches the decades-long behavior of Pakistan perfectly. But does Canada actually do all that? Watch below the video released by Gurpatwant Singh Pannun, a man declared as a terrorist by India, threatened Hindus in Canada thus:
How many similar anti-Hindu threats has the world seen from the terrorists in Pakistan? And similar to Pakistan, Canada has not labeled the above as Hindu hate. What about Nijjar, the declared terrorist that was killed in Canada? Listen to Ravneet Singh Bittu, a leader of the opposition Congress Party in Panjab:
"let me give you two cases — the man who assassinated my grandfather, his right hand man was this Nijjar … our Air India plane — my uncle who was the pilot of that plane ; they didn't investigate that ..

this Nijjar & company ; they are among the 10 most wanted drug peddlers

– one of them was Nijjar – remaining 8 are still sitting there; …  they way Pakistan used to be, Canada has taken up that role … all the drugs that are in panjab, these 10 drug guys are sending it …

Nijjar & company have captured the gurudwars, 10 of them, they are funding Trudeau party

. "
Regarding Hindus & Sikhs, he said "see since the days of Guru Nanak ,"Hindus & Sikhs are one" & they will remain one "…
So what is the problem? It is as the CNBC contributor described Canada – our friends in the North.  That phrase goes deep. It seems unthinkable for White Anglos to consider any White Anglo country as a supporter of terrorism, let alone Canada to our north. We get that because we know & have known many Canadians (a close relative by marriage is a Canadian citizen) and all of them are like all of us. 
But that is irrelevant. It is the current regime in Canada, the regime of Justin Trudeau, that is labeled with evidence as a sponsor of terrorism. This support of terrorism against India actually goes back to his father, Prime Minister Pierre Trudeau. Those who recall the destruction of an Air India plane in 1983 with over 380 passengers. Extradition of the terrorist who was responsible for it was refused by then PM Pierre Trudeau who argued "India does not recognize the British Queen as their Head of State". The pilot of that plan was the uncle of Mr. Bittu, the Congress leader in the YouTube clip above.
So what is the basic problem? Canada is a White Anglo country and it is unthinkable for many Americans to even conceive of accepting it is a sponsor of terrorism. That is why you see US media labeling Nijjar as an "activist". This led a prominent & sensible journalist to tweet about Nijjar and a Washington Post reporter:
Anand Ranganathan

@ARanganathan72 –

If

Hardeep Singh Nijjar, head of a terror outfit and responsible for multiple bombings and assassinations

, was an activist, then Osama bin laden was a humanitarian, Ayman al-Zawahiri was a feminist, Abu Bakr al-Baghdadi was a social reformer, and

@karishma__m__

is a journalist.
Even the most vehement opponents of PM Modi are outraged by hypocrisy:
Shashi Tharoor@ShashiTharoor – I never cease to be amazed by the blinkers regularly put on by Western media.

They are so quick to judge other countries, so blind to their own!

This @BBC analysis says, "Western nations have condemned alleged extraterritorial assassinations carried out by countries such as Russia or Iran or Saudi Arabia. They will not want India to join that list." Hello?

The two foremost practitioners of extra-territorial assassinations in the last 25 years have been Israel and the US! Any mirrors available in the West?

https://bbc.com/news/world-us-canada-66856568




1:33 PM · Sep 20, 2023
Yes, there are mirrors in the West. But these western mirrors ONLY show White Anglos as too fair & racially unable to sponsor terrorism. In case you didn't know, one son of Mr. Tharoor is an editor at Washington Post & another at Foreign Affairs. But Mr. Tharoor has been chosen to be the spokesman of the opposition Congress Party on this topic. So his tweet shows the absolute uniformity of opinion in India and of the global Indian Diaspora. 
Now watch & listen to former Pentagon official Michael Rubin on this situation:
Prime Minister Trudeau, I think, has made a huge mistake.

Hardeep Singh Nijjar was not simply a plumber

any more than Usama Bin Laden was a construction engineer. He has blood on his hands thru multiple attacks. We are actually being hypocritical if Secretary Blinken makes that statement because after all

what we are talking about is not transnational repression

, it is transnational terrorism. 
While Secretary of State Blinken may after the fact say that United States will always stand against transnational repression, we are actually being hypocritical if Secretary Blinken makes that statement because after all … what the United States did to Qasim Suleimani & what the United States did to Usama Bin Laden is really no different than what India is alleged to have done in this case. 
Justin Trudeau seems to have shot from the hip. He hasn't been able to release any definitive intelligence. As time goes on, it raises the question of any there there. Justin Trudeau says trust me.

No one trusts him in the best of times

; all the more so against the backdrop of an election campaign he is presently losing; And this is the reason why there is such great doubt or cautions in the part of the United States and the other Five Eyes community.
All the above is fine. But it doesn't obscure the paramount objective of the Indian Government. That is to ensure that the terrorism center now located in British Columbia & Ottawa is eradicated or at least reduced to an irritant state. And that requires removal of PM Trudeau from power & a cleansing of the terror sponsoring apparatus inside Canadian Government. 
And the first step has already been taken:
Brahma Chellaney

@Chellaney –

September 23

– India has officially labeled Canada an international terrorist sanctuary — "a safe haven for terrorists, for extremists, and for organized crime," in the words of the Ministry of External Affairs spokesperson.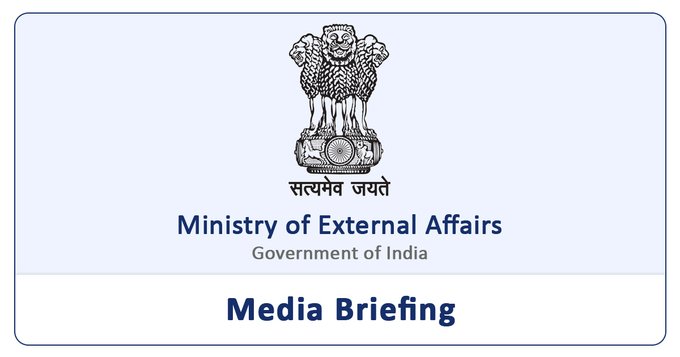 This puts the Biden Administration in a quandary about the "values inherent" in their "value"-approach. Will they act on their oft-repeated focus on transnational terror or will they reveal their inner conviction about White Anglosphere being uber-alles? Watch & listen to a reported donor to the Biden Campaign & a chairman-founder of a hedge fund express what we & the world can only recognize as pure White-racism:
Watch the first 2:40 minutes of the above clip. It is the worst WhiteAnglo-uber-alles discussion we have seen & no surprise it is in Canada. The utter trash from this chairman-founder guy convinces us the Canadians live on the most racist planet in the world. Contrast this to the realism & facts of Michael Rubin in the clip above. 
Thanks to Canada, every thing the US does vis-a-vis terror & intelligence is getting examined. One case is the Five Eyes intelligence network of USA, UK, Australia & Canada – a network of ONLY White Anglo countries.
How does this stand for anything except White Anglo racism? On what earthly capability does Canada remain a part of this network, especially now that the curtain is raised over the global terrorism sponsored by Canada? Read the tweet from a veteran thinker, journalist who is a Parsee citizen of India:
Minhaz Merchant

@MinhazMerchant –

Sun 9-24

– The Five Eyes: 1) Four have King Charles III as their head of state. 2) Four live on land their ancestors stole from indigenous people. 3) One shipped Africans across the Atlantic & another enslaved them. 4) Two massacred indigenous people in 2 continents. The Five Eyes.
As we said to a geo-strategic analyst – the world is watching and not just the White Anglo world he was referring to but the entire Global South. If USA confirms its core White-uber-alles belief in this case, then the line to join BRICS could get longer and both Russia & China will say to India – we told you so! 
Send your feedback to [email protected] Or @Macroviewpoints on Twitter