Summary – A top-down review of interesting calls and comments made last week in Treasuries, monetary policy, economics, stocks, bonds & commodities. TAC is our acronym for Tweets, Articles, & Clips – our basic inputs for this article.
Editor's Note: In this series of articles, we include important or interesting Tweets, Articles, Video Clips with our comments. This is an article that expresses our personal opinions about comments made on Television, Tweeter, and in Print. It is NOT intended to provide any investment advice of any type whatsoever. No one should base any investing decisions or conclusions based on anything written in or inferred from this article. Macro Viewpoints & its affiliates expressly disclaim all liability in respect to actions taken based on any or all of the information in this article. Investing is a serious matter and all investment decisions should only be taken after a detailed discussion with your investment advisor and should be subject to your objectives, suitability requirements and risk tolerance.
1.Which description is more dignified for a lady – ignore her moves or praise her for shaking a leg?
There is a perception that bigshots in finance are stone-faced and walk like automatons. This week the lady that heads the International Monetary Fund proved us all wrong:
Kudos to Ms. Georgieva. Will her best friend at CNBC follow her example & do a gig on air?
2.Week that was
Not a good one except for the Dollar:
UUP up 1.5%; DXY up 1.4%; Gold down 1.2%; GDX down 2.7%; Silver down 6.5%; SLV down 5.3%; Copper down 1.8%;

CLF down 8.3%; FCX down 5%; MOS down 5.5%

;
But that didn't stop oil:
Oil up 4.6%; Brent up 4.2%; OIH up 98 bps; XLE up 1.5%; Nat Gas down 5.8%; UNG down 5.2%
Stocks suffered:
VIX up 5.7%; Dow down 75 bps to 34577; SPX down 1.3%;

NDX down 1.4%; RUT down 3.6%; IWC down 4%; DJT down 4%

;

BAC down 2%; C down 2.3%

; GS down 61 bps; XLU up 75 bps; AMZN up 29 bps; GOOGL up 85 bps; NFKX up 65 bps; META up 42 bps; MSFT up 1.9%;

AAPL down 5.6%

;
Global Stocks fell but not as badly with the exception of China:
EEM down 2.6%; EWZ down 2.4%; EWY down 2.8%; EWG down 1.7%; FXI down 4.2%; KWEB down 7.9%;

EPI up 2.6%; INDY up 1.7%; SMIN up 1.6%
Treasuries suffered too:
TLT down 70 bps; EDV down 72 bps; ZROZ down 58 bps;

30-yr yld up 3.7 bps; 20-yr yld up 4.4 bps; 10-yr yld up 7.9 bps; 7-yr yld up 8.8 bps; 5-yr yld up 10.4 bps; 3-yr yld up 11.3 bps; 2-yr yld up 11.2 bps

; 1-yr yld flat 5.42%; HYG down 64 bps; JNK down 52 bps;
What about the asset class with 8 straight weeks of gains?
Urban Carmel@ukarlewitz – $UUP working on its 8th consecutive week of gains. I see

only one other instance since 2007

: September 2014.

Dollar fell next 2 wks

then

rose into March 2015

. $SPX up ~8% during that period, $NDX up ~14%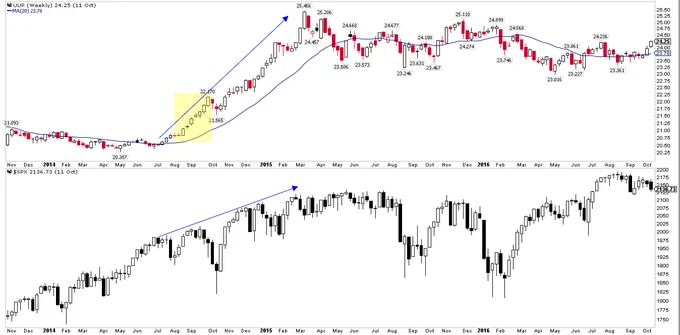 What about the historical S&P? 
Wayne Whaley@WayneWhaley1136 – September 9-19 has been very streaky, 7-0 from 1992-98, 2-5 from 1999-2005,

14-0 from 2006-19

, and down the last three years.
If smart guys who have been right this year can't tell us about next week, why should we try our hand at our dumb prophecies? 
3. S&P and its largest component
First a bullish case based on recognition of slower inflation ahead:
Second, a technical case based on S&P's main support at 4325 & resistance at 4593. Re Apple, strong support at $175 & conviction – "I would absolutely buy the dip at this point".
The other side from hedge fund manager Dan Niles who now says Apple is a Short. 
And a negative view of S&P earnings based on 10-yr yields:
Variant Perception@VrntPerception – Sep 5 – We are witnessing the most extreme global yield curve deviation from 10y average since the early 90s. This poses

clear downside risks for S&P 500 EPS

(Earnings per Share)

.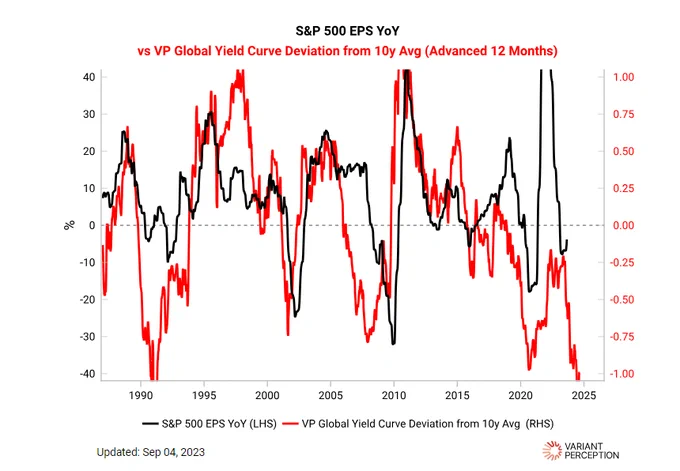 Since we don't have much more, why not go to to a couple of geo-economic events that might have an impact on an economy that is already sliding into slowdown – China?
4. "Nothing but historic";  "The Deal"; "Lawrence of Arabia mega"
Ursula Von Der Leyen of EU described this deal as "Nothing but Historic". President Biden called it "The Deal" & also "A Real Big Deal". Israel's Prime Minister Netanyahu described it "as the "largest cooperation project in our history" will change the face of the Middle East, Israel, and will benefit the entire world".
This is nothing new to our readers. Recall that we described this potential deal as "Lawrence of Arabia mega" in Section 2 of our article Adani Washout – Our Reflections on February 5, 2023. We laid out the rationale & the ramifications of this potential deal in that Section &, frankly, that attracted us to the Adani Enterprises & Adani Ports stocks. 
Three months later on May 6, 2023, came a scoop by Axios followed by a report on ArabianBusiness.com on May 8 that,
"Jake Sullivan, United States National Security Advisor, met with Mohammed bin Salman, Saudi Prime Minister and Crown Prince; Sheikh Tahnoon bin Zayed Al Nahyan, UAE National Security Advisor and Ajit Doval, National Security Advisor of India, on Sunday in Riyadh, lending credence to a report that the three Asian countries are getting together to create a major railway network".
We realized then that our description of this deal as "Lawrence of Arabia mega" was severely understated. Why? Because it is "Not Just Lawrence of Arabia Mega but Global Greece-Rome-Middle East-Indian Ocean Mega?" as we wrote on May 14, 2023. Look at the charts we included in that article under the quote below from Times of Israel:
"From there

[Haifa port]

, goods would be shipped to

Greece's Piraeus port

, one of the largest in Europe, from which India would be able to access the

entire continent 

[of Europe]

."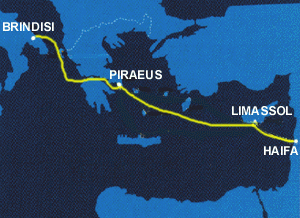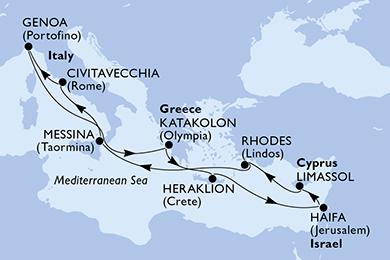 As Ursula Von Der Leyen said at G20 about the new economic corridor created by the "historic deal":
"It will be the most direct connection to-date between India, the Arabian Gulf & Europe with a rail link that will make

trade between India & Europe 40% faster

." 
Look at the map to the right above & notice Cyprus connected with Israel's Haifa port on one side & Greece on the other. What is their joint plan called? The Energy Triangle. And both Israel & Greece are ancient relationships of India. Many may not know that it was ancient Greece (Herodotus period) that invented the term "Indica" which the Romans converted into "India". Both terms came from the "Sindhu" river that the Greeks referred to as Indus. 
Interestingly India & Greece elevated their relationship to a strategic partnership during PM Modi's trip to Athens on August 25. Both Prime Ministers recalled with admiration the ancient Indo-Greek relationship. But why didn't these two countries built up their partnership earlier? Perhaps a catalyst was lacking. 
That was provided by PM Netanyahu of Israel on September 5 when he publicly invited India to join the trilateral grouping of Israel, Cyprus & Greece. 
In the map below, look above from Cyprus & to the right and notice Turkey – the local giant in the eastern Mediterranean.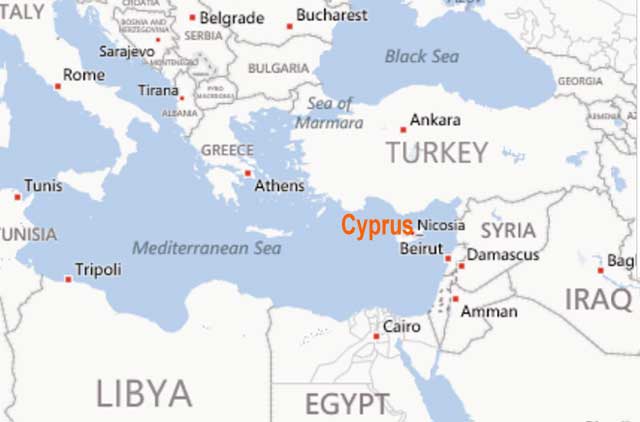 Until now India was deemed too far away to count for influence in the Mediterranean. But now with the India-Middle East-EU economic corridor, India will have real economic & strategic interests in protecting assets of Cyprus & Greece along with Israel. And Turkey has been publicly supportive of NaPakistan & intrusive in Indian Affairs in the Indian Subcontinent. So India's membership in the Eurasian Bloc of Greece, Cyprus & Israel has geopolitical significance. Add to that the fact that Saudi Arabia is absolutely determined to keep Turkey out of the Arabian Peninsula. Notice also that Saudi Arabia has the MOST to gain from the railway from Dubai & Abu Dhabi to Israel. 
See how all this stems from Adani's buy of the Haifa Port back in February 2023? And do you see now why Israel was an absolutely determined supporter of Adani's bid? Purely commercial port operators like Singapore, Dubai & others could not have provided the geopolitical benefits of India entering the Arabian Peninsula. 
The benefits to Israel are very large & deep. As PM Netanyahu said:
"largest cooperation project in our history" will

change the face of the Middle East, Israel

, and will benefit the entire world.
"

Our railways and ports will open a new gateway

from India, through the Middle East, to Europe, and back – from Europe to India via Jordan, Saudi Arabia and the UAE,"
Now to the power that might have made it possible so fast. We did hear that President Biden had instructed his team to GET THIS DEAL DONE at G20. This deal will eclipse President Trump's Abraham Accords & truly prove momentous for the entire Arabian Peninsula, Europe & India. We think President Biden is right. If this deal works even up to 50% of what is expected, then it will be truly globally momentous. And clearly NSA Jake Sullivan deserves an enormous amount of credit for driving this deal to this stage with the NSAs of India, Saudi Arabia & UAE. 
At least it will sideline China from any serious infrastructure entry into the Arabian peninsula & isolate it to being mainly an ally of Iran. And of NaPakistan, China's Himalayan ally. But might that relationship be expelled from the Himalayan heights? More on that in the next section. 
Finally & because this is an investment related article, investors should thank Hindenburg Research for blowing up stocks of Adani companies just as the Mr. Adani was about to buy the Haifa Port. Anyone compare where Adani stocks were trading the week of the Haifa purchase & where they are now?
Being simple folks who rely on smart reporters, allow us to once again thank Annabelle Droulers of Bloomberg for her methodical & accurate reporting of that saga, from the steep fall to US distress bonds buying in & the roadshows by Adani entities.   
5. The events in Chitral – Just One Week Later?
Last week, we used the macro map below (left) to show the critical nature of Gilgit-Baltistan (GB) area to the Himalayan-high friendship between China & Napakistan. The only road access to main NaPakistan from China is via the Karakoram highway (see map below right)  from China's Xinjiang to Gilgit in Gilgit-Baltistan to further into main Napakistan into the Arabian Sea. So clearly Gilgit-Baltistan (GB) remaining under Napak control is very critical to China because GB in Indian hands means China's land access gets totally cutoff from the West & from the Arabian Sea..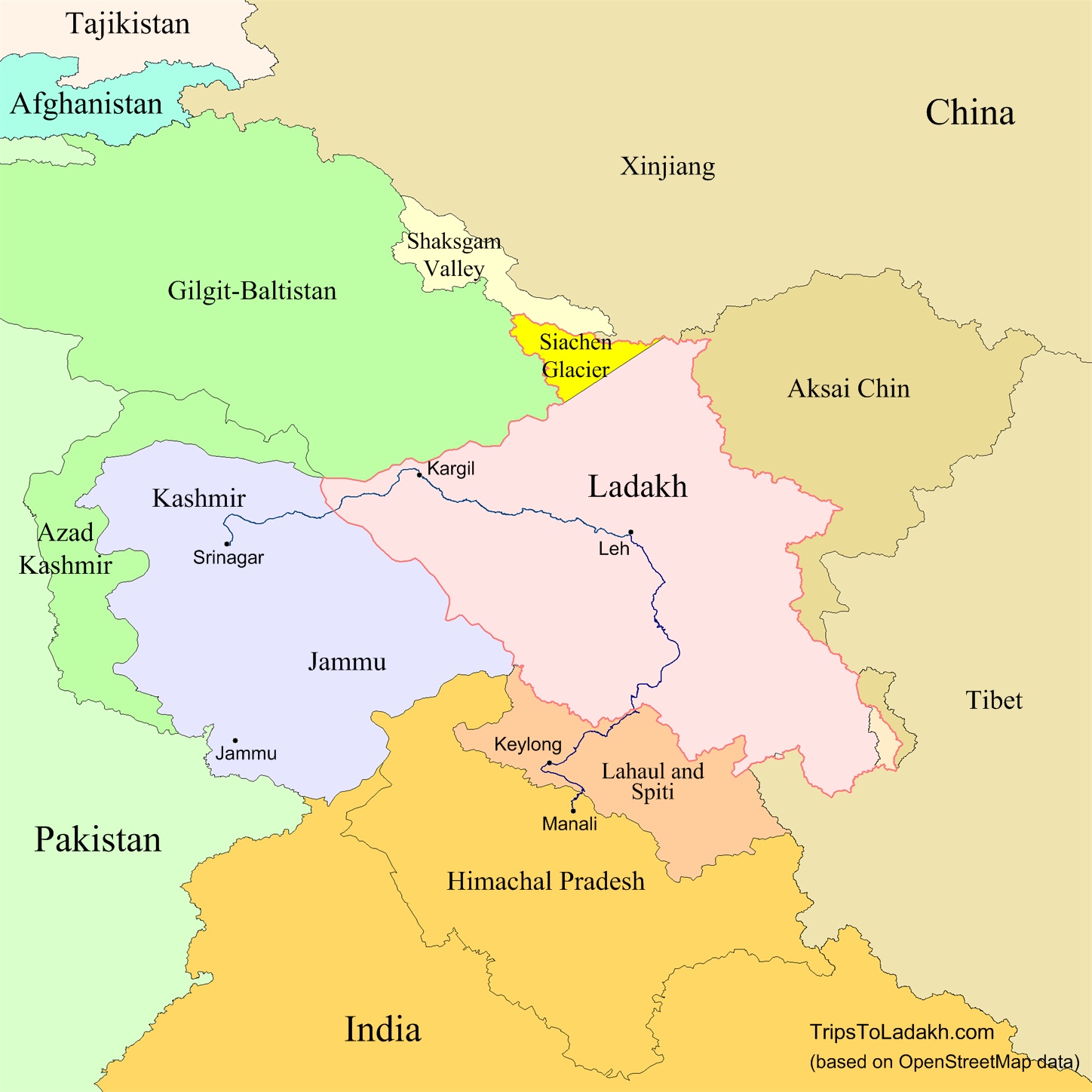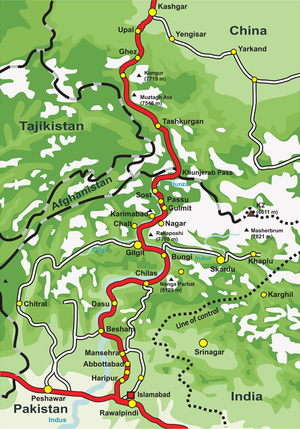 Naturally the line of control between GB & India is very very well-defended by the NaPaki army. It is dug-in & backed up via the powerful air base at Skardu (to the right of Gilgit). In case of hostilities, all the Napaki army has to do is to hold out for a couple of days to enable Chinese units to help & for the world to force a ceasefire. 
We are not so sure now for 3 reasons:
Chinese military might not be able intervene

once we get into November

because mountain passes get clogged up in snow. 

Hundreds of thousands of citizens of Gilgit-Baltistan are demanding to join India & secede from Napakistan.

AND, as this week demonstrated, the Napak military is almost helpless against an attack from its back, from the neighboring Afghanistan & NaPak's own Khyber-Pakhtunkhawa province.  
Now focus on the name Chitral in the map to the right above (to the right of Gilgit along the white line). Or look at the big map below to the word Chitral on the left edge of the map.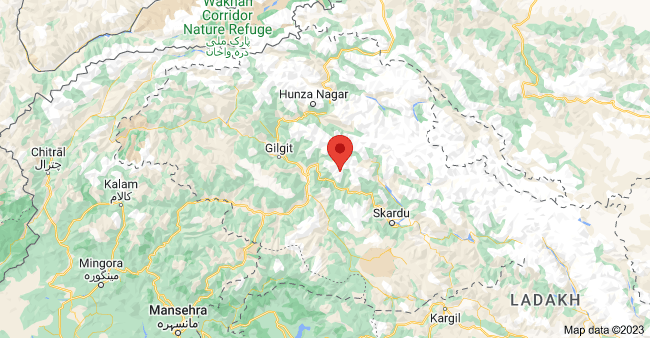 Chitral is a low-population area that is almost equidistant from Gilgit in GB, from Afghanistan & from the major border crossing between Afghanistan & NaPakistan. So what, you ask?
This week hundreds of anti-Napak TTP militants came across from Afghanistan to attack the NaPak soldiers guarding Chitral. The news has been conflicting with both the NaPaki army side claiming victory & the TTP claiming victory. Finally on September 8, Times Now reported in the clip below that 
"Reports confirm that the TTP's attack has led to the capture of several villages

in the region

claiming the lives of 11 Pakistani security personnel. On the other hand, 12 of the TTP militants have also been killed and as many as 90 Pakistan Army soldiers have also been captured by TTP."
A day older clip from Hindustan Times shows Mufti Noor Wali Mehsud, TTP's chief, guiding & encouraging TTP fighters battle NaPaki army. If true, it suggests a seriousness of purpose among the Taliban (Afghani or/& TTP) to start capturing vulnerable Napaki territory inside Khyber-Pakhtunkhawa that the Afghans claim British-India stole from them. 
Do recall that this is similar to the strategy used by the Afghani Taliban to capture villages outside the main cities where the US Army based itself. Slowly but surely, the US lost control of the countryside & finally the only solution left was for the Biden Administration to leave Afghanistan.
We are simple folks but even we see the parallel possibilities of
the TTP – Taliban

continuing to capture areas behind

the front-line Napaki troops guarding the line of control with India &
the

common people

in the main cities like Gilgit, Skardu

protesting to join India

.
And all this might happen in the next few months of winter when China is helpless to intervene.
Given the above, is it possible  that India claims it is compelled to go in & protect the civilians in GB & at the same time re-unite a province that was given away by Nehru in 1948? 
Why is Gilgit-Baltistan important? Not economically to any player among Afghanistan, NaPakistan, India or China. It's main importance is to enable India to LOCK OUT China from land access to Arabian Sea & to southern areas of the Indian Subcontinent.  
In that, the GB issue is similar to the India-Arabian Peninsula-Israel-Europe economic corridor. Both lock out China from critical areas to its west, a consummation devoutly wished for by America, England, EU & India. 
Send your feedback to [email protected] Or @MacroViewpoints on Twitter