India is known to be a poor country with millions of poor children trying to escape the poverty trap via education. And education begins with literacy, ideally at a young age. Any organization that is dedicated to removing illiteracy from India and educating poor Indian children is virtually doing God's work on earth. We have been blessed to know of such an organization for the past 20+ years, an organization named Pratham which means first & foremost.

Founded by Dr. Madhav Chavan & Ms. Farida Lambay in a slum in Mumbai, Pratham became one of the greatest venture capital stories in the world. What started as a project in one public school has, by now, educated many many millions of children in India. Pratham's methods are studied at first tier universities around the world. Pratham won many awards for its work during the Obama Administration, including the Henry R. Kravis Leadership 2009 prize and the 2012 WISE award from Qatar, sometimes described as the Nobel Prize for education.

Unfortunately, Pratham now seems to be degenerating into a very different sort of entity. 
1.A Change at Pratham in 2015?
Something seems to have changed inside Pratham in 2015, at least inside Pratham USA, the US arm of the Pratham ecosystem. Pratham USA chose Senator Cory Booker as their chief guest at the 2015 New York gala, a major fundraising event for Pratham. Senator Booker, we read, was at his inspirational best in his speech:

"…if we believe this world can transform the educational outcomes for children in India, we cannot just talk about it or hope for it or pray for it," said Cory. "We must stand up and with audacity and determination and bold dreams, we must do something about it." 
Senator Booker did something about children in India at Pratham's 2015 gala. He helped raise a record breaking amount of money for Pratham from very wealthy Indian Americans and donors from Wall Street community.

Frankly, that got us thinking. Why didn't Senator Booker ask his rich Pratham audience to donate some money for poor children in New Jersey whom he represents as Senator? He could said to his rich Indian-American and Wall Street audience to, by all means, donate generously for poor Indian children but also donate some amount to transform the educational outcomes for poor children in Newark, State of New Jersey and in low income school districts all over America.

We could not get past this anomaly of an African American Senator from a financially troubled state like New Jersey hobnobbing with rich Indian Americans & their Wall Street friends without evening mentioning the lack of educational opportunities for poor children of New Jersey. We could understand why Pratham USA wanted Senator Cory Booker as their chief guest. But what was in it for Senator Booker? 
This discordant feeling got crystallized recently when we saw Pratham's chief guest pick for their September 28, 2018 gala in New York – Kamala Harris – Junior Senator from California. Wow!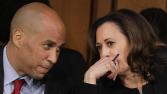 Any one who saw the performances of Cory Booker & Kamala Harris at last week's Senate hearings for Judge Kavanaugh knows where these two bright, accomplished Democratic Senators stand – directly and totally against President Trump. And these two senators are being talked about as Democratic candidates for the 2020 election.
We can understand why Pratham USA would want to rope in political heavyweights like Senator Kamala Harris & Senator Cory Booker. But why would these heavyweight African-American Senators want to be featured chief guests as an Indian-American gala for the benefit of poor Indian children?
Ask yourselves, what do Politicians especially politicians who want to run for President need most?
2. Is Pratham USA now a Political Donor Group for US Politicians?

Look at the list of Pratham USA leadership – It is a big list of mucho wealthy businessmen, executives and hedge fund managers. Add to this public list, the business & money networks of these listed people and what do you get? A large group of money power concentrated in one entity. And the mutual attraction between money power & political power has been central to society since the conception of our species.
Forgive our cynicism, but we really don't believe Senators Cory Booker & Kamala Harris care an enormous amount about educational outcomes of poor Indian children. After all, they have never been active in launching programs to transform of educational outcomes of poor African American children in New Jersey & California.
So once again forgive our cynicism but isn't it likely Senators Booker & Harris are helping Pratham USA collect funds so that they can get back to this wealthy, powerful Indian-American network for donations to their 2020 political campaigns?
Now guess who showed up at the Pratham gala?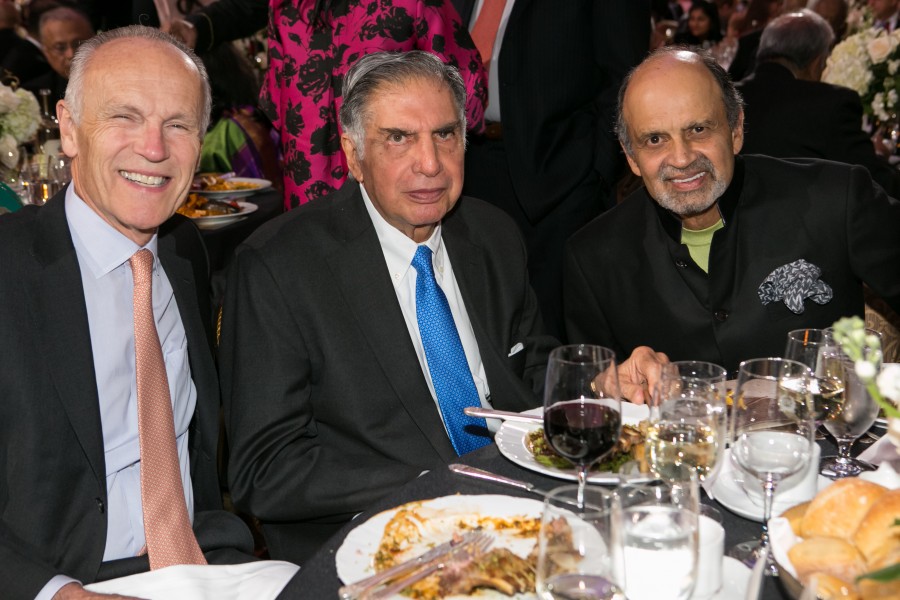 The man in the center above seems to be Mr. Ratan Tata, head of Tata Sons, the entity that owns Tata Consultancy Services, the largest outsourcing company from India. And one of the members of the Board of Directors of Pratham USA is an advisor to Tech Mahindra, another technology & outsourcing companies from India. And what do these Indian outsourcing companies need from the US Congress? Support for H1B visas for their Indian employees.

No wonder, Pratham galas now are a festive affair for rich well heeled donors, politicians & business people who attend mainly for their own purposes and not because they care about poor Indian children.
3. A PAC for Obama-network Indian-Americans? A Big Change at Pratham India

Pratham's visibility grew exponentially during the Obama Administration and, as a result, Pratham received prestigious awards. Initially this was great because the increased visibility led to increased fund raising for Pratham's core activity in India.

We say initially because nothing corrupts like political patronage and money. Thanks to the Obama-network political patronage, richer & more connected Indian Americans started joining Pratham USA, what was then a mere fund raising arm for Pratham India. Slowly but surely, the power structure changed. Pratham India, the core educational NGO, became more & more dependent on Pratham USA and their fundraising.

After all, no one in India really supports the superb & far flung activities of Pratham India. The majority of their funding comes from America, meaning from the wealthy donors that now make up Pratham USA leadership. Founder Madhav Chavan, once a major draw for US fundraising, is no longer imperative. And how could he be when Pratham USA could bring in Senators Cory Booker, Kamala Harris, & other Obama-network celebrities? And how could Pratham USA not be able to draw Obama-network political talent with some one like Fareed Zakaria as a member of the Board of Directors?

A big change took place at Pratham India in December 2014. Dr. Madhav Chavan, a founder of Pratham,  decided to relinquish his CEO title. The Pratham Board chose Dr. Rukmini Banerji to succeed him in January 2015. Within a few months of her becoming CEO, Senator Cory Booker was invited as the Chief Guest for the 2015 gala. Two years later, comedian Hasan Minhaj, from the Jon Stewart  Daily Show network was asked to be a guest of honor at the 2017 gala,. And now, Senator Kamala Harris is the Chief Guest for the September 2018 gala.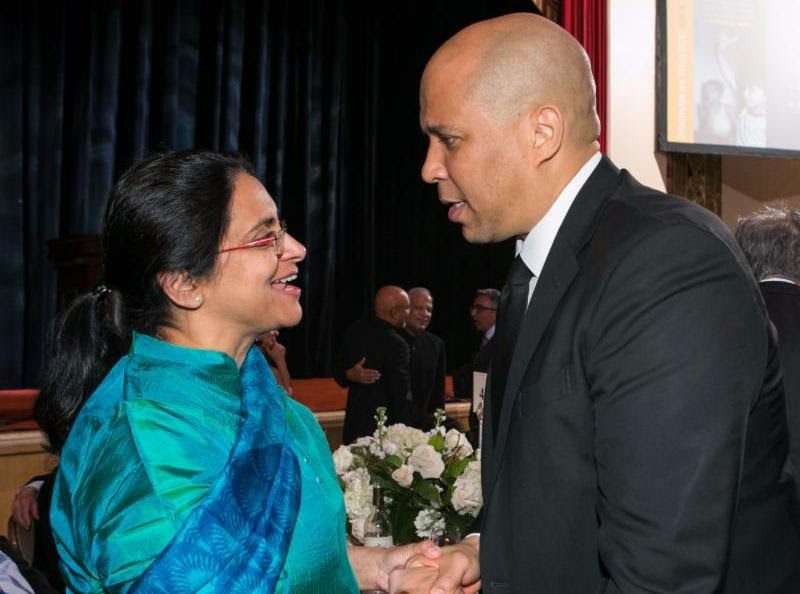 Senator Cory Booker with Dr. Rukmini Banerji, CEO of Pratham at the 2015 gala
Cory Booker, Kamala Harris, Hasan Minhaj, Fareed Zakaria plus a deep network of left wing academics from MIT, Univ. of Chicago, Columbia to name a few and a collection of rich, activist like minded donors – if this is not a political action committee, then we don't know what is.

And if this isn't a coalition of Obamaites, we don't know what would be. You don't see any luminary from the Bernie Sanders, Elizabeth Warren wings of the Democratic Party. You might see a couple from the traditional wing of the Republican Party, but you are unlikely to see anyone pro-Trump.
But that is their choice isn't it? As a political action committee, yes. But is it ethically right to function as a PAC and promote a narrow politically partisan activist agenda under the guise of acting to transform education of poor Indian children? Absolutely not, in our opinion.
And who is subsidizing this partisan PAC? The US Tax Payer, of course. Donations to Pratham USA are tax-deductible because they are deemed to be charitable donations for education of poor Indian children.
4. Risks to Pratham India
Remember the stories about the US Internal Revenue Service targeting Conservative Organizations & Foundations during the Obama Administration? Didn't the IRS take away the tax-deductibility of some of these conservative organizations? 
Is Pratham USA at risk of such an investigation for acting as a partisan PAC under the guise of a charity devoted to serve poor Indian children? After all, its activities seem brazenly politically oriented and intensely partisan. Does such an organization deserve tax-exempt status & thereby a subsidy from parents of poor American children?
Frankly, we don't think so. But that is speaking simply as an observer and a US taxpayer. We are neither lawyers nor tax experts. However we do feel Pratham USA is exposing itself to at least a modicum of risk by their intensely partisan orientation.
Pratham USA leadership is very wealthy and connected. So they can take care of themselves. But what about core Pratham India? The incredible work Pratham India does is funded almost solely by funds raised by Pratham USA and is subsidized by the US taxpayer. If Pratham USA loses its tax-deductible status, donations could fall sharply. The impact of that on Pratham India could be devastating. 
Is anyone at Pratham India even aware of such a possibility? Does the Board of Pratham India care? We don't know, but frankly we doubt it. We do hope Dr. Madhav Chavan cares but can he act having given up the CEO role? Or will he even try? We don't know.
5. US-India Angle
The Indian Government believes that many Western NGOs operating in India are not what they profess to be. There are active investigations underway by Prime Minister Modi's Government and licenses of some NGOs have been suspended. Some US NGOs have approached US Congress for help against the Indian Government. We recall Senator Bob Corker, currently Chairman of Senate Foreign Relations Committee, asking US Ambassador to India, Kenneth Juster, to intervene on behalf of such a US NGO.

It would be ironic if an Indian NGO like Pratham gets investigated in America for intensely partisan Anti-Trump activities. Besides the impact on Pratham India, it could result in a loss of face for Prime Minister Modi. It could also lead to intense pressure on Prime Minister Modi to tone down investigations of US NGOs in India. That would fit in with President Trump's deep conviction about reciprocal relations.
At least in one way President Trump and Prime Minister Modi are on the same side of Pratham. Because both founder Dr. Chavan & current CEO Dr. Rukmini Banerji, we believe, dislike both Prime Minister Modi & President Trump.
We recall Dr. Banerji telling us that her friends were among the UPenn professors who had actively pressured UPenn-Wharton to revoke their invitation to Mr. Narendra Modi in 2013. As we recall, Dr. Banerji disapproved of our criticism of President Amy Guttman of UPenn. Dr, Banerji, we were told, is a close friend of Indian "intellectual" Ramchandra Guha who is a critic of PM Modi and President Trump.

The difference is Dr. Madhav Chavan never, to our knowledge, mixed his personal feelings in his work at and for Pratham India. This goes for his dealings with both sides of the Indian political divide. Unfortunately, we cannot say that for Dr. Rukmini Banerji. Based on our many conversations with them, our respect for & trust in Dr. Chavan is far far greater than that for Dr. Banerji.
We believe that Dr. Rukmini Banerji has given in to her admiration of rich wealthy Indian Americans and to her close association with anti-Trump US academics in a way Dr. Madhav Chavan would never have done. And that is evident in the direction Pratham has taken in becoming a part of the pro-Obama anti-Trump partisan network since she became CEO in 2015.

Since Pratham is an iconic Indian NGO, the consequences of Pratham's Anti-Trump partisanship could be far broader and even pose a risk to US-India relations, in our opinion. That would be tragic.

In the tradition of this Blog, we invite feedback from the leadership of both Pratham USA and Pratham India including Dr. Chavan & Dr. Banerji, and from Senators Booker & Harris. We will print their non-private responses verbatim as well as make any corrections they show us to be necessary.

Send your feedback to [email protected] Or @MacroViewpoints on Twitter