In case you have forgotten, back in February 2023, a virulent media storm erupted in India about a report on Adani Enterprises & its associated companies issued by US-based short seller Hindenburg Research which said they had taken a short position. 
As we wrote in our Investment TACs article dated February 5, 2023:
"It was certainly a big markets story but not necessarily of major relevance to US markets. So CNBC sensibly seemed to take this in stride while Bloomberg.Com thought it was the biggest story in the world & devoted a majority of one-sided coverage to this, at least in their Asian coverage. "
"Besides what was known courtesy of Hindenburg, a large portion of mud was heaped, especially by Bloomberg.com, on India's market regulations &

what this washout might mean to Indian markets

."  
Then we wrote our detailed article titled Adani Washout – Our Reflections. The first three sections of this article focused on the acquisition of Haifa Port by Adani group that week. If you go back & read it, you will see that we discussed what we termed as the Lawrence of Arabia level mega deal centered on Adani's acquisition of Haifa Port in Israel. Indeed, that turned out to be true and that was launched at the recent G20 Summit in India as the India-MiddleEast-Economic-Corridor (IMEC) by President Biden & by Ursula Van der Lyuen (EU President). 
As we wrote back on February 5, the Indian media behaved far worse than US organizations & Indian editions of US publications:
"While we mock US Financial TV, we realize that

Indian Business TV and Indian media in general are probably far far worse

. They have portrayed the washout in Adani Group stocks in extravagantly outrageous terms. And they have

suggested that the "colossal loss" in itself suggests something might be horribly wrong.

And since the

public fears have been whipped up, the Indian politicians are up screaming to high heavens in the Parliament

."
"And Indian editions of US publications like Fortune joined the fray when they should know better. Heck, even globally aware Indians should know better & they don't. Some highly educated & successful in markets were telling us the

washout in Adani group market cap was frightening & suggested something really wrong

."
And the fears were whipped up by seemingly sensible questions from opponents of PM Modi on Twitter. They linked PM Modi's name to the Adani washout and proceeded to create a ruckus in the Parliament. The absolute star of this circus was Ms. Mahua Moitra, a celebrity Member of Parliament & a fervent accuser of PM Modi.  
2. Background of Ms. Mahua Moitra
The opposition chose well for their fearless, smart, & dedicated anti-Modi fighter for truth about the Adani group. She was the perfect polished Indian with American education. She also had the star aura of having been an investment banker with JP Morgan in London & New York. Her Louis Vitton hand bag, her expensive scarfs became her symbols of a star Indian woman. And she could curse in Indian lingo just as smoothly & powerfully as a pure Indian woman. 
Most investment professionals have heard of "Harami", a technical term in Japanese technicals. It is a powerful trigger, especially when combined with a simultaneous "doji".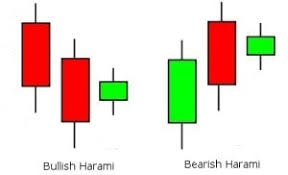 The same term "Harami",  is an insult in the Indian subcontinent with a range of negative meanings, including "sinner". Ms. Mahua Moitra shot to media fame in India when she used the "harami" term for a political opponent in an intense conversation about Adani. When criticized for her unparliamentary jargon, her defense was "if the shoe fits, wear it" & that she "deserves a clap" for using it. Watch her explain this to Barkha Dutt, the doyen of viciously anti-Indian "journalists" chosen by US media (Wash Post, NYT et al) to explain "India" to them:
Perhaps she thought knowing & being friends with powerful leaders in the Opposition Congress party like Shashi Tharoor, leaders that are well known & well liked by the US & British media made her immune to some degree. Reportedly Ms. Moitra, to her credit, actually thanked those who made the clips and spoke about how certain color combinations look good on her. 
No wonder hashtags #HaramiMahua & #HaramiMahuaMoitra have been created on Twitter with "if the shoe fits" type captions. Frankly, this stuff is the least of the issues that have surfaced. 
This brings us to what was revealed this week about the source of her accusations against Mr. Adani & the legal violations used in the process. 
3. The Crusader role against Adani image & the Reality 
Understand that the allegations & charges made by Ms. Moitra against Adani were detailed and, as we heard on reported on Indian TV on Thursday, the Hindenburg report "reflects Mahua's charges against Adani". And it was the status of Hindenburg as a US based research organization that made the Adani accusations go so viral. 
As you will see from clips below, the questions raised by Ms. Mahua Moitra were reportedly supplied to her by the son of another Indian billionaire. Not just that, it is reportedly alleged that Ms. Moitra's parliamentary login was given to this friendly businessman.
This story became big when news broke of a letter with these charges written by a well known lawyer to another member of parliament who in turn submitted to the Speaker of the Indian Parliament. The charge reportedly made in that letter is that Ms. Moitra took gifts from a business man named Darshan Hiranandani to raise his questions in the Parliament to tarnish PM Modi's & Adani's image in the world media . Listen to at least the first 3 minutes of the hard-hitting English language report from a major Indian TV channel, especially a "quick recap" at minute 1:06 of the clip below. Also note the "Not in Business of Politics" response from the Hiranandani Group at the bottom of the screen:
A few hours later, a bigger story broke. Darshan Hiranandani, the businessman friend of Ms. Moitra, confessed to everything above and more. Watch the clip below from the Economic Times. It has specific quotes in the first few minutes about the details of the affidavit filed by Mr. Hiranandani including the stunning admission below (at minute 1;25):
"I also felt that through her (Ms. Moitra), I would get support in other states ruled by the Opposition because she bonded extremely well with other leaders in the opposition like Shri Gandhi, Shashi Tharoor & Pinaki Mishra". 
The "Shri Gandhi" mentioned above is no less than Rahul Gandhi, the heir to the Nehru-Gandhi political dynasty & the chosen PM of the opposition if they win the 2024 election. If the quote is accurate and it is established that Ms. Moitra did collude with Mr. Hiranandani & Rahul Gandhi was aware of it, then this will become a huge scandal both in the Parliament & in Indian politics. 
At minute 1:49, one of the correspondents shows the copy of Mr. Hiranandani's 2-page affidavit & reads from it. See what he reads at minute 2:07 from page 2:
"Ms. Mahua was very ambitious and wanted to quickly make a name for herself at the national level.

She was advised by her friends & advisers

that the

shortest possible road to fame is by personally attacking is by personally attacking Shri Narendra Modi

, the honorable Prime Minister of India. The only problem was that Shri Modi enjoyed an impeccable reputation and was not giving any opportunity to anyone to attack him in policy, governance or personal conduct. …. She thought that the

only way to attack Shri Modi is by attacking Shri Gautam Adani and his group

…. they being from

the same state of Gujarat

".  
That sends this saga into the top level of Indian politics.
#MahuaMoitraScandal | Everyone named in the letter should be called in and investigated…It is fair to assume that Rahul Gandhi and Mahua Moitra are working together to defame Adani and target PM Modi: Savio Rodrigues, Chief Editor, Goa Chronicle

Tune in here to watch The… pic.twitter.com/QTuWwnOBZj

— Republic (@republic) October 19, 2023
4. A Important news about Adani Group 
In contrast to the above, look at the real news that broke this past week:
Indian Tech & Infra@IndianTechGuide –

Oct 18

– Adani Group in advance talks with Indonesia to invest $1 billion and develop Sabang Port. It falls under India's plan of Necklace of diamond strategy to counter China.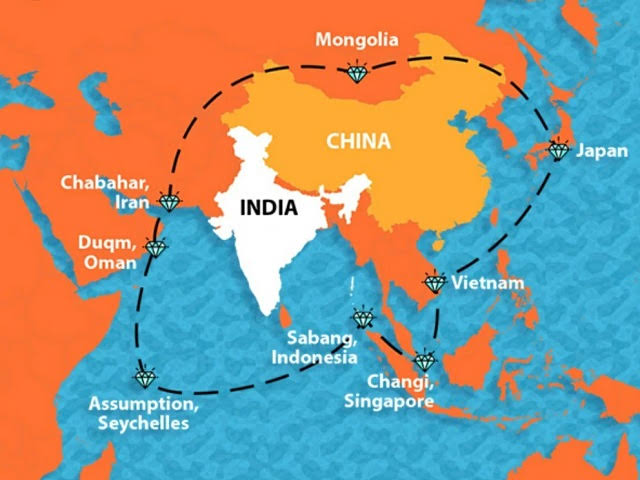 Allow us to draw your attention to the story we wrote on June 2, 2018 which reported the following:
During the visit of Prime Minister Modi to Indonesia, "India & Indonesia reached an agreement on naval defense cooperation that would entail building infrastructure on India's Andaman Islands and Indonesia's Sabang Islands. The two sides also agreed to form a comprehensive strategic partnership." In fact, Luhut Pandjaitan, Indonesia's coordinating minister for maritime affairs, was quoted as saying that Sabang port's "40-meter depth is suitable for all kinds of vessels, including submarines."
As we reported back in June 2018,
"China is absolutely livid at this agreement between India & Indonesia. China's Global Times was explicit in its condemnation:
"China's extensive use of the Malacca Strait means its economic and energy security gets threatened if India builds a military base at Sabang port in Indonesia … If New Delhi actually planned to get military access to the strategic island of Sabang, it might get entangled in a conflict with China and will eventually regret its decision … Hopefully, India and Indonesia can steer clear of any military cooperation", as India would not be interested to get involved in an arms race with China"
Notice from the map above that Sabang is just below the three white dots which represent the Andaman Nicobar islands of India. So the Sabang port is strategic asset for the Indonesia-India partnership. 
Just like Haifa, it seems that the Adani Group might be able to build a port on another geostrategic asset in the world. More important than more juicy news of debatable accuracy, isn't it?
Send your feedback to [email protected] or @MacroViewpoints on Twitter